Abstract
Regardless of organizations' purposes, one thing is common to all: they must strive for organizational continuity. As globalization increases the exposure of organizations to various risks, many of them unknowingly leave their operations exposed to breakdown, thereby jeopardising the continuity of their organization. With the recent heightened awareness of possible crises and disasters, it is becoming increasingly important for many organizations to find good management solutions to these potentialities. Integrating known concepts like business continuity planning, crisis management, and resilience would yield better organizational continuity. It is also essential that tools be developed to enable managers to successfully manage crises and disasters. This paper addresses the issue of organizations' fragility to crises and disasters and proposes a conceptual model designed to increase organizational robustness and, ultimately, yield better organizational continuity.
Access options
Buy single article
Instant access to the full article PDF.
US$ 39.95
Tax calculation will be finalised during checkout.
Subscribe to journal
Immediate online access to all issues from 2019. Subscription will auto renew annually.
US$ 79
Tax calculation will be finalised during checkout.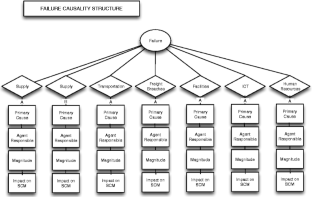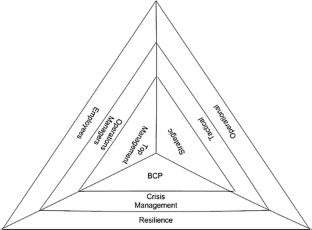 References
Andriole SJ (1983) High order corporate crisis management. Futures 15:79–86

Anthony O-S (1990) Post-disaster housing reconstruction and social inequality: a challenge to policy and practice. Disasters 14:7–19

Australian Government Department of Foreign Affairs and Trade (2003) Costs of Maritime Terrorism and Piracy, APEC High-Level Meeting on Maritime Security and Cooperation. Australian Government Department of Foreign Affairs and Trade, Makati City, p 15

Autry CW, Bobbitt LM (2008) Supply chain security orientation: conceptual development and a proposed framework. Int J Logist Manag 19:42–64

Barry J (2004) Supply chain risk in an uncertain global supply chain environment. Int J Phys Distrib Logist Manag 34:695–697

Bhamra R, Dani S, Burnard K (2011) Resilience: the concept, a literature review and future directions. Int J Prod Res 49:5375–5393

Brunninge O (2009) Using history in organizations How managers make purposeful reference to history in strategy processes. J Organ Chang Manag 22:8–26

Copenhaver J, Lindstedt D (2010) From cacophony to symphony: how to focus the discipline of business continuity. JBus Contin Emerg Plan 4:165–173

Coutu DL (2002) How resilience works. Harv Bus Rev 80(5):46–55

Darwin C (1998) The origin of species. New York, NY, Oxford University Press

Devargas M (1999) Survival is not compulsory: an introduction to business continuity planning. Comput Secur 18:35–46

Engestrom Y, Kerosuo H, Kajamaa A (2007) Beyond discontinuity. Manag Learn 38:319–336

Faulkner B (2001) Towards a framework for tourism disaster management. Tour Manag 22:135–147

Forbes N (2009) Contingency planning for earthquakes in Asia. J Bus Contin Emerg Plan 3:356–367

Gibb F, Buchanan S (2006) A framework for business continuity management. Int J Inf Manag 26:128–141

Godschalk DR (2002) Urban hazard mitigation: creating resilient cities. Nat Hazards Rev 4:136–143

Hamel G, Välikangas L (2003) The quest for resilience. Harv Bus Rev 81(9):1–13.

Heinrich JH (2002) Maritime Security: A U.S. Customs Perspective, Marine Log Maritime Security Conference, Washington

Helferich OK, Cook RL (2002) Securing the supply chain. Oak Brook, IL, Council of Logistics Management (CLM)

Herbane B (2010) The evolution of business continuity management: a historical review of practices and drivers. Bus Hist 52:978–1002

Hinde S (1997) Business continuity planning. Comput Audit Updat 1997:2–5

Kalliopi S (2005) Coping with seismic vulnerability: small manufacturing firms in Western Athens. Disasters 29:195–212

Keenan Jr W (2006) The unexpected: is your supply chain prepared? Inbound Logistics 26(12):36–43

Klibi W, Martel A (2006) On the selection of effective and robust supply chain network designs. Incom 2006 St-Etienne, France

Kolich M, Wong-Reiger D (1999) Emotional stress and information processing ability in the context of accident causation. Int J Ind Ergon 24:591–602

Lapointe A, Cimon Y (2009) Leveraging intangibles: how firms can create lasting value. J Bus Strateg 30:40–48

Luthar S (1997) Sociodemographic disadvantage and psychosocial adjustment: Perspectives from developmental psychopathology. In: Luthar SS, Burack JA, Cicchetti D, Weisz JR (eds) Developmental psychopathology: Perspectives on adjustment risk and disorder. Cambridge University Press, New York

Luthar S, Cicchetti D, Becker B (2000) The Construct of resilience: a critical evaluation and guidelines for future work. Child Dev 71:543–562

Momani NM (2010) Business continuity planning: are we prepared for future disasters. Am J Econ Bus Adm 2:272–279

Pauchant TC, Mitroff II (1992) Transforming the crisis prone organization. Jossey-Bass Publishers, San Fransisco

RLSN Project Team (2003) Robust lean supply networks : industry best practices. Retrieved July 15th 2006, 2006, from http://www.rlsn.org/

Rice JB (2003) Supply chain response to terrorism. MIT Center for Transport and Logistics, Boston, p 59

Rice JB, Caniato F (2003) Building a secure and resilient supply network. Supply Chain Manag Rev 22–28.

Ritchie BW (2004) Chaos, crises and disasters: a strategic approach to crisis management in the tourism industry. Tour Manag 25:669–683

Roberts P, Molyneux H (2010) Implementing business continuity effectively within the UK National Health Service. J Bus Contin Emerg Plan 4:352–359

Rondinelli D, Berry M (2000) Multimodal transportation, logistics, and the environment: managing interactions in a global economy. Eur Manag J 18:398–410

Shaw S, Smith N (2010) Mitigating risks by integrating business continuity and security. J Bus Contin Emerg Plan 4:329–337

Skipper JB, Hanna JB (2009) Minimizing supply chain disruption risk through enhanced flexibility. Int J Phys Distrib Logist Manag 39:404–427

Stevenson W (2007) Operations management 9th Ed. New York, NY, McGraw-Hill Higher Education

Strong B (2010) Creating meaningful business continuity management programme metrics. J Bus Contin Emerg Plan 4:360–367

Svensson G (2004) Key areas, causes and contingency planning of corporate vulnerability in supply chains: a qualitative approach. Int J Phys Distrib Logist Manag 34:728–748

Vaid R (2008) How are operational risk and business continuity coming together as a common risk management spectrum? J Bus Contin Emerg Plan 2:330–339

Veronneau S, Cimon Y (2007) Maintaining robust decision capabilities: an integrative human-systems approach. Decis Support Syst 43:127–140
About this article
Cite this article
Véronneau, S., Cimon, Y. & Roy, J. A model for improving organizational continuity. J Transp Secur 6, 209–220 (2013). https://doi.org/10.1007/s12198-013-0112-4
Received:

Accepted:

Published:

Issue Date:
Keywords
Crisis Management

Disaster management

Continuity planning

Resilience

Organizational continuity