Abstract
The tradeoff between money and small risks of death is the value of statistical life (VSL), which has become the standard for assessing the benefits of risk and environmental regulations. Labor market estimates of the VSL average about $7 million. This valuation amount rises with age and then declines, closely tracking the pattern of consumption over the life cycle. The VSL for those at age 60 is higher than for people in their 20s. Application of this methodology to assess the mortality costs to smokers indicates a personal mortality cost on the order of $200 per pack for men and $100 for women using a 3% discount rate, but based on smokers' rates of time preference the costs are reduced by about an order of magnitude.
Access options
Buy single article
Instant access to the full article PDF.
USD 39.95
Price excludes VAT (USA)
Tax calculation will be finalised during checkout.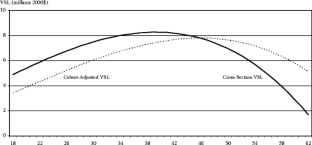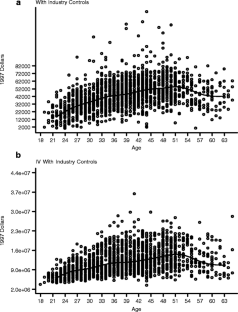 Notes
For further discussion of this policy debate, see Viscusi (1992) and Pete Earley, "What's a Life Worth? How the Reagan Administration Decides for You," The Washington Post Magazine, June 9, 1985.

See Memorandum to Secretarial Officers, Modal Administrators, from Tyler Duval, Assistant Secretary for Transportation Policy, and D.J. Gribbin, General Counsel, "Treatment of the Economic Value of a Statistical Life in Departmental Analyses," February 8, 2008 and the companion document, "Revised Departmental Guidance: Treatment of the Value of Preventing Fatalities and Injuries in Preparing Economic Analyses," U.S. Dept. of Transportation.

See "EPA Drops Age-Based Cost Studies," New York Times, May 8, 2003; "EPA to Stop 'Death Discount' to Value New Regulations," Wall Street Journal, May 8, 2003; and "Under Fire, EPA Drops the 'Senior Death Discount,'" Washington Post, May 13, 2003.

Both series are based on equally weighted minimum distance estimator with a third-order polynomial in age. The cohort-adjusted VSL also includes indicator variables for year of birth.

The risks were weighted by hours of employment in different industries by age and gender.
References
Aldy J, Viscusi WK (2008) Adjusting the value of statistical life for age and cohort effects. Review of Economics and Statistics (in press).

Cutler DM (2002) Health care and the public sector. In Auerbach AJ and Feldstein M (eds) Handbook of public economics. Elsevier Science, North Holland, pp. 2145–2243

Gruber J, Köszegi B (2001) Is addiction rational? Theory and evidence. Q J Econ 116(4):1261–1303

Hakes JK, Viscusi WK (2007) Automobile seatbelt usage and the value of statistical life. South Econ J 73(3):659–676

Kniesner TJ, Viscusi WK and Ziliak JP (2006) Life cycle consumption and the age-adjusted value of life. Contrib Econ Anal Pol 5(1), Article 4, BE Press.

Scharff R, Viscusi WK (2008) Heterogeneous rates of time preference and the decision to smoke. Working paper.

Shepard D, Zeckhauser R (1984) Survival versus consumption. Manage Sci 30(4):423–439

Sloan F et al. (2004) The price of smoking. MIT Press, Cambridge

Viscusi WK (1992) Fatal tradeoffs: Public and private responsibilities for risk. Oxford University Press, New York

Viscusi WK (1993) The value of risks to life and health. J Econ Lit 31(4):1912–1946

Viscusi WK (2002) Smoke-filled rooms: a postmortem on the tobacco deal. University of Chicago Press, Chicago

Viscusi WK, Aldy J (2003) The value of a statistical life: a critical review of market estimates throughout the world. J Risk Uncertain 27(1):5–76

Viscusi WK, Hakes JK (2008) Risk beliefs and smoking behavior. Econ Inq 46(1):45–59

Viscusi WK, Hersch J (2001) Cigarette smokers as job risk takers. Rev Econ Stat 83(2):269–280

Viscusi WK, Hersch J (2008) The mortality cost to smokers. J Health Econ (in press).
Additional information
This paper is based on the author's J. Anderson Davis Lecture at the annual meeting of the Academy of Economics and Finance, Nashville, TN, February 15, 2008.
About this article
Cite this article
Viscusi, W.K. How to value a life. J Econ Finance 32, 311–323 (2008). https://doi.org/10.1007/s12197-008-9030-x
Published:

Issue Date:

DOI: https://doi.org/10.1007/s12197-008-9030-x
Keywords
JEL codes