Abstract
Our purpose in this study was to evaluate the clinical usefulness of a new skyline-view imaging technique for axial projection of the patella with use of the anterior border of the patella and tibial tuberosity as position indicators. Our database consisted of pairs of axial images of the patella of the same patients, obtained with use of conventional and new techniques for the radiographic diagnosis of knee-joint diseases. A total of 118 pairs of knee images were obtained from 103 patients ranging in age from 16 to 86 years (mean age 49.7 years). The patellar axial positioning errors were determined in each of the images obtained with the two techniques. The relative error according to the patellar tilt was determined from each of the axial images of the patellas of the same patients obtained with the conventional and new techniques for the radiographic diagnosis of knee-joint diseases. The patellar axial positioning error was 0.40 with the conventional technique, whereas that with the new technique was significantly different at 0.30. This clinical study confirmed that the new skyline-view imaging technique, which uses the anterior border of the patella and the tibial tuberosity as position markers that can be confirmed by palpation, provides more accurate axial images than the conventional imaging technique.
Access options
Buy single article
Instant access to the full article PDF.
US$ 39.95
Tax calculation will be finalised during checkout.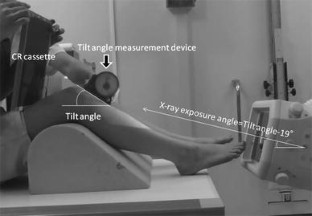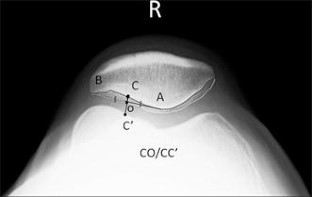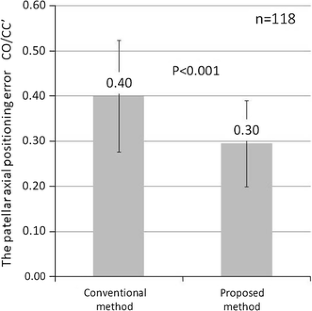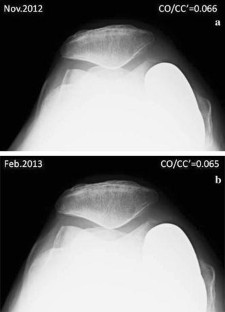 References
1.

Merchant AC, Mercer RL, Jacobsen RH, et al. Roengenographic analysis of patellofemoral joint. J Bone Joint Surg Am. 1974;56:1391–6.

2.

Davies AP, Bayer J, Johnson SO, et al. The optimum knee flexion angle for skyline radiography is thirty degrees. Clin Orthop Relat Res. 2004;423:166–71.

3.

Bhatnagar S, Smith RC, Darrah C, et al. Evidence-based practice in the utilization of knee radiographs––A survey of all members of the British Orthopaedic Association. Int Orthop. 2006;30:409–11.

4.

Ahamad CS, Kwak SD, Ateshian GA, et al. Effects of Patellar Tendon Adhesion to the Anterior Tibia on Knee Mechanics. The Am J of Sports Med. 1998;26:715–24.

5.

Koike M, Nose H, Takagi S, et al. Appropriate incidence angle for fundamental research on new skyline radiography development. Radiol Phys Technol. 2014. doi:10.1007/s12194-014-0280-3.

6.

Baldini A, Anderson JA, Mariani PC, et al. Patellofemoral evaluation after total knee arthroplasty. J Bone Joint Surg Am. 2007;89:1810–7.
Acknowledgments
The authors are grateful to the members of the Radiological Center, National Defense Medical College Hospital, for supporting this work. We thank Drs. M. Irimoto, H. Tsuchiya and R. Nakayama of the Graduate School of Suzuka University of Medical Science.
Conflict of interest
This paper has neither been published nor is it under consideration for publication elsewhere. All authors have contributed to the work described in the paper, and they report no conflict of interest.
About this article
Cite this article
Koike, M., Nose, H., Takagi, S. et al. A skyline-view imaging technique for axial projection of the patella: a clinical study. Radiol Phys Technol 8, 174–177 (2015). https://doi.org/10.1007/s12194-014-0305-y
Received:

Revised:

Accepted:

Published:

Issue Date:
Keywords
Bone

Digital radiography

Positioning

Skyline view