Abstract
Our purpose in this study was to elucidate the relationship between the angles formed between the anterior patella, tibial tuberosity, and the knee joint cavity and the flexion angle, sex, and age of the subjects. We investigated 368 images of 280 patients ranging in age from 16 to 60 years (179 knees of 150 men, mean age 36.4 years; 189 knees of 130 women, mean age 41.4 years) who underwent lateral radiography of the knee. The tibial tuberosity on the lateral radiograph of the knee was defined as a reference point, and a line tangent to the anterior patella was used as a reference line. The angle between the reference line and the straight line from the reference point to the knee joint cavity (incidence angle) was measured. The average incidence angle was 19° (SD 1.8°). There was almost no correlation between the incidence angle and the flexion angle, and neither the knee flexion angle nor age had any influence on the incidence angle. There was a difference between the sexes in the average incidence angle, but this difference was less than 1°. Further study on the same patients is required for comparison of this technique with the conventional technique that uses the femur for reference.
Access options
Buy single article
Instant access to the full article PDF.
US$ 39.95
Tax calculation will be finalised during checkout.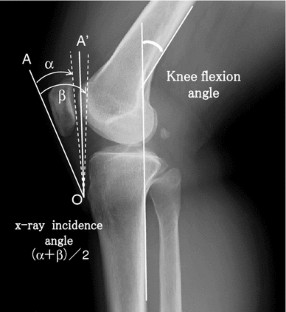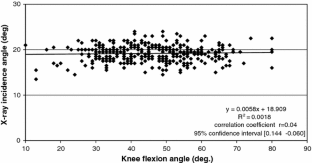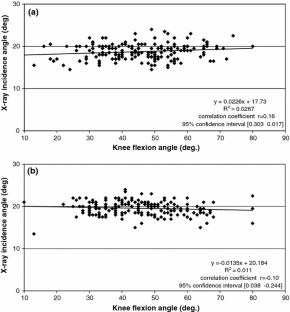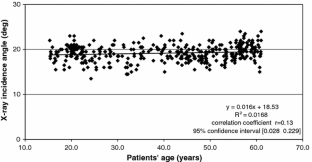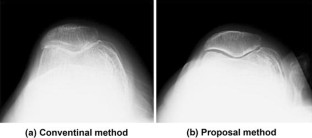 References
1.

Merchant AC, Mercer RL, Jacobsen RH, Cool CR. Roentgenographic analysis of patellofemoral congruence. J Bone Joint Surg Am. 1974;56:1391–6.

2.

Laurin CA, Dussault R, Levesque HP. The tangential x-ray investigation of the patellofemoral joint. Clin Orthop Relat Res. 1979;144:16–26.

3.

Ficat RP, Philippe J, Hungerford DS. Chondromalacia patellae: a system of classification. Clin Orthop Relat Res. 1979;144:55–62.

4.

Amauchi H, Ikeno T, Sasaki M, Mitani Y. Standardization for the X-ray radiography in skyline views of the patello-femoral joint. Jpn J Radiol Technol. 1983;39:154–63.
Acknowledgments
The authors are grateful to the members of the Radiological Center, National Defense Medical College Hospital, for supporting this work. We thank all members of the Graduate School of Suzuka University of Medical Science.
Conflict of interest
This paper has neither been published nor is it under consideration for publication elsewhere. All authors have contributed to the work described in the paper, and they report no conflict of interest.
About this article
Cite this article
Koike, M., Nose, H., Takagi, S. et al. Appropriate incidence angle for fundamental research on new skyline radiography development. Radiol Phys Technol 8, 13–17 (2015). https://doi.org/10.1007/s12194-014-0280-3
Received:

Revised:

Accepted:

Published:

Issue Date:
Keywords
Bone

Digital radiography

Positioning

Skyline view