Abstract
The way doctors deliver bad news has a significant impact on the therapeutic process. In order to facilitate doctor's training, we have developed an embodied conversational agent simulating a patient to train doctors to break bad news. In this article, we present an evaluation of the virtual reality training platform comparing the users' experience depending on the virtual environment displays: a PC desktop, a virtual reality headset, and four wall fully immersive systems. The results of the experience, including both real doctors and naive participants, reveal a significant impact of the environment display on the perception of the user (sense of presence, sense of co-presence, perception of the believability of the virtual patient), showing, moreover, the different perceptions of the participants depending on their level of expertise.
Access options
Buy single article
Instant access to the full article PDF.
USD 39.95
Price excludes VAT (USA)
Tax calculation will be finalised during checkout.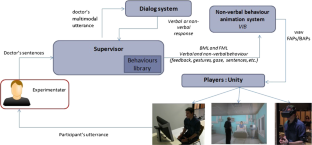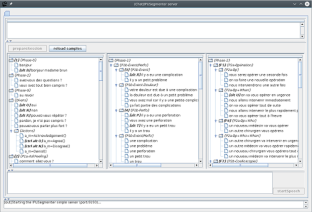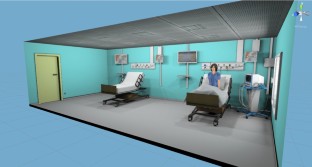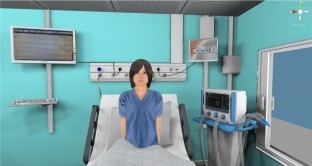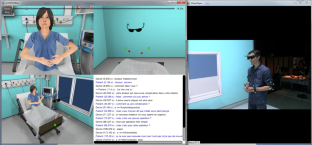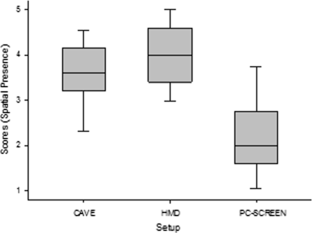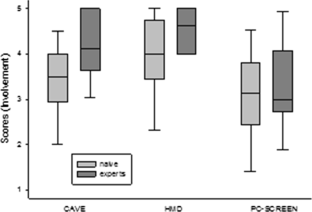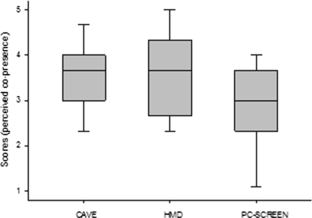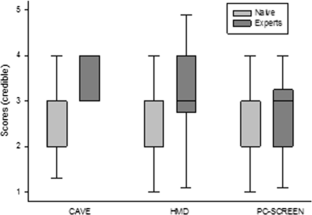 Notes
The French National Authority for Health is an independent public scientific authority with an overall mission of contributing to the regulation of the healthcare system by improving health quality and efficiency.

Note that no consensus exists on the notion of co-presence. A detailed discussion on the different definitions can be found in [5].

The scenario has been carefully chosen with the medical partners of the project for several reasons (e.g. the panel of resulting damages, the difficulty of the announcement, its standard characteristics of announce).
References
Anderson K, André E, Baur T, Bernardini S, Chollet M, Chryssafidou E, Damian I, Ennis C, Egges A, Gebhard P, et al (2013) The TARDIS framework: intelligent virtual agents for social coaching in job interviews. In: Advances in computer entertainment. Springer, pp 476–491

Andrade A, Bagri A, Zaw K, Roos B, Ruiz J (2010) Avatar-mediated training in the delivery of bad news in a virtual world. J Palliat Med 13(12):1415–1419

Aylett MP, Pidcock CJ (2007) The cerevoice characterful speech synthesiser SDK. In: IVA, pp 413–414

Baile W, Buckman R, Lenzi R, Glober G, Beale E, Kudelka A (2000) Spikes—a six-step protocol for delivering bad news: application to the patient with cancer. Oncologist 5(4):302–311

Bailenson JN, Swinth K, Hoyt C, Persky S, Dimov A, Blascovich J (2005) The independent and interactive effects of embodied-agent appearance and behavior on self-report, cognitive, and behavioral markers of copresence in immersive virtual environments. Presence Teleoperators Virtual Environ 14(4):379–393

Billinghurst M, Weghorst S (1995) The use of sketch maps to measure cognitive maps of virtual environments. In: Proceedings virtual reality annual international symposium, 1995, IEEE, pp 40–47

Buttussi F, Chittaro L (2017) Effects of different types of virtual reality display on presence and learning in a safety training scenario. IEEE Trans Vis Comput Graph 24(2):1063–1076

Bystrom KE, Barfield W, Hendrix C (1999) A conceptual model of the sense of presence in virtual environments. Presence Teleoperators Virtual Environ 8(2):241–244

Cadoz C (1994) Les réalités virtuelles: Un exposé pour comprendre, un essai pour réfléchir. FeniXX

Csikszentmihalyi M (2014) Toward a psychology of optimal experience. In: Flow and the foundations of positive psychology. Springer, Dordrecht, pp 209–226

Deladisma A, Cohen M, Stevens A, Wagner P, Lok B, Bernard T, Oxendine C, Schumacher L, Johnsen K, Dickerson R et al (2007) Do medical students respond empathetically to a virtual patient? Am J Surg 193(6):756–760

Draper JV, Kaber DB, Usher JM (1998) Telepresence. Hum Factors 40(3):354–375

Finkelstein S, Yarzebinski E, Vaughn C, Ogan A, Cassell J (2013) The effects of culturally congruent educational technologies on student achievement. In: International conference on artificial intelligence in education. Springer, pp 493–502

Gerhard M, Moore DJ, Hobbs DJ (2001) Continuous presence in collaborative virtual environments: towards a hybrid avatar-agent model for user representation. In: International workshop on intelligent virtual agents. Springer, pp 137–155

Gratch J, Wang N, Gerten J, Fast E, Duffy R (2007) Creating rapport with virtual agents. In: International workshop on intelligent virtual agents. Springer, pp 125–138

Heeter C (1992) Being there: the subjective experience of presence. Presence Teleoperators Virtual Environ 1(2):262–271

Hendrix C, Barfield W (1996) Presence within virtual environments as a function of visual display parameters. Presence Teleoperators Virtual Environ 5(3):274–289

Hoffmann L, Krämer NC, Lam-Chi A, Kopp S (2009) Media equation revisited: do users show polite reactions towards an embodied agent? In: International workshop on intelligent virtual agents. Springer, pp 159–165

Juan MC, Pérez D (2009) Comparison of the levels of presence and anxiety in an acrophobic environment viewed via HMD or CAVE. Presence Teleoperators Virtual Environ 18(3):232–248

Kenny P, Parsons TD, Gratch J, Rizzo AA (2008) Evaluation of Justina: a virtual patient with PTSD. In: International workshop on intelligent virtual agents. Springer, pp 394–408

Kopp S, Krenn B, Marsella S, Marshall AN, Pelachaud C, Pirker H, Thórisson KR, Vilhjálmsson H (2006) Towards a common framework for multimodal generation: the behavior markup language. In: International workshop on intelligent virtual agents. Springer, pp 205–217

Krämer NC (2008) Social effects of virtual assistants. a review of empirical results with regard to communication. In: Proceedings of the international conference on intelligent virtual agents (IVA). Springer, Berlin, Heidelberg, pp 507–508

Krijn M, Emmelkamp PM, Biemond R, de Ligny Cdw, Schuemie MJ, van der Mast CA (2004) Treatment of acrophobia in virtual reality: the role of immersion and presence. Behav Res Ther 42(2):229–239

Lessiter J, Freeman J, Keogh E, Davidoff J (2001) A cross-media presence questionnaire: the ITC-sense of presence inventory. Presence Teleoperators Virtual Environ 10(3):282–297

Limniou M, Roberts D, Papadopoulos N (2008) Full immersive virtual environment CAVE TM in chemistry education. Comput Educ 51(2):584–593

Lok B, Ferdig RE, Raij A, Johnsen K, Dickerson R, Coutts J, Stevens A, Lind DS (2006) Applying virtual reality in medical communication education: current findings and potential teaching and learning benefits of immersive virtual patients. Virtual Real 10(3–4):185–195

Mestre DR (2015) On the usefulness of the concept of presence in virtual reality applications. In: IS&T/SPIE electronic imaging, pp 93920J–93920J

Mikropoulos TA, Natsis A (2011) Educational virtual environments: a ten-year review of empirical research (1999–2009). Comput Educ 56(3):769–780

Monden K, Gentry L, Cox T (2016) Delivering bad news to patients. Proc Bayl Univ Med Cent 29(1):101–102

Parsons TD, Rizzo AA (2008) Affective outcomes of virtual reality exposure therapy for anxiety and specific phobias: a meta-analysis. J Behav Ther Exp Psychiatry 39(3):250–261

Pelachaud C (2009) Studies on gesture expressivity for a virtual agent. Speech Commun 51(7):630–639

Porhet C, Ochs M, Saubesty J, Montcheuil G, Bertrand R (2017) Mining a multimodal corpus of doctor's training for virtual patient's feedbacks. In: Proceedings of 19th ACM international conference on multimodal interaction (ICMI), Glasgow, UK

Quest TE, Ander DS, Ratcliff JJ (2006) The validity and reliability of the affective competency score to evaluate death disclosure using standardized patients. J Palliat Med 9(2):361–370

Raij A, Kotranza A, Lind DS, Lok B (2009) Virtual experiences for social perspective-taking. In: Virtual reality conference, 2009, VR 2009. IEEE, pp 99–102

Rosenbaum M, Ferguson K, Lobas J (2004) Teaching medical students and residents skills for delivering bad news: a review of strategies. Acad Med 79(2):107–117

Santos BS, Dias P, Pimentel A, Baggerman JW, Ferreira C, Silva S, Madeira J (2009) Head-mounted display versus desktop for 3D navigation in virtual reality: a user study. Multimed Tools Appl 41(1):161

Schubert T, Friedmann F, Regenbrecht H (2001) The experience of presence: factor analytic insights. Presence Teleoperators Virtual Environ 10(3):266–281

Schubert TW (2003) The sense of presence in virtual environments: a three-component scale measuring spatial presence, involvement, and realness. Zeitschrift für Medienpsychologie 15(2):69–71

Shiratuddin MF, Thabet W, Bowman D (2004) Evaluating the effectiveness of virtual environment displays for reviewing construction 3D models. In: CONVR 2004, pp 87–98

Slater M, Linakis V, Usoh M, Kooper R, Street G (1996) Immersion, presence, and performance in virtual environments: an experiment with tri-dimensional chess. In: ACM virtual reality software and technology (VRST), ACM Press, New York, NY, vol 163, p 72

Slater M, Sadagic A, Usoh M, Schroeder R (2006) Small-group behavior in a virtual and real environment: a comparative study. Small Group Behav 9(1):37–51

Slater M, Wilbur S (1997) A framework for immersive virtual environments (five): speculations on the role of presence in virtual environments. Presence Teleoperators Virtual Environ 6(6):603–616

Usoh M, Catena E, Arman S, Slater M (2000) Using presence questionnaires in reality. Presence Teleoperators Virtual Environ 9(5):497–503

Witmer BG, Singer MJ (1998) Measuring presence in virtual environments: a presence questionnaire. Presence Teleoperators Virtual Environ 7(3):225–240
Acknowledgements
This work has been funded by the French National Research Agency project ACORFORMED (ANR-14-CE24-0034-02) and supported by Grants ANR-16-CONV-0002 (ILCB), ANR-11-LABX-0036 (BLRI) and ANR-11-IDEX-0001-02 (A*MIDEX).
Additional information
Publisher's Note
Springer Nature remains neutral with regard to jurisdictional claims in published maps and institutional affiliations.
About this article
Cite this article
Ochs, M., Mestre, D., de Montcheuil, G. et al. Training doctors' social skills to break bad news: evaluation of the impact of virtual environment displays on the sense of presence. J Multimodal User Interfaces 13, 41–51 (2019). https://doi.org/10.1007/s12193-018-0289-8
Received:

Accepted:

Published:

Issue Date:

DOI: https://doi.org/10.1007/s12193-018-0289-8
Keywords
Virtual reality

Presence

Training

Embodied conversational agent

Health domain

Breaking bad news