Abstract
Visual impairment limits a person mainly in the ability to move freely and independently. Even with many navigation aids and tools currently on the market, almost one-third of the visually impaired do not travel alone without a guide. One of the most useful aids are the landmark-enhanced itineraries of the route created by orientation and mobility specialists. We describe the design of a system, which is based on a specific, efficiently collected geographical data, and which automatically generates human-like landmark-enhanced itineraries for navigation of visually impaired users. The studies we conducted (quantitative n = 16, qualitative n = 6) showed usability and efficiency of the system. We also provide a set of design recommendations to increase the usability of the system along with specific examples of usage of particular landmarks. Moreover, we report on 14-day long diary study (n = 3) where visually impaired participants used the system freely throughout the city center with a success rate of 84% without using GPS. Finally, based on an over-the-phone survey (n = 18), we provide a methodology to identify the essential area, where geographical data needs to be collected to enable visually impaired pedestrians to travel around the city center efficiently.
Access options
Buy single article
Instant access to the full article PDF.
US$ 39.95
Tax calculation will be finalised during checkout.
Subscribe to journal
Immediate online access to all issues from 2019. Subscription will auto renew annually.
US$ 79
Tax calculation will be finalised during checkout.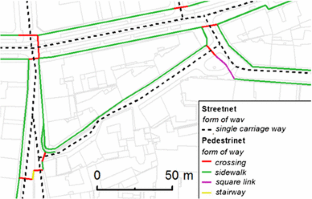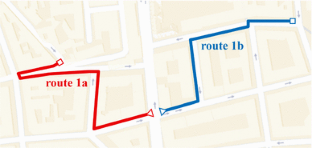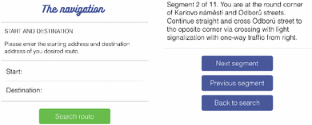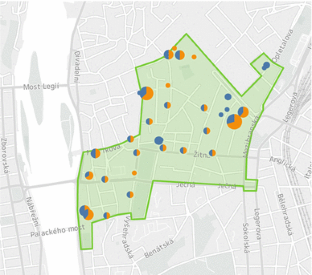 References
1.

American Foundation for the Blind: Giving directions to a person who is blind or visually impaired. http://www.afb.org/info/friends-and-family/etiquette/giving-directions/235 Last visited 03/2017

2.

Armstrong JD (1975) Evaluation of man-machine systems in the mobility of the visually handicapped. Hum Factors Health Care 331–343

3.

Balata J, Mikovec Z, Maly I (2015) Navigation problems in blind-to-blind pedestrians tele-assistance navigation. In: INTERACT. Springer, pp 89–109

4.

Balata J, Mikovec Z, Bures P, Mulickova E (2016) Automatically generated landmark-enhanced navigation instructions for blind pedestrians. In: 2016 Federated conference on computer science and information systems (FedCSIS). IEEE, pp 1605–1612

5.

Binder MD, Hirokawa N, Windhorst U (eds) (2009) Spatial language. Springer, Berlin, pp 3799–3799. https://doi.org/10.1007/978-3-540-29678-2_5547

6.

Bradley NA, Dunlop MD (2005) An experimental investigation into wayfinding directions for visually impaired people. Pers Ubiquitous Comput 9(6):395–403. https://doi.org/10.1007/s00779-005-0350-y

7.

Bujacz M, Baranski P, Moranski M, Strumillo P, Materka A (2008) Remote guidance for the blind—a proposed teleassistance system and navigation trials. In: HSI 2008, pp 888–892. IEEE. https://doi.org/10.1109/hsi.2008.4581561

8.

Cattaneo Z, Vecchi T, Cornoldi C, Mammarella I, Bonino D, Ricciardi E, Pietrini P (2008) Imagery and spatial processes in blindness and visual impairment. Neurosci Biobehav Rev 32(8):1346–1360

9.

Clark-Carter D, Heyes A, Howarth C (1986) The efficiency and walking speed of visually impaired people. Ergonomics 29(6):779–789. https://doi.org/10.1080/00140138608968314

10.

Denis M (1997) The description of routes: a cognitive approach to the production of spatial discourse. Cahiers de psychologie cognitive 16(4):409–458

11.

Denis M (2008) Assessing the symbolic distance effect in mental images constructed from verbal descriptions: a study of individual differences in the mental comparison of distances. Acta Psychol 127(1):197–210

12.

Denis M, Zimmere M (1992) Analog properties of cognitive maps constructed from verbal descriptions. Psychol Res 54(4):286–298

13.

Dragicevic P (2015) HCI Statistics without p-values. [Research Report] RR-8738, Inria, p 32

14.

Faria J, Lopes S, Fernandes H, Martins P, Barroso J (2010) Electronic white cane for blind people navigation assistance. In: WAC 2010. IEEE, pp 1–7

15.

Fletcher JF (1980) Spatial representation in blind children. 1: development compared to sighted children. J Vis Impair Blind 74(10):381–85

16.

Golledge RG (1993) Geography and the disabled: a survey with special reference to vision impaired and blind populations. Trans Inst Br Geogr. https://doi.org/10.2307/623069

17.

Golledge RG (1999) Human wayfinding and cognitive maps. In: Golledge RG (ed) Wayfinding behavior: Cognitive mapping and other spatial processes, pp 5–45

18.

Ishikawa T, Fujiwara H, Imai O, Okabe A (2008) Wayfinding with a GPS-based mobile navigation system: a comparison with maps and direct experience. J Environ Psychol 28(1):74–82. https://doi.org/10.1016/j.jenvp.2007.09.002

19.

Kaski D (2002) Revision: is visual perception a requisite for visual imagery? Perception 31(6):717–731

20.

Kitchin R, Blades M (2002) The cognition of geographic space, vol 4. IB Tauris, New York

21.

Leshed G, Velden T, Rieger O, Kot B, Sengers P (2008) In-car GPS navigation: engagement with and disengagement from the environment. In: Proceedings of the SIGCHI conference on human factors in computing systems. ACM, pp 1675–1684

22.

Loomis JM, Golledge RG, Klatzky RL (1998) Navigation system for the blind: auditory display modes and guidance. Presence Teleoper Virtual Environ 7(2):193–203. https://doi.org/10.1162/105474698565677

23.

Loomis JM, Klatzky RL, Giudice NA (2013) Representing 3D space in working memory: spatial images from vision hearing touch and language. Multisensory imagery. Springer, New York, NY, USA, pp 131–155

24.

May AJ, Ross T, Bayer SH, Tarkiainen MJ (2003) Pedestrian navigation aids: information requirements and design implications. Pers Ubiquitous Comput 7(6):331–338. https://doi.org/10.1007/s00779-003-0248-5

25.

Millar S (1994) Understanding and representing space: theory and evidence from studies with blind and sighted children. Oxford University/Clarendon Press, New York

26.

Millar S (2008) Space and sense. Psychology Press, Hove

27.

Millonig A, Schechtner K (2007) Developing landmark-based pedestrian-navigation systems. ITSC 8(1):43–49. https://doi.org/10.1109/tits.2006.889439

28.

Noordzij ML, Zuidhoek S, Postma A (2006) The influence of visual experience on the ability to form spatial mental models based on route and survey descriptions. Cognition 100(2):321–342

29.

Parush A, Ahuvia S, Erev I (2007) Degradation in spatial knowledge acquisition when using automatic navigation systems. In: International conference on spatial information theory. Springer, pp 238–254

30.

Passini R, Proulx G, Rainville C (1990) The spatio-cognitive abilities of the visually impaired population. Environ Behav 22(1):91–118

31.

Petrie H, Johnson V, Strothotte T, Michel R, Raab A, Reichert L (1997) User-centred design in the development of a navigational aid for blind travellers. In: INTERACT 1997. Springer, pp 220–227. https://doi.org/10.1007/978-0-387-35175-9_39

32.

Pielot M, Poppinga B, Heuten W, Boll S (2011) A tactile compass for eyes-free pedestrian navigation. In: INTERACT 2011. Springer, pp 640–656. https://doi.org/10.1007/978-3-642-23771-3_47

33.

Raz N, Striem E, Pundak G, Orlov T, Zohary E (2007) Superior serial memory in the blind: a case of cognitive compensatory adjustment. Curr Biol 17(13):1129–1133. https://doi.org/10.1016/j.cub.2007.05.060

34.

Rehrl K, Häusler E, Leitinger S (2010) Comparing the effectiveness of GPS-enhanced voice guidance for pedestrians with metric-and landmark-based instruction sets. In: Geographic information science. Springer, pp 189–203. https://doi.org/10.1007/978-3-642-15300-6_14

35.

Ross T, May A, Thompson S (2004) The use of landmarks in pedestrian navigation instructions and the effects of context. In: MobileHCI 2004. Springer, pp 300–304. https://doi.org/10.1007/978-3-540-28637-0_26

36.

Sammer G, Uhlmann T, Unbehaun W, Millonig A, Mandl B, Dangschat J, Mayr R (2012) Identification of mobility-impaired persons and analysis of their travel behavior and needs. Transp Res Rec J Transp Res Board 2320:46–54

37.

Schinazi VR (2005) Spatial representation and low vision: two studies on the content, accuracy and utility of mental representations. In: International Congress Series, vol 1282. Elsevier, pp 1063–1067. https://doi.org/10.1016/j.ics.2005.05.163

38.

Spencer C, Blades M, Morsley K (1989) The child in the physical environment. Wiley, New York

39.

Struiksma ME, Noordzij ML, Postma A (2009) What is the link between language and spatial images? Behavioral and neural findings in blind and sighted individuals. Acta Psychol 132(2):145–156

40.

Swobodzinski M, Raubal M (2009) An indoor routing algorithm for the blind: development and comparison to a routing algorithm for the sighted. Int J Geogr Inf Sci 23(10):1315–1343

41.

Thinus-Blanc C, Gaunet F (1997) Representation of space in blind persons: vision as a spatial sense? Psychol Bull 121(1):20. https://doi.org/10.1037/0033-2909.121.1.20

42.

Tyfloservis: http://www.tyfloservis.cz/. Last visited 03/2017

43.

Völkel T, Kühn R, Weber G (2008) Mobility impaired pedestrians are not cars: requirements for the annotation of geographical data. In: Miesenberger K, Klaus J, Zagler W, Karshmer A (eds) Computers helping people with special needs. Springer, Berlin, Heidelberg, pp 1085–1092

44.

Völkel T, Weber G (2008) Routecheckr: personalized multicriteria routing for mobility impaired pedestrians. In: Proceedings of the 10th international ACM SIGACCESS conference on computers and accessibility. ACM, pp 185–192

45.

Vystrčil J, Míkovec Z, Slavík P (2012) NaviTerier - Indoor navigation system for visually impaired. Smart homes 2012. Czech Technical University, Prague, pp 25–28

46.

Wagener-Wender M, Wender KF (1990) Expectations, mental representations, and spatial inferences. Psychol Learn Motiv 25:137–157

47.

White RW, Grant P (2009) Designing a visible city for visually impaired users. In: Proceedings of the 2009 international conference on inclusive design

48.

WHO (2009) ICD update and revision platform: change the definition of blindness. http://www.who.int/blindness/Change%20the%20Definition%20of%20Blindness.pdf

49.

Wobbrock JO, Kane SK, Gajos KZ, Harada S, Froehlich J (2011) Ability-based design: concept, principles and examples. ACM Trans Access Comput (TACCESS) 3(3):9

50.

Zeng L, Kühn R, Weber G (2017) Improvement in environmental accessibility via volunteered geographic information: a case study. Univ Access Inf Soc 16(4):939–949. https://doi.org/10.1007/s10209-016-0505-9
Acknowledgements
This research has been supported by the project Navigation of handicapped people funded by grant no. SGS16/236/OHK3/3T/13 (FIS 161 – 1611663C000).
Additional information
Publisher's Note
Springer Nature remains neutral with regard to jurisdictional claims in published maps and institutional affiliations.
Appendix A: Random variables
Appendix A: Random variables
We classified the problems (or disruptions) observed during the Comparative Study (see Sect. 4) into four categories: Collisions with objects \(27\times \), Interference of passerby people \(11\times \) (offering help \(5\times \) or grabbing and dragging \(6\times \)), Disruptions of the senses \(17\times \), and Stress \(3\times \). We consider Collisions with object and Interference of passerby people—offering help as common problems \(31\times \). We consider Interference of passerby people—grabbing and dragging, Disruption of senses and Stress as serious problems \(27\times \). Table 6 contains full list of problems occurred during the comparative study classified into corresponding classes.
About this article
Cite this article
Balata, J., Mikovec, Z. & Slavik, P. Landmark-enhanced route itineraries for navigation of blind pedestrians in urban environment. J Multimodal User Interfaces 12, 181–198 (2018). https://doi.org/10.1007/s12193-018-0263-5
Received:

Accepted:

Published:

Issue Date:
Keywords
Accessibility

Visually impaired

Navigation

Landmark