Abstract
Human periodontal ligament fibroblast (HPDLF) is a major component of the resident cells in the periodontal microenvironment, and plays important roles in periodontitis through multiple mechanisms. Although lipopolysaccharide (LPS) has been shown to cause endoplasmic reticulum (ER) stress and activate the unfolded protein response (UPR) in HPDLF, the mechanisms governing HPDLF function in periodontitis are unclear. In this study, we tested the ability of unfolded protein response (UPR) to regulate HPDLF in vitro and examined the underlying mechanisms. We found LPS-pretreated HPDLF induced macrophage polarization toward M1 phenotype. UPR activation reduced the inflammatory cytokine production and downregulated the expression of TLR4 in HPDLF. The phosphorylation of NF-κB p65 and I-κB was also inhibited by UPR activation. Our findings demonstrate that the connection of LPS, UPR, and HPDLF may represent a new concrete theory of innate immunity regulation in periodontal diseases, and suggest that targeting of UPR in HPDLF may be developed as a potent therapy for periodontitis.
Access options
Buy single article
Instant access to the full article PDF.
USD 39.95
Price excludes VAT (USA)
Tax calculation will be finalised during checkout.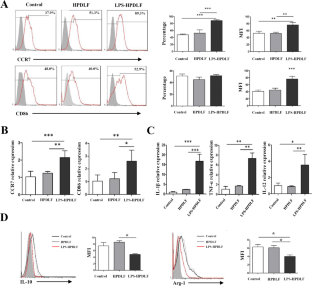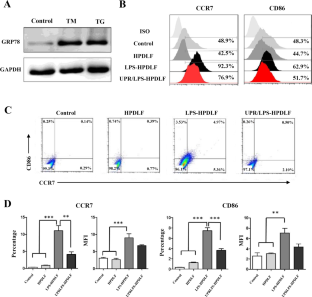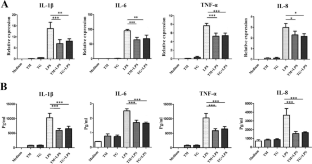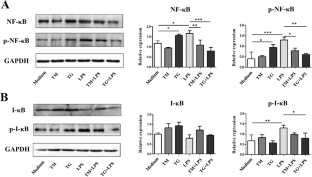 References
Ali M, Yang F, Plachokova AS, Jansen JA, Walboomers XF (2021) Application of specialized pro-resolving mediators in periodontitis and peri-implantitis: a review. Eur J Oral Sci 129:e12759

Ciesielska A, Matyjek M, Kwiatkowska K (2021) TLR4 and CD14 trafficking and its influence on LPS-induced pro-inflammatory signaling. Cell Mol Life Sci 78:1233–1261

Domon H, Takahashi N, Honda T, Nakajima T, Tabeta K, Abiko Y, Yamazaki K (2009) Up-regulation of the endoplasmic reticulum stress-response in periodontal disease. Clin Chim Acta Int J Clin Chem 401:134–140

Gong J, Fang L, Liu R, Wang Y, Xing J, Chen Y, Zhuang R, Zhang Y, Zhang C, Yang A, Zhang X, Jin B, Chen L (2014) UPR decreases CD226 ligand CD155 expression and sensitivity to NK cell-mediated cytotoxicity in hepatoma cells. Eur J Immunol 44:3758–3767

Graves D (2008) Cytokines that promote periodontal tissue destruction. J Periodontol 79:1585–1591

Heo SC, Kim YN, Choi Y, Joo JY, Hwang JJ, Bae MK, Kim HJ (2021) Elevated expression of cathepsin K in periodontal ligament fibroblast by inflammatory cytokines accelerates osteoclastogenesis via paracrine mechanism in periodontal disease. Int J Mol Sci 22:695

Hsu SK, Chiu CC, Dahms HU, Chou CK, Cheng CM, Chang WT, Cheng KC, Wang HD, Lin IL (2019) Unfolded protein response (UPR) in survival, dormancy, immunosuppression, metastasis, and treatments of cancer cells. Int J Mol Sci 20(10):2518

Jin J, Wang Y, Ma Q, Wang N, Guo W, Jin B, Fang L, Chen L (2018) LAIR-1 activation inhibits inflammatory macrophage phenotype in vitro. Cell Immunol 331:78–84

Lemmer IL, Willemsen N, Hilal N, Bartelt A (2021) A guide to understanding endoplasmic reticulum stress in metabolic disorders. Mol Metab 47:101169

Li K, Lv G, Pan L (2018) Sirt1 alleviates LPS induced inflammation of periodontal ligament fibroblasts via downregulation of TLR4. Int J Biol Macromol 119:249–254

Lu YC, Yeh WC, Ohashi PS (2008) LPS/TLR4 signal transduction pathway. Cytokine 42:145–151

Ma Y, Shimizu Y, Mann MJ, Jin Y, Hendershot LM (2010) Plasma cell differentiation initiates a limited ER stress response by specifically suppressing the PERK-dependent branch of the unfolded protein response. Cell Stress Chaperones 15:281–293

McGrath EP, Centonze FG, Chevet E, Avril T, Lafont E (2021) Death sentence: the tale of a fallen endoplasmic reticulum. Biochim Biophys Acta Mol Cell Res 1868:119001

Ren J, Bi Y, Sowers JR, Hetz C, Zhang Y (2021) Endoplasmic reticulum stress and unfolded protein response in cardiovascular diseases. Nat Rev Cardiol 18(7):499–521. https://doi.org/10.1038/s41569-021-00511-w

Seong J, Lee J, Lim YK, Yoon WJ, Jung S, Kook JK, Lee TH (2020) Osmunda japonica extract suppresses pro-inflammatory cytokines by downregulating NF-kappaB activation in periodontal ligament fibroblasts infected with oral pathogenic bacteria. Int J Mol Sci 21:2453

Seumen CHT, Grimm TM, Hauck CR (2021) Protein phosphatases in TLR signaling. Cell Commun Signal 19:45

Shapouri-Moghaddam A, Mohammadian S, Vazini H, Taghadosi M, Esmaeili SA, Mardani F, Seifi B, Mohammadi A, Afshari JT, Sahebkar A (2018) Macrophage plasticity, polarization, and function in health and disease. J Cell Physiol 233:6425–6440

Sica A, Mantovani A (2012) Macrophage plasticity and polarization: in vivo veritas. J Clin Investig 122:787–795

Sokos D, Everts V, de Vries TJ (2015) Role of periodontal ligament fibroblasts in osteoclastogenesis: a review. J Periodontal Res 50:152–159

Somerman MJ, Archer SY, Imm GR, Foster RA (1988) A comparative study of human periodontal ligament cells and gingival fibroblasts in vitro. J Dent Res 67:66–70

Wang Y, Gong J, Zeng H, Liu R, Jin B, Chen L, Wang Q (2016) Lipopolysaccharide activates the unfolded protein response in human periodontal ligament fibroblasts. J Periodontol 87:e75-81

Wu X, Zhang G, Wang X, Zhang P, Tan Y (2015) Endotoxin tolerance induction in human periodontal ligament fibroblasts stimulated with different bacterial lipopolysaccharides. Arch Oral Biol 60:463–470

Xu W, Zhou W, Wang H, Liang S (2020) Roles of Porphyromonas gingivalis and its virulence factors in periodontitis. Adv Protein Chem Struct Biol 120:45–84

Yamada H, Nakajima T, Domon H, Honda T, Yamazaki K (2015) Endoplasmic reticulum stress response and bone loss in experimental periodontitis in mice. J Periodontal Res 50:500–508

Zou H, Zhou N, Huang Y, Luo A, Sun J (2021) Phenotypes, roles, and modulation of regulatory lymphocytes in periodontitis and its associated systemic diseases. J Leukoc Biol. https://doi.org/10.1002/JLB.3VMR0321-027RRR
Funding
This work was supported by the National Natural Science Foundation of China (82171848, 81971752, 81872315) and the Fourth Military Medical University projects (No. 2018HKPY02).
Ethics declarations
Conflict of interest
The authors declare no competing interests.
Additional information
Publisher's note
Springer Nature remains neutral with regard to jurisdictional claims in published maps and institutional affiliations.
Supplementary Information
Below is the link to the electronic supplementary material.
About this article
Cite this article
Shen, Y., Wang, Y., Fu, Z. et al. UPR attenuates the proinflammatory effect of HPDLF on macrophage polarization. Cell Stress and Chaperones 26, 937–944 (2021). https://doi.org/10.1007/s12192-021-01234-0
Received:

Revised:

Accepted:

Published:

Issue Date:

DOI: https://doi.org/10.1007/s12192-021-01234-0
Keywords
UPR

Periodontitis

LPS

HPDLF

Macrophage