Abstract
Heat stress is one of the wide varieties of factors which cause oxidative stress in vivo; elevated temperature can lead to oxidative stress of dairy cows that affects milk production. The aim of this study was to determine the capacity of the betaine to act as an antioxidant against oxidative stress induced by heat exposure and apoptosis in mammary epithelial cells (mammary alveolar cells, MAC-T). The MAC-T were divided into four treatment groups: control (37 °C), heat stress (HS, 42 °C), betaine (37 °C), and HS + betaine. MAC-T under heat stress (HS) showed increased ROS accumulation, malondialdehyde (MDA) content, superoxide dismutase (SOD) concentration, and catalase (CAT) activity. During heat stress, betaine decreased the mRNA expression level of HSP70 and HSP27 in MAC-T. Bax/Bcl-2 ratio and caspase-3, the markers of apoptosis, were also elevated in MAC-T under heat stress. The markers of oxidative stress Nrf-2/HO-1 genes were also elevated in MAC-T under heat stress. Pretreatment of betaine reversed the heat-induced depletion in total antioxidant status, ROS accumulation, and SOD and CAT contents in MAC-T. Bax/Bcl-2 ratio and Nrf-2/HO-1 expression of heat-exposed MAC-T were also reduced with betaine supplementation. In conclusion, betaine alleviated oxidative stress and apoptosis of MAC-T by inhibiting ROS accumulation.
Access options
Buy single article
Instant access to the full article PDF.
US$ 39.95
Tax calculation will be finalised during checkout.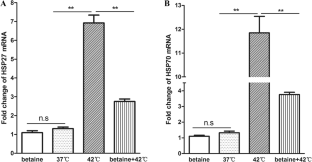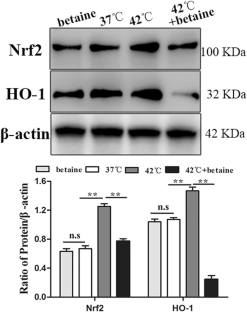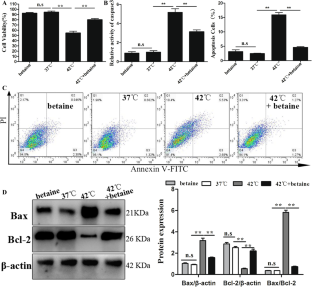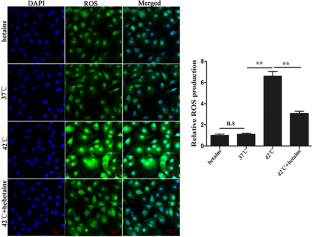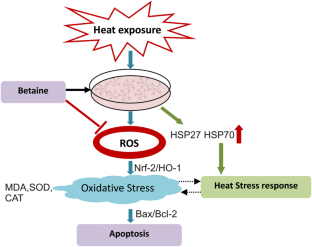 References
Amin A, Gad A, Salilew-Wondim D, Prastowo S, Held E, Hoelker M, Rings F, Tholen E, Neuhoff C, Looft C, Schellander K, Tesfaye D (2014) Bovine embryo survival under oxidative-stress conditions is associated with activity of the NRF2-mediated oxidative-stress-response pathway. Mol Reprod Dev 81:497–513

Bernabucci U, Ronchi B, Lacetera N, Nardone A (2002) Markers of oxidative status in plasma and erythrocytes of transition dairy cows during hot season. J Dairy Sci 85:2173–2179

Du J, Di H-S, Guo L, Li Z-H, Wang G-L (2008) Hyperthermia causes bovine mammary epithelial cell death by a mitochondrial-induced pathway. J Therm Biol 33:37–47

Eklund M, Bauer E, Wamatu J, Mosenthin R (2005) Potential nutritional and physiological functions of betaine in livestock. Nutr Res Rev 18:31–48

Giris M, Dogru-Abbasoglu S, Soluk-Tekkesin M, Olgac V, Uysal M (2018) Effect of betaine treatment on the regression of existing hepatic triglyceride accumulation and oxidative stress in rats fed on high fructose diet. Gen Physiol Biophys 37:563–570

Gu ZT, Li L, Wu F, Zhao P, Yang H, Liu YS, Geng Y, Zhao M, Su L (2015) Heat stress induced apoptosis is triggered by transcription-independent p53, Ca(2+) dyshomeostasis and the subsequent Bax mitochondrial translocation. Sci Rep 5:11497

Hady MM, Melegy TM, Anwar SR (2018) Impact of the Egyptian summer season on oxidative stress biomarkers and some physiological parameters in crossbred cows and Egyptian buffaloes. Vet World 11:771–778

Hall LW, Dunshea FR, Allen JD, Rungruang S, Collier JL, Long NM, Collier RJ (2016) Evaluation of dietary betaine in lactating Holstein cows subjected to heat stress. J Dairy Sci 99:9745–9753

Hammami H, Bormann J, M'hamdi N, Montaldo HH, Gengler N (2013) Evaluation of heat stress effects on production traits and somatic cell score of holsteins in a temperate environment. J Dairy Sci 96:1844–1855

Heidari R, Niknahad H, Sadeghi A, Mohammadi H, Ghanbarinejad V, Ommati MM, Hosseini A, Azarpira N, Khodaei F, Farshad O, Rashidi E, Siavashpour A, Najibi A, Ahmadi A, Jamshidzadeh A (2018) Betaine treatment protects liver through regulating mitochondrial function and counteracting oxidative stress in acute and chronic animal models of hepatic injury. Biomed Pharmacother 103:75–86

Hill DL, Wall E (2015) Dairy cattle in a temperate climate: the effects of weather on milk yield and composition depend on management. Animal 9:138–149

Jin P, Zhang Y, Shan T, Huang Y, Xu J, Zheng Y (2015) Low-temperature conditioning alleviates chilling injury in loquat fruit and regulates glycine betaine content and energy status. J Agric Food Chem 63:3654–3659

Kidd M, Ferket P, Garlich J (1997) Nutritional and osmoregulatory functions of betaine. Worlds Poult Sci J 53:125–139

Lang F (2007) Mechanisms and significance of cell volume regulation. J Am Coll Nutr 26:613s–623s

Li L, Sun Y, Wu J, Li X, Luo M, Wang G (2015) The global effect of heat on gene expression in cultured bovine mammary epithelial cells. Cell Stress Chaperones 20:381–389

Liu F, Cottrell JJ, Collins CL, Henman DJ, O'Halloran KSB, Dunshea FR (2017) Supplementation of selenium, vitamin E, chromium and betaine above recommended levels improves lactating performance of sows over summer. Trop Anim Health Prod 49:1461–1469

Loboda A, Damulewicz M, Pyza E, Jozkowicz A, Dulak J (2016) Role of Nrf2/HO-1 system in development, oxidative stress response and diseases: an evolutionarily conserved mechanism. Cell Mol Life Sci 73:3221–3247

Lucy MC (2002) Reproductive loss in farm animals during heat stress. In: Proceedings 15th conference on biometeorology and aerobiology (Citeseer), pp 50–53

Lushchak VI (2014) Free radicals, reactive oxygen species, oxidative stress and its classification. Chem Biol Interact 224:164–175

Macias H, Hinck L (2012) Mammary gland development. Wiley Interdiscip Rev Dev Biol 1:533–557

Mahmoudnia N, Madani Y (2012) Effect of betaine on performance and carcass composition of broiler chicken in warm weather-a review. IJAS 2:675–683

Nie C, Nie H, Zhao Y, Wu J, Zhang X (2016) Betaine reverses the memory impairments in a chronic cerebral hypoperfusion rat model. Neurosci Lett 615:9–14

Pulskamp K, Diabate S, Krug HF (2007) Carbon nanotubes show no sign of acute toxicity but induce intracellular reactive oxygen species in dependence on contaminants. Toxicol Lett 168:58–74

Saeed M, Babazadeh D, Naveed M, Arain MA, Hassan FU, Chao S (2017) Reconsidering betaine as a natural anti-heat stress agent in poultry industry: a review. Trop Anim Health Prod 49:1329–1338

Sehirli AO, Satilmis B, Tetik S, Cetinel S, Yegen B, Aykac A, Sener G (2016) Protective effect of betaine against burn-induced pulmonary injury in rats. Ulus Travma Acil Cerrahi Derg 22:417–422

Slimen IB, Najar T, Ghram A, Dabbebi H, Ben Mrad M, Abdrabbah M (2014) Reactive oxygen species, heat stress and oxidative-induced mitochondrial damage. A review. Int J Hyperth 30:513–523

Sreedhar A, Pardhasaradhi B, Khar A, Srinivas UK (2002) A cross talk between cellular signalling and cellular redox state during heat-induced apoptosis in a rat histiocytoma. Free Radic Biol Med 32:221–227

St-Pierre N, Cobanov B, Schnitkey G (2003) Economic losses from heat stress by US livestock industries. J Dairy Sci 86:E52–E77

Wang C, Liu Q, Yang W, Wu J, Zhang W, Zhang P, Dong K, Huang Y (2010) Effects of betaine supplementation on rumen fermentation, lactation performance, feed digestibilities and plasma characteristics in dairy cows. J Agric Sci 148:487–495

Wen C, Chen Y, Leng Z, Ding L, Wang T, Zhou Y (2019) Dietary betaine improves meat quality and oxidative status of broilers under heat stress. J Sci Food Agric 99:620–623

Xiao Y, Rungruang S, Hall LW, Collier JL, Dunshea FR, Collier RJ (2017) Effects of niacin and betaine on bovine mammary and uterine cells exposed to thermal shock in vitro. J Dairy Sci 100:4025–4037

Yang C-Y, Lin M-T (2002) Oxidative stress in rats with heatstroke-induced cerebral ischemia. Stroke 33:790–794

Zhang L, Ying SJ, An WJ, Lian H, Zhou GB, Han ZY (2014) Effects of dietary betaine supplementation subjected to heat stress on milk performances and physiology indices in dairy cow. Genet Mol Res 13:7577–7586

Zhang M, Wu X, Lai F, Zhang X, Wu H, Min T (2016) Betaine inhibits hepatitis B virus with an advantage of decreasing resistance to lamivudine and interferon alpha. J Agric Food Chem 64:4068–4077

Zhou Y, Holmseth S, Hua R, Lehre AC, Olofsson AM, Poblete-Naredo I, Kempson SA, Danbolt NC (2012) The betaine-GABA transporter (BGT1, slc6a12) is predominantly expressed in the liver and at lower levels in the kidneys and at the brain surface. Am J Physiol Renal Physiol 302:F316–F328
Funding
This research was supported by the National Key Research and Development Program of China (2018YFD0501600).
Additional information
Publisher's note
Springer Nature remains neutral with regard to jurisdictional claims in published maps and institutional affiliations.
About this article
Cite this article
Li, C., Wang, Y., Li, L. et al. Betaine protects against heat exposure–induced oxidative stress and apoptosis in bovine mammary epithelial cells via regulation of ROS production. Cell Stress and Chaperones 24, 453–460 (2019). https://doi.org/10.1007/s12192-019-00982-4
Received:

Revised:

Accepted:

Published:

Issue Date:
Keywords
Heat stress

Reactive oxygen species (ROS)

Betaine

Mammary epithelial cells

Apoptosis