Abstract
Increasing heat shock protein 70 (HSP70) in aged and/or insulin-resistant animal models confers benefits to healthspan and lifespan. Heat application to increase core temperature induces HSPs in metabolically important tissues, and preliminary human and animal data suggest that heated hydrotherapy is an effective method to achieve increased HSPs. However, safety concerns exist, particularly in geriatric medicine where organ and cardiovascular disease commonly will preexist. We evaluated young vervet monkeys compared to old, insulin-resistant vervet monkeys (Chlorocebus aethiops sabaeus) in their core temperatures, glucose tolerance, muscle HSP70 level, and selected safety biomarkers after 10 sessions of hot water immersions administered twice weekly. Hot water immersion robustly induced the heat shock response in muscles. We observed that heat-treated old and young monkeys have significantly higher muscle HSP70 than control monkeys and treatment was without significant adverse effects on organ or cardiovascular health. Heat therapy improved pancreatic responses to glucose challenge and tended to normalize glucose excursions. A trend for worsened blood pressure and glucose values in the control monkeys and improved values in heat-treated monkeys were seen to support further investigation into the safety and efficacy of this intervention for metabolic syndrome or diabetes in young or old persons unable to exercise.
This is a preview of subscription content, log in to check access.
Access options
Buy single article
Instant access to the full article PDF.
US$ 39.95
Price includes VAT for USA
Subscribe to journal
Immediate online access to all issues from 2019. Subscription will auto renew annually.
US$ 99
This is the net price. Taxes to be calculated in checkout.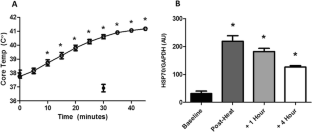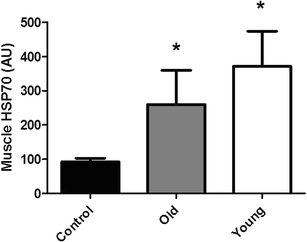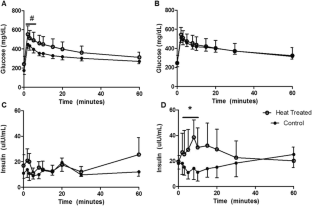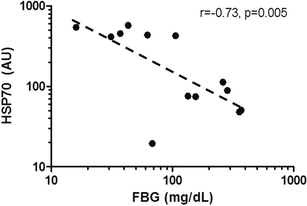 References
Antman EM, Tanasijevic MJ, Thompson B, Schactman M, McCabe CH, Cannon CP, Fischer GA, Fung AY, Thompson C, Wybenga D et al (1996) Cardiac-specific troponin I levels to predict the risk of mortality in patients with acute coronary syndromes. N Engl J Med 335:1342–1349

Atzmon G, Schechter C, Greiner W, Davidson D, Rennert G, Barzilai N (2004) Clinical phenotype of families with longevity. J Am Geriatr Soc 52:274–277

Baron AD, Steinberg H, Brechtel G, Johnson A (1994) Skeletal muscle blood flow independently modulates insulin-mediated glucose uptake. Am J Physiol 266:E248–E253

Brown-Borg HM, Bartke A (2012) GH and IGF1: roles in energy metabolism of long-living GH mutant mice. J Gerontol A Biol Sci Med Sci 67:652–660

Bruce CR, Carey AL, Hawley JA, Febbraio MA (2003) Intramuscular heat shock protein 72 and heme oxygenase-1 mRNA are reduced in patients with type 2 diabetes: evidence that insulin resistance is associated with a disturbed antioxidant defense mechanism. Diabetes 52:2338–2345

Chiang WC, Ching TT, Lee HC, Mousigian C, Hsu AL (2012) HSF-1 regulators DDL-1/2 link insulin-like signaling to heat-shock responses and modulation of longevity. Cell 148:322–334

Chichester L, Wylie AT, Craft S, Kavanagh K (2015) Muscle heat shock protein 70 predicts insulin resistance with aging. J Gerontol A Biol Sci Med Sci 70:155–162

Chung J, Nguyen AK, Henstridge DC, Holmes AG, Chan MH, Mesa JL, Lancaster GI, Southgate RJ, Bruce CR, Duffy SJ et al (2008) HSP72 protects against obesity-induced insulin resistance. Proc Natl Acad Sci U S A 105:1739–1744

Clerk LH, Vincent MA, Lindner JR, Clark MG, Rattigan S, Barrett EJ (2004) The vasodilatory actions of insulin on resistance and terminal arterioles and their impact on muscle glucose uptake. Diabetes Metab Res Rev 20:3–12

DeFronzo RA, Tripathy D (2009) Skeletal muscle insulin resistance is the primary defect in type 2 diabetes. Diabetes Care 32(Suppl 2):S157–S163

Drew BG, Ribas V, Le JA, Henstridge DC, Phun J, Zhou Z, Soleymani T, Daraei P, Sitz D, Vergnes L et al (2014) HSP72 is a mitochondrial stress sensor critical for Parkin action, oxidative metabolism, and insulin sensitivity in skeletal muscle. Diabetes 63:1488–1505

Edrey YH, Hanes M, Pinto M, Mele J, Buffenstein R (2011) Successful aging and sustained good health in the naked mole rat: a long-lived mammalian model for biogerontology and biomedical research. ILAR J Natl Res Counc, Inst Lab Anim Resour 52:41–53

Epstein M (1992) Renal effects of head-out water immersion in humans: a 15-year update. Physiol Rev 72:563–621

Eshel GM, Safar P, Sassano J, Stezoski SW (1998) Delayed death after uncomplicated hot tub bathing in dogs and monkeys. Resuscitation 37:189–195

Franco LG, Fioravanti MC, Damasceno AD, Borges AC, Soares LK, Rabelo RE, Silva LA (2009) Assessment of serum enzymatic markers of cardiomyocytes injury in female dogs submitted to ketamine S(+), atropin and xylazine association. Acta cirurgica brasileira / Sociedade Brasileira para Desenvolvimento Pesquisa em Cirurgia 24:36–42

Gifondorwa DJ, Robinson MB, Hayes CD, Taylor AR, Prevette DM, Oppenheim RW, Caress J, Milligan CE (2007) Exogenous delivery of heat shock protein 70 increases lifespan in a mouse model of amyotrophic lateral sclerosis. J Neurosci 27:13173–13180

Gupte AA, Bomhoff GL, Touchberry CD, Geiger PC (2011) Acute heat treatment improves insulin-stimulated glucose uptake in aged skeletal muscle. J Appl Physiol 110:451–457, 1985

Harris MB, Blackstone MA, Ju H, Venema VJ, Venema RC (2003) Heat-induced increases in endothelial NO synthase expression and activity and endothelial NO release. Am J Physiol Heart Circ Physiol 285:H333–H340

Henstridge DC, Bruce CR, Drew BG, Tory K, Kolonics A, Estevez E, Chung J, Watson N, Gardner T, Lee-Young RS et al (2014) Activating HSP72 in rodent skeletal muscle increases mitochondrial number and oxidative capacity and decreases insulin resistance. Diabetes 63:1881–1894

Heydari AR, Wu B, Takahashi R, Strong R, Richardson A (1993) Expression of heat shock protein 70 is altered by age and diet at the level of transcription. Mol Cell Biol 13:2909–2918

Hooper PL (1999) Hot-tub therapy for type 2 diabetes mellitus. N Engl J Med 341:924–925

Karpe PA, Tikoo K (2014) Heat shock prevents insulin resistance-induced vascular complications by augmenting angiotensin-(1–7) signaling. Diabetes 63:1124–1139

Kavanagh K, Davis MA, Zhang L, Wilson MD, Register TC, Adams MR, Rudel LL, Wagner JD (2009a) Estrogen decreases atherosclerosis in part by reducing hepatic acyl-CoA:cholesterol acyltransferase 2 (ACAT2) in monkeys. Arterioscler Thromb Vasc Biol 29:1471–1477

Kavanagh K, Zhang L, Wagner JD (2009b) Tissue-specific regulation and expression of heat shock proteins in type 2 diabetic monkeys. Cell Stress Chaperones 14:291–299

Kavanagh K, Flynn DM, Jenkins KA, Zhang L, Wagner JD (2011) Restoring HSP70 deficiencies improves glucose tolerance in diabetic monkeys. Am J Physiol Endocrinol Metab 300:E894–E901

Kavanagh K, Wylie AT, Chavanne TJ, Jorgensen MJ, Voruganti VS, Comuzzie AG, Kaplan JR, McCall CE, Kritchevsky SB (2012) Aging does not reduce heat shock protein 70 in the absence of chronic insulin resistance. J Gerontol A Biol Sci Med Sci 67:1014–1021

Kenney WL, Munce TA (2003) Invited review: aging and human temperature regulation. J Appl Physiol 95:2598–2603, 1985

Kern A, Ackermann B, Clement AM, Duerk H, Behl C (2010) HSF1-controlled and age-associated chaperone capacity in neurons and muscle cells of C. elegans. PLoS One 5:e8568

Kondo T, Sasaki K, Matsuyama R, Morino-Koga S, Adachi H, Suico MA, Kawashima J, Motoshima H, Furukawa N, Kai H et al (2012) Hyperthermia with mild electrical stimulation protects pancreatic beta-cells from cell stresses and apoptosis. Diabetes 61:838–847

Laukkanen T, Khan H, Zaccardi F, Laukkanen JA (2015) Association between sauna bathing and fatal cardiovascular and all-cause mortality events. JAMA Intern Med 175:542–548

Nakamoto H, Ferrario CM, Fuller SB, Robaczewski DL, Winicov E, Dean RH (1995) Angiotensin-(1–7) and nitric oxide interaction in renovascular hypertension. Hypertension 25:796–802

Ohori T, Nozawa T, Ihori H, Shida T, Sobajima M, Matsuki A, Yasumura S, Inoue H (2012) Effect of repeated sauna treatment on exercise tolerance and endothelial function in patients with chronic heart failure. Am J Cardiol 109:100–104

Saisho Y, Manesso E, Butler AE, Galasso R, Kavanagh K, Flynn M, Zhang L, Clark P, Gurlo T, Toffolo GM et al (2011) Ongoing beta-cell turnover in adult nonhuman primates is not adaptively increased in streptozotocin-induced diabetes. Diabetes 60:848–856

Satoh F, Osawa M, Hasegawa I, Seto Y, Tsuboi A (2013) "Dead in hot bathtub" phenomenon: accidental drowning or natural disease? Am J Forensic Med Pathol 34:164–168

Senanayake PD, Moriguchi A, Kumagai H, Ganten D, Ferrario CM, Brosnihan KB (1994) Increased expression of angiotensin peptides in the brain of transgenic hypertensive rats. Peptides 15:919–926

Seo K, Choi E, Lee D, Jeong DE, Jang SK, Lee SJ (2013) Heat shock factor 1 mediates the longevity conferred by inhibition of TOR and insulin/IGF-1 signaling pathways in C. elegans. Aging Cell 12:1073–1081

Silverstein MG, Ordanes D, Wylie AT, Files DC, Milligan C, Presley TD, Kavanagh K (2015) Inducing Muscle Heat Shock Protein 70 Improves Insulin Sensitivity and Muscular Performance in Aged Mice. J Gerontol A Biol Sci Med Sci 70:800–808

Skilton MR, Lai NT, Griffiths KA, Molyneaux LM, Yue DK, Sullivan DR, Celermajer DS (2005) Meal-related increases in vascular reactivity are impaired in older and diabetic adults: insights into roles of aging and insulin in vascular flow. Am J Physiol Heart Circ Physiol 288:H1404–H1410

Srikanthan P, Karlamangla AS (2011) Relative muscle mass is inversely associated with insulin resistance and prediabetes. Findings from the third National Health and Nutrition Examination Survey. J Clin Endocrinol Metab 96:2898–2903

Tamura Y, Matsunaga Y, Masuda H, Takahashi Y, Takahashi Y, Terada S, Hoshino D, Hatta H (2014) Postexercise whole body heat stress additively enhances endurance training-induced mitochondrial adaptations in mouse skeletal muscle. Am J Physiol Regul Integr Comp Physiol 307:R931–R943

Ulgherait M, Rana A, Rera M, Graniel J, Walker DW (2014) AMPK modulates tissue and organismal aging in a non-cell-autonomous manner. Cell Rep 8:1767–1780

Vasilaki A, Iwanejko LM, McArdle F, Broome CS, Jackson MJ, McArdle A (2003) Skeletal muscles of aged male mice fail to adapt following contractile activity. Biochem Soc Trans 31:455–456

Verhagen AP, de Vet HC, de Bie RA, Kessels AG, Boers M, Knipschild PG (1997) Taking baths: the efficacy of balneotherapy in patients with arthritis. A systematic review. J Rheumatol 24:1964–1971

Young ME, Radda GK, Leighton B (1997) Nitric oxide stimulates glucose transport and metabolism in rat skeletal muscle in vitro. Biochem J 322(Pt 1):223–228
Acknowledgments
Funding for this study was from the National Institutes of Health K01 AG033641, P30 AG021332 (Wake Forest University Claude D. Pepper Older Americans Independence Center), P40 OD010965 (Vervet Research Colony), and Wake Forest School of Medicine Hypertension & Vascular Research Center.
About this article
Cite this article
Kavanagh, K., Davis, A.T., Jenkins, K.A. et al. Effects of heated hydrotherapy on muscle HSP70 and glucose metabolism in old and young vervet monkeys. Cell Stress and Chaperones 21, 717–725 (2016). https://doi.org/10.1007/s12192-016-0699-z
Received:

Revised:

Accepted:

Published:

Issue Date:
Keywords
Heat shock protein 70

Heat therapy

Muscle

Glucose metabolism