Abstract
Chronic glutamine supplementation reduces exercise-induced intestinal permeability and inhibits the NF-κB pro-inflammatory pathway in human peripheral blood mononuclear cells. These effects were correlated with activation of HSP70. The purpose of this paper is to test if an acute dose of oral glutamine prior to exercise reduces intestinal permeability along with activation of the heat shock response leading to inhibition of pro-inflammatory markers. Physically active subjects (N = 7) completed baseline and exercise intestinal permeability tests, determined by the percent ratio of urinary lactulose (5 g) to rhamnose (2 g). Exercise included two 60-min treadmill runs at 70 % of VO2max at 30 °C after ingestion of glutamine (Gln) or placebo (Pla). Plasma levels of endotoxin and TNF-α, along with peripheral blood mononuclear cell (PBMC) protein expression of HSP70 and IκBα, were measured pre- and post-exercise and 2 and 4 h post-exercise. Permeability increased in the Pla trial compared to that at rest (0.06 ± 0.01 vs. 0.02 ± 0.018) and did not increase in the Gln trial. Plasma endotoxin was lower at the 4-h time point in the Gln vs. 4 h in the Pla (6.715 ± 0.046 pg/ml vs. 7.952 ± 1.11 pg/ml). TNF-α was lower 4 h post-exercise in the Gln vs. Pla (1.64 ± 0.09 pg/ml vs. 1.87 ± 0.12 pg/ml). PBMC expression of IkBα was higher 4 h post-exercise in the Gln vs. 4 h in the Pla (1.29 ± 0.43 vs. 0.8892 ± 0.040). HSP70 was higher pre-exercise and 2 h post-exercise in the Gln vs. Pla (1.35 ± 0.21 vs. 1.000 ± 0.000 and 1.65 ± 0.21 vs. 1.27 ± 0.40). Acute oral glutamine supplementation prevents an exercise-induced rise in intestinal permeability and suppresses NF-κB activation in peripheral blood mononuclear cells.
Access options
Buy single article
Instant access to the full article PDF.
US$ 39.95
Tax calculation will be finalised during checkout.
Subscribe to journal
Immediate online access to all issues from 2019. Subscription will auto renew annually.
US$ 79
Tax calculation will be finalised during checkout.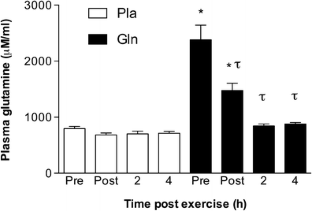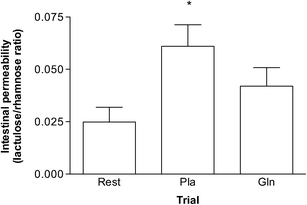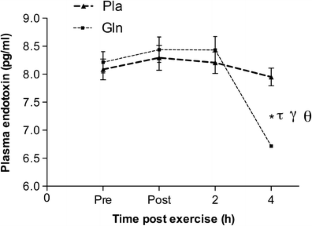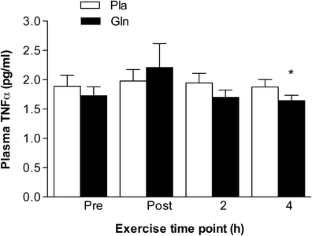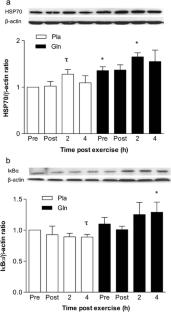 References
Ardawi MS, Newsholme EA (1983) Glutamine metabolism in lymphocytes of the rat. Biochem J 212:835–842

Behrens RH, Docherty H, Elia M, Neale G (1984) A simple enzymatic method for the assay of urinary lactulose. Clin Chim Acta 137:361–367

Blomqvist BI, Hammarqvist F, von der Decken A, Wernerman J (1995) Glutamine and alpha-ketoglutarate prevent the decrease in muscle free glutamine concentration and influence protein synthesis after total hip replacement. Metabolism 44:1215–1222

Bongers T, Griffiths RD, McArdle A (2007) Exogenous glutamine: the clinical evidence. Crit Care Med 35:S545–552

Burnham EL, Moss M, Ziegler TR (2005) Myopathies in critical illness: characterization and nutritional aspects. J Nutr 135:1818s–1823s

Carr EL et al (2010) Glutamine uptake and metabolism are coordinately regulated by ERK/MAPK during T lymphocyte activation. J Immunol 185:1037–1044

Castell L (2003) Glutamine supplementation in vitro and in vivo, in exercise and in immunodepression. Sports Med 33:323–345

Castell LM, Newsholme EA (1997) The effects of oral glutamine supplementation on athletes after prolonged, exhaustive exercise. Nutrition 13:738–742

Castell LM, Poortmans JR, Newsholme EA (1996) Does glutamine have a role in reducing infections in athletes? Eur J Appl Physiol Occup Physiol 73:488–490

Conejero R et al (2002) Effect of a glutamine-enriched enteral diet on intestinal permeability and infectious morbidity at 28 days in critically ill patients with systemic inflammatory response syndrome: a randomized, single-blind, prospective, multicenter study. Nutrition 18:716–721

Cruzat VF, Rogero MM, Tirapegui J (2010) Effects of supplementation with free glutamine and the dipeptide alanyl-glutamine on parameters of muscle damage and inflammation in rats submitted to prolonged exercise. Cell Biochem Funct 28:24–30

Dinmore AJ, Edwards JS, Menzies IS, Travis SP (1994) Intestinal carbohydrate absorption and permeability at high altitude (5,730 m). J Appl Physiol 76(1985):1903–1907

Dokladny K, Ye D, Kennedy JC, Moseley PL, Ma TY (2008) Cellular and molecular mechanisms of heat stress-induced up-regulation of occludin protein expression: regulatory role of heat shock factor-1. Am J Pathol 172:659–670

Dokladny K, Lobb R, Wharton W, Ma TY, Moseley PL (2010) LPS-induced cytokine levels are repressed by elevated expression of HSP70 in rats: possible role of NF-kappaB. Cell Stress Chaperones 15:153–163

Dokladny K, Zuhl MN, Mandell M, Bhattacharya D, Schneider S, Deretic V, Moseley PL (2013) Regulatory coordination between two major intracellular homeostatic systems: heat shock response and autophagy. J Biol Chem 288:14959–14972

Gong J, Jing L (2011) Glutamine induces heat shock protein 70 expression via O-GlcNAc modification and subsequent increased expression and transcriptional activity of heat shock factor-1. Minerva Anestesiol 77:488–495

Hiscock N, Mackinnon LT (1998) A comparison of plasma glutamine concentration in athletes from different sports. Med Sci Sports Exerc 30:1693–1696

Jackson AS, Pollock ML, Ward A (1980) Generalized equations for predicting body density of women. Med Sci Sports Exerc 12:175–181

Jackson NC, Carroll PV, Russell-Jones DL, Sonksen PH, Treacher DF, Umpleby AM (1999) The metabolic consequences of critical illness: acute effects on glutamine and protein metabolism. Am J Physiol 276:E163–170

Jensen JC et al (1994) Prevention of chronic radiation enteropathy by dietary glutamine. Ann Surg Oncol 1:157–163

Kampinga HH et al (2009) Guidelines for the nomenclature of the human heat shock proteins. Cell Stress Chaperones 14:105–111

Kazemi Z, Chang H, Haserodt S, McKen C, Zachara NE (2010) O-linked beta-N-acetylglucosamine (O-GlcNAc) regulates stress-induced heat shock protein expression in a GSK-3beta-dependent manner. J Biol Chem 285:39096–39107

Kuennen M, Gillum T, Dokladny K, Bedrick E, Schneider S, Moseley P (2011) Thermotolerance and heat acclimation may share a common mechanism in humans. Am J Physiol Regul Integr Comp Physiol 301:R524–533

Lambert GP, Broussard LJ, Mason BL, Mauermann WJ, Gisolfi CV (2001) Gastrointestinal permeability during exercise: effects of aspirin and energy-containing beverages. J Appl Physiol 90(1985):2075–2080

Morrison AL, Dinges M, Singleton KD, Odoms K, Wong HR, Wischmeyer PE (2006) Glutamine's protection against cellular injury is dependent on heat shock factor-1. Am J Physiol Cell Physiol 290:C1625–1632

Nascimento SB et al (2005) Glutamine depletion potentiates leucocyte-dependent inflammatory events induced by carrageenan or Clostridium difficile toxin A in rats. Immunology 116:328–336

Newsholme EA, Crabtree B, Ardawi MS (1985) Glutamine metabolism in lymphocytes: its biochemical, physiological and clinical importance. Q J Exp Physiol 70:473–489

Ohno Y, Yamada S, Sugiura T, Ohira Y, Yoshioka T, Goto K (2011) Possible role of NF-kB signals in heat stress-associated increase in protein content of cultured C2C12 cells. Cells Tissues Organs 194:363–370

Paimela T, Hyttinen JM, Viiri J, Ryhanen T, Karjalainen RO, Salminen A, Kaarniranta K (2011) Celastrol regulates innate immunity response via NF-kappaB and Hsp70 in human retinal pigment epithelial cells. Pharmacol Res 64:501–508

Parry-Billings M, Evans J, Calder PC, Newsholme EA (1990) Does glutamine contribute to immunosuppression after major burns? Lancet 336:523–525

Peng X, Yan H, You Z, Wang P, Wang S (2004) Effects of enteral supplementation with glutamine granules on intestinal mucosal barrier function in severe burned patients. Burns 30:135–139

Selkirk GA, McLellan TM, Wright HE, Rhind SG (2008) Mild endotoxemia, NF-kappaB translocation, and cytokine increase during exertional heat stress in trained and untrained individuals. Am J Physiol Regul Integr Comp Physiol 295:R611–623

Sevastiadou S, Malamitsi-Puchner A, Costalos C, Skouroliakou M, Briana DD, Antsaklis A, Roma-Giannikou E (2011) The impact of oral glutamine supplementation on the intestinal permeability and incidence of necrotizing enterocolitis/septicemia in premature neonates. J Matern Fetal Neonatal Med 24:1294–1300

Shi Y, Mosser DD, Morimoto RI (1998) Molecular chaperones as HSF1-specific transcriptional repressors. Genes Dev 12:654–666

Singleton KD, Wischmeyer PE (2006) Oral glutamine enhances heat shock protein expression and improves survival following hyperthermia. Shock 25:295–299

Singleton KD, Wischmeyer PE (2007) Glutamine's protection against sepsis and lung injury is dependent on heat shock protein 70 expression. Am J Physiol Regul Integr Comp Physiol 292:R1839–1845

Wells L, Vosseller K, Cole RN, Cronshaw JM, Matunis MJ, Hart GW (2002) Mapping sites of O-GlcNAc modification using affinity tags for serine and threonine post-translational modifications. Mol Cell Proteomics 1:791–804

Wischmeyer PE (2006) Glutamine: the first clinically relevant pharmacological regulator of heat shock protein expression? Curr Opin Clin Nutr Metab Care 9:201–206

Wischmeyer PE, Riehm J, Singleton KD, Ren H, Musch MW, Kahana M, Chang EB (2003) Glutamine attenuates tumor necrosis factor-alpha release and enhances heat shock protein 72 in human peripheral blood mononuclear cells. Nutrition 19:1–6

Xue H, Slavov D, Wischmeyer PE (2012) Glutamine-mediated dual regulation of heat shock transcription factor-1 activation and expression. J Biol Chem 287:40400–40413

Yaqoob P, Calder PC (1998) Cytokine production by human peripheral blood mononuclear cells: differential sensitivity to glutamine availability. Cytokine 10:790–794

Yoon BK, Kravitz L, Robergs R (2007) VO2max, protocol duration, and the VO2 plateau. Med Sci Sports Exerc 39:1186–1192

Ziegler TR (2002) Glutamine supplementation in bone marrow transplantation. Br J Nutr 87(Suppl 1):S9–15

Zuhl MN, Lanphere KR, Kravitz L, Mermier CM, Schneider S, Dokladny K, Moseley PL (2014) Effects of oral glutamine supplementation on exercise-induced gastrointestinal permeability and tight junction protein expression. J Appl Physiol 116:183–191, 1985
Acknowledgments
This work was supported in part by the University of New Mexico's Research Allocation Committee and the National Center for Advancing Translational Sciences of the National Institutes of Health through Grant Number UL1 TR000041.
About this article
Cite this article
Zuhl, M., Dokladny, K., Mermier, C. et al. The effects of acute oral glutamine supplementation on exercise-induced gastrointestinal permeability and heat shock protein expression in peripheral blood mononuclear cells. Cell Stress and Chaperones 20, 85–93 (2015). https://doi.org/10.1007/s12192-014-0528-1
Received:

Revised:

Accepted:

Published:

Issue Date:
Keywords
Exercise

HSP70

Intestinal permeability