Abstract
Drawings by children are key to understanding their experiences in various aspects such as perceptions of playgrounds and the events that happen in them. This study aims to reveal Syrian refugee children's perceptions of playgrounds. In the study, drawings of children who live in two different cities in Turkey were collated. The results showed that children draw slides, swings, and seesaws as playground tools, as well as trees, sun, clouds and flowers as natural materials. Additionally, children draw some human figures, other children, himself/herself, and adults (mother, father and teachers). Finally, it was interpreted that children also draw flags, houses, shelter, walls, and planes as other objects in their drawings about the playground. The children's drawings were influenced by their ages and genders, and the city's geographical structure, where they live and their family backgrounds. Besides, it is seen that children's social skills/development are reflected in children's drawings. Finally, it is seen that the play materials that children use in their drawings are the playground materials they use the most in daily life. While building playgrounds, the opinions of the children both refugees and locals, could be considered in order to support children's learning skills and imaginative world.
Access options
Buy single article
Instant access to the full article PDF.
USD 39.95
Price excludes VAT (USA)
Tax calculation will be finalised during checkout.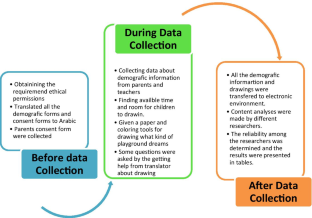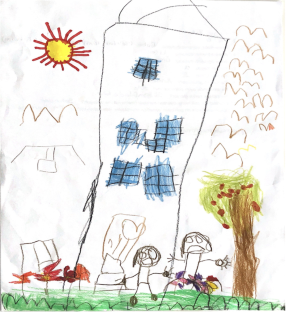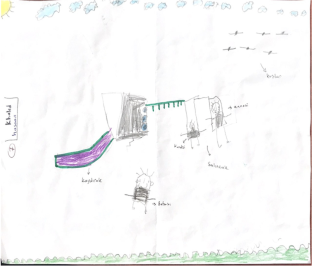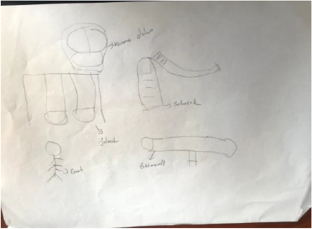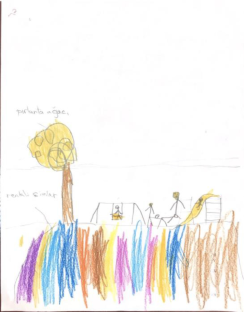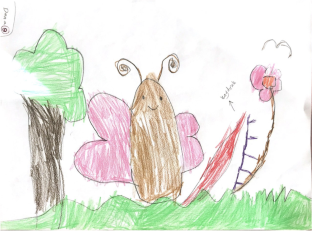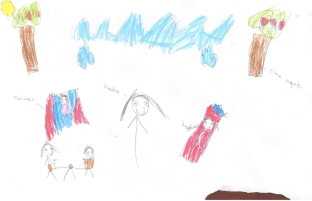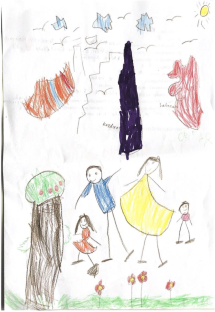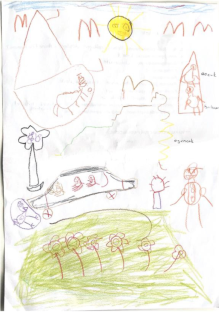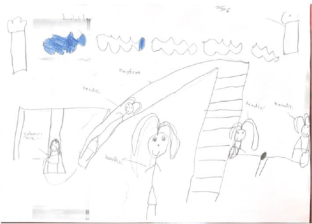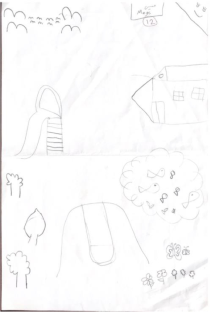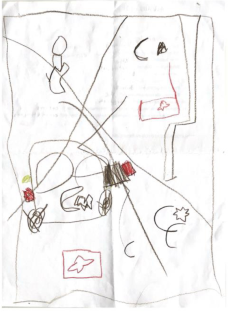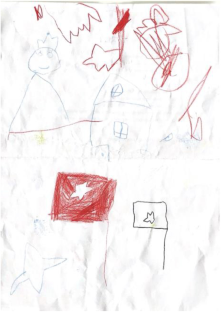 References
Cevher-Kalburan, N. (2014). Okul öncesi dönem çocuklarının dış mekânda oyun fırsatları ve ebeveyn görüşleri. Sosyal Politika Çalışmaları Dergisi, 14(32), 113–135. https://doi.org/10.21560/spcd.21616

Chancellor, B., & Cevher-Kalburan, N. (2014). Comparing and contrasting primary school playgrounds in Turkey and Australia. International Education Journal, 13(2), 41–59.

Chawla, L., Keena, K., Pevec, I., & Stanley, E. (2014). Green schoolyards as havens from stress and resources for resilience in childhood and adolescence. Health & Place, 28, 1–13.

Coates, E., & Coates, A. (2006). Young children talking and drawing. International Journal of Early Years Education, 14(3), 221–241. https://doi.org/10.1080/09669760600879961

Cox, S. (2005). Intention and Meaning in Young Children's Drawing. International Journal of Art and Design Education, 24(2), 115–125. https://doi.org/10.1111/j.1476-8070.2005.00432.x

Czalczynska-Podolska, M. (2014). The impact of playground spatial features on children's play and activity forms: An evaluation of contemporary playgrounds' play and social value. Journal of Environmental Psychology, 38, 132–142.

Deguara, J., & Nutbrown, C. (2018). Signs, symbols and schemas: Understanding meaning in a child's drawings. International Journal of Early Years Education, 26(1), 4–23. https://doi.org/10.1080/09669760.2017.1369398

Denscombe, M. (2010). The Good Research Guide for Small-Scale Research Projects (4th ed.). Open University Press.

Directory General of Migration Management, (2021), Distribution of Syrians under temporary Protection by Year, retrieved from https://en.goc.gov.tr/temporary-protection27

Einarsdottir, J., Dockett, S., & Perry, B. (2009). Early Child Development and Care Making meaning: Children's perspectives expressed through drawings. Early Child Development and Care, 179(2), 217–232. https://doi.org/10.1080/03004430802666999

Fjørtoft, I. (2001). The Natural Environment as a Playground for Children: The Impact of Outdoor Play Activities in Pre-primary School Children. Early Childhood Education Journal, 29(2), 111–119.

Fjørtoft, I. (2004). Landscape as Playscape: The Effects of Natural Environments on Children's Play and Motor Development. Children, Youth and Environments, 14(2), 21–44.

Floyd, M. F., Bocarro, J. N., Smith, W. R., Baran, P. K., Moore, R. C., Cosco, N. G., Edwards, M. B., Suau, L. J., & Fang, K. (2011). Park-Based Physical Activity Among Children and Adolescents. American Journal of Preventive Medicine, 41(3), 258–265. https://doi.org/10.1016/J.AMEPRE.2011.04.013

Geçen, F. (2018). Çocuğun Gelişim Basamaklarına Göre Figürleri Ele Alma Biçimleri. Avrasya Sosyal ve Ekonomi Araştırmaları Dergisi, 5(10), 60–83. www.asead.com

Güngör Aytar, F. A., Kara Eren, C., Aşkan, M., & Şahin, H. S. (2019). Beş-Altı Yaş Çocuklarının Temel Duygu Durumlarını İfade Ediş Biçimlerinin Çizdikleri Resimleri Yoluyla İncelenmesi. Ordu Üniversitesi Sosyal Bilimler Araştırmaları Dergisi, 9(1), 91–105. https://dergipark.org.tr/en/download/article-file/679126

Hicyilmaz, Y. (2020). Investigation of game perceptions of elementary school students through the pictures they draw in the context of social powers. Cypriot Journal of Educational Sciences, 15(2), 369–385.

Hirose, T., Koda, N., & Minami, T. (2012). Correspondence between children's indoor and outdoor play in Japanese preschool daily life. Early Child Development and Care, 182(12), 1611–1622. https://doi.org/10.1080/03004430.2011.634065

Ketenci, F. M. (2015). Emotional aspects of family drawings of 4-7-year-old children (Unpublished master's thesis). Selçuk University.

Kilis Valiliği, (2021). Elbeyli Geçici Barınma Merkezi, retrieved from http://www.kilis.gov.tr/elbeyli-konaklama-merkezi

Kısakürek, Ş., & Yılmaz, M. B. (2019). Çocuk Oyun Alanlarında Güvenlik: Hatay Antakya Örneği. KSÜ Mühendislik Bilimleri Dergisi, 22(3), 103–113. 10.05.2019

Little, H., & Eager, D. (2010). Risk, challenge and safety: Implications for play quality and playground design. European Early Childhood Education Research Journal, 18(4), 497–513.

Loureiro, K. S., Grecu, A., de Moll, F., & Hadjar, A. (2020). Analyzing Drawings to Explore children's Concepts of an Ideal School: Implications for the Improvement of children's Well-Being at School. Child Indicators Research, 13(4), 1387–1411. https://doi.org/10.1007/s12187-019-09705-8

Luchs, A., & Fikus, M. (2013). A comparative study of active play on differently designed playgrounds. Journal of Adventure Education and Outdoor Learning, 13(3), 206–222. https://doi.org/10.1080/14729679.2013.778784

Malone, K., & Tranter, P. (2003). Children's Environmental Learning and the Use, Design and Management of School grounds. Children Youth and Environments, 13(2), 87–137.

Mancini, G. (2019). Trait emotional intelligence and draw-a-person emotional ındicators: A first study on 8-year-old Italian children. Child Indicators Research, 12, 1629–1641. https://doi.org/10.1007/s12187-018-9601-0

Maynard, T., & Waters, J. (2007). Learning in the outdoor environment: A missed opportunity? Early Years: An International Research Journal, 27(3), 255–265.

Miles, M. B., & Huberman, A. M. (1994). An Expanded SourcebooK: Qualitative Data Analysis (2nd ed.). SAGE Publications.

Mukherji, P., & Albon, D. (2018). Using documents and visual texts. In Research methods in early childhood: An introductory guide (3rd ed., pp. 283–299). Thousand Oaks, California: SAGE.

Nedelcu, A. (2013). Analysing students' drawings of their classroom: A child-friendly research method. Revista De Cercetare Şi Intervenţie Socială, 42, 275–293.

Niklasson, L., & Sandberg, A. (2010). Children and the outdoor environment. European Early Childhood Education Research Journal, 18(4), 485–496. https://doi.org/10.1080/1350293X.2010.525945

Özaslan, H., & Gültekin Akduman, G. (2018). Çocuk oyun parklarının güvenliğinin incelenmesi: Ankara ve Samsun İlleri Örneği. Turkish Studies, 13(19), 1313–1329. https://doi.org/10.7827/TurkishStudies.13987

Özönder Aydın, U. (2017). Okul öncesi resim eğitiminde çocuğun çizgisel gelişimi (2–7 Yaş). Kastamonu Eğitim Dergisi, 25(6), 2215–2228.

Rorabaugh, S. (2019). Flexible futures: Children's agency on the adventure playground. Cities & Health, 3(1–2), 111–126. https://doi.org/10.1080/23748834.2018.1551174

Shim, S.-Y., Herwig, J. E., & Shelley, M. (2001). Preschoolers' play behaviors with peers in classroom and playground settings. Journal of Research in Childhood Education, 15(2), 149–163. https://doi.org/10.1080/02568540109594956

Simsar, A., Dogan, Y., & Sezer, G. (2021). The ecocentric and anthropocentric attitudes towards different environmental phenomena: A sample of Syrian refugee children. Studies in Educational Evaluation, 70, 101005. https://doi.org/10.1016/j.stueduc.2021.101005

Spiteri, J. (2018). Young children's perceptions of environmental sustainability: A Maltese perspective. Environmental Education Research, 24(6), 924–924. https://doi.org/10.1080/13504622.2017.1383361

Steyn, M., & Moen, M. (2019). Drawing sadness: What are young children telling us? Early Child Development and Care, 189(1), 79–93. https://doi.org/10.1080/03004430.2017.1301936

Tal, T., & Morag, O. (2013). A Longitudinal study of environmental and outdoor education: A cultural change. Journal of Research in Science Teaching, 50(9), 1019–1046. https://doi.org/10.1002/tea.21111

Teddie, C., & Tashakkori, A. (2009). Foundations of Mixed Methods Research: Integrating Quantitative and Qualitative Approaches in the Social and Behavioral Sciences. Sage. http://library1.nida.ac.th/termpaper6/sd/2554/19755.pdf

Ulaş, M., & Ayan, S. (2016). Çocuk Oyun Alanları Değerlendirme Ölçeği: Geçerlik Güvenirlik Çalışması. CBÜ Beden Eğitimi Ve Spor Bilimleri Dergisi, 11(2), 10–24.

UNICEF (2021).Syrian Refugees Appeal, retrieved from https://www.unicef.org/appeals/syrian-refugees

Villarroel, J. D., & Villanueva, X. (2017). A study regarding the representation of the sun in young children's spontaneous drawings. Social Sciences, 6(3), 95.

Wales, M., Mårtensson, F., & Jansson, M. (2020). 'You can be outside a lot': Independent mobility and agency among children in a suburban community in Sweden. Children's Geographies. https://doi.org/10.1080/14733285.2020.1773401

Yanık Özger, B., & Akansel, A. (2019). Okul öncesi sınıfındaki Suriyeli çocuklar ve aileleri üzerine bir etnografik durum çalışması: Bu sınıfta biz de varız! Eğitimde Nitel Araştırmalar Dergisi, 7(3), 942–966.

Yavuzer, H. (2019). Resimleriyle Çocuk (24th ed.). İstanbul.

Yilmaz, Z., Kubiatko, M., & Topal, H. (2012). Czech children's drawing of nature. Educational Sciences: Theory and Practice, 12(4), 3111–3119.
Ethics declarations
Conflict of Interest
The authors declare that they have no conflict of interest.
Additional information
Publisher's Note
Springer Nature remains neutral with regard to jurisdictional claims in published maps and institutional affiliations.
About this article
Cite this article
Mart, M., Simsar, A. & Uyanik, G. The Playground Perception of Syrian Refugee Children. Child Ind Res 15, 349–372 (2022). https://doi.org/10.1007/s12187-021-09869-2
Accepted:

Published:

Issue Date:

DOI: https://doi.org/10.1007/s12187-021-09869-2
Keywords
Refugee children

Drawing

Playground

Perception