Abstract
Because not much is known about children's subjective well-being (SWB) in educational spaces, our objective was to analyze children's drawings of their ideal school environment, emphasizing the importance of obtaining the children's perspective. To do so, we analyzed Luxembourgish primary school children's drawings (n = 150; age 10) using visual grounded theory methodology. The results were centered on 10 main underlying themes that indicated children's conceptualizations of their dream school in which particular attention was paid to the design of the school buildings, playgrounds, and classrooms. Children's written inputs showed the boundaries of visual expression, as they mentioned different desires beyond those conveyed by the drawings. In addition to fancy aesthetics of the school environment, material conditions such as playground facilities were found to be a significant part of the children's dream schools. Our analyses offer meaningful insights into children's perceptions of an educational environment that fosters well-being, thereby functioning as a blueprint for adults' efforts to improve schools in a more child-friendly manner.
This is a preview of subscription content, log in to check access.
Access options
Buy single article
Instant access to the full article PDF.
US$ 39.95
Price includes VAT for USA
Subscribe to journal
Immediate online access to all issues from 2019. Subscription will auto renew annually.
US$ 99
This is the net price. Taxes to be calculated in checkout.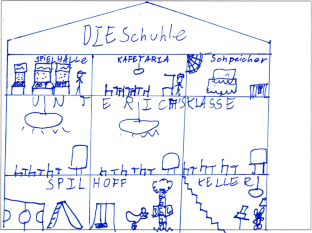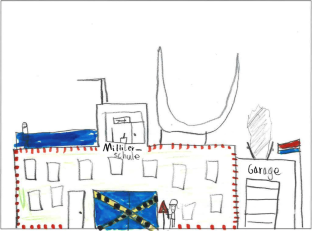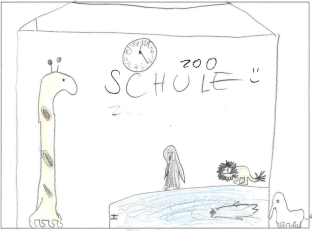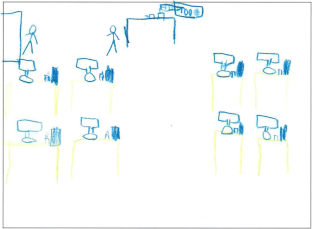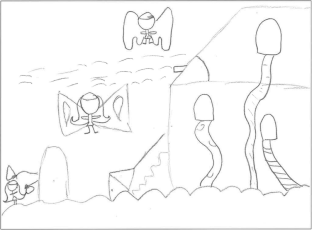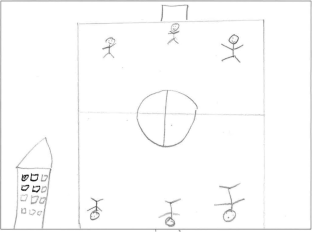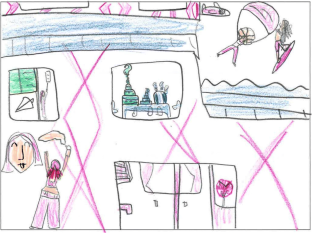 Notes
1.

We will use the children's original spelling, even though these spellings are often characterized by a mixed use of languages and spelling errors.
References
Adams, S., Savahl, S., Florence, M., & Jackon, K. (2019). Considering the natural environment in the creation of child-friendly cities: Implications for Children's subjective well-being. Child Indicators Research, 12(2), 545–567.

Alderson, P. (2012). Rights-respecting research: A commentary on "the right to be properly researched: Research with children in a messy, real world.". Children's Geographies, 10(2), 233–239.

Barthes, R. (1968). Elements of semiology. New York: Hill and Wang.

Bell, P. (2001). Content analysis of visual images. In C. Jewitt & T. Van Leeuwen (Eds.), Handbook of visual analysis (pp. 10–35). London: Sage Publications.

Berger, C., Alcalay, L., Torretti, A., & Milicic, N. (2011). Socio-emotional well-being and academic achievement: Evidence from a multilevel approach. Psicologia: Reflexão e Crítica, 24(2), 344–351.

Bland, D. (2012). Analysing Children's drawings: Applied imagination. London: Routledge.

Bourdillon, M. (2014). Children's work. In A. Ben-Arieh, F. Casas, I. Frønes, & J. Korbin (Eds.), Handbook of child well-being. Theories, methods and policies in global perspective (pp. 821–861). Dordrecht: Springer.

Boyden, J., & Ennew, J. (1997). Children in focus: A manual for participatory research with children. Stockholm: Radda Barnen.

Burkitt, E., Barrett, M., & Davis, A. (2003). The effect of affective characterizations on the size of children's drawings. British Journal of Developmental Psychology, 21(4), 565–584.

Clark, A. (2001). How to listen to very young children: The mosaic approach. Child Care in Practice, 7(4), 333–341.

Clark, A. (2007). A hundred ways of listening. Gathering Children's perspectives of their early childhood environment. Young Children, 62(3), 76–81.

Clark, A. (2010). Young children as protagonists and the role of participatory, visual methods in engaging multiple perspectives. Society for Community Research and Action, 46(1–2), 115–123.

de Moll, F., & Betz, T. (2016). Accounting for children's agency in research on educational inequality: The influence of children's own practices on their academic habitus in elementary school. In F. Esser, M. S. Baader, T. Betz, & B. Hungerland (Eds.), Reconceptualising agency and childhood (pp. 271–289). New York: Routledge.

Diener, E., Lucas, R. E., & Oishi, S. (2005). Subjective well-being: The science of happiness and life satisfaction. In C. R. Snyder & S. J. Lopez (Eds.), Handbook of positive psychology (2nd ed., pp. 63–73). New York: Oxford University Press.

Dimitrijević, J., Filipović, S., & Stanisavljević, J. (2016). An analysis of students' drawings for the purpose of considering the efficiency of teamwork (programme content: Marine life community). Journal of Subject Didactics, 1(1), 25–38.

Einarsdottir, J., Dockett, S., & Perry, B. (2009). Making meaning: Children's perspectives expressed through drawings. Early Child Development and Care, 179(2), 217–232.

Eldén, S. (2013). Inviting the messy: Drawing methods and "children's voices.". Childhood, 20(1), 66–81.

Farokhi, M., & Hashemi, M. (2011). The analysis of children's drawings: Social, emotional, physical and psychological aspects. Procedia - Social and Behavioral Sciences, 30, 2219–2224.

Fattore, T., Fegter, S., & Hunner-Kreisel, C. (2019). Children's understandings of well-being in global and local contexts: Theoretical and methodological considerations for a multinational qualitative study. Child Indicators Research, 12(2), 385–407.

Fekonja-Peklaj, U., & Marjanovič-Umek, L. (2015). Positive and negative aspects of the IWB and tablet computers in the first grade of primary school: A multiple-perspective approach. Early Child Development and Care, 185(6), 996–1015.

Foucault, M. (1977). Discipline and punish: The birth of the prison. New York: Random House.

Frijns, M. (2010). Determinants of life satisfaction. A Cross-Regional Comparison: Maastricht University.

García Bacete, F.J., Marande Perrin, G., Schneider, B.H., & Blanchard, C. (2014). Effects of School on the Well-Being of Children and Adolescents. In A. Ben-Arieh, F. Casas, I. Frønes, & J. Korbin (eds), Handbook of Child Well-Being (pp. 1251-1306). Dordrecht: Springer.

Golomb, C. (2004). The Child's creation of a pictorial world (2nd ed.). Mahwah NJ: Erlbaum.

Hadjar, A., Backes, S., & Gysin, S. (2015). School alienation, patriarchal gender-role orientations and the lower educational success of boys: A mixed-method study. Masculinities and Social Change, 4(1), 85–116.

Hascher, T. (2012). Well-being and learning in school. In N. M. Seel (Ed.), Encyclopedia of the sciences of learning (pp. 3453–3456). New York: Springer.

Hascher, T., & Hadjar, A. (2018). School alienation: Theoretical approaches and educational research. Educational Research, 60(2), 171–188.

Hascher, T., & Hagenauer, G. (2010). Alienation from school. International Journal of Educational Research, 49(6), 220–232.

Hemming, P. J. (2007). Renegotiating the primary school: Children's emotional geographies of sport, exercise and active play. Children's Geographies, 5(4), 353–371.

Hood, S., Kelley, P., & Mayall, B. (1996). Children as research subjects: A risky enterprise. Children & Society, 10(2), 117–128.

Horgan, D. (2017). Child participatory research methods: attempts to go "deeper". Childhood, 24(2), 245–259.

Huebner, E. S., Hills, K. J., Jiang, X., Long, R. F., Kelly, R., & Lyons, M. D. (2014). Schooling and Children's subjective well-being. In A. Ben-Arie, F. Casas, I. Frønes, & J. E. Corbin (Eds.), Handbook of child well-being (pp. 797–819). Dordrecht: Springer.

Jewani, S., Oishi, S., Salthouse, T. A., & Siedlecki, K. L. (2013). The relationship between social support and subjective well-being across age. Dordrecht: Springer.

Kim, C. (2016). Why research "by" children? Rethinking the assumptions underlying the facilitation of children as researchers. Children & Society, 30(3), 230–240.

Mayall, B. (2000). The sociology of childhood in relation to children's rights. The International Journal of Children's Rights, 8(3), 243–259.

McDonald, A. (2009). Drawings stories. The power of children's drawings to communicate the lived experience of starting school. Australasian Journal of Early Childhood, 34(3), 40–49.

Merriman, B., & Guerin, S. (2006). Using children's drawings as data in child-centered research. The Irish Journal of Psychology, 1–2(27), 48–57.

Mey, G., & Dietrich, M. (2017). From text to image—Shaping a visual grounded theory methodology [61 paragraphs]. Forum qualitative Sozialforschung / forum: Qualitative social research, 17(2), Art. 2, https://doi.org/10.17169/fqs-17.2.2535.

Morinaj, J., & Hascher, T. (2018). School alienation and student well-being: A cross-lagged longitudinal analysis. European Journal of Psychology of Education, 34(2), 273–294.

Morinaj, J., Scharf, J., Grecu, A., Hadjar, A., Hascher, T., & Marcin, K. (2017). School alienation: A construct validation study. Frontline Learning Research, 5(2), 36–59.

Nedelcu, A. (2013). Analysing students' drawings of their classroom: A child-friendly research method. Revista De Cercetare Si Interventie Sociala, 42, 275–293.

Ormel, J., Lindenberg, S., Steverink, N., & Verbrugge, L. M. (1999). Subjective well-being and social production functions. Social Indicators Research, 46(1), 61–90.

Qvortrup, J. (2001). School-work, paid work and the changing obligations of childhood. In P. Mizen, C. Pole, & A. Bolton (Eds.), Hidden hands: International perspectives on Children's work and labour (pp. 91–107). London: Routledge Falmer.

Ramos, S., & Soukiazis, E. (2015). The structure of subjective well-being and its determinants: A micro-data study for Portugal. Dordrecht: Springer.

Scharf, J., Hadjar, A., & Grecu, A. (2019). Applying social production function theory to benefits of schooling: The concept of values of education. British Journal of sociology of education (early online, https://doi.org/10.1080/01425692.2019.1604207).

Snow, D., Bundy, A., Tranter, P., Wyver, S., Naughton, G., Ragen, J., & Engelen, L. (2019). Girls' perspectives on the ideal school playground experience: An exploratory study of four Australian primary schools. Children's Geographies, 17(2), 148–161.

Strauss, A. L., & Corbin, J. M. (1990). The basics of qualitative research: Grounded theory procedures and techniques. Newbury Park: SAGE.

Tian, L., Wang, D., & Huebner, E. (2015). Development and validation of the brief adolescents' subjective well-being in school scale (BASWBSS). Social Indicators Research, 120(2), 615–634.

Ünal, H. (2014). An analysis of primary school students' perceptions of sport and sports brands by their drawings. The Anthropologist, 18(2), 379–390.

Winstone, N., Huntington, C., Goldsack, L., Kyrou, E., & Millward, L. (2014). Eliciting rich dialogue through the use of activity-oriented interviews: Exploring self-identity in autistic young people. Childhood, 21(2), 190–206.
Funding
This research was funded by the Luxembourg National Research Fund (Grant Number INTER/SMF/14/9857103) and the Swiss National Science Foundation (Grant Number 100019L_159979).
Additional information
Publisher's Note
Springer Nature remains neutral with regard to jurisdictional claims in published maps and institutional affiliations.
About this article
Cite this article
Loureiro, K.S., Grecu, A., de Moll, F. et al. Analyzing Drawings to Explore children's Concepts of an Ideal School: Implications for the Improvement of children's Well-Being at School. Child Ind Res 13, 1387–1411 (2020). https://doi.org/10.1007/s12187-019-09705-8
Accepted:

Published:

Issue Date:
Keywords
Children's drawings

Primary school

Educational spaces

Subjective well-being

Qualitative methods