Abstract
This paper attempts to provide additional light on the structure and dynamics of inequality of opportunity among Tunisian children during the period 2005–2010. The main steps involved in the analysis comprise: estimation of the Human Opportunity Index, assessment of the relative contributions of circumstances, and decomposition of variations in inequality of opportunity in factors driving them across time and space. The results reveal reasonable and declining levels of inequality in access to some basic services at the national level, but increasing inequalities between regions with inland area lagging the rest of the country. The number of siblings, parents' education and wealth and location of residence are key factors causing such disparities. Without more inclusive and pro-poor policy actions, there are few chances for children belonging to the less advantaged circumstance groups to spring out of the poverty and inequality lived by their parents.
This is a preview of subscription content,
to check access.
Access this article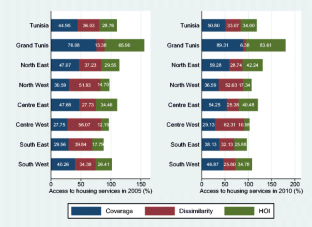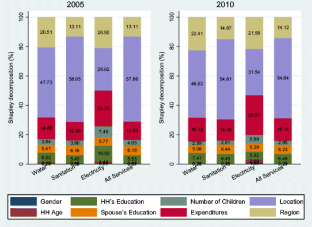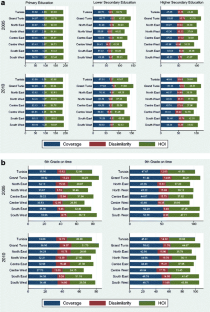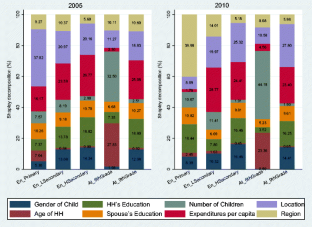 Notes
In 2000, the Poverty headcount ratio at national poverty line (% of population) in Tunisia was 32.4%, in 2010, it decreased to 15.5%.

Despite the high quality of information available at the DHS surveys, they do not contain specific information about household expenditures.

The 2005 and 2010 National Surveys on Households' Budget, Consumption and Standard of Living can be downloaded from the National Institute of Statistics (www.ins.nat.tn) or from the Economic Research Forum (ERF) open access micro data (www.erfdataportal.com).

Primary education in Tunisia as in the majority of countries provides children with essential reading, writing, and mathematics skills along with an elementary comprehension of such subjects such as history, geography, natural science, social science, art, and music. While the Secondary education (lower and higher levels) completes the provision of basic education acquired at the primary level, and aiming to lay the foundations for lifelong learning and human development, by providing more subject- or skill-oriented instruction using more specialized and educated teachers.

The present section merely gives the basic conceptual method for calculating the Human Opportunities Index. For further details and discussion, refer de Barros et al. (2009) which has a more exhaustive explanation of the procedure for computing the second component of the HOI, the Dissimilarity index (D-index), for estimating inequality of opportunity in access to given services. The methodology used in this section hence follows analogous notations as far as possible in order to retain coherence and comparison.

this method is founded mainly on the concept of Shapley value in cooperative games.

Most and least advantaged groups of children are defined according to circumstances variables. These two groups make up both the two extremes of the set of groups constructed based on circumstances; they account for nearly 3% of the total number of children aged between 0 and 18. The least advantaged group contains children from rural areas, parents (Head and Spouse) with no formal education, in households with more than four children at home, and from families in the poorest quintile class. In contrast, the most advantaged group contains children who are from urban area, parents with higher education level, in households with four or less than four children, and from families in the richest quintile class.

In the current study, we use these indicators as proxies for the measure of the quality of education at primary and lower secondary levels.
References
Al-Qudsi, S. S. (2003). Family background, school enrollments and wastage: Evidence from Arab countries. Economics of Education Review, 22(6), 567–580.

Arneson, R. J. (1989). Equality and equal opportunity for welfare. Philosophical Studies, 56(1), 77–93.

Assaad, R., Krafft, C., Hassine, N. B., & Salehi-Isfahani, D. (2012). Inequality of opportunity in child health in the Arab world and Turkey. Middle East Development Journal, 4(2), 1250006.

Ayadi, M., Matoussi, M. S., & Victoria-Feser, M. P. (2001). Putting robust statistical methods into practice: Poverty analysis in Tunisia. Swiss Journal of Economics and Statistics, 3(14), 463–482.

Ayadi, M., Krishnakumar, J., & Matoussi, M. S. (2003). Pooling surveys in the estimation of income and price elasticities: An application to Tunisian households. Empirical Economics, 28(1), 181–201.

Ayadi, M., Ellehga, A., & Chtioui, N. (2008). Poverty in Tunisia: A non-monetary approach. PMMA working paper 2007–05, Poverty and Economic Policy Research Network.

Betti, G., & Lemmi, A. (Eds.). (2008). Advances on income inequality and concentration measures. London: Routledge.

Bibi, S., & Duclos, J. Y. (2005). Decomposing poverty changes into vertical and horizontal components. Bulletin of Economic Research, 57(2), 205–215.

Bibi, S., Castel, V., & Mejia, P. (2011). Poverty and inequality in Tunisia, Morocco and Mauritania. Economic Brief 2011. Tunis: African Development Bank.

Bourguignon, F., Ferreira, F. H., & Menéndez, M. (2007). Inequality of opportunity in Brazil. Review of Income Wealth, 53(4), 585–618.

Chambers, D., & Krause, A. (2010). Is the relationship between inequality and growth affected by physical and human capital accumulation? Journal of Economic Inequality, 8(2), 153–172.

Cohen, G. A. (1989). On the currency of egalitarian justice. Ethics, 99(4), 906–944.

Dabalen, A., Narayan, A., Saavedra-Chanduvi, J., Suarez, A. H., Abras, A., & Tiwari, S. (2015). Do African children have an equal chance?: A human opportunity report for sub-Saharan Africa. Washington, DC: World Bank Publications. World Bank.

de Barros, R. P., Ferreira, F. H. G., Molinas, J. R., & Saavedra, J. (2009). Measuring inequality of opportunities in Latin America and the Caribbean. Washington, DC: World Bank–Palgrave Macmillan Publications. World Bank.

Dworkin, R. (1981). What is equality? part 2: equality of resources. Philosophy and Public Affairs, 10(4), 283–345.

Ersado, L., & Aran, M. A. (2014). Inequality of opportunity among Egyptian children. World Bank Policy Research Working Paper, (7026).

Ferreira, F. H., & Gignoux, J. (2011). The measurement of inequality of opportunity: Theory and an application to Latin America. Review of Income and Wealth, 57(4), 622–657.

Filmer, D. (2005). Gender and wealth disparities in schooling: Evidence from 44 countries. International Journal of Educational Research, 43(6), 351–369.

Filmer, D., & Pritchett, L. (1999). The effect of household wealth on educational attainment: Evidence from 35 countries. Population and Development Review, 25(1), 85–120.

Heckman, J. (2006). Skill formation and the economics of investing in disadvantaged children. Science, 312, 1900–1902.

Huisman, J., & Smits, J. (2009). Keeping children in school: Household and district-level determinants of school dropout in 363 districts of 30 developing countries. Nijmegen Center for Economics (NiCE) Working Paper, (09-105).

Jemmali, H., & Amara, M. (2015). Assessing inequality of human opportunities: A new approach for public policy in Tunisia. Applied Research in Quality of Life, 10(2), 343–361.

Jemmali, H., & Amara, M. (2017). On measuring and decomposing inequality of opportunity among children: Evidence from Tunisia. Applied Research in Quality of Life. (In press).. https://doi.org/10.1007/s11482-017-9511-1.

Kabeer, N. (2010). Can the MDGs provide a pathway to social justice? The challenges of intersecting inequalities. New York/Brighton: UN MDG Achievement Fund and Institute of Development Studies.

Ravallion, M. (1997). Can high-inequality developing countries escape absolute poverty? Economics Letters, 56(1), 51–57.

Rawls, J. (1971). A theory of justice. Cambridge: Harvard University Press.

Rawls, J. (1999). The law of peoples–with the idea of public reason revisited. Cambridge: Harvard University Press.

Roemer, J. E. (1998). Equality of opportunity. Cambridge: Harvard University Press.

Roemer, J. E. (2014). Economic development as opportunity equalization. The World Bank Economic Review, 28(2), 189–209.

Salehi-Isfahani, D., Hassine, N. B., & Assaad, R. (2014). Equality of opportunity in educational achievement in the Middle East and North Africa. Journal of Economic Inequality, 12(4), 489–515.

Sen, A. (1985). Commodities and capabilities. Amsterdam: North-Holland.

Sen, A. (1999). Development as freedom. New York: Oxford University Press.

Shorrocks, A. F. (2013). Decomposition procedures for distributional analysis: A unified framework based on the Shapley value. Journal of Economic Inequality, 11(1), 99–126.

Smits, J. (2007). Family background and context effects on educational participation in five Arab countries. Nijmegen Center for Economics (NiCE), working paper, 07-106.

Son, H. H. (2013). Inequality of human opportunities in developing Asia. Asian Development Review, 30(2), 328.

Stewart F., & Langer A. (2008). Horizontal inequalities: Explaining persistence and change. In F. Stewart (Ed.), Horizontal inequalities and conflict. Conflict, inequality and ethnicity. London: Palgrave Macmillan.

Tansel, A. (2002). Determinants of school attainment of boys and girls in Turkey: Individual, household, and community factors. Economics of Education Review, 21(5), 455–470.

United Nations Development Program (UNDP). (2013). Humanity divided: Confronting inequality in developing countries. New York: UNDP.

United Nations Educational, Scientific, and Cultural Organization (UNESCO). (2006). Education for all global monitoring report, 2007, strong foundations: Early childhood care and education. Paris: UNESCO.

United Nations Population Division (UNPD). (2013). State of the World's children 2015 country statistical information [database]. United Nations Population Division.

World Bank. (2006). World development report 2006: Equity and Development. Washington, DC: World Bank.

Zhao, M., & Glewwe, P. (2010). What determines basic school attainment in developing countries? Evidence from rural China. Economics of Education Review, 29(3), 451–460.
Appendix
About this article
Cite this article
Jemmali, H. Inequality of Opportunities among Tunisian Children over Time and Space. Child Ind Res 12, 213–234 (2019). https://doi.org/10.1007/s12187-018-9538-3
Accepted:

Published:

Issue Date:

DOI: https://doi.org/10.1007/s12187-018-9538-3
Keywords
JEL Classification