Abstract
This study provides with a first indication on the number of multidimensionally poor children in sub-Saharan Africa. It presents a methodology measuring multidimensional child deprivation within and across countries, and it is in line with the Sustainable Development Goal 1 focusing on multidimensional poverty by age and gender. Using the Multiple Overlapping Deprivation Analysis (MODA) methodology, the study finds that 67% or 247 million children are multidimensionally poor in the thirty sub-Saharan African countries included in the analysis. Multidimensional poverty is defined as missing two to five aspects of basic child well-being captured by dimensions anchored in the Convention on the Rights of the Child, namely nutrition, health, education, information, water, sanitation, and housing. The analysis also predicts the multidimensional child poverty rates for the whole sub-Saharan African region estimating 64% or 291 million children to be multidimensionally poor. In comparison, monetary poverty rates measured as less than USD 1.25 PPP per capita spending a day and weighted by the child population size finds 48% poor children. The results of this study highlight the extent of multidimensional poverty among children in sub-Saharan Africa and the need for children to have a specific poverty measure in their own right.
This is a preview of subscription content, log in to check access.
Access options
Buy single article
Instant access to the full article PDF.
US$ 39.95
Price includes VAT for USA
Subscribe to journal
Immediate online access to all issues from 2019. Subscription will auto renew annually.
US$ 99
This is the net price. Taxes to be calculated in checkout.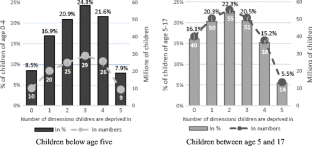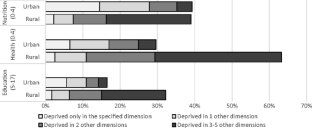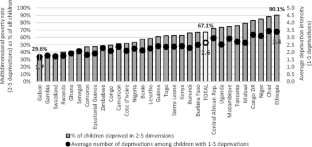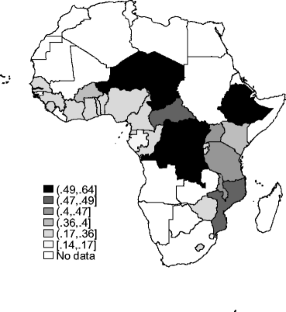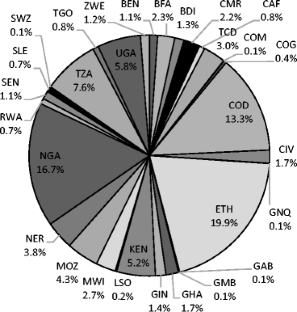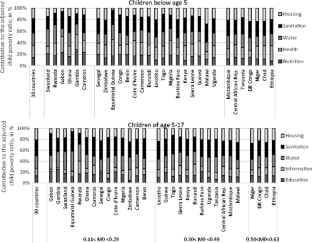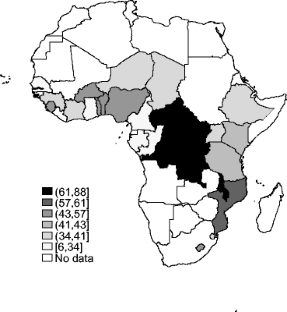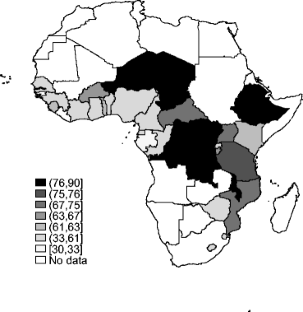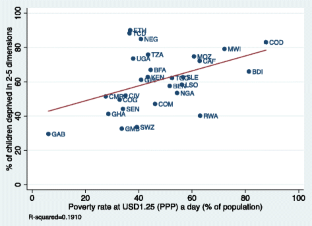 Notes
1.

SDG 1 – Target 1.2: By 2030, reduce at least by half the proportion of men, women and children of all ages living in poverty in all its dimensions according to national definitions (UNDESA 2016).

2.

SDG 1 – Target 1.1: by 2030, eradicate extreme poverty for all people everywhere, currently measured as people living on less than $1.25 a day (UNDESA 2016).

3.

While many of the indicators are collected at a household level, the analysis is child-centred using children as unit of analysis.

4.

The eighth dimension – Protection from violence – is included in the standard CC-MODA method whenever the violence module is available in the dataset. Since it was unavailable for several of the 30 countries in sub-Saharan Africa, the Violence dimension has been excluded from this specific study to ensure comparability of results in the region.

5.

Although nutrition and health are crucial for child well-being regardless of children's age, these dimensions are not included in the analysis for children aged 5–17 due to lack of adequate indicators for this age-group in the DHS and MICS surveys.

6.

The analysis has also been carried out using all thresholds; the results can be found in de Milliano and Plavgo (2014).

7.

8.

Alkire and Foster (2011) methodology has been applied to calculate the average deprivation intensity (A) and the adjusted multidimensional poverty headcount rate (M0).

9.

10.

International monetary poverty rates of USD 1.25 PPP a day are applied, retrieved from the World Bank Databank.

11.

Although it would be informative to analyse the differences in deprivation rates within urban areas focusing on slum areas, the data used for this analysis do not permit this.

12.

Analysis by gender using CC-MODA is only possible at indicator level; it is not done for the multidimensional poverty analysis because five out of seven dimensions are constructed using indicators that are applied to all children of the same household.

13.

While gender is an important expected correlate to deprivation, results are not presented by gender given that the inclusion of indicators measured at the household level would mask any gender differences.

14.

The average deprivation intensity (A) for Figure 5 is calculated using a cut-off of one dimension to avoid censoring the deprivations that may be experienced in isolation from other deprivations.

15.

See De Milliano and Plavgo (2014) for more details on results by threshold and age-group.

16.

Additional comparisons between multidimensional child poverty, national poverty, and national child poverty have been carried out (see de Milliano and Plavgo 2014), but are not included in this paper due to space limitations.

17.

Data on monetary poverty and multidimensional poverty are, where possible, used from the same year. There are, however, time lags for some of the countries, so the comparison should be interpreted with caution due to discrepancies in the year of measurement. Annex 1 specifies the year by country and data source.

18.

Calculations are made for 44 developing countries in Sub-Saharan Africa as classified by the World Bank, excluding Mauritius, Seychelles, Somalia and South Sudan, while adding Equatorial Guinea and Sudan.

19.

Both the HDI and the multidimensional child poverty measure contain dimensions related to living standards, health, and education, suggesting a certain degree of endogeneity. However, the indicators that have been used for constructing the two measures differ, allowing the use of HDI when predicting the multidimensional poverty rates for the purpose of this analysis.

20.

The HDI, the share of urban population, and the population size in 2012 are retrieved from the World Bank Databank (2014).

21.

As a robustness check the last column in Annex 6 estimates the deprivation rates for the thirty countries in the sample using the HDI predictive model.
References
Alkire, S., & Foster, J. (2011). Counting and multidimensional poverty measurements. Journal of Public Economics, 95, 476–487.

Alkire, S., & Santos, M. E. (2014). Measuring acute poverty in the developing world: robustness and scope of the multidimensional poverty index. World Development, 59, 251–274.

Atkinson, A. B., Lugo, M. A. (2010). Growth, poverty and distribution in Tanzania. International Growth Centre, Working Paper 10/0831. November.

Ballon, P., & Duclos, J. Y. (2016). A comparative analysis of multidimensional poverty in Sudan and South Sudan. African Development Review, 28(S2), 132–161.

Booysen, F., van der Berg, S., Burger, R., von Maltitz, M., & Du Rand, G. (2008). Using an asset index to assess trends in poverty in seven sub-Saharan African countries. World Development, 36(6), 1113–1130.

Chzhen, Y., Ferrone, L. (2017). Multidimensional child deprivation and poverty measurement: case study of Bosnia and Herzegovina. Social Indicators Research, 131(3), 999–1014.

Chzhen, Y., de Neubourg, C., Plavgo, I., & de Milliano, M. (2016). Child poverty in the European Union: the multiple overlapping deprivation analysis approach (EU-MODA). Child Indicators Research, 9(2), 335–356.

de Milliano, M., Handa, S. (2014). Child poverty and deprivation in Mali – the first national estimates. Working paper 2014–20, UNICEF Office of Research, Florence.

de Milliano, M., Plavgo, I. (2014). CC-MODA - cross country multiple overlapping deprivation analysis: analysing child poverty and deprivation in sub-Saharan Africa, Innocenti Working Papers no. 2014–19, UNICEF Office of Research, Florence.

de Neubourg, C., Chai, J., de Milliano, M., Plavgo, I., Wei, Z. (2012a). Step-by-step guidelines to the multiple overlapping deprivation analysis (MODA). Working Paper 2012–10, UNICEF Office of Research, Florence.

de Neubourg, C., Chai, J., de Milliano, M., Plavgo, I., Wei, Z. (2012b). Cross-country MODA study: multiple overlapping deprivation analysis (MODA) - technical note. Working Paper 2012–05, UNICEF Office of Research, Florence.

de Neubourg, C., de Milliano, M., Plavgo, I. (2014). 'Lost (in) dimensions: consolidating progress in multidimensional poverty research'. Working Paper 2014–04, UNICEF Office of Research, Florence.

Feeny, T., & Boyden, J. (2004). Acting in adversity: rethinking the causes, experiences and effects of child poverty in contemporary literature. Literature and thought on Children and Poverty", in Children and Poverty Series Working Paper, 116.

Gordon, D., Nandy, S., Pantazis, C., Pemberton, S., & Townsend, P. (2003). The distribution of child poverty in the developing world. Bristol: University of Bristol.

Klasen, S. (2000). Measuring poverty and deprivation in South Africa. Review of Income and Wealth, 46(1), 33–58.

Klugman, J., Rodríguez, F., & Choi, H. J. (2011). The HDI 2010: new controversies, old critiques. The Journal of Economic Inequality, 9(2), 249–288.

Minujín, A., & Nandy, S. (Eds.). (2012). Global child poverty and well-being: Measurement, concepts, policy and action. Bristol: The Policy Press.

Minujín, A., Delamonica, E., Davidziuk, A., & Gonzalez, E. D. (2006). The definition of child poverty: a discussion of concepts and measurements. Environment and Urbanization, 18(2), 481–500.

Olinto, P., Beegle, K., Sobrado, C., Uematsu, H. (2013). The state of the poor: where are the poor, where is extreme poverty harder to end, and what is the current profile of the world's poor? The World Bank, economic premise, poverty reduction and economic management network, Oct 2013, No. 125.

Roche, J. M. (2013). Monitoring progress in child poverty reduction: methodological insights and illustration to the case study of Bangladesh. Social Indicators Research, 112(2), 363–390.

Roelen, K., Gassmann, F. (2008). Measuring child poverty and well-being: a literature review. Maastricht Graduate School of Governance Working Paper MGSoG/2008/WP001.

Sahn, D. E., & Stifel, D. C. (2000). Poverty comparisons over time and across countries in Africa. World Development, 28(12), 2123–2155.

SSA. (2013). Men, women and children: findings of the living conditions survey, 2008/2009 / statistics South Africa. Pretoria: Statistics South Africa.

Stoeffler, Q., Alwang, J., Mills, B., & Taruvinga, N. (2016). Multidimensional poverty in crisis: lessons from Zimbabwe. The Journal of Development Studies, 52(3), 428–446.

UN MDG. (2003). Indicators for monitoring the millennium development goals: definitions, rationale, concepts, and sources. New York: United Nations Publication.

UNDESA (2016). Sustainable development knowledge platform. Retrieved from: https://sustainabledevelopment.un.org/index.html.

UN-HABITAT (2004). Urban indicators: guidelines. Monitoring the habitat agenda and the millennium development goals.

UNICEF. (2007). Global study on child poverty and disparities 2007–2008: Guide. New York: Division of Policy and Planning.

UNICEF and WHO (2011). Immunization summary: a statistical reference containing data through 2009. Retrieved from: http://www.childinfo.org/files/32775_UNICEF.pdf.

United Nations (1989). Convention on the rights of the child, the general assembly resolution 44/25.

United Nations, Department of Economic and Social Affairs, Population Division (2015). World population prospects: the 2015 revision. Population by Age Groups - Both Sexes [Data file]. Retrieved January 16, 2005 from: https://esa.un.org/unpd/wpp/Download/Standard/Population/.

von Maltzahn, R., & Durrheim, K. (2008). Is poverty multidimensional? A comparison of income and asset based measures in five Southern African countries. Social Indicators Research, 86(1), 149–162.

Waddington, H. (2004). Linking economic policy to childhood poverty: a review of the evidence on growth, trade reform and macroeconomic policy in CHIP Report, No. 7.

World Health Organization (2004). Making pregnancy safer: the critical role of the skilled attendant – A joint statement by WHO, ICM and FIGO. Geneva: World Health Organization. Retrieved January 21, 2004 from: http://apps.who.int/iris/bitstream/10665/42955/1/9241591692.pdf.

WHO (2008). Indicators for assessing infant and young child feeding practices: conclusions of a consensus meeting held 6–8 November 2007 in Washington D.C., USA. Part one: Definitions. World Health Organization. Retrieved January 21, 2004 from: http://apps.who.int/iris/bitstream/10665/43895/1/9789241596664_eng.pdf.

WHO (2010). International workshop on housing, health and climate change: developing guidance for health protection in the built environment – mitigation and adaptation responses. Geneva, 13–15 Oct.

WHO and UNICEF (2006). Core Questions on Drinking-Water and Sanitation for Household Surveys. Retrieved from: http://www.who.int/water_sanitation_health/monitoring/oms_brochure_core_questionsfinal24608.pdf

World Bank Databank (2014). World development indicators. Washington DC: World Bank.
Acknowledgements
We are grateful for the valuable contribution of many UNICEF colleagues, as well as the researchers working on multidimensional poverty measurement in OPHI, the University of Bristol, the University of Maastricht, and the University of Sussex, for their advice and inspiration. We are especially thankful to Chris de Neubourg, Jingqing Chai, Ziru Wei, Sudhanshu Handa, and Goran Holmqvist for their substantive engagement throughout the project. Many thanks to the anonymous reviewers providing useful comments to an earlier draft of this paper.
Appendices
Annex 1
Annex 2
Annex 3
Annex 4
Annex 5
Annex 6
About this article
Cite this article
de Milliano, M., Plavgo, I. Analysing Multidimensional Child Poverty in Sub-Saharan Africa: Findings Using an International Comparative Approach. Child Ind Res 11, 805–833 (2018). https://doi.org/10.1007/s12187-017-9488-1
Accepted:

Published:

Issue Date:
Keywords
Child poverty

Multidimensional deprivation

Child rights

Sub-Saharan Africa