Abstract
To date, most cross-country comparisons of children's subjective well-being have been conducted using single-item scales. Despite multi-item scales being more powerful for this purpose, they have seldom been tested on children when comparing results among more than 4 countries. Moreover, with very few exceptions, international comparisons have mostly been carried out using samples of children aged 12 or over and it is therefore uncertain how the scales available might work among younger populations, even if some scales have been tested in a few countries. We tested 3 psychometric scales on a sample of over 34,000 children from 15 countries aged mostly 10 and 12: the SLSS, the BMSLSS and the PWI-SC. We used the pooled database to identify models with a good fit by means of Confirmatory Factor Analysis, providing construct validity for each of the three scales for this set of countries. The comparability of the scales among countries was tested using Multi-group Confirmatory Factor Analysis to assess to what extent it is valid to make cross-national comparisons. Our results suggest that it is acceptable to compare correlations and regressions between most of the countries in our survey using each of these measures, with only a few exceptions. Some of the models using the specific modified SLSS version adopted in this research displayed promising results due to the fact that their correlations and regressions appeared to be comparable among all countries in the sample. However, mean scores for the overall indexes are only comparable among countries in some cases using partial intercept constraints. Two Multi-group Structural Equation Models including the three correlated multi-item psychometric scales plus two single-item scales (Overall Life Satisfaction and Overall Happiness Scale) displayed good fit indexes with constrained loadings for all countries, both for the 10 and 12-year-old samples. This result suggests that subjective well-being comparability increases among countries when using the five psychometric scales all together. With semi-partial constrained loadings and intercepts, fit statistics suggest that the means of this overall model can cautiously be compared among all countries: comparable items and not strictly comparable items were identified. Correlations among the psychometric scales and regressions of the multiple-item scales on the single-item scales clearly show different patterns among countries and variations according to age group, suggesting a high diversity of interrelations among these measures depending on age and different language and socio-cultural contexts.
Access options
Buy single article
Instant access to the full article PDF.
US$ 39.95
Tax calculation will be finalised during checkout.
Subscribe to journal
Immediate online access to all issues from 2019. Subscription will auto renew annually.
US$ 79
Tax calculation will be finalised during checkout.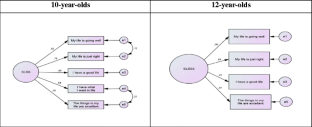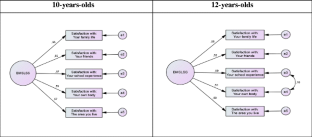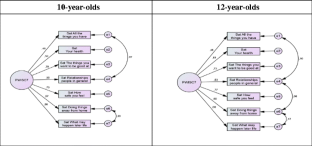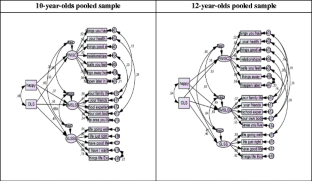 References
Adamson, P. (Ed.) (2007). Child poverty in perspective: an overview of child well-being in rich countries. Report Card 7. Innocenti Research Centre. UNICEF.

Andrews, F. M., & Withey, S. B. (1976). Social indicators of well-being: American's perceptions of life quality. New York: Plenum.

Arbuckle, J. L. (2010). IBM SPSS Amos 19 user's guide. Chicago: Amos Development Corporation.

Browne, M. W., & Cudeck, R. (1993). Alternative ways of estimating model fit. In K. A. Bollen & J. S. Long (Eds.), Testing structural equation models. Newbury Park: Sage Publications.

Byrne, B. M. (2010). Structural equation modelling with AMOS: Basic concepts, applications and programming (2nd ed.). New York: Routledge.

Campbell, A., Converse, P. E., & Rogers, W. L. (1976). The quality of American life: Perceptions, evaluations, and satisfactions. Russell Sage: Nueva York.

Casas, F., & Rees, G. (2015). Measures of children's subjective well-being: analysis of the potential for cross-national comparisons. Child Indicators Research, online first.

Casas, F., Sarriera, J. C., Abs, D., Coenders, G., Alfaro, J., Saforcada, E., & Tonon, G. (2012). Subjective indicators of personal well-being among adolescents. Performance and results for different scales in latin-language speaking countries: a contribution to the international debate. Child Indicators Research, 5(1), 1–28. doi:10.1007/s12187-011-9119-1.

Casas, F., González, M., Navarro, D., & Aligué, M. (2013a). Children as advisers of their researchers: assuming a different status for children. Child Indicators Research, 6, 193–212. doi:10.1007/s12187-012-9168-0.

Casas, F., Tiliouine, H., & Figuer, C. (2013b). The subjective well-being of adolescents from two different cultures: applying three versions of the PWI in Algeria and Spain. Social Indicators Research. doi:10.1007/s11205-012-0229-z.

Chen, F. F. (2007). Sensitivity of goodness of fit indexes to lack of measurement invariance. Structural Equation Modeling: A Multidisciplinary Journal, 14(3), 464–504. doi:10.1080/10705510701301834.

Cheung, G. W., & Rensvold, R. B. (2002). Evaluating goodness-of-fit indexes for testing measurement invariance. Structural Equation Modeling: A Multidisciplinary Journal, 9(2), 233–255. doi:10.1207/S15328007SEM0902_5.

Coenders, G., Batista-Foguet, J. M., & Saris, W. (2005). Temas avanzados en modelos de ecuaciones estructurales. Madrid: La Muralla.

Comşa, M. (2010). How to compare means of latent variables across countries and waves: testing for invariance measurement. An application using Eastern European societies. Sociológia, 41(6), 639–669.

Cummins, R. A. (1998). The second approximation to an international standard of life satisfaction. Social Indicators Research, 43, 307–334.

Cummins, R. A., & Lau, A. L. (2005). Personal wellbeing index – school children. Manual (3rd ed.). Melbourne: School of Psychology, Deakin University.

Cummins, R. A., & Nitisco, H. (2002). Maintaining life satisfaction: the role of positive cognitive bias. Journal of Happiness Studies, 3, 37–69.

Cummins, R. A., Gullone, E., & Lau, A. L. D. (2002). A model for subjective well-being homeostasis: The role of personality. In E. Gullone & R. A. Cummins (Eds.), The universality of subjective well-being indicators. Social indicators research book series. Dordrech: Kluwer.

Cummins, R. A., Eckersley, R., Pallant, J., van Vugt, J., & Misajon, R. (2003). Developing a national index of subjective wellbeing: the Australian unity wellbeing index. Social Indicators Research, 64(2), 159–190. doi:10.1023/A:1024704320683.

Diamantopoulos, A., Sarstedt, M., Fuchs, C., Wilczynski, P., & Kaiser, S. (2012). Guidelines for choosing between multi-item and single-item scales for construct measurement: a predictive validity perspective. Journal of the Academy of Marketing Science, 40(3), 434–449.

Diener, E., Emmons, R., Larsen, R., & Smith, H. L. (1985). The satisfaction with life scale. Journal of Personality Assessment, 49(1), 71–75.

Diener, E., Suh, E. M., Lucas, R. E., & Smith, H. L. (1999). Subjective well-being: three decades of progress. Psychological Bulletin, 125(2), 276–302.

Furr, R. M. (2010). Scale construction and psychometrics for social and personality psychology. Los Angeles: Sage.

Hair, J.F., Black, W.C., Babin, B.J., & Anderson, R.L. (2014). Multivariate data analysis. Harlow (Essex). Pearson Education Ltd (7th ed., Pearson New International Edition).

Holte, A., Berry, M. M., Bekkhus, M., Borge, A. I. H., Bowes, L., Casas, F., et al. (2013). Psychology of child well-being. In A. Ben-Arieh, F. Casas, I. Frones, & J. E. Korbin (Eds.), Handbook of child well-being (pp. 555–631). Dordrecht: Springer.

Huebner, E. S. (1991). Initial development of the student's life satisfaction scale. School Psychology International, 12(3), 231–240. doi:10.1177/0143034391123010.

Huebner, E. S., & Hills, K. J. (2013). Assessment of subjective well-being in adolescents. In D.H. Saklofske, C.R. Reynolds, & V.L. Schwean (Eds.), The Oxford Handbook of Child Psychological Assessment. Oxford University Press.

Huebner, E. S., Seligson, J. L., Valois, R. F., & Suldo, S. M. (2006). A review of the brief multidimensional students' life satisfaction scale. Social Indicators Research, 79, 477–484.

Marsh, H. W., Lüdtke, O., Muthén, B., Asparouhov, T., Morin, A. J. S., Trautwein, U., & Nagengast, B. (2010). A new look at the big five factor structure through exploratory structural equation modeling. Psychological Assessment, 22(3), 471–491.

Rees, G., & Main, G. (2015). Children's views on their lives and well-being in 15 countries: an initial report on the children's worlds survey, 2013–14. Children'2 Worlds. Retrieved from www.isciweb.org.

Seligson, J. L., Huebner, E. S., & Valois, R. F. (2003). Preliminary validation of the brief multidimensional students' life satisfaction scale (BMSLSS). Social Indicators Research, 61(2), 121–145. doi:10.1023/A:1021326822957.

Stones, M. J., & Kozma, A. (1985). Structural relationships among happiness scales: a second order factorial study. Social Indicators Research, 17, 19–28.

Tomyn, A. J., & Cummins, R. A. (2011). The subjective wellbeing of high-school students: validating the personal wellbeing index—school children. Social Indicators Research, 101(3), 405–418. doi:10.1007/s11205-010-9668-6.
Acknowledgments
Thanks are due to all principal investigators and to all research team members who have participated in the data collection in the 15 countries included in our sample and to the co-ordinating team of the Children's Worlds project for kindly allowing us to use their data, to the Jacobs Foundation for supporting the project, and to Barney Griffiths for the English editing of this paper.
Annex
Annex
About this article
Cite this article
Casas, F. Analysing the Comparability of 3 Multi-Item Subjective Well-Being Psychometric Scales Among 15 Countries Using Samples of 10 and 12-Year-Olds. Child Ind Res 10, 297–330 (2017). https://doi.org/10.1007/s12187-015-9360-0
Accepted:

Published:

Issue Date:
Keywords
Subjective well-being

Psychometric scales

Subjective indicators

Cross-cultural comparisons

Multi-group confirmatory factor analysis