Abstract
Studies have found traumatic experiences in childhood to have lasting effects across the lifecourse. These adverse childhood experiences (ACEs) include a variety of types of trauma, including psychological, physical or sexual abuse; living in poverty; violence in the home; living with a substance abuser; living with a mentally ill or suicidal person; or living with someone who is or has been imprisoned. Long-term effects among adults have been found in previous studies; but there is limited research on the association between ACEs and adolescent development and even less on potential protective factors to mediate these associations. Utilizing the U.S. 2011–2012 National Survey of Children's Health, this study examines both the prevalence of ACEs in a nationally representative sample of 12–17 year old adolescents and the cross-sectional relationship between experiencing ACEs and multiple measures of well-being. Potential protective factors are then examined in a mediation model. Results indicate that the more ACEs adolescents experience, the less likely they are to enjoy high levels of well-being. Many factors partially mediate this association, including residing in a safe neighborhood, attending a safe school, and parental monitoring of friends and activities. We conclude that measures of adverse childhood experiences (ACEs) represent an important construct for indicator systems; in addition, these findings indicate that measures of protective factors represent important components of indication systems.
This is a preview of subscription content, log in to check access.
Access options
Buy single article
Instant access to the full article PDF.
US$ 39.95
Price includes VAT for USA
Subscribe to journal
Immediate online access to all issues from 2019. Subscription will auto renew annually.
US$ 99
This is the net price. Taxes to be calculated in checkout.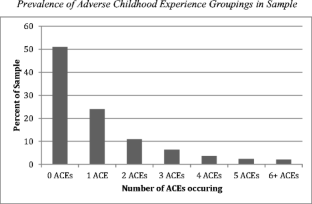 References
Amato, P. R., & Keith, B. (1999). Parental divorce and the well-being of children: a meta-analysis. Psychological Bulletin, 110(1), 26–46.

Bagner, D., & Graziano, P. (2013). Barriers to success in parent training for young children with developmental delay: the role of cumulative risk. Behavior Modification, 37(3), 356–377.

Benson, P., Scales, P., & Mannes, M. (2003). Developmental strengths and their sources: Implications for the study and practice of community building. Handbook of applied developmental science (1, pp. 369–400). Thousand Oaks, CA: Sage Publications.

Björkenstam, E., Hjern, A., Mittendorfer-Rutz, E., Vinnerljung, B., Hallqvist, J., & Ljung, R. (2013). Multi-exposure and clustering of adverse childhood experiences, socioeconomic differences and psychotropic medication in young adults. PLoS ONE, 8(1), e53551. doi:10.1371/journal.pone.0053551.

Chartier, M. J., Walker, J. R., & Naimark, B. (2010). Separate and cumulative effects of adverse childhood experiences in predicting adult health and health care utilization. Child Abuse & Neglect, 34(6), 454–464. doi:10.1016/j.chiabu.2009.09.020.

Coley, R., Leventhal, T., Lynch, A., & Kull, M. (2012). Relations between housing characteristics and the well-being of low-income children and adolescents. Developmental Psychology, 49(9), 1775–1789. doi:10.1037/a0031033.

Dannerbeck, A. M. (2005). Differences in parenting attributes, experiences, and behaviors of delinquent youth with and without a parental history of incarceration. Youth Violence and Juvenile Justice, 3(3), 199–213. doi:10.1177/1541204005276260.

Dube, S. R., Anda, R. F., Felitti, V. J., Edwards, V. J., & Williamson, D. F. (2002). Violence as children: implications for health and social services. Violence and Victims, 17(1), 3–17.

Duke, N. N., Pettingell, S. L., McMorris, B. J., & Borowsky, I. W. (2010). Adolescent violence perpetration: associations with multiple types of adverse childhood experiences. Pediatrics, 125(4), e778–e786. doi:10.1542/peds.2009-0597.

Farb, A. F., & Matjasko, J. L. (2012). Recent advances in research on school-based extracurricular activities and adolescent development. Developmental Review, 32(1), 1–48. doi:10.1016/j.dr.2011.10.001.

Felitti, V. J., Anda, R. F., Nordenberg, D., Williamson, D. F., Spitz, A. M., Edwards, V., Koss, M. P., & Marks, J. S. (1998). Household dysfunction to many of the leading causes of death in adults the adverse childhood experiences (ACE) study. American Journal of Preventive Medicine, 14(4), 245–258.

Fox, A., Berrick, J. D., & Frasch, K. (2008). Safety, family, permanency, and child well-being: what we can learn from children. Child Welfare, 87(1), 63–90.

Graham-Bermann, S. A., & Levendosky, A. A. (1998). Traumatic stress symptoms in children of battered women. Journal of Interpersonal Violence, 13(1), 111–128. doi:10.1177/088626098013001007.

Hawkins, J. D., Kosterman, R., Catalano, R. F., Hill, K. G., & Abbott, R. D. (2005). Promoting positive adult functioning through social development intervention in childhood: long-term effects from the seattle social development project. Archives of Pediatrics and Adolescent Medicine, 159(1), 25–31.

Johnson, E. I., & Easterling, B. (2012). Understanding unique effects of parental incarceration on children: challenges, progress, and recommendations. Journal of Marriage and Family, 74(2), 342–356. doi:10.1111/j.1741-3737.2012.00957.x.

Lewis, C. S., Jospitre, T., Griffing, S., Chu, M., Sage, R., Madry, L., & Primm, B. J. (2006). Childhood maltreatment, familial violence, and retraumatization. Journal of Emotional Abuse, 4(6), 37–41. doi:10.1300/J135v06n04.

Lima, J., Caughy, M., Nettles, S. M., & O'Campo, P. J. (2010). Effects of cumulative risk on behavioral and psychological well-being in first grade: moderation by neighborhood context. Social Science & Medicine (1982), 71(8), 1447–1454. doi:10.1016/j.socscimed.2010.06.022.

Martinez, P., & Richters, J. (1993). The NIMH community violence project: II. Children's distress symptoms associated with violence exposure. Psychiatry, 56, 22–35.

Masten, A. S., Hubbard, J. J., Gest, S. D., Tellegen, A., Garmezy, N., & Ramirez, M. (1999). Competence in the context of adversity: pathways to resilience and maladaptation from childhood to late adolescence. Development and Psychopathology, 11, 143–169.

McLanahan, S., & Beck, N. A. (2010). Parental relationships in fragile families. Fragile families. The Future of Children, 20(2), 17–38.

Moore, K. A., Murphey, D., Bandy, T., & Lawner, E. (2014). Indices of child well-being and developmental contexts. In A. Ben-Arieh, F. Casas, I. Frønes, & J. E. Korbin (Eds.), Handbook of child well-being (pp. 2807–2822). Dordrecht: Springer Netherlands. doi:10.1007/978-90-481-9063-8

Moore, A., Redd, Z., Burkhauser, M., Mbwana, K., & Collins, A. (2009). Children in poverty: Trends, consequences, and policy options (pp. 1–12). Bethesda: Child Trends.

National Research Council & Institute of Medicine. (2009). Preventing mental, emotional, and behavioral disorders among young people: Progress and possibilities. In M. E. O'Connell, T. Boat, & K. E. Warner (Eds.), Committee on the Prevention of Mental Disorders and Substance Abuse Among Children, Youth, and Young Adults: Research Advances and Promising Interventions. Washington, DC: National Academies Press.

Phillips, S. D., Erkanli, A., Keeler, G. P., Costello, E. J., & Anfold, A. (2006). Disentangling the risks: parent criminal justice involvement and children's exposure to family risks. Criminology and Public Policy, 5(4), 677–702.

Poulton, R., Caspi, A., Milne, B. J., Thomson, W. M., Taylor, A., Sears, M. R., & Moffitt, T. E. (2002). Association between children's experience of socioeconomic disadvantage and adult health: a life-course study. Lancet, 360(9346), 1640–1645. doi:10.1016/S0140-6736(02)11602-3.

Preacher, K. J., & Hayes, A. F. (2008). Asymptotic and resampling strategies for assessing and comparing indirect effects in multiple mediator models. Behavior Research Methods, 40(3), 879–891. doi:10.3758/BRM.40.3.879.

Rosales, T.A. (2013). Social patterning of health risk behaviors: the mediating role of exposure to childhood adversity (Doctoral dissertation). Retrieved from http://deepblue.lib.umich.edu/bitstream/2027.42/102416/1/givphd_1.pdf.

Sameroff, A. J. (2000). Developmental systems and psychopathology. Development and Psychopathology, 12(3), 297–312. Retrieved from http://www.ncbi.nlm.nih.gov/pubmed/11014740

Sameroff, A., Seifer, R., Barocas, R., Zax, M., & Greenspan, S. (1987). Intelligence quotient scores of 4-year-old children: social-environmental risk factors. Pediatrics, 79(3), 343–350.

Uphold-Carrier, H., & Utz, R. (2012). Parental divorce among young and adult children: a long-term quantitative analysis of mental health and family solidarity. Journal of Divorce and Remarriage, 53(4), 247–266. doi:10.1080/10502556.2012.663272.

Yoshikawa, H., Aber, J. L., & Beardslee, W. R. (2012). The effects of poverty on the mental, emotional, and behavioral health of children and youth: implications for prevention. The American Psychologist, 67(4), 272–284. doi:10.1037/a0028015.
Appendix
Appendix
About this article
Cite this article
Moore, K.A., N. Ramirez, A. Adverse Childhood Experience and Adolescent Well-being: Do Protective Factors Matter?. Child Ind Res 9, 299–316 (2016). https://doi.org/10.1007/s12187-015-9324-4
Accepted:

Published:

Issue Date:
Keywords
Adverse childhood experiences

ACEs

Adolescent well-being

Protective factors

Multiple mediation