Abstract
Poverty has serious consequences for children's well-being as well as for their achievements in adult life. The Multiple Overlapping Deprivation Analysis for the European Union (EU-MODA) compares the living conditions of children across the EU member states. Rooted in the established multidimensional poverty measurement tradition, EU-MODA contributes to it by using the international framework of child rights to inform the construction of indicators and dimensions essential to children's material well-being, taking into account the needs of children at various stages of their life cycle. The study adds to the literature on monetary child poverty and material deprivation in the EU by analysing several age-specific and rights-based dimensions of child deprivation individually and simultaneously, constructing multidimensional deprivation indices, and studying the overlaps between monetary poverty and multidimensional deprivation. The paper demonstrates the application of the EU-MODA methodology to three diverse countries: Finland, Romania and the United Kingdom. The analysis uses data from the ad hoc material deprivation module of the EU-SILC 2009 because it provides comparable micro-data for EU member states and contains child-specific deprivation indicators.
Access options
Buy single article
Instant access to the full article PDF.
US$ 39.95
Tax calculation will be finalised during checkout.
Subscribe to journal
Immediate online access to all issues from 2019. Subscription will auto renew annually.
US$ 79
Tax calculation will be finalised during checkout.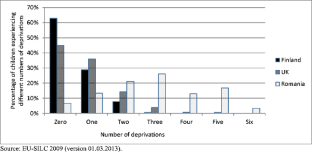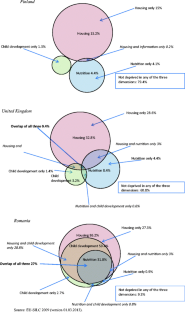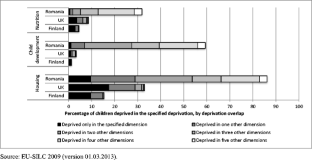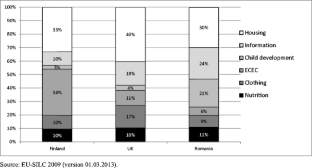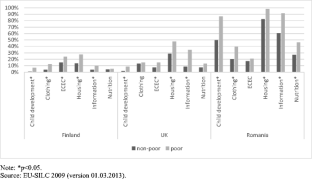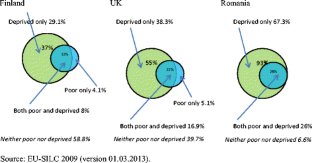 Notes
1.

The Recommendation specifies that this indicator is "under discussion" (European Commission 2013).

2.

In 2009, the relative income poverty rate for children under 18 was 13.8 % in Finland, 17.3 % in the UK and 22.4 % in Romania (Eurostat database, last update 16.06.2014). The proportion of children under 18 living in deprived households (using the enforced lack of three out of nine standard items) ranged from 8.2 % in Finland and 13.5 % in the UK to 50.7 % in Romania (Eurostat database, last update 04.06.2014).

3.

This is also an argument against using monetary indicators of child poverty: "prioritizing economic welfare through the analysis of consumption and expenditure by adults tells us nothing about the welfare of children dependent on those adults, or about the intra- household distribution of that expenditure" (Feeny and Boyden 2004, p. 7).

4.

See Guio (2009) for a discussion of methodological issues involved in constructing the EU material deprivation indicator.

5.

A number of questions refer to school-aged children only, while the majority of the items pertain to those between the ages of 1 and 15.

6.

These include incapacity to afford: replacing worn-out furniture; to pay for arrears; computer and internet; to keep the home adequately warm; a car.

7.

The six dimensions included: basic, consumption, health of the household reference person, neighbourhood environment, housing facilities, and access to public services. See Table 6 in Annex for the list of survey items included in each dimension.

8.

9.

Information on the compulsory age of starting school in European countries in 2009 is obtained from the Eurydice network (http://www.nfer.ac.uk/nfer/index.cfm?9B1C0068-C29E-AD4D-0AEC-8B4F43F54A28, last updated April 2013). The compulsory school starting age was: six in Austria, Belgium, Czech Republic, Germany, Denmark, France, Ireland, Iceland, Italy, Luxembourg, Norway, Poland, Portugal, Romania, Slovenia, Slovak Republic and Spain; five in Cyprus, Greece, Hungary, Latvia, Malta, the Netherlands, and the United Kingdom; seven in Bulgaria, Finland, Estonia, Lithuania, and Sweden.

10.

Although it would have been preferable to use the minimum statutory school leaving age as the boundary between the middle- and the older age groups, the structure of the EU-SILC does not allow that.

11.

12.

It is restricted to children between the age of three and the compulsory school-age because 0 and 2-year-olds may be too young to fully benefit from the educational component of the ECEC systems. ECEC programmes "are normally designed for children from age 3 and include organised learning activities" (UNESCO 2007). Eurostat uses age at survey year to calculate statistics on formal childcare arrangements, rather than the age at the end of the income reference period. This explains the discrepancies between the deprivation rates on the ECEC indicator and the official childcare use statistics published by Eurostat.

13.

There is no information about school attendance or school achievement in the EU-SILC. Although there is information about compulsory school enrolment for children up to the age of 12, nearly all attend compulsory school for at least 1 h a week.

14.

For the oldest age group, the education dimension is labelled as activity because the end of compulsory schooling varies across the EU, so 17–18-year-olds may be in education, training, work or "not in education, employment or training" (NEET).

15.

Guio et al. (2012) also included "one week holiday away from home" among the 13 child-level indicators in addition to five household-level items (of these, "computer" and "internet" are also used in EU-MODA) used to construct their 18-item child deprivation indicator.

16.

Note that this is a censored measure: it is calculated only for the children who are deprived based on the chosen cut-off.

17.

The share of children in the preschool-age group excluded from the analysis due to having missing values for at least one of the indicators ranges from 1 % in Romania, to 5 % in the UK and 9 % in Finland. However, this is not statistically significantly related to income in Finland or Romania, while in the UK income poor children are over-represented in the study (p < 0.05). In the UK, 1.5 and 5.5 % of income poor and non-poor preschool-age children, respectively, have missing values.

18.

In Finland parents can care for children at home until the youngest child's third birthday (paid parental leave followed by paid homecare leave), which may help explain why many preschool-age children do not use formal childcare.

19.

Area of residence (thinly populated vs. intermediate or densely populated); highest level of education of the main carer, usually the mother (tertiary vs upper secondary or lower); migrant status (at least one person in the household born outside the EU vs none); large family (three or more children under 18 vs one or two); tenure status (owned outright or with a mortgage vs. rented or other); number of parents in the household (both vs. one or none); household work intensity, EU definition (adults work at least half of the potential time vs less than half).

20.

21.

Multiple housing problems are defined as suffering from at least one of the following: leaking roof, damp roof/walls/foundation; rot in window frames or floor; there is not enough daylight from windows.
References
Alkire, S., & Foster, J. (2010). Designing the inequality-adjusted human development index. Human Development Research Paper, 2010/28.

Alkire, S., & Foster, J. (2011). Counting and multidimensional poverty measurement. Journal of Public Economics, 95(7), 476–487.

Alkire, S., & Santos, M. E. (2010). Acute multidimensional poverty: a new index for developing countries. Human Development Research Paper, 2010/11.

Alkire, S., & Seth, S. (2013). Multidimensional poverty reduction in India between 1999 and 2006: where and how? OPHI Working Paper, 60.

Alkire, S., Apablaza, M., & Jung, E. (2012). Multidimensional poverty measurement for EU-SILC (European Union Statistics on Income and Living Conditions) countries. OPHI Research Paper, 36a.

Atkinson, A. B. (2003). Multidimensional deprivation: contrasting social welfare and counting approaches. The Journal of Economic Inequality, 1(1), 51–65.

Atkinson, A. B., & Marlier, E. (2010). Income and living conditions in Europe. Luxembourg: Eurostat.

Bourguignon, F., & Chakravarty, S. R. (2003). The measurement of multidimensional poverty. The Journal of Economic Inequality, 1(1), 25–49. Accessed 26 Sept 2013.

Brooks-Gunn, J., & Duncan, G. J. (1997). The effects of poverty on children. The Future of Children, 55–71

Chzhen, Y., & Bradshaw, J. (2012). Lone parents, poverty and policy in the European Union. Journal of European Social Policy, 22(5), 487–506.

Chzhen, Y., & de Neubourg, C. (2014). Multiple overlapping deprivation analysis for the European Union (EU-MODA): technical note. UNICEF Office of Research Working Paper, WP-2014-01.

Corak, M. (2006). Do poor children become poor adults? Lessons from a cross country comparison of generational earnings mobility. IZA Discussion Paper, No 1993.

De Milliano, M., & Plavgo, I. (2014). CC-MODA—cross country multiple overlapping deprivation analysis—analysing child poverty and deprivation in Sub-Saharan Africa. UNICEF Office of Research Working Paper, WP-2014-19.

De Neubourg, C., Bradshaw, J., Chzhen, Y., Main, G., Martorano, B., & Menchini, L. (2012a). Child deprivation, multidimensional poverty and monetary poverty in Europe (Innocenti Working Paper No. IWP-2012-02). Florence: UNICEF Innocenti Research Centre.

De Neubourg, C., Chai, J., de Milliano, M., & Plavgo, I. (2012). Cross-country MODA study: Multiple Overlapping Deprivation Analysis (MODA). Technical Note. UNCIEF Office of Research Working Paper, WP-2012-05.

De Neubourg, C., Chai, J., de Milliano, M., Plavgo, I., & Wei, Z. (2012). Step-by-step guidelines to the multiple overlapping deprivation analysis (MODA). UNICEF Office of Research Working Paper, WP-2012-10.

De Neubourg, C., de Milliano, M., & Plavgo, I. (2014). Lost (in) dimensions: consolidating progress in multidimensional poverty research. UNCIEF Office of Research Working Paper, WP 2014–04.

Esping-Andersen, G., & Myles, J. (2009). Economic inequality and the welfare state. The Oxford Handbook of Economic Inequality, 639–664

European Commission. (2013). Commission recommendation of 20.2.2013. Investing in children: Breaking the cycle of disadvantage. Brussels: European Commission.

Feeny, T., & Boyden, J. (2004). Acting in adversity: rethinking the causes, experiences and effects of child poverty in contemporary literature. Literature and thought on Children and Poverty", in Children and Poverty Series Working Paper, 116.

Gabos, A., Ozdemir, E., & Ward, T. (2011). Material deprivation among children. Research note, European commission, social situation observatory–income distribution and living conditions.

Gordon, D., Nandy, S., Pantazis, C., Pemberton, S., & Townsend, P. (2003). The distribution of child poverty in the developing world. Bristol: Centre for International Poverty Research.

Gregg, P., & Machin, S. (2001). Childhood experiences, educational attainment and adult labour market performance. Child well-being, child poverty and child policy in modern nations, 129–150.

Guio, A.-C. (2009). What can be learned from deprivation indicators in Europe. Eurostat methodologies and working paper.

Guio, A.-C., & Marlier, E. (2013). Alternative vs. current measures of material deprivation at EU level: what difference does it make? ImPRovE Discussion Paper, 13/07.

Guio, A.-C., Gordon, D., & Marlier, E. (2012). Measuring material deprivation in the EU: Indicators for the whole population and child-specific indicators (Eurostat Methodologies and Working Papers). Luxembourg: Office for Official Publications of the European Communities.

Hulme, D., & McKay, A. (2008). Identifying and measuring chronic poverty: Beyond monetary measures? In N. Kakwani & J. Silber (Eds.), The many dimensions of poverty. New York: Palgrave Macmillan.

Main, G., & Bradshaw, J. (2012). A child material deprivation index. Child Indicators Research, 5(3), 503–521.

Roche, J. M. (2013). Monitoring progress in child poverty reduction: methodological insights and illustration to the case study of Bangladesh. Social Indicators Research, 112(2), 363–390.

Salazar, R. C. A., Díaz, B. Y., & Pinzón, R. P. (2013). A counting multidimensional poverty index in public policy context: The case of Colombia. University of Oxford.

Sen, A. (1979). Issues in the measurement of poverty. The Scandinavian Journal of Economics, 285–307.

Sen, A. (1999). Development as freedom. Oxford University Press. Accessed 30 Sept 2014.

Social Protection Committee. (2008). Child poverty and well-Being in the EU: current status and way forward. European Commission, Directorate-General for Employment, Social Affairs and Equal Opportunities, Unit E. 2.

UNDP. (2010). Human development report, 2010. The real wealth of nations: pathways to human development. New York: United Nations Development Programme.

UNESCO, E. F. (2007). Global monitoring report 2007. Strong foundations: early childhood care and education, 170

UNICEF. (2007). Global study on child poverty and disparities 2007–2008 guide. Global policy section division of policy and planning. New York.

United Nations. (1989). Convention on the rights of the child. Accessed 17 Apr 2014.

United Nations. (1995). Copenhagen declaration on social development. Presented at the World Summit for Social Development.

United Nations General Assembly. (2000). 55/2. United Nations millennium declaration.

Whelan, C. T., & Maître, B. (2008). "New" and "Old" social risks: life cycle and social class perspectives on social exclusion in Ireland. The Economic and Social Review, 39(2), 131–156.

Whelan, C. T., & Maître, B. (2012a). Identifying childhood deprivation: how well do national indicators of poverty and social exclusion in Ireland perform? The Economic and Social Review, 43(2), 251–272.

Whelan, C. T., & Maître, B. (2012b). Understanding material deprivation: a comparative European analysis. Research in Social Stratification and Mobility, 30(4), 489–503.

Whelan, C. T., Nolan, B., & Maître, B. (2012). Multidimensional poverty measurement in Europe: an application of the adjusted headcount approach. Geary WP2012/11.

White, H., Leavy, J., & Masters, A. (2003). Comparative perspectives on child poverty: a review of poverty measures. Journal of Human Development, 4(3), 379–396.
Appendix
Appendix
About this article
Cite this article
Chzhen, Y., de Neubourg, C., Plavgo, I. et al. Child Poverty in the European Union: the Multiple Overlapping Deprivation Analysis Approach (EU-MODA). Child Ind Res 9, 335–356 (2016). https://doi.org/10.1007/s12187-015-9321-7
Accepted:

Published:

Issue Date:
Keywords
Child poverty

Child well-being

Multidimensional poverty

Poverty and deprivation overlap