Abstract
This paper analyses the effects of direct and indirect early parental investments on the German-language development of 3–5-year-old children of Turkish immigrants and native German children. Since Turkish parents are on average less proficient in German than native parents, it is hypothesised that Turkish children cannot profit as much as German children from activities inside the family (e.g., frequency of parental reading to child). For the same reason, activities outside the family (e.g., attendance at playgroups) might then be of special importance for their acquisition of German-language skills. Used for the empirical analyses are the data of the project 'Preschool Education and Educational Careers among Migrant Children', which includes a repeated measure of children's German vocabulary over a one-year period. It is demonstrated that German children can profit more than Turkish children from activities inside the family, while the opposite is true regarding activities outside the family. Additional analyses with the Turkish sample show that a higher frequency of activities inside the family improves Turkish children's German vocabulary only under the condition that their parents have a good command of German. The findings indicate that activities outside the family are a very effective means of fostering development of the second language among migrant children.
This is a preview of subscription content,
to check access.
Access this article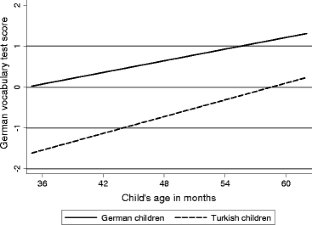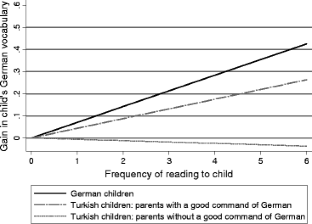 Similar content being viewed by others
Notes
Another possibility would be to leave debts to their children. But the authors assume that this possibility is often not accessible.

It is important to note that these hypotheses apply only to children's German proficiency (which is a skill specific to the receiving country), but not to other competences like children's general cognitive skills. Also no predictions about the development of Turkish language skills are made.

This includes 453 children with one or both parents born in Turkey (second generation) and 52 children with both parents born in Germany (third generation). Because of the small sample size of the third generation, these generational groups will not be differentiated in the analyses.

Instead of the respondents' self-ratings of their proficiency in German, an interviewer-rating could also be used. But then no comparable rating of the respondents' partners would be available. Nor could the interviewer rating be conducted in cases where no German at all was spoken during the interview. For these reasons, I prefer to use the respondents' self-ratings. But in cases where both measures are available, these are highly correlated (gamma: 0.88, tau-b: 0.73).

Families' income would be another time-varying indicator of the families' socio-economic situation. However, including income does not change the results, but leads to a considerable drop in the number of cases because of non-response to this question. It is therefore not used here.

Treating parents' proficiency in German as a time-constant variable and including only an interaction between parents' proficiency in German and frequency of their reading to their children without the main effect of parents' proficiency in German leads to the same results.
References
Allison, P. D. (2005). Fixed effects regression methods for longitudinal data using SAS. Cary: SAS Institute Inc.

Baumert, J., & Schümer, G. (2001). Familiäre Lebensverhältnisse, Bildungsbeteiligung und Kompetenzerwerb. In J. Baumert, E. Klieme, M. Neubrand, M. Prenzel, U. Schiefele, W. Schneider, P. Stanat, K.-J. Tillmann & M. Weiß (Eds.), PISA 2000. Basiskompetenzen von Schülerinnen und Schülern im internationalen Vergleich (pp. 323–407). Opladen: Leske + Budrich.

Becker, G. S. (1962). Investment in human capital: a theoretical analysis. Journal of Political Economy, 70(5), 9–49.

Becker, B. (2006). Der Einfluss des Kindergartens als Kontext zum Erwerb der deutschen Sprache bei Migrantenkindern. Zeitschrift für Soziologie, 35(6), 449–464.

Becker, G. S., & Tomes, N. (1986). Human capital and the rise and fall of families. Journal of Labor Economics, 4(3), 1–39.

Becker, B., & Biedinger, N. (2006). Ethnische Bildungsungleichheit zu Schulbeginn. Kölner Zeitschrift für Soziologie und Sozialpsychologie, 58(4), 660–684.

Bradley, R. H., Corwyn, R. F., McAdoo, H. P., & García Coll, C. (2001). The home environment of children in the United States Part I: variations by age, ethnicity, and poverty status. Child Development, 72(6), 1844–1867.

Chiswick, B. R., & Miller, P. W. (1995). The endogeneity between language and earnings: international analyses. Journal of Labor Economics, 13(2), 246–288.

Currie, J., & Thomas, D. (1995). Does head start make a difference? The American Economic Review, 85(3), 341–364.

Diefenbach, H. (2007). Kinder und Jugendliche aus Migrantenfamilien im deutschen Bildungssystem. Erklärungen und empirische Befunde. Wiesbaden: VS Verlag für Sozialwissenschaften.

Ermisch, J. (2008). Origins of social immobility and inequality: parenting and early child development. National Institute Economic Review, 205(1), 62–71.

Esser, H. (2006a). Migration, language and integration. AKI research review 4. Berlin: Social Science Research Center Berlin (WZB).

Esser, H. (2006b). Sprache und Integration. Campus: Die sozialen Bedingungen und Folgen des Spracherwerbs von Migranten. Frankfurt a.M.

Heath, A., & Brinbaum, Y. (2007). Explaining ethnic inequalities in educational attainment. Ethnicities, 7(3), 291–305.

Hoff, E. (2003). The specificity of environmental influence: socioeconomic status affects early vocabulary development via maternal speech. Child Development, 74(5), 1368–1378.

Hoff, E., & Naigles, L. (2002). How children use input to acquire a lexicon. Child Development, 73(2), 418–433.

Huttenlocher, J., Haight, W., Bryk, A., Seltzer, M., & Lyons, T. (1991). Early vocabulary growth: relation to language input and gender. Developmental Psychology, 27(2), 236–248.

Huttenlocher, J., Vasilyeva, M., Cymerman, E., & Levine, S. (2002). Language input and child syntax. Cognitive Psychology, 45(3), 337–374.

Leseman, P. P. M., & van den Boom, D. C. (1999). Effects of quantity and quality of home proximal processes on Dutch, Surinamese-Dutch and Turkish-Dutch pre-schoolers' cognitive development. Infant and Child Development, 8(1), 19–38.

Levels, M., Dronkers, J., & Kraaykamp, G. (2008). Immigrant children's educational achievement in western countries: origin, destination, and community effects on mathematical performance. American Sociological Review, 73(5), 835–853.

Magnuson, K., Lahaie, C., & Waldfogel, J. (2006). Preschool and school readiness of children of immigrants. Social Science Quarterly, 87(5), 1241–1262.

Marchman, V. A., Martínez-Sussmann, C., & Dale, P. S. (2004). The language-specific nature of grammatical development: evidence from bilingual language learners. Developmental Science, 7(2), 212–224.

Melchers, P., & Preuß, U. (2003). K-ABC: Kaufman assessment battery for children. Deutschsprachige Fassung. Interpretationshandbuch. Leiden: PITS.

Melhuish, E. C., Phan, M. B., Sylva, K., Sammons, P., Siraj-Blatchford, I., & Taggart, B. (2008). Effects of the home learning environment and preschool center experience upon literacy and numeracy development in early primary school. Journal of Social Issues, 64(1), 95–114.

Organisation for Economic Co-operation and Development (OECD). (2006). Where immigrant students succeed. A comparative review of performance and engagement in PISA 2003. Paris: OECD.

Pan, B. A., Rowe, M. L., Singer, J. D., & Snow, C. E. (2005). Maternal correlates of growth in toddler vocabulary production in low-income families. Child Development, 76(4), 763–782.

Patterson, J. L. (2002). Relationships of expressive vocabulary to frequency of reading and television experience among bilingual toddlers. Applied Psycholinguistics, 23(4), 493–508.

Pearson, B. Z., Fernández, S. C., Lewedeg, V., & Oller, D. K. (1997). The relation of input factors to lexical learning by bilingual infants. Applied Psycholinguistics, 18(1), 41–58.

Portes, A., & MacLeod, D. (1999). Educating the second generation: determinants of academic achievement among children of immigrants in the United States. Journal of Ethnic and Migration Studies, 25(3), 373–396.

Sammons, P., Elliot, K., Sylva, K., Melhuish, E., Siraj-Blatchford, I., & Taggart, B. (2004). The impact of pre-school on young children's cognitive attainments at entry to reception. British Educational Research Journal, 30(5), 691–712.

Schultz, T. W. (1961). Investment in human capital. American Economic Review, 51(1), 1–17.

Sénéchal, M., & Young, L. (2008). The effect of family literacy interventions on children's acquisition of reading from kindergarten to grade 3: a meta-analytic review. Review of Educational Research, 78(4), 880–907.

Sylva, K., Melhuish, E., Sammons, P., Siraj-Blatchford, I., & Taggart, B. (2004). The Effective Provision of Pre-School Education (EPPE) Project: Final Report. London: DfES.

Tietze, W., Meischner, T., Gänsfuß, R., Grenner, K., Schuster, K.-M., Völkel, P., et al. (1998). Wie gut sind unsere Kindergärten? Eine Untersuchung zur pädagogischen Qualität in deutschen Kindergärten. Neuwied: Luchterhand.

Wooldridge, J. M. (2006). Introductory economics. A modern approach. Mason: Thomson South-Western.
Acknowledgements
The author gratefully acknowledges the financial support granted by the German Research Foundation (DFG) within the project 'Preschool Education and Educational Careers among Migrant Children'. Furthermore, I would like to thank Jan O. Jonsson and the reviewers of this journal for their very helpful comments. I also thank Betty Haire Weyerer for correcting the English manuscript.
About this article
Cite this article
Becker, B. Who Profits Most from Early Parental Investments? The Effects of Activities Inside and Outside the Family on German and Turkish Children's Language Development. Child Ind Res 3, 29–46 (2010). https://doi.org/10.1007/s12187-009-9048-4
Accepted:

Published:

Issue Date:

DOI: https://doi.org/10.1007/s12187-009-9048-4
Keywords