Abstract
This article analyzes the motives for firms providing apprenticeship training in Catalonia and the reasons why other firms do not provide such training. In light of the recent introduction of dual apprenticeships in the formal education system in Spain, a country with a traditionally school-based vocational education and training (VET) system, Catalonia constitutes a relevant case for analyzing firms' training motives in newly established training systems. We analyzed the statements of about 800 Spanish companies in Catalonia who participated in the study. These included both companies that provide training and those that do not. The results show that companies perceive dual training more as an activity to ensure the supply of skilled workers in the future and less as a means to profit from the apprentices' productivity. Large firms are especially able to better integrate initial training in their continuous training process and to make use of positive synergies. The reasons for the absence of training have more to do with a lack of knowledge about the dual apprenticeship program than with a fear of losing investments in human capital. The results of this article provide relevant contributions to the discussion about the implementation of dual apprenticeship systems in countries with a different framework of conditions as opposed to those countries with established dual apprenticeship systems. Moreover, they provide relevant insights for the development of policies to foster firms' provision of dual apprenticeships.
Access options
Buy single article
Instant access to the full article PDF.
US$ 39.95
Tax calculation will be finalised during checkout.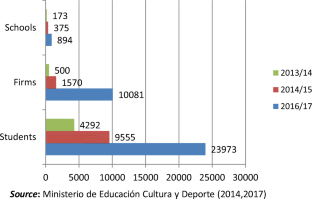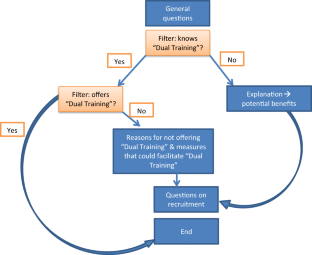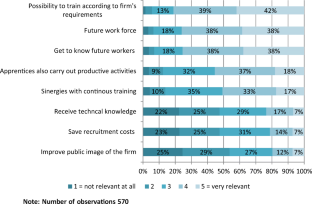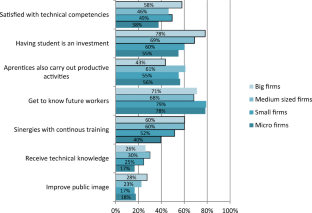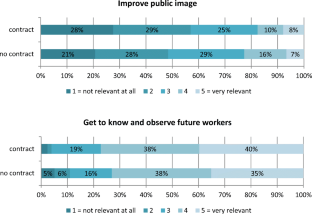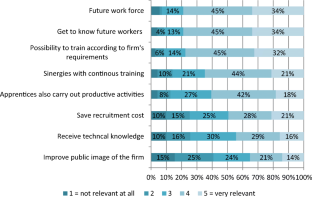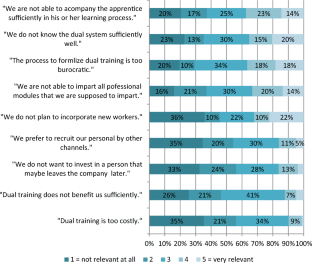 Notes
1.

See for example Wiemann and Fuchs (2018) for companies' engagement in dual VET in Mexico.

2.

See for example Busemeyer & Trampusch (2011) for an analysis of the relationship between institutions and vocational training systems.

3.

Data extracted on 03 Oct 2017 18:32 UTC (GMT) from OECD.Stat; dataset: Strictness of employment protection – individual and collective dismissals (regular contracts)

4.

5.

Data extracted on 12 Oct 2017 10:54 UTC (GMT) from OECD.Stat ("Employment by job tenure intervals")

6.

For a general report on VET in Spain, see Sancha Gonzalo and Gutiérrez Dewar (2018).

7.

8.

Real Decreto 1529/2012, de 8 de noviembre, por el que se desarrolla el contrato para la formación y el aprendizaje y se establecen las bases de la formación profesional dual

9.

Even though there is some compensation for some share of the costs, since training firms receive a discount from business contributions to social security. The amount of discount depends on size of the firm (Pin et al. 2014).

10.

IPREM (Indicador Público de Renta de Efectos Múltiples) is a Spanish index used an s a reference to provide social benefits and grants. It is lower than the interprofessional minimum salary (SMI). (http://www.salariominimo.es/). Its current values can be seen at: www.iprem.com.es.

11.

12.

For comparison, in Germany, apprentices receive about 26.8% of the wage of a trained employee and in Switzerland 17.9% (Ryan et al. 2011). Nonetheless, it is important to note that German apprentices work 70% and Catalan apprentices about 50%. Assuming that both worked 100% and adjusting the relative wage accordingly, the Spanish apprentice would receive 32% in case of a scholarship and 38% in case of contract, while the German apprentice would receive 40%.

13.

Results not shown in the table, but are available upon request.

14.

The percentage of scholarships differs from other administrative statistics: data from the Catalan Department of Education for the 2016–2017 academic year show that 91.84% of students were linked to the company with a scholarship and 8.16% of students had an apprenticeship contract with the company. There were several reasons for this difference. First, the difference was due to the fact that the data in this article is based on companies and not on apprentices. Because some companies have more than one apprentice, the results can vary considerably. Large companies use the scholarship much more often than small companies and at the same time large companies have more apprentices. Therefore, many apprentices are linked by scholarship, which is not represented in a company-based survey. Another important aspect to consider is that the sample also contains a high percentage of companies that no longer offer dual FP, but have done so in the past when the scholarship rate was lower. A third reason is that the responses to the present survey were voluntarily provided. More motivated firms tend to offer training contracts and may self-select into the survey.

15.

Results are not shown here, but they are available upon request.
References
Acemoglu, D., & Pischke, J.-S. (1998). Why do firms train? Theory and evidence. The Quarterly Journal of Economics, 113(1), 79–119.

Acemoglu, D., & Pischke, J.-S. (1999a). Beyond Becker: Training in imperfect labour markets. The Economic Journal, 109(453), F112–F142.

Acemoglu, D., & Pischke, J.-S. (1999b). The structure of wages and Investment in General Training. Journal of Political Economy, 107(3), 539–572.

Adecco/Infoempleo. (2017). Oferta y demanda de empleo en España. Informe Infoempleo Adecco. Madrid.

Becker, G. S. (1962). Investment in human capital: A theoretical analysis. The Journal of Political Economy, 70(5), 9–49.

Beicht, U., Walden, G., & Herget, H. (2004). Kosten und Nutzen der betrieblichen Berufsausbildung in Deutschland. Berichte Zur Beruflichen Bildung.

Bellmann, L., Krekel, E. M., & Stegmaier, J. (2010). Aus- und Weiterbildung – Komplemente oder Substitute? Zur Bildungsbeteiligung kleinerer und mittlerer Betriebe in Deutschland, 41–54.

Busemeyer, M. R., & Trampusch, C. (2011). The Comparative Political Economy of Collective Skill Formation. The Political Economy of Collective Skill Formation. Oxford/New York.

Cámara de Comercio de España. (2016). Observatorio De Competitividad Empresarial - Serie formación, 2.

Cedefop. (2016). Governance and financing of apprenticeships. Cedefop Research Paper, 53.

Dionisius, R., Mühlemann, S., Pfeifer, H., Walden, G., Wenzelmann, F., & Wolter, S. C. (2009). Costs and benefits of apprenticeship training. A comparison of Germany and Switzerland. Applied Economics Quarterly, 55(1), 7–37.

Echeverría Samanes, B. (2016). Transferencia del sistema de FP dual a España. Revista de Investigacion Educativa, 34(2), 295–314.

Egg, M. E., & Renold, U. (2014). El sistema de formación profesional suizo: que puede aprender Espana de Suiza? Información Comercial Espanola, 881(Empleo Juvenil), 67–82.

Euler, D. (2013). Das duale System in Deutschland – Vorbild für einen Transfer ins Ausland? Bertelsmann Studie. Gütersloh.

Fundación Bertelsmann. (2017). Cooperar para formar - Siete casos de éxito españoles en la Formación Profesional Dual. Barcelona.

Geel, R., Mure, J., & Backes-Gellner, U. (2011). Specificity of occupational training and occupational mobility: An empirical study based on Lazear's skill-weights approach. Education Economics, 19(5), 519–535.

Geiben, M. (Ed.). (2018). Transfer in internationalen Berufsbildungskooperationen. Berichte zur beruflichen Bildung, Bertelsmann Verlag.

Gessler, M. (2017). Educational transfer as transformation: A case study about the emergence and implementation of dual apprenticeship structures in a German automotive transplant in the United States. Vocations and Learning, 10(1), 71–99.

Grollmann, P., Blöchle, S.-J., Jansen, A., & Baues, P. (2016). Duale Ausbildung als betriebliche Strategie der Fachkräftesicherung – Fallstudien zu Motivation und Organisation im internationalen Vergleich. BIBB Zwischenbericht.

Grollmann, P., Steedman, H., Jansen, A., & Gray, R. (2017). Building apprentices' skills in the workplace: Car Service in Germany, the UK and Spain. CVER Research Paper, 11.

Jansen, A., & Pfeifer, H. (2017). Pre-training competencies and the productivity of apprentices. Evidence-Based HRM: A Global Forum for Empirical Scholarship, 5(1), 59–79.

Jansen, A., Leiser, M. S., Wenzelmann, F., & Wolter, S. C. (2015a). Labour market deregulation and apprenticeship training: A comparison of German and Swiss employers. European Journal of Industrial Relations, 21(4), 353–368.

Jansen, A., Pfeifer, H., Schönfeld, G., & Wenzelmann, F. (2015b). Ausbildung in Deutschland weiterhin investitionsorientiert – Ergebnisse der BIBB-Kosten-Nutzen-Erhebung 2012/13. BIBB Report, 1.

Jansen, A., Blöchle, S.-J., & Grollmann, P. (2017a). Duale Ausbildung als betriebliche Strategie der Fachkräftesicherung - Motivation von Betrieben und Organisation im internationalen Vergleich. In P. Schlögl, M. Stock, D. Moser, K. Schmid, & F. Gramlinger (Eds.), Berufsbildung, eine Renaissance? Motor für Innovation, Beschäftigung, Teilhabe, Aufstieg, Wohlstand (pp. 214–226). Bielefeld: Bertelsmann Verlag.

Jansen, A., de Grip, A., & Kriechel, B. (2017b). The effect of choice options in training curricula on the supply of and demand for apprenticeships. Economics of Education Review, 57, 52–65.

Lazear, E. P. (2009). Firm-specific human capital: A skill-weights approach. Journal of Political Economy, 117(5), 914–940.

Lindley, R. M. (1975). The demand for apprentice recruits by the engineering industry, 1951-71. Scottish Journal of Political Economy, 1, 1–24.

Merrilees, W. J. (1983). Alternative models of apprentice recruitment: With special reference to the British engineering industry. Applied Economics, 15(1), 1–21.

Miñarro, E., Olivella, M., & Riudor, X. (2017). La formació professional dual en el sistema educatiu català. Colleció estudis i informes, Nr. 46, Consell de Treball Econòmic i Social de Catalunya. Barcelona.

Ministerio de Educación Cultura y Deporte. (2014). Datos de la Formación Profesional Dual del curso 2013–2014. Nota de Prensa.

Ministerio de Educación Cultura y Deporte. (2017). Marcial Marín: "La FP Dual es un modelo que se está consolidando con éxito en nuestro país." Nota de Prensa (19 de Junio de 2017).

Muehlemann, S., & Wolter, S. C. (2017). Can Spanish firms offer dual apprenticeships without making a net investment? Empirical evidence based on ex ante simulations of different training scenarios. Evidence-Based HRM:A Global Forum for Empirical Scholarship, 3(1), 64–80.

Mühlemann, S., & Wolter, S. C. (2011). Firm-sponsored training and poaching externalities in regional labor markets. Regional Science and Urban Economics, 41(6), 560–570.

Mühlemann, S., Pfeifer, H., Walden, G., Wenzelmann, F., & Wolter, S. C. (2010). The financing of apprenticeship training in the light of labor market regulations. Labour Economics, 17(5), 799–809.

Niederalt, M. (2004). Zur ökonomischen Analyse betrieblicher Lehrstellenangebote in der Bundesrepublik Deutschland. Europäische Hochschulschriften. Reihe 5, Volks- und Betriebswirtschaft. 3082. Frankfurt/Main: P. Lang.

Peraita, C. (2005). Firm-sponsored training in regulated labour markets: evidence from Spain. Applied Economics, 1885–1898.

Pilz, M. (2009). Initial vocational training from a company perspective: A comparison of British and German in-house training cultures. Vocations and Learning, 2(1), 57–74.

Pin, J. R., Roig Molins, M., Susaeta Erburu, L., & Apascaritei, P. (2014). La formación profesional dual como reto nacional - una perspectiva desde la empresa. IESE Business School - Universidad de Navarra.

Pineda-Herrero, P. Fernández-de-Alava, M. Espona-Bracons, B. Grollmann, P. (2018). Dual vocational education and training –VET– Companies' motivations for VET in the Spanish automotive sector. In Press.

Rom, J., Miotto, G., Solanilla, T., & Polo, M. (2016). Las Empresas y La FP Dual en España: informe de situación 2016. Alianza Para La FP Dual e IFP Innovación En Formación Profesional.

Ryan, P., Wagner, K., Backes-Gellner, U., & Teuber, S. (2011). Financial aspects of Apprenticeship Training in Germany, Great Britain and Switzerland. Hans-Böckler-Stiftung Arbeitspapier 241.

Sancha Gonzalo, I., & Gutiérrez Dewar, S. (2018). La Formación Profesional en España - 2016. Madrid: Fundae.

Schlögl, P., & Mayerl, M. (2016). Company survey on the costs and benefits of apprenticeship training in Austria. Overview of the main result. Österreichisches Institut für Berufsbildungsforschung.

Smits, W., & Zwick, T. (2004). Why do business service firms employ fewer apprentices?: A comparison between Germany and the Netherlands. International Journal of Manpower, 25(1), 36–54.

Stevens, M. (1994a). A theoretical model of on-the-job training with imperfect competition. Oxford Economic Papers, 46(4), 537–562.

Stevens, M. (1994b). An investment model for the supply of training by employers. Economic Journal, 104(424), 556–570.

Strupler, M., & Wolter, S. C. (2012). Die duale Lehre eine Erfolgsgeschichte - auch für Betriebe. Ergebnisse der dritten Kosten-Nutzen-Erhebung der Lehrlingsausbildung aus der Sicht der Betriebe. Glarus/Chur: Rüegger Verlag.

Troltsch, K. (2017). Betriebliche Ausbildungsbeteiligung – Ergebnisse der Beschäftigungsstatistik zur Ausbildungsbeteiligung. In Datenreport zum Berufsbildungsbericht 2017 (pp. 214–226). Bonn: Bundesinstitut für Berufsbildung.

Wiemann, J., & Fuchs, M. (2018). The export of Germany ' s " secret of success " dual technical VET : MNCs and multiscalar stakeholders changing the skill formation system in Mexico. Cambridge Journal of Regions, Economy and Society, (April), 1–14.

Wolf, S. (2011). Arbeitskultur und der Transfer von Berufsbildungselementen in andere Länder Einleitung. Zeitschrift Für Berufs- Und Wirtschaftspädagogik, 4, 543–567.

Wolter, S. C., & Ryan, P. (2011). Apprenticeship. In E. A. Hanushek, S. Machin, & L. Woessmann (Eds.), Handbook of the economics of education (Vol. 3, pp. 521–576). Amsterdam: Elsevier.
Acknowledgments
This work was supported by a postdoc fellowship of the German Academic Exchange Service (DAAD). The Fundación Bertelsmann, Departament d'Ensenyament de la Generalitat de Catalunya, Consell de Cambres de Catalunya, PIMEC i FOMENT provided the access to the data bases.
Additional information
Publisher's Note
Springer Nature remains neutral with regard to jurisdictional claims inpublished maps and institutional affiliations.
Appendix
Appendix
About this article
Cite this article
Jansen, A., Pineda-Herrero, P. Dual Apprenticeships in Spain – Catalonia: The Firms' Perspective. Vocations and Learning 12, 129–154 (2019). https://doi.org/10.1007/s12186-018-09217-6
Received:

Accepted:

Published:

Issue Date:
Keywords
Dual apprenticeships

Spain/Catalonia

Training motives

Training benefits

Educational transfer

Work-based learning

Occupation

Young people