Abstract
A 78-year-old man presenting with leukocytosis was admitted to our hospital. The patient was asymptomatic and showed no lymphadenopathy. Peripheral blood flow cytometry revealed a leukemic-phase B-cell lymphoma with medium-to-large abnormal cells with reticulum. Positron emission tomography/computed tomography revealed abnormal uptake in the right orbit, bone marrow, and spleen. We performed immunological staining and fluorescence in situ hybridization on tissues extracted from the right orbit and bone marrow, which led to the diagnosis of mucosa-associated lymphoid tissue (MALT) lymphoma. Polymerase chain reaction analysis of immunoglobulin heavy chain rearrangements in the right orbital mass and bone marrow suggested that they were identical clones. Based on these collective findings, the diagnosis of leukemic-phase MALT lymphoma was confirmed, with sites of involvement including the bone marrow, peripheral blood, right orbit, and spleen. This is a highly rare case of leukemic MALT lymphoma.
Access options
Buy single article
Instant access to the full article PDF.
USD 39.95
Price excludes VAT (USA)
Tax calculation will be finalised during checkout.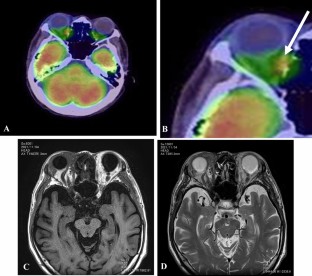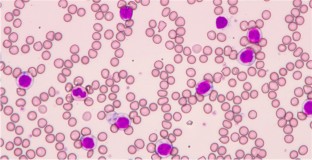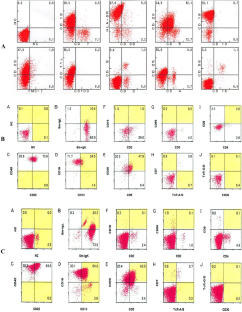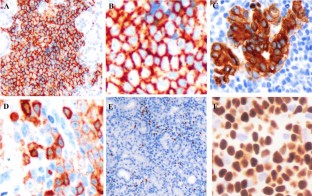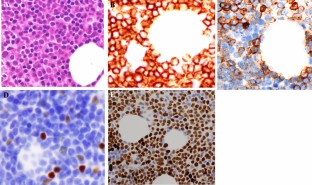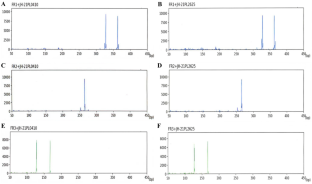 References
Cook JR, Isaacson PG, Chott A, Nakamura S, Muller-Hermelink HK, Harris NL, et al. Extranodal marginal zone lymphoma of mucosa-associated lymphoid tissue (MALT lymphoma). In: Swerdlow SH, et al., editors. WHO classification of tumours of haematopoietic and lymphoid tissues. Lyon: IARC; 2017. p. 259–62.

Guidoboni M, Ferreri AJ, Ponzoni M, Doglioni C, Dolcetti R. Infectious agents in mucosa-associated lymphoid tissue-type lymphomas: pathogenic role and therapeutic perspectives. Clin Lymphoma Myeloma. 2006;6:289–300.

Kiesewetter B, Raderer M. Immunomodulatory treatment for mucosa-associated lymphoid tissue lymphoma (MALT lymphoma). Hematol Oncol. 2020;38:417–24.

Ishii Y, Tomita N, Suzuki T, Ishiyama Y, Kishimoto K, Yamamoto E, et al. Dissemination pattern of extranodal marginal zone lymphoma of mucosa-associated lymphoid tissue. Leuk Lymphoma. 2015;56:2750–2.

Reitter S, Neumeister P, Beham-Schmid C, Emberger W, Strunk D, Brezinschek R, et al. A case of generalized MALT lymphoma with IgM paraproteinemia and peripheral blood involvement. Ann Hematol. 2010;89:213–4.

Griesser H, Kaiser U, Augener W, Tiemann M, Lennert K. B-cell lymphoma of the mucosa-associated lymphatic tissue (MALT) presenting with bone marrow and peripheral blood involvement. Leuk Res. 1990;14:617–22.

Thieblemont C, Bastion Y, Berger F, Rieux C, Salles G, Dumontet C, et al. Mucosa-associated lymphoid tissue gastrointestinal and nongastrointestinal lymphoma behavior: analysis of 108 patients. J Clin Oncol. 1997;15:1624–30.

Arcaini L, Burcheri S, Rossi A, Passamonti F, Paulli M, Boveri E, et al. Nongastric marginal-zone B-cell MALT lymphoma: prognostic value of disease dissemination. Oncologist. 2006;11:285–91.

Raderer M, Vorbeck F, Formanek M, Osterreicher C, Valencak J, Penz M, et al. Importance of extensive staging in patients with mucosa-associated lymphoid tissue (MALT)-type lymphoma. Br J Cancer. 2000;83:454–7.

de Boer JP, Hiddink RF, Raderer M, Antonini N, Aleman BM, Boot H, et al. Dissemination patterns in non-gastric MALT lymphoma. Haematologica. 2008;93:201–6.

Eckardt AM, Lemound J, Rana M, Gellrich NC. Orbital lymphoma: diagnostic approach and treatment outcome. World J Surg Oncol. 2013;11:73.

Isaacson P, Wright DH. Malignant lymphoma of mucosa-associated lymphoid tissue. A distinctive type of B-cell lymphoma. Cancer. 1983;52:1410–6.

Garcia DP, Rooney MT, Ahmad E, Davis BH. Diagnostic usefulness of CD23 and FMC-7 antigen expression patterns in B-cell lymphoma classification. Am J Clin Pathol. 2001;115:258–65.

Tandon B, Peterson L, Gao J, Nelson B, Ma S, Rosen S, et al. Nuclear overexpression of lymphoid-enhancer-binding factor 1 identifies chronic lymphocytic leukemia/small lymphocytic lymphoma in small B-cell lymphomas. Mod Pathol. 2011;24:1433–43.

Soliman DS, Al-Kuwari E, Siveen KS, Al-Abdulla R, Chandra P, Yassin M, et al. Downregulation of Lymphoid enhancer-binding factor 1 (LEF-1) expression (by immunohistochemistry and/ flow cytometry) in chronic lymphocytic leukemia with atypical immunophenotypic and cytologic features. Int J Lab Hematol. 2021;43:515–25.

Kanellis G, Roncador G, Arribas A, Mollejo M, Montes-Moreno S, Maestre L, et al. Identification of MNDA as a new marker for nodal marginal zone lymphoma. Leukemia. 2009;23:1847–57.

Raimbault A, Machherndl-Spandl S, Itzykson R, Clauser S, Chapuis N, Mathis S, et al. CD13 expression in B cell malignancies is a hallmark of plasmacytic differentiation. Br J Haematol. 2019;184:625–33.

Darom A, Gomatos IP, Leandros E, Xatziyiannis E, Fotiadis C, Konstadoulakis MM. HLA-DR antigen and Bax protein expression in patients with primary non-Hodgkin's gastric lymphoma. Hybrid Hybridomics. 2004;23:87–92.

Ferry JA, Yang WI, Zukerberg LR, Wotherspoon AC, Arnold A, Harris NL. CD5+ extranodal marginal zone B-cell (MALT) lymphoma. A low grade neoplasm with a propensity for bone marrow involvement and relapse. Am J Clin Pathol. 1996;105:31–7.

Thieblemont C, Berger F, Dumontet C, Moullet I, Bouafia F, Felman P, et al. Mucosa-associated lymphoid tissue lymphoma is a disseminated disease in one third of 158 patients analyzed. Blood. 2000;95:802–6.

Sretenovic M, Colovic M, Jankovic G, Suvajdzic N, Mihaljevic B, Colovic N, et al. More than a third of non-gastric malt lymphomas are disseminated at diagnosis: a single center survey. Eur J Haematol. 2009;82:373–80.
Ethics declarations
Conflict of interest
The authors have no conflict of interest.
Additional information
Publisher's Note
Springer Nature remains neutral with regard to jurisdictional claims in published maps and institutional affiliations.
About this article
Cite this article
Yotsuyanagi, T., Tomita, N., Saiki, Y. et al. Leukemic-phase mucosa-associated lymphoid tissue lymphoma. Int J Hematol 118, 758–765 (2023). https://doi.org/10.1007/s12185-023-03654-3
Received:

Revised:

Accepted:

Published:

Issue Date:

DOI: https://doi.org/10.1007/s12185-023-03654-3
Keywords