Abstract
It is unknown whether adding stanozolol to decitabine for maintenance can further improve progression-free survival (PFS) and overall survival (OS) after effective decitabine treatment in patients with high-risk myelodysplastic syndrome (MDS). Patients newly diagnosed with high-risk MDS who achieved at least partial remission after 4 cycles of decitabine (20 mg/m2 days 1–5) were selected. In total, 62 patients (median age 66 years) were enrolled, of whom 21 were treated with stanozolol and decitabine for maintenance, and 41 were treated with decitabine alone. The median number of cycles for maintenance treatment was 6 (2–11) and 5 (2–12) for the stanozolol and control groups, respectively (p > 0.05). PFS in the stanozolol group was significantly longer than in the control group (15.0 vs 9.0 months, hazard ratio [HR] = 0.35, 95%CI: 0.19–0.63, p = 0.0005), whereas OS was not significantly prolonged in the stanozolol group (21.0 vs 15.0 months, HR = 0.73, 95%CI: 0.39–1.37, p = 0.33). The proportion of patients with severe neutropenia during maintenance treatment in the stanozolol group was lower than in the control group (76.2% vs 95.1%, p = 0.039). In conclusion, adding stanozolol to decitabine after effective decitabine treatment can prolong PFS and reduce the severity of neutropenia for patients with high-risk MDS.
Access options
Buy single article
Instant access to the full article PDF.
US$ 39.95
Tax calculation will be finalised during checkout.
Subscribe to journal
Immediate online access to all issues from 2019. Subscription will auto renew annually.
US$ 79
Tax calculation will be finalised during checkout.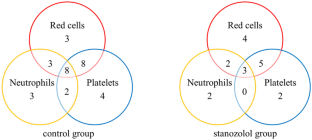 References
1.

Adès L, Itzykson R, Fenaux P. Myelodysplastic syndromes. Lancet. 2014;383:2239–51.

2.

Sanchez-Medal L, Gomez-Leal A, Duarte L, Guadalupe RM. Anabolic androgenic steroids in the treatment of acquired aplastic anemia. Blood. 1969;34:283–300.

3.

Ahn YS, Harrington WJ, Mylvaganam R, Ayub J, Pall LM. Danazol therapy for autoimmune hemolytic anemia. Ann Intern Med. 1985;102:298–301.

4.

Pigneux A, Béné MC, Guardiola P, Recher C, Hamel JF, Sauvezie M, et al. Addition of androgens improves survival in elderly patients with acute myeloid leukemia: a GOELAMS study. J Clin Oncol. 2017;35:387–93.

5.

No authors list. Stanozolol. Zhonghua Yi Xue Za Zhi. 1977;57:210. [Article in Chinese]

6.

Zhao ST, Ma JW. Preliminary observation on the efficacy of phytohemagglutinin and stanozolol in the treatment of aplastic anemia in children. Zhonghua Xue Ye Xue Za Zhi. 1983;4:129–31 ([Article in Chinese]).

7.

Cheson BD, Greenberg PL, Bennett JM, Lowenberg B, Wijermans PW, Nimer SD, et al. Clinical application and proposal for modification of the International Working Group (IWG) response criteria in myelodysplasia. Blood. 2006;108:419–25.

8.

Arber DA, Orazi A, Hasserjian R, Thiele J, Borowitz MJ, Le Beau MM, et al. The 2016 revision to the World Health Organization classification of myeloid neoplasms and acute leukemia. Blood. 2016;127:2391–405.

9.

Radujkovic A, Kordelas L, Krzykalla J, Benner A, Schult D, Majer-Lauterbach J, et al. Pre-transplant testosterone and outcome of men after allogeneic stem cell transplantation. Haematologica. 2020;105:1454–64.

10.

Hollard D, Sotto JJ, Berthier R, Leger J, Michallet M. High rate of long-term survivals in AML treated by chemotherapy and androgenotherapy: a pilot study. Cancer. 1980;45:1540–8.

11.

Montastruc A, Reiffers J, Stoppa AM, Sotto JJ, Corront B, Marit G, et al. Treatment of acute myeloid leukemia in elderly patients: the influence of maintenance therapy (BGM 84 protocol). Nouv Rev Fr Hematol. 1990;32:147–52.

12.

Shahidi NT, Diamond LK. Testosterone-induced remission in aplastic anemia of both acquired and congenital types. Further observations in 24 cases. N Engl J Med. 1961;264:953–67.

13.

Gallien-Lartigue O. Differential effects of external agents on the G1-S transit rate of murine pluripotent hemopoietic stem cells (CFUs) after their release from G0. Stem Cells. 1982;2:218–28.

14.

Freedman MH, Saunders EF. Factors affecting erythroid colony growth (CFU-E) from human marrow. Exp Hematol. 1977;5:250–3.

15.

Reissmann KR, Udupa KB, Kawada K. Effects of erythropoietin and androgens on erythroid stem cells after their selective suppression by BCNU. Blood. 1974;44:649–57.

16.

Garcia-Horton A, Valliere Y, Lazo-Langner A. Anabolic steroids in myelodysplastic syndromes: a systematic review. Leuk Res. 2020;94:106370. https://doi.org/10.1016/j.leukres.2020.106370.

17.

Wattel E, Cambier N, Caulier MT, Sautière D, Bauters F, Fenaux P. Androgen therapy in myelodysplastic syndromes with thrombocytopenia: a report on 20 cases. Br J Haematol. 1994;87:205–8.

18.

Chan G, DiVenuti G, Miller K. Danazol for the treatment of thrombocytopenia in patients with myelodysplastic syndrome. Am J Hematol. 2002;71:166–71.

19.

Chabannon C, Molina L, Pegourie-Bandelier B, Bost M, Léger J, Hollard D. A review of 76 patients with myelodysplastic syndromes treated with danazol. Cancer. 1994;73:3073–80.

20.

Wang S, Chen Y, Zou Y, Zheng Y, Zhu X. The progression risk factors of children with transfusion-independent non-severe aplastic anemia. Int J Hematol. 2013;97(2):210–5.

21.

Wang SC, Li YS, Chen XJ, Zou Y, Yang WY, Liu TF, et al. 114 children with acquired non-severe aplastic anemia benefitted from androgen. Zhongguo Shi Yan Xue Ye Xue Za Zhi. 2011;19:793–7 ([Article in Chinese]).

22.

Townsley DM, Dumitriu B, Young NS. Bone marrow failure and the telomeropathies. Blood. 2014;124:2775–83.

23.

Calado RT, Young NS. Telomere maintenance and human bone marrow failure. Blood. 2008;111:4446–55.

24.

Rollison DE, Epling-Burnette PK, Park JY, Lee JH, Park H, Jonathan K, et al. Telomere length in myelodysplastic syndromes. Leuk Lymphoma. 2011;52:1528–36.

25.

Park HS, Choi J, See CJ, Kim JA, Park SN, Im K, et al. Dysregulation of telomere lengths and telomerase activity in myelodysplastic syndrome. Ann Lab Med. 2017;37:195–203.

26.

Briatore F, Barrera G, Pizzimenti S, Toaldo C, Casa CD, Laurora S, et al. Increase of telomerase activity and hTERT expression in myelodysplastic syndromes. Cancer Biol Ther. 2009;8:883–9.

27.

Ziegler P, Schrezenmeier H, Akkad J, Brassat U, Vankann L, Panse J, et al. Telomere elongation and clinical response to androgen treatment in a patient with aplastic anemia and a heterozygous hTERT gene mutation. Ann Hematol. 2012;91:1115–20.

28.

He Q, Jiang D. A novel aminosteroid is active for proliferation inhibition and differentiation induction of human acute myeloid leukemia HL-60 cells. Leuk Res. 1999;23:369–72.

29.

Mossuz P, Cousin F, Castinel A, Chauvet M, Sotto MF, Polack B, et al. Effects of two sex steroids (17beta estradiol and testosterone) on proliferation and clonal growth of the human monoblastic leukemia cell line, U937. Leuk Res. 1998;22:1063–72.

30.

Wijermans P, Lubbert M, Verhoef G, Bosly A, Ravoet C, Andre M, et al. Low-dose 5-aza-2'-deoxycytidine, a DNA hypomethylating agent, for the treatment of high-risk myelodysplastic syndrome: a multicenter phase II study in elderly patients. J Clin Oncol. 2000;18:956–62.

31.

Kantarjian H, Issa JP, Rosenfeld CS, Bennett JM, Albitar M, DiPersio J, et al. Decitabine improves patient outcomes in myelodysplastic syndromes: results of a phase III randomized study. Cancer. 2006;106:1794–803.

32.

Kantarjian H, Oki Y, Garcia-Manero G, Huang X, O'Brien S, Cortes J, et al. Results of a randomized study of 3 schedules of low-dose decitabine in higher-risk myelodysplastic syndrome and chronic myelomonocytic leukemia. Blood. 2007;109:52–7.

33.

Mandelli F, Amadori S, Dini E, Grignani F, Leoni P, Liso V, et al. Randomized clinical trial of immunotherapy and androgenotherapy for remission maintenance in acute non-lymphocytic leukemia. Leuk Res. 1981;5:447–52.
Funding
This project is partly supported by The National Natural Science Foundation of China (nos. 81170472, 81970116, 81770118), Natural Science Foundation of Tianjin China (16JCZDJC35300), Key Technology Research and Development Program of Tianjin China (18ZXDBSY00140), Beijing Natural Science Foundation (7192168), the Chinese Academy of Medical Sciences (CAMS) innovation for medical sciences (2016-I2M-3-004).
Ethics declarations
Conflict of interest
The authors declare that they have no conflict of interest..
Informed consent
This project has been approved by the Ethics Committee, approval No. IRB2017-154-01. All patients or their relatives had to sign the informed consent before their data were recruited.
Additional information
Publisher's Note
Springer Nature remains neutral with regard to jurisdictional claims in published maps and institutional affiliations.
About this article
Cite this article
Liu, Y., Yang, C., Xue, H. et al. Stanozolol improves the progression-free survival of patients with high-risk myelodysplastic syndrome after decitabine treatment. Int J Hematol (2021). https://doi.org/10.1007/s12185-021-03115-9
Received:

Revised:

Accepted:

Published:
Keywords
Myelodysplastic syndrome

Stanozolol

Decitabine

Maintenance treatment