Abstract
Autoimmune hemolytic anemia (AIHA) is a rare comorbidity in colorectal cancer (CRC) and has an unknown etiology. Previously, we described an AIHA case secondary to CRC with ectopic band 3 expression. Herein, we investigated ectopic band 3 expression and erythrocyte membrane-bound IgG in a CRC cohort. Between September 2016 and August 2018, 50 patients with CRC and 26 healthy controls were enrolled in the present study. The expression of band 3 and SLC4A1 mRNA was observed in 97% of CRC surgical specimens. Although clinical AIHA was not observed in any patient with CRC, a direct antiglobulin test was positive in 10 of the patients in the CRC group (p = 0.01). Flow cytometry revealed significantly increased erythrocyte membrane-bound IgG among patients with CRC compared to healthy controls (mean ± standard deviation; 38.8 ± 4.7 vs. 29.9 ± 15.6, p = 0.012). Normocytic anemia was observed, including in cases negative for fecal occult blood, suggesting a shortened erythrocyte life-span due to increased membrane-bound IgG. Immunoprecipitation revealed increased anti-band 3 autoantibodies in patients' sera. Mouse experiments recapitulated this phenomenon. We also confirmed that band 3 expression is controlled by 5′AMP-activated protein kinase under hypoxic conditions. These findings increase our understanding of the etiology of cancer-related anemia.
Access options
Buy single article
Instant access to the full article PDF.
USD 39.95
Price excludes VAT (USA)
Tax calculation will be finalised during checkout.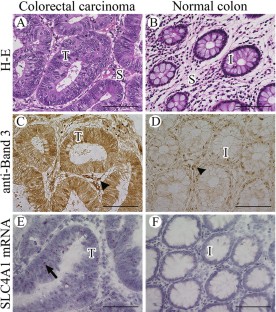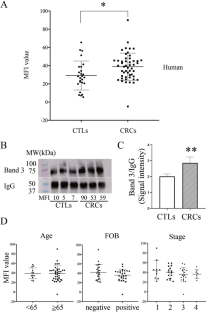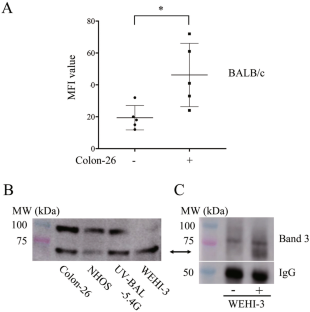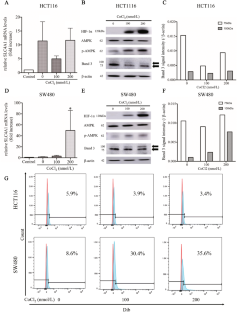 References
The Lancet O. Keeping patients front and centre in the era of negative results. Lancet Oncol. 2013;14:909.

Steinmetz T, Totzke U, Schweigert M, Mittermuller J, Nawka S, Tesch H, et al. A prospective observational study of anaemia management in cancer patients—results from the German Cancer Anaemia Registry. Eur J Cancer Care (Engl). 2011;20:493–502.

Camaschella C. Iron-deficiency anemia. N Engl J Med. 2015;372:1832–43.

Maccio A, Madeddu C, Gramignano G, Mulas C, Tanca L, Cherchi MC, et al. The role of inflammation, iron, and nutritional status in cancer-related anemia: results of a large, prospective, observational study. Haematologica. 2015;100:124–32.

Puthenparambil J, Lechner K, Kornek G. Autoimmune hemolytic anemia as a paraneoplastic phenomenon in solid tumors: a critical analysis of 52 cases reported in the literature. Wien Klin Wochenschr. 2010;122:229–36.

Janvier D, Lam Y, Lopez I, Elakredar L, Bierling P. A major target for warm immunoglobulin G autoantibodies: the third external loop of Band 3. Transfusion. 2013;53:1948–55.

Tanner MJ. The structure and function of band 3 (AE1): recent developments (review). Mol Membr Biol. 1997;14:155–65.

Kudrycki KE, Newman PR, Shull GE. cDNA cloning and tissue distribution of mRNAs for two proteins that are related to the band 3 Cl-/HCO3- exchanger. J Biol Chem. 1990;265:462–71.

Kawamoto S, Kamesaki T, Masutani R, Kitao A, Hatanaka K, Imakita M, et al. Ectopic expression of band 3 anion transport protein in colorectal cancer revealed in an autoimmune hemolytic anemia patient. Hum Pathol. 2019;83:193–8.

Shen WW, Wu J, Cai L, Liu BY, Gao Y, Chen GQ, et al. Expression of anion exchanger 1 sequestrates p16 in the cytoplasm in gastric and colonic adenocarcinoma. Neoplasia. 2007;9:812–9.

Shiozaki A, Kudou M, Ichikawa D, Shimizu H, Arita T, Kosuga T, et al. Expression and role of anion exchanger 1 in esophageal squamous cell carcinoma. Oncotarget. 2017;8:17921–35.

Lutz HU, Bussolino F, Flepp R, Fasler S, Stammler P, Kazatchkine MD, et al. Naturally occurring anti-band-3 antibodies and complement together mediate phagocytosis of oxidatively stressed human erythrocytes. Proc Natl Acad Sci USA. 1987;84:7368–72.

Pantaleo A, Giribaldi G, Mannu F, Arese P, Turrini F. Naturally occurring anti-band 3 antibodies and red blood cell removal under physiological and pathological conditions. Autoimmun Rev. 2008;7:457–62.

Chowdhury KD, Sen G, Biswas T. Regulatory role of nitric oxide in the reduced survival of erythrocytes in visceral leishmaniasis. Biochim Biophys Acta. 2010;1800:964–76.

Baltaziak M, Wincewicz A, Kanczuga-Koda L, Lotowska JM, Koda M, Sulkowska U, et al. The relationships between hypoxia-dependent markers: HIF-1alpha, EPO and EPOR in colorectal cancer. Folia Histochem Cytobiol. 2013;51:320–5.

Ladli M, Richard C, Cantero Aguilar L, Ducamp S, Bondu S, Sujobert P, et al. Finely-tuned regulation of AMP-activated protein kinase (AMPK) is crucial for human adult erythropoiesis. Haematologica. 2019;104:907–18.

Li Z, Wang J, Zhou T, Ye X. Establishment of a colorectal cancer nude mouse visualization model of HIF-1alpha overexpression. Oncol Lett. 2016;11:2725–32.

Alrefai WA, Tyagi S, Nazir TM, Barakat J, Anwar SS, Hadjiagapiou C, et al. Human intestinal anion exchanger isoforms: expression, distribution, and membrane localization. Biochim Biophys Acta. 2001;1511:17–27.

McInnes T, Zou D, Rao DS, Munro FM, Phillips VL, McCall JL, et al. Genome-wide methylation analysis identifies a core set of hypermethylated genes in CIMP-H colorectal cancer. BMC Cancer. 2017;17:228.

Remus R, Kanzaki A, Yawata A, Wada H, Nakanishi H, Sugihara T, et al. Relationships between DNA methylation and expression in erythrocyte membrane protein (band 3, protein 4.2, and beta-spectrin) genes during human erythroid development and differentiation. Int J Hematol. 2005;82:422–9.

Kimura H. Histone modifications for human epigenome analysis. J Hum Genet. 2013;58:439–45.

Mauro FR, Trastulli F, Alessandri C, Valesini G, Giovannetti G, Riemma C, et al. Clinical relevance of silent red blood cell autoantibodies. Haematologica. 2017;102:e473–5.

Bohnen RF, Ultmann JE, Gorman JG, Farhangi M, Scudder J. The direct Coombs' test: its clinical significance. Study in a large university hospital. Ann Intern Med. 1968;68:19–32.

Kamesaki T, Kajii E. A comprehensive diagnostic algorithm for direct antiglobulin test-negative autoimmune hemolytic anemia reveals the relative ratio of three mechanisms in a single laboratory. Acta Haematol. 2018;140:10–7.

Win N, Islam SI, Peterkin MA, Walker ID. Positive direct antiglobulin test due to antiphospholipid antibodies in normal healthy blood donors. Vox Sang. 1997;72:182–4.

Petz LD, Garratty G. Immune hemohytic anemias. Philadelphia: Churchill Livingstone; 2004.

Johnson ST, Fueger JT, Gottschall JL. One center's experience: the serology and drugs associated with drug-induced immune hemolytic anemia–a new paradigm. Transfusion. 2007;47:697–702.

Turrini F, Giribaldi G, Carta F, Mannu F, Arese P. Mechanisms of band 3 oxidation and clustering in the phagocytosis of Plasmodium falciparum-infected erythrocytes. Redox Rep. 2003;8:300–3.

Shimo H, Arjunan SN, Machiyama H, Nishino T, Suematsu M, Fujita H, et al. Particle simulation of oxidation induced band 3 clustering in human erythrocytes. PLoS Comput Biol. 2015;11:e1004210.

Jeje MO, Blajchman MA, Steeves K, Horsewood P, Kelton JG. Quantitation of red cell-associated IgG using an immunoradiometric assay. Transfusion. 1984;24:473–6.

Kamesaki T, Oyamada T, Omine M, Ozawa K, Kajii E. Cut-off value of red-blood-cell-bound IgG for the diagnosis of Coombs-negative autoimmune hemolytic anemia. Am J Hematol. 2009;84:98–101.

Takahashi N, Kameoka J, Takahashi N, Tamai Y, Murai K, Honma R, et al. Causes of macrocytic anemia among 628 patients: mean corpuscular volumes of 114 and 130 fL as critical markers for categorization. Int J Hematol. 2016;104:344–57.

Burton NM, Bruce LJ. Modelling the structure of the red cell membrane. Biochem Cell Biol. 2011;89:200–15.

Kager L, Bruce LJ, Zeitlhofer P, Flatt JF, Maia TM, Ribeiro ML, et al. Band 3 null(VIENNA), a novel homozygous SLC4A1 p.Ser477X variant causing severe hemolytic anemia, dyserythropoiesis and complete distal renal tubular acidosis. Pediatr Blood Cancer. 2017. https://doi.org/10.1002/pbc.26227.

Salle-Lefort S, Miard S, Nolin MA, Boivin L, Pare ME, Debigare R, et al. Hypoxia upregulates Malat1 expression through a CaMKK/AMPK/HIF-1alpha axis. Int J Oncol. 2016;49:1731–6.

Kudrycki KE, Shull GE. Rat kidney band 3 Cl−/HCO3− exchanger mRNA is transcribed from an alternative promoter. Am J Physiol. 1993;264:F540–7.

Kudrycki KE, Shull GE. Primary structure of the rat kidney band 3 anion exchange protein deduced from a cDNA. J Biol Chem. 1989;264:8185–92.

Tanios GE, Doley PB, Munker R. Autoimmune hemolytic anemia associated with the use of immune checkpoint inhibitors for cancer: 68 cases from the Food and Drug Administration database and review. Eur J Haematol. 2019;102:157–62.
Acknowledgements
We would like to thank Dr. Kimindo Kumagai of the Hyogo Prefecture Health Promotion Association for his contribution to the enrollment of healthy controls. We would also like to thank Drs. Atsushi Shiozaki, Michihiro Kudou and Mitsuo Kishimoto of Kyoto Prefectural University of Medicine for their advice on immunohistochemical staining techniques. We thank Dr. Toshiyuki Ikemoto of Shiga University of Medical Science and Hiroko Tanada of Osaka Medical College for providing technical advice on flow cytometry.
Ethics declarations
Conflict of interest
This work was supported by JSPS KAKENHI Grant Number JP18K07297. The study was also supported by Astellas Pharma Inc., Ltd.; Eisai Co., Ltd.; MSD; Kyowa Hakko Kirin Co. Ltd.; and Chugai Pharmaceutical Co., Ltd.
Additional information
Publisher's Note
Springer Nature remains neutral with regard to jurisdictional claims in published maps and institutional affiliations.
About this article
Cite this article
Kitao, A., Kawamoto, S., Kurata, K. et al. Band 3 ectopic expression in colorectal cancer induces an increase in erythrocyte membrane-bound IgG and may cause immune-related anemia. Int J Hematol 111, 657–666 (2020). https://doi.org/10.1007/s12185-020-02831-y
Received:

Revised:

Accepted:

Published:

Issue Date:

DOI: https://doi.org/10.1007/s12185-020-02831-y
Keywords
Colorectal cancer

Band 3/anion exchanger 1

Cancer-related anemia

Hypoxia

Autoimmune hemolytic anemia