Abstract
This retrospective nationwide study sought to clarify the current status of human immunodeficiency virus (HIV)-associated lymphoma in Japan, where the number of new HIV infections remains high. We extracted data of patients with HIV-associated lymphoma who were registered in the database of the Japanese Society of Hematology Blood Disease Registry from January 2012 to December 2015, and analyzed patient characteristics, pathological diagnosis, and outcomes. The study cohort included 79 patients, including 75 male patients, with a median age of 52.5 (25–88) years. Among the lymphoma subtypes reported, the most common was diffuse large B cell lymphoma (DLBCL), followed by Burkitt lymphoma and primary central nervous system lymphoma. Estimated 3-year overall survival (OS) of all types of HIV-associated lymphoma was 68.8% [95% CI 68.2–69.4%]. However, the rate of extranodal involvement at the time of diagnosis was 49.2% and half of DLBCL was international prognostic index high or high-intermediate, with poor prognosis. Patients with primary effusion lymphoma died within 6 months. Even in an era of combination antiretroviral therapy, HIV-associated lymphoma remains an important problem. Clinical manifestations identified in this study were aggressive, and outcomes remained poor, warranting continuous surveillance of HIV-associated lymphoma.
Access options
Buy single article
Instant access to the full article PDF.
US$ 39.95
Tax calculation will be finalised during checkout.
Subscribe to journal
Immediate online access to all issues from 2019. Subscription will auto renew annually.
US$ 79
Tax calculation will be finalised during checkout.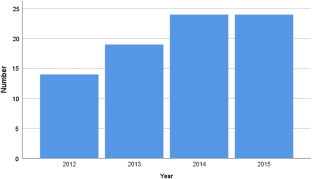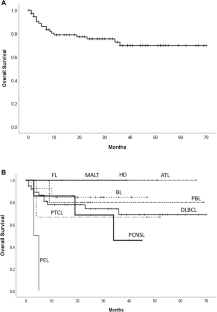 References
1.

Low A, Gavriilidis G, Larke N, B-Lajoie MR, Drouin O, Stover J, et al. Incidence of opportunistic infections and the impact of antiretroviral therapy among HIV-infected adults in low- and middle-income countries: a systematic review and meta-analysis. Clin Infect Dis. 2016;62:1595–603.

2.

UNAIDS. UNAIDS Data 2018. https://www.unaidsorg/sites/default/files/media_asset/unaids-data-2018_enpdf. 2018. Accessed 5 Jan 2019.

3.

Robbins HA, Pfeiffer RM, Shiels MS, Li J, Hall HI, Engels EA. Excess cancers among HIV-infected people in the United States. J Natl Cancer Inst. 2015; 107(4): pii:dju503.

4.

Vandenhende MA, Roussillon C, Henard S, Morlat P, Oksenhendler E, Aumaitre H, et al. Cancer-Related Causes of Death among HIV-Infected Patients in France in 2010: Evolution since 2000. PLoS One. 2015;10:e0129550.

5.

Cote TR, Biggar RJ, Rosenberg PS, Devesa SS, Percy C, Yellin FJ, et al. Non-Hodgkin's lymphoma among people with AIDS: incidence, presentation and public health burden. AIDS/Cancer Study Group. Int J Cancer. 1997;73:645–50.

6.

Said J, Cesarman E, Rosenwald A, Harris NL. Lymphomas associated with HIV infection. In: Swerdlow SH, Campo E, Harris NL, Jaffe E, Pileri SA, Stein H, et al., editors. WHO Classification of tumours of haematopoietic and lymphoid tissues Revised. 4th ed. IARC: Lyon; 2017. p. 449–452.

7.

Engels EA, Pfeiffer RM, Goedert JJ, Virgo P, McNeel TS, Scoppa SM, et al. Trends in cancer risk among people with AIDS in the United States 1980–2002. AIDS. 2006;20:1645–54.

8.

AIDS Surveillance Committee MoH, Labour and Welfare. Trend of AIDS incidence in Japan, Annual Report. Ministry of Health, Labour and Welfare. 2018.

9.

Beral V. 1, Peterman T, Berkelman R, Jaffe H. AIDS-associated non-Hodgkin lymphoma. Lancet. 1991;337:805–9.

10.

Coutinho R, Pria AD, Gandhi S, Bailey K, Fields P, Cwynarski K, et al. HIV status does not impair the outcome of patients diagnosed with diffuse large B-cell lymphoma treated with R-CHOP in the cART era. AIDS. 2014;28:689–97.

11.

Baptista MJ, Garcia O, Morgades M, Gonzalez-Barca E, Miralles P, Lopez-Guillermo A, et al. HIV-infection impact on clinical-biological features and outcome of diffuse large B-cell lymphoma treated with R-CHOP in the combination antiretroviral therapy era. AIDS. 2015;29:811–8.

12.

Sparano JA, Lee JY, Kaplan LD, Levine AM, Ramos JC, Ambinder RF, et al. Rituximab plus concurrent infusional EPOCH chemotherapy is highly effective in HIV-associated B-cell non-Hodgkin lymphoma. Blood. 2010;115:3008–166.

13.

Barta SK, Lee JY, Kaplan LD, Noy A, Sparano JA. Pooled analysis of AIDS malignancy consortium trials evaluating rituximab plus CHOP or infusional EPOCH chemotherapy in HIV-associated non-Hodgkin lymphoma. Cancer. 2012;118:3977–83.

14.

El-Fattah MA. Clinical characteristics and survival outcome of primary effusion lymphoma: a review of 105 patients. Hematol Oncol. 2017;35:878–83.
Acknowledgements
We are grateful to the following people for their contribution to this study: Dr. Kazuteru Ohashi, Tokyo Metropolitan Cancer and Infectious Disease Center Komagome Hospital, Dr. Nahoko Furuya Tokyo Medical University Hospital, Dr. Kazuhiro Toyama, The University of Tokyo Hospital, Dr. Hiroko Nakamura, Juntendo University Hospital, Dr. Tomiko Ryu, JCHO Tokyo Yamate Medical Center, Dr. Yuji Kanisawa, Oji General Hospital, Prof. Fumihiko Kimura, National Defense Medical College Hospital, Prof. Yuichi Hasegawa, University of Tsukuba Hospital, Dr. Masaharu Kamoshita, Tsuchiura Kyodo General Hospital, Dr. Kaichi Nishiwaki, The Jikei Medical University Kashiwa Hospital, Prof. Yuichi Nakamura, Saitama Medical University Hospital, Dr. Kato Masayuki, St. Marianna University School of Medicine, Dr. Kou Yamamoto, Yokohama City Minato Red Cross Hospital, Dr. Takuya Miyazaki, Yokohama City University Hospital, Dr. Kenji Nara, Seirei Mikatahara General Hospital, Dr. Masaki Yamaguchi, Ishikawa Prefectural Center Hospital, Dr. Takahiko Utsumi, Shiga General Hospital, Dr. Masahiro Manabe, Osaka General Hospital of West Japan Railway Company, Dr. Takahisa Yamane, Osaka City General Hospital, Dr. Kotaro Shirakawa, Kyoto University Hospital, Dr. Tsutomu Kobayashi, Kyoto Prefectural University of Medicine, Dr. Mitsuru Ito, Kyoto City Hospital, Dr. Takayuki Ishikawa, Kobe City Medical Center General Hospital, Dr. Hiroko Tsunemine, Shinko Hospital, Dr. Aya Nakatani, Kansai Medical University Hospital, Dr. Toshi Imai, Kochi Health Sciences Center, Dr. Toshihiro Miyamoto, Kyushu University Hospital, Dr. Makoto Hirosawa, University of Occupational and Environmental Health Hospital, Dr. Masao Ogata, Oita University Hospital, Dr. Shinya Sato, Nagasaki University Hospital, Dr. Tadashi Matsumoto, Izuro Imamura Hospital, Dr. Yutaka Imamura, St. Mary's Hospital, Dr. Taizo Shimomura, Kumamoto Shinto General Hospital, Dr. Junichi Kiyasu, Aso Iizuka Hospital, Dr. Yoko Kubuki, University of Miyazaki Hospital, Dr. Keita Tamaki, University of the Ryukyus Hospital. This work was supported by the Research Program on HIV/AIDS (Grant nos. 18fk0410008h0003) from the Japan Agency for Medical Research and Development (AMED).
Ethics declarations
Conflict of interest
The authors have no competing interests.
Ethical approval
This retrospective study was approved by the committee of academic and statistical investigation of the Japanese Society of Hematology and institutional review board of Tokyo Women's Medical University (no. 4585; December 19, 2017) and was performed in accordance with the Ethical Guidelines for Medical and Health Research involving Human Subjects and the ethical standards in the Helsinki Declaration of 1975, as revised in 2008.
Additional information
Publisher's Note
Springer Nature remains neutral with regard to jurisdictional claims in published maps and institutional affiliations.
Electronic supplementary material
Below is the link to the electronic supplementary material.
About this article
Cite this article
Hagiwara, S., Nagai, H., Tanaka, J. et al. The current state of human immunodeficiency virus-associated lymphoma in Japan: a nationwide retrospective study of the Japanese Society of Hematology Blood Disease Registry. Int J Hematol 110, 244–249 (2019). https://doi.org/10.1007/s12185-019-02668-0
Received:

Revised:

Accepted:

Published:

Issue Date:
Keywordws
AIDS

HIV-associated lymphoma

Epidemiology

Blood disease registry