Abstract
We sought to determine the efficacy of a new, inexpensive, single-tube 8-color multiparameter flow cytometry (MFC) method (SRL-Flow), which is based on the EuroFlow next-generation flow (NGF) (tube 2 only), to assess minimal residual disease (MRD)-negative status. MRD-negative status is considered a treatment milestone in multiple myeloma (MM). We used 45 bone marrow samples from patients with MM, including 11 cases treated with anti-CD38 monoclonal antibody. The SRL-Flow sample preparation protocol was identical to that of EuroFlow-NGF. The antibody panel for SRL-Flow was as follows: CD138V450/CD27V500/CD38ME (multiepitope)FITC/CD56PE/CD45PerCP-Cy5.5/CD19PE-Cy7/cytoplasmic (Cy) immunoglobulin (Ig) κAPC/CyIgλAPC-H7. To identify abnormal plasma cells (aPCs) of patients with MM who received anti-CD38 monoclonal antibody, we used a panel of anti-CD45 and anti-CD138 antibodies (Abs) rather than a panel of anti-CD45 and anti-CD38 Abs. We comparatively analyzed the total nucleated cell numbers, total PC levels, and MRD levels between the SRL-Flow and EuroFlow-NGF. High correlations (r > 0.9) in total PC and MRD levels were noted among SRL-Flow, original EuroFlow-NGF (2 tubes), and EuroFlow-NGF (tube 2 only), suggesting that SRL-Flow is an inexpensive (< $200 USD/sample as of January of 2019) alternative to EuroFlow-NGF (< $350 USD/sample) for assessing MRD in MM.
This is a preview of subscription content, log in to check access.
Access options
Buy single article
Instant access to the full article PDF.
US$ 39.95
Price includes VAT for USA
Subscribe to journal
Immediate online access to all issues from 2019. Subscription will auto renew annually.
US$ 99
This is the net price. Taxes to be calculated in checkout.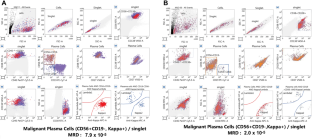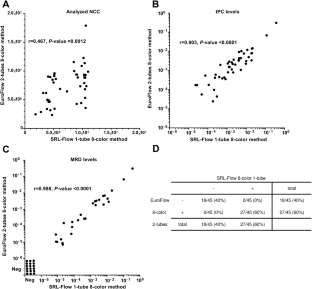 References
1.

Landgren O, Iskander K. Modern multiple myeloma therapy: deep, sustained treatment response and good clinical outcomes. J Intern Med. 2017;281:365–82.

2.

Roshal M, Flores-Montero JA, Gao Q, Koeber M, Wardrope J, Durie BGM, et al. MRD detection in multiple myeloma: comparison between MSKCC 10-color single-tube and EuroFlow 8-color 2-tube methods. Blood Adv. 2017;1:728–32.

3.

Narita K, Kobayashi H, Abe Y, Kitadate H, Takeuchi M, Matsue K. Quantification of bone-marrow plasma cell levels using various International Myeloma Working Group response criteria in patients with multiple myeloma. Int J Hematol. 2018;108:371–4.

4.

Flores-Montero J, Sanoja-Flores L, Paiva B, Puig N, Garcia-Sanchez O, Bottcher S, et al. Next generation flow for highly sensitive and standardized detection of minimal residual disease in multiple myeloma. Leukemia. 2017;31:2094–103.

5.

Rajkumar SV, Dimopoulos MA, Palumbo A, Blade J, Merlini G, Mateos MV, et al. International Myeloma Working Group updated criteria for the diagnosis of multiple myeloma. Lancet Oncol. 2014;15:e538-48.

6.

Arroz M, Came N, Lin P, Chen W, Yuan C, Lagoo A, et al. Consensus guidelines on plasma cell myeloma minimal residual disease analysis and reporting. Cytometry B Clin Cytom. 2016;90:31–9.

7.

Kumar S, Paiva B, Anderson KC, Durie B, Landgren O, Moreau P, et al. International Myeloma Working Group consensus criteria for response and minimal residual disease assessment in multiple myeloma. Lancet Oncol. 2016;17:e328-e46.

8.

Paiva B, van Dongen JJ, Orfao A. New criteria for response assessment: role of minimal residual disease in multiple myeloma. Blood. 2015;125:3059–68.

9.

Flores-Montero J, de Tute R, Paiva B, Perez JJ, Bottcher S, Wind H, et al. Immunophenotype of normal vs. myeloma plasma cells: toward antibody panel specifications for MRD detection in multiple myeloma. Cytometry B Clin Cytom. 2016;90:61–72.

10.

Oberle A, Brandt A, Alawi M, Langebrake C, Janjetovic S, Wolschke C, et al. Long-term CD38 saturation by daratumumab interferes with diagnostic myeloma cell detection. Haematologica. 2017;102:e368-e70.
Acknowledgements
We would like to acknowledge Dr Juan Flores-Montero, Dr Luzalba Sanoja-Flores and Prof Alberto Orfao of Universidad de Salamanca for the EuroFlow-NGF assessments.
Ethics declarations
Conflict of interest
H.T. and K.M. received research funding from SRL, Inc. K.K. and M.H. are employees of SRL, Inc. The remaining authors declare no competing financial interests.
Additional information
Publisher's Note
Springer Nature remains neutral with regard to jurisdictional claims in published maps and institutional affiliations.
Electronic supplementary material
Below is the link to the electronic supplementary material.
About this article
Cite this article
Takamatsu, H., Yoroidaka, T., Fujisawa, M. et al. Comparison of minimal residual disease detection in multiple myeloma by SRL 8-color single-tube and EuroFlow 8-color 2-tube multiparameter flow cytometry. Int J Hematol 109, 377–381 (2019). https://doi.org/10.1007/s12185-019-02615-z
Received:

Revised:

Accepted:

Published:

Issue Date:
Keywords
Myeloma

Minimal residual disease

Multiparameter flow cytometry

EuroFlow