Abstract
ETV6-RUNX1-positive B precursor acute lymphoblastic leukemia (B-ALL) is a common subtype of pediatric B-ALL that has shown excellent outcomes in contemporary clinical trials for pediatric B-ALL. Examinations of the possibility of reducing therapeutic intensity may thus be explored. This prospective study examined outcomes in 205 pediatric patients with ETV6-RUNX1-positive B-ALL uniformly treated following the Japan Association of Childhood Leukemia Study Group (JACLS) ALL-02 protocol. The JACLS ALL-02 protocol does not employ minimal residual disease detected by polymerase chain reaction (PCR-MRD)-based risk stratification; however, 4-year event-free survival (EFS) and overall survival (OS) were 94.4 ± 1.6 and 97.5 ± 1.1%, respectively. In particular, 92 of 205 (44.9%) patients were successfully treated with a less intensive regimen involving only two cycles of high dose methotrexate and one course of re-induction therapy comprising vincristine, l-asparaginase (L-asp), pirarubicin, and prednisolone. Multivariate analysis revealed that discontinuation of L-asp and poor response to prednisolone was, respectively, associated with poor EFS (HR 6.3; 95% CI 1.3–27.0) and OS (HR 17.5; 95% CI 2.3–130), suggesting that the majority of ETV6-RUNX1-positive B-ALL cases may be cured by a less-intensive chemotherapy regimen if the risk stratification system including PCR-MRD monitoring and insufficient use of L-asp is avoided.
This is a preview of subscription content, log in to check access.
Access options
Buy single article
Instant access to the full article PDF.
US$ 39.95
Price includes VAT for USA
Subscribe to journal
Immediate online access to all issues from 2019. Subscription will auto renew annually.
US$ 99
This is the net price. Taxes to be calculated in checkout.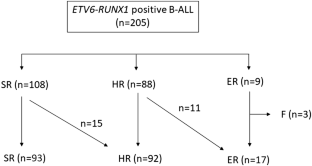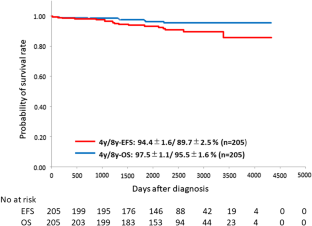 References
1.

Inaba H, Greaves M, Mullighan CG. Acute lymphoblastic leukemia. Lancet. 2013;381:1943–55.

2.

Bhojwani D, Pei D, Sandlund JT, Jeha S, Ribeiro RC, Rubnitz JE, et al. ETV6 RUNX1-positive childhood acute lymphoblastic leukemia: improved outcome with contemporary therapy. Leukemia. 2012;26:265–70.

3.

Conter V, Bartram CR, Valsecchi MG, Schrauder A, Panzer-Grümayer R, Möricke A, et al. Molecular response to treatment redefines all prognostic factors in children and adolescents with B-cell precursor acute lymphoblastic leukemia: results in 3184 patients of the AIEOP-BFM ALL 2000 study. Blood. 2010;115:3206–14.

4.

Loh ML, Goldwasser MA, Silverman LB, Poon WM, Vattikuti S, Cardoso A, et al. Prospective analysis of TEL/AML1-positive patients treated on Dana-Farber Cancer Institute Consortium Protocol 95-01. Blood. 2006;107:4508–13.

5.

Piette C, Suciu S, Clappier E, Bertrand Y, Drunat S, Girard S, et al. Differential impact of drugs on the outcome of ETV6-RUNX1 positive childhood B-cell precursor acute lymphoblastic leukemia: results of the EORTC CLG 58881 and 58951 trials. Leukemia. 2018;32:244–8.

6.

Asai D, Imamura T, Suenobu S, Saito A, Hasegawa D, Deguchi T, et al. IKZF1 deletion is associated with a poor outcome in pediatric B-cell precursor acute lymphoblastic leukemia in Japan. Cancer Med. 2013;2:412–9.

7.

Sakamoto K, Imamura T, Kihira K, Suzuki K, Ishida H, Morita H, et al. Low incidence of osteonecrosis in childhood acute lymphoblastic leukemia treated with ALL-97 and ALL-02 Study of Japan Association of Childhood Leukemia Study Group. J Clin Oncol. 2018;36:900–7.

8.

Horibe K, Yumura-Yagi K, Kudoh T, Nishimura S, Oda M, Yoshida M, et al. Long-term results of the risk-adapted treatment for childhood B-cell acute lymphoblastic leukemia: report from the Japan Association of Childhood Leukemia Study ALL-97 Trial. J Pediatr Hematol Oncol. 2017;39:81–89.

9.

Borgmann A, von Stackelberg A, Hartmann R, Ebell W, Klingebiel T, Peters C, et al. Unrelated donor stem cell transplantation compared with chemotherapy for children with acute lymphoblastic leukemia in a second remission: a matched-pair analysis. Blood. 2003;101:3835–9.

10.

Toft N, Birgens H, Abrahamsson J, Griškevičius L, Hallböök H, Heyman M, et al. Results of NOPHO ALL2008 treatment for patients aged 1–45 years with acute lymphoblastic leukemia. Leukemia. 2017;32:606–15.

11.

O'Connor D, Enshaei A, Bartram J, Hancock J, Harrison CJ, Hough R, et al. Genotype-specific minimal residual disease interpretation improves stratification in pediatric acute lymphoblastic leukemia. J Clin Oncol. 2018;36:34–43.

12.

Gandemer V, Chevret S, Petit A, Vermylen C, Leblanc T, Michel G, et al. Excellent prognosis of late relapses of ETV6/RUNX1-positive childhood acute lymphoblastic leukemia: lessons from the FRALLE 93 protocol. Haematologica. 2012;97:1743–50.

13.

Kuster L, Grausenburger R, Fuka G, Kaindl U, Krapf G, Inthal A, et al. ETV6/RUNX1-positive relapses evolve from an ancestral clone and frequently acquire deletions of genes implicated in glucocorticoid signaling. Blood. 2011;117:2658–67.
Acknowledgements
The authors thank all patients (and their guardians) who participated in this study. The authors also thank the staff at the OSCR data center for data management and all physicians who registered the patients in the JACLS ALL-02 clinical trial.
Ethics declarations
Conflict of interest
The authors have no conflicts of interest to declare.
Additional information
Publisher's Note
Springer Nature remains neutral with regard to jurisdictional claims in published maps and institutional affiliations.
About this article
Cite this article
Usami, I., Imamura, T., Takahashi, Y. et al. Discontinuation of l-asparaginase and poor response to prednisolone are associated with poor outcome of ETV6-RUNX1-positive pediatric B-cell precursor acute lymphoblastic leukemia. Int J Hematol 109, 477–482 (2019). https://doi.org/10.1007/s12185-019-02599-w
Received:

Revised:

Accepted:

Published:

Issue Date:
Keywords
Poor prednisolone response

l

-asparaginase

ETV6-RUNX1

Pediatric acute lymphoblastic leukemia