Abstract
Gaucher disease (GD) is caused by a hereditary deficiency of glucocerebrosidase, resulting in accumulation of glucosylceramide and potentially manifesting as hepatosplenomegaly. We report the case of a 15-month-old boy with chronic neuronopathic GD. The patient had prolonged anemia despite continued iron supplementation for 3 months. White blood count (WBC), hemoglobin (Hb), platelet count, and corrected reticulocyte count were 3,300 /µL, 8.7 g/dL, 90,000 /µL, and 0.55, respectively. The patient had microcytic hypochromic anemia with mildly elevated ferritin. Physical examination revealed hepatosplenomegaly. Bone-marrow aspiration showed sheets of Gaucher cells. Glucocerebrosidase activity in monocytes was significantly lower than normal. Genetic analysis revealed a homozygous L444P mutation of GBA, and he was diagnosed with type 1 GD. Enzyme replacement treatment (ERT) consisting of imiglucerase was initiated and was effective; WBC, Hb, and platelet count gradually normalized and the hepatosplenomegaly improved. However, when the patient entered elementary school, he showed mild impaired cognitive function, and supranuclear gaze palsy occurred the same year. He was ultimately diagnosed with type 3 GD and continued ERT. Pediatric hemato-oncologists should be aware of GD, especially when patients exhibit anemia refractory to iron therapy, radiologic bone deformity, neurologic signs or symptoms, and growth retardation.
This is a preview of subscription content, log in to check access.
Access options
Buy single article
Instant access to the full article PDF.
US$ 39.95
Price includes VAT for USA
Subscribe to journal
Immediate online access to all issues from 2019. Subscription will auto renew annually.
US$ 99
This is the net price. Taxes to be calculated in checkout.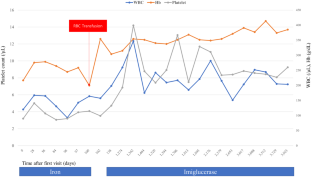 Abbreviations
ERT:

Enzyme replacement treatment

GD:

Gaucher disease

Hb:

Hemoglobin

HSCT:

Hematopoietic stem-cell transplantation

SNP:

Supranuclear gaze palsy

WBC:

White blood count
References
1.

Meikle PJ, Hopwood JJ, Clague AE, Carey WF. Prevalence of lysosomal storage disorders. JAMA. 1999;281:249–54.

2.

Thomas AS, Mehta A, Hughes DA. Gaucher disease: haematological presentations and complications. Br J Haematol. 2014;165:427–40.

3.

Thomas AS, Mehta AB, Hughes DA. Diagnosing Gaucher disease: an on-going need for increased awareness amongst haematologists. Blood Cells Mol Dis. 2013;50:212–7.

4.

Joo EY, Kim KY, Kim DH, Lee JE, Kim SK. Iron deficiency anemia in infants and toddlers. Blood Res. 2016;51:268–73.

5.

Wang M. Iron deficiency and other types of anemia in infants and children. Am Fam Physician. 2016;93:270–8.

6.

Lim JY. Iron deficiency anemia in infants and young children. Clin Pediatr Hematol Oncol. 2014;21:47–51.

7.

Beutler E. Enzyme replacement in Gaucher disease. PLoS Med. 2004;1:e21.

8.

Kaplan P, Andersson HC, Kacena KA, Yee JD. The clinical and demographic characteristics of nonneuronopathic gaucher disease in 887 children at diagnosis. Arch Pediatr Adolesc Med. 2006;160:603–8.

9.

Zimran A, Altarescu G, Rudensky B, Abrahamov A, Elstein D. Survey of hematological aspects of Gaucher disease. Hematology. 2005;10:151–6.

10.

Orkin SH. Nathan and Oski's hematology and oncology of infancy and childhood. Philadelphia: Elsevier Saunders; 2015.

11.

Tibblin E, Dreborg S, Erikson A, Håkansson G, Svennerholm L. Hematological findings in the Norrbottnian type of Gaucher disease. Eur J Pediatr. 1982;139:187–91.

12.

El-Beshlawy A, Tylki-Szymanska A, Vellodi A, Belmatoug N, Grabowski GA, Kolodny EH, et al. Long-term hematological, visceral, and growth outcomes in children with Gaucher disease type 3 treated with imiglucerase in the International Collaborative Gaucher Group Gaucher Registry. Mol Genet Metab. 2017;120:47–56.

13.

Benoist DB, McLean E, Egll I, Cogswell M. Worldwide prevalence of anaemia 1993–2005: WHO global database on anaemia: Geneva: World Health Organization. 2008.

14.

DeLoughery TG. Microcytic anemia. N Engl J Med. 2014;371:1324–31.

15.

Di Rocco M, Andria G, Deodato F, Giona F, Micalizzi C, Pession A. Early diagnosis of Gaucher disease in pediatric patients: proposal for a diagnostic algorithm. Pediatr Blood Cancer. 2014;61:1905–9.

16.

Ida H, Rennert OM, Iwasawa K, Kobayashi M, Eto Y. Clinical and genetic studies of Japanese homozygotes for the Gaucher disease L444P mutation. Hum Genet. 1999;105:120–26.

17.

Jeong SY, Park SJ, Kim HJ. Clinical and genetic characteristics of Korean patients with Gaucher disease. Blood Cells Mol Dis. 2011;46:11–4.

18.

Lee JY, Lee BH, Kim GH, Jung CW, Lee J, Choi JH, et al. Clinical and genetic characteristics of Gaucher disease according to phenotypic subgroups. Korean J Pediatr. 2012;55:48–53.

19.

Mistry PK, Sadan S, Yang R, Yee J, Yang M. Consequences of diagnostic delays in type 1 Gaucher disease: the need for greater awareness among hematologists-oncologists and an opportunity for early diagnosis and intervention. Am J Hematol. 2007;82:697–701.

20.

Ito S, Barrett AJ. Gauchers disease–a reappraisal of hematopoietic stem cell transplantation. Pediatr Hematol Oncol. 2013;30:61–70.
Acknowledgements
This work was supported by the 2015 Yeungnam University Research Grant.
Ethics declarations
Conflict of interest
The authors declare that they have no conflict of interest.
About this article
Cite this article
Kim, E.A., Lim, Y.T., Hah, J.O. et al. Neuronopathic Gaucher disease presenting with microcytic hypochromic anemia. Int J Hematol 109, 361–365 (2019). https://doi.org/10.1007/s12185-018-2559-3
Received:

Revised:

Accepted:

Published:

Issue Date:
Keywords
Gaucher disease

Neuronopathic gaucher disease

Anemia

Enzyme replacement treatment