Abstract
Angioimmunoblastic T-cell lymphoma (AITL) is a common subtype of peripheral T-cell lymphoma with an aggressive clinical course and poor prognosis after conventional chemotherapy, for which there is no current standard of care. We describe here an 87-year-old woman with AITL, whose clinical diagnosis was complicated by the presence of B immunoblasts positive for Epstein–Barr virus in the lymph nodes and monoclonal plasma cells in the bone marrow at initial presentation. Rebiopsy of the lymph node led to the correct diagnosis of AITL with concurrent smoldering plasma cell myeloma. She was treated with several courses of conventional chemotherapy, resulting in progressive disease, and then switched to the immunomodulatory drug lenalidomide, which used in Japan for the treatment of multiple myeloma. Lenalidomide was effective in controlling both AITL and plasma cell myeloma.
This is a preview of subscription content, log in to check access.
Access options
Buy single article
Instant access to the full article PDF.
US$ 39.95
Price includes VAT for USA
Subscribe to journal
Immediate online access to all issues from 2019. Subscription will auto renew annually.
US$ 99
This is the net price. Taxes to be calculated in checkout.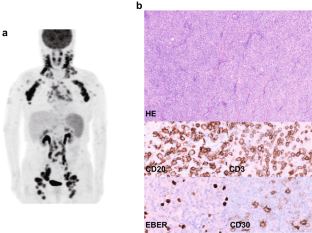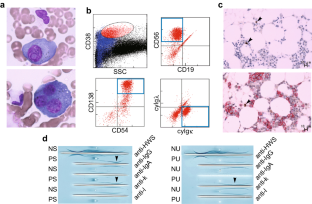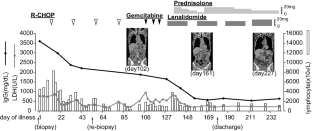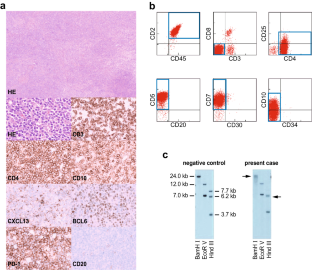 References
1.

Mourad N, Mounier N, Briere J, Raffoux E, Delmer A, Feller A, et al. Clinical, biologic, and pathologic features in 157 patients with angioimmunoblastic T-cell lymphoma treated within the Groupe d'Etude des Lymphomes de l'Adulte (GELA) trials. Blood. 2008;111(9):4463–70.

2.

Weiss LM, Jaffe ES, Liu XF, Chen YY, Shibata D, Medeiros LJ. Detection and localization of Epstein-Barr viral genomes in angioimmunoblastic lymphadenopathy and angioimmunoblastic lymphadenopathy-like lymphoma. Blood. 1992;79(7):1789–95.

3.

Xu J, Tang Y, Zhao S, Zhang W, Xiu Y, Liu T, et al. Angioimmunoblastic T-cell lymphoma with coexisting plasma cell myeloma: a case report and review of the literature. Tohuku J Exp Med. 2015;235(4):283–8.

4.

De Leval L, Gisselbrecht C, Gaulard P. Advances in the understanding and management of angioimmunoblastic T-cell lymphoma. Br J Haematol. 2010;148(5):673–89.

5.

Swerdlow S, Campo E, Harris N, Jaffe E, Pileri S, Stein H, et al. WHO classification of tumors of haematopoietic and lymphoid tissues. Lyon: IARC; 2017.

6.

Advani R, Horwitz S, Zelenetz A, Horning SJ. Angioimmunoblastic T cell lymphoma: treatment experience with cyclosporine. Leuk Lymphoma. 2007;48(3):521–5.

7.

Zettl A, Lee S-S, Rüdiger T, Starostik P, Marino M, Kirchner T, et al. Epstein–Barr virus-associated B-cell lymphoproliferative disorders in angioimmunoblastic T-cell lymphoma and peripheral T-cell lymphoma, unspecified. Am J Clin Pathol. 2002;117(3):368–79.

8.

Balagué O, Martínez A, Colomo L, Roselló E, Garcia A, Martínez-Bernal M, et al. Epstein–Barr virus negative clonal plasma cell proliferations and lymphomas in peripheral T-cell lymphomas: a phenomenon with distinctive clinicopathologic features. Am J Surg Pathol. 2007;31(9):1310–22.

9.

Huppmann AR, Roullet MR, Raffeld M, Jaffe ES. Angioimmunoblastic T-cell lymphoma partially obscured by an Epstein–Barr virus-negative clonal plasma cell proliferation. J Clin Oncol. 2012;31(2):e28–30.

10.

Laichalk LL, Thorley-Lawson DA. Terminal differentiation into plasma cells initiates the replicative cycle of Epstein–Barr virus in vivo. J Virol. 2005;79(2):1296–307.

11.

de Leval L, Rickman DS, Thielen C, de Reynies A, Huang Y-L, Delsol G, et al. The gene expression profile of nodal peripheral T-cell lymphoma demonstrates a molecular link between angioimmunoblastic T-cell lymphoma (AITL) and follicular helper T (TFH) cells. Blood. 2007;109(11):4952–63.

12.

Lunning MA, Vose JM. Angioimmunoblastic T-cell lymphoma: the many-faced lymphoma. Blood. 2017;129(9):1095–102.

13.

Kyriakou C, Canals C, Goldstone A, Caballero D, Metzner B, Kobbe G, et al. High-dose therapy and autologous stem-cell transplantation in angioimmunoblastic lymphoma: complete remission at transplantation is the major determinant of outcome-lymphoma working party of the European Group of Blood and Marrow Transplantation. J Clin Oncol. 2008;26(2):218–24.

14.

O'Connor OA, Pro B, Pinter-Brown L, Bartlett N, Popplewell L, Coiffier B, et al. Pralatrexate in patients with relapsed or refractory peripheral T-cell lymphoma: results from the pivotal PROPEL study. J Clin Oncol. 2011;29(9):1182.

15.

Coiffier B, Pro B, Prince HM, Foss F, Sokol L, Greenwood M, et al. Results from a pivotal, open-label, phase II study of romidepsin in relapsed or refractory peripheral T-cell lymphoma after prior systemic therapy. J Clin Oncol. 2012;30(6):631–6.

16.

Morschhauser F, Fitoussi O, Haioun C, Thieblemont C, Quach H, Delarue R, et al. A phase 2, multicentre, single-arm, open-label study to evaluate the safety and efficacy of single-agent lenalidomide (Revlimid®) in subjects with relapsed or refractory peripheral T-cell non-Hodgkin lymphoma: The EXPECT trial. Eur J Cancer. 2013;49(13):2869–76.

17.

Querfeld C, Rosen ST, Guitart J, Duvic M, Kim YH, Dusza SW, et al. Results of an open-label multicenter phase 2 trial of lenalidomide monotherapy in refractory mycosis fungoides and Sezary syndrome. Blood. 2014;123(8):1159–66.

18.

Toumishey E, Prasad A, Dueck G, Chua N, Finch D, Johnston J, et al. Final report of a phase 2 clinical trial of lenalidomide monotherapy for patients with T-cell lymphoma. Cancer. 2015;121(5):716–23.

19.

Miyoshi H, Ohshima K. Epidemiology of malignant lymphoma and recent progress in research on adult T-cell leukemia/lymphoma in Japan. Int J Hematol. 2018;107(4):420–7.
Acknowledgements
We thank Mr. Masahiro Hirata and Mr. Hiroyuki Shirahase, Department of Diagnostic Pathology, Kyoto University Hospital, for their technical assistance.
Ethics declarations
Conflict of interest
The authors declare no conflict of interest.
Additional information
Publisher's Note
Springer Nature remains neutral with regard to jurisdictional claims in published maps and institutional affiliations.
About this article
Cite this article
Kishimoto, W., Takiuchi, Y., Nakae, Y. et al. A case of AITL complicated by EBV-positive B cell and monoclonal plasma cell proliferation and effectively treated with lenalidomide. Int J Hematol 109, 499–504 (2019). https://doi.org/10.1007/s12185-018-02587-6
Received:

Revised:

Accepted:

Published:

Issue Date:
Keywords
Angioimmunoblastic T-cell lymphoma

Peripheral T-cell lymphoma

Lenalidomide

Plasma cell myeloma