Abstract
Calcineurin inhibitors (CIs) such as cyclosporine A (CSA) and tacrolimus often cause renal dysfunction, resulting in increased serum creatinine, hyperkalemia, and hyperuricemia. However, the effects of CIs on sodium excretion have not been fully elucidated. We retrospectively evaluated the effects of CI administration on sodium excretion in recipients of allogeneic hematopoietic stem cell transplantation (HSCT). Fifty consecutive recipients each of allogeneic HSCT receiving either CSA or tacrolimus (100 patients in total) with available data for weekly fractional excretion of sodium (FENa) for a 4-week period after transplantation were enrolled in this retrospective analysis. No significant differences in patient characteristics were observed between CSA and tacrolimus groups except for the type of donor. FENa was significantly higher at the 3rd (1.25 ± 0.80) and 4th weeks (1.53 ± 1.06) after transplantation as compared with that at the 1st week (0.93 ± 0.51; P < 0.01, P < 0.001, respectively) in the tacrolimus group, but not at any time point in the CSA group. In addition, FENa was significantly higher in the tacrolimus group than the CSA group at the 4th week (1.53 ± 1.06 vs. 1.13 ± 0.80; P < 0.05). These results suggest that tacrolimus increases sodium excretion after allogeneic HSCT, and that this effect is minimal with CSA.
This is a preview of subscription content, log in to check access.
Access options
Buy single article
Instant access to the full article PDF.
US$ 39.95
Price includes VAT for USA
Subscribe to journal
Immediate online access to all issues from 2019. Subscription will auto renew annually.
US$ 99
This is the net price. Taxes to be calculated in checkout.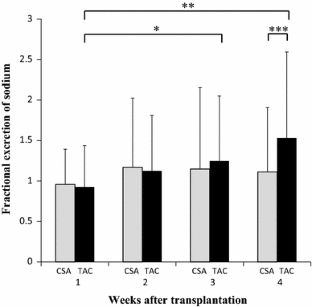 References
1.

Murata M. Prophylactic and therapeutic treatment of graft-versus-host disease in Japan. Int J Hematol. 2015;101:467–86.

2.

Sakai R, Taguri M, Oshima K, Mori T, Ago H, Adachi S, et al. A comparison of tacrolimus and cyclosporine combined with methotrexate for graft-versus-host disease prophylaxis, stratified by stem cell source: a retrospective nationwide survey. Int J Hematol. 2016;103:322–33.

3.

Miyamoto T, Takashima S, Kato K, Takase K, Yoshimoto G, Yoshida S, et al. Comparison of cyclosporine and tacrolimus combined with mycophenolate mofetil in prophylaxis for graft-versus-host disease after reduced-intensity umbilical cord blood transplantation. Int J Hematol. 2017;105:92–9.

4.

Mason J. Renal side-effects of cyclosporin A. Br J Dermatol. 1990;122(Suppl 36):71–7.

5.

Olyaei AJ, de Mattos AM, Bennett WM. Nephrotoxicity of immunosuppressive drugs: new insight and preventive strategies. Curr Opin Crit Care. 2001;7:384–9.

6.

Sakamoto K, Yamada K, Arita S, Hamaguchi K, Kashiwabara H, Yokoyama T. Sodium-losing nephropathy and distal tubular damage of transplant kidneys with FK506 administration. Transplant Proc. 1995;27:826–8.

7.

Higgins R, Ramaiyan K, Dasgupta T, Kanji H, Fletcher S, Lam F, et al. Hyponatraemia and hyperkalaemia are more frequent in renal transplant recipients treated with tacrolimus than with cyclosporin. Further evidence for differences between cyclosporin and tacrolimus nephrotoxicities. Nephrol Dial Transplant. 2004;19:444–50.

8.

Bagchi S, Husain Zaidi S, Prasad Mathur R. Severe symptomatic hyponatremia–an uncommon presentation of tacrolimus nephrotoxicity. Nephrol Dial Transplant. 2011;26:2042–4.

9.

Yuda S, Mori T, Kato J, Koda Y, Kohashi S, Kikuchi T, et al. Sodium-losing nephropathy caused by tacrolimus after allogeneic hematopoietic stem cell transplantation. Rinsho Ketsueki. 2013;54:2187–91.

10.

Kanda Y. Investigation of the freely available easy-to-use software 'EZR' for medical statistics. Bone Marrow Transplant. 2013;48:452–8.

11.

Uribarri J, Oh MS, Carroll HJ. Salt-losing nephropathy. Clinical presentation and mechanisms. Am J Nephrol. 1983;3:193–8.

12.

Spasovski G, Vanholder R, Allolio B, Annane D, Ball S, Bichet D, et al. Clinical practice guideline on diagnosis and treatment of hyponatraemia. Nephrol Dial Transplant. 2014;29(Suppl 2):i1–39.

13.

Aker S, Heering P, Kinne-Saffran E, Deppe C, Grabensee B, Kinne RK. Different effects of cyclosporine a and FK506 on potassium transport systems in MDCK cells. Exp Nephrol. 2001;9:332–40.

14.

Deppe CE, Heering PJ, Viengchareun S, Grabensee B, Farman N, Lombes M. Cyclosporine A and FK506 inhibit transcriptional activity of the human mineralocorticoid receptor: a cell-based model to investigate partial aldosterone resistance in kidney transplantation. Endocrinology. 2002;143:1932–41.

15.

Ledeganck KJ, Boulet GA, Horvath CA, Vinckx M, Bogers JJ, Van Den Bossche R, et al. Expression of renal distal tubule transporters TRPM6 and NCC in a rat model of cyclosporine nephrotoxicity and effect of EGF treatment. Am J Physiol Renal Physiol. 2011;301:F486–93.

16.

Margreiter R. Efficacy and safety of tacrolimus compared with ciclosporin microemulsion in renal transplantation: a randomised multicentre study. Lancet. 2002;359:741–6.

17.

Woo M, Przepiorka D, Ippoliti C, Warkentin D, Khouri I, Fritsche H, et al. Toxicities of tacrolimus and cyclosporin A after allogeneic blood stem cell transplantation. Bone Marrow Transplant. 1997;20:1095–8.

18.

Aisa Y, Mori T, Nakazato T, Shimizu T, Yamazaki R, Ikeda Y, et al. Effects of immunosuppressive agents on magnesium metabolism early after allogeneic hematopoietic stem cell transplantation. Transplantation. 2005;80:1046–50.
Acknowledgements
The authors are indebted to Ms. Yuri Niizuma and Ms. Kaori Yanai for their skillful data management and Ms. Satomi Yamanaka for her excellent care of patients and their families.
Ethics declarations
Conflict of interest
TM received research funding from Novartis Pharma K.K. and honorarium from Astellas Pharma Inc; SO received research funding and honorarium from Novartis Pharma K.K. and Astellas Pharma Inc.
About this article
Cite this article
Saburi, M., Kohashi, S., Kato, J. et al. Effects of calcineurin inhibitors on sodium excretion in recipients of allogeneic hematopoietic stem cell transplantation. Int J Hematol 106, 431–435 (2017). https://doi.org/10.1007/s12185-017-2253-x
Received:

Revised:

Accepted:

Published:

Issue Date:
Keywords
Calcineurin inhibitor

Tacrolimus

Cyclosporine A

Sodium excretion

Allogeneic hematopoietic stem cell transplantation