This is a preview of subscription content, log in to check access.
Access options
Buy single article
Instant access to the full article PDF.
US$ 39.95
Price includes VAT for USA
Subscribe to journal
Immediate online access to all issues from 2019. Subscription will auto renew annually.
US$ 99
This is the net price. Taxes to be calculated in checkout.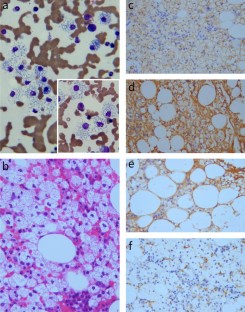 References
1.

Liapis K, Apostolidis J. Empty, but heavy, plasma cells. Blood. 2012;120(22):4282.

2.

Hütter G, Nowak D, Blau IW, Thiel E. Auer rod-like intracytoplasmic inclusions in multiple myeloma. A case report and review of the literature. Int J Lab Hematol. 2009;31(2):236–40.

3.

Shi M, He R. Plasma cell myeloma with numerous cytoplasmic granules. Blood. 2016;127(8):1073.

4.

Liu H, Sun X. Pleomorphic plasma cell leukemia. Blood. 2015;126(21):2436.

5.

Grier DD, Robbins K. Signet-ring plasma cell myeloma. Am J of Hematol. 2012;87(6):625.

6.

Qureshi A, Kashif M. Crystal-storing histiocytosis. Blood. 2010;115(13):2568.

7.

Lee JS, Im K, Park SN, Park HS, Kim JA, Choi Q, et al. A challenging diagnosis: crystal-storing histiocytosis in plasma cell myeloma. Am J Clin Pathol. 2015;143(2):300–4.
Ethics declarations
Conflict of interest
The authors have no conflicts of interest to disclose.
About this article
Cite this article
Zhu, J., Pan, B., Yao, J. et al. Plasma cell myeloma with histiocyte-like morphology. Int J Hematol 106, 307–309 (2017). https://doi.org/10.1007/s12185-017-2249-6
Received:

Revised:

Accepted:

Published:

Issue Date:
Keywords
Plasma cell myeloma

Morphology

Bone marrow