Abstract
The objective of the study was to examine levels of intracellular iron, reactive oxygen species (ROS) and the expression of JNK and p38MAPK in NK cells and hematopoietic stem/progenitor cells (HSPCs) in MDS patients, and explore potential mechanisms by which iron overload (IOL) promotes MDS progression. Thirty-four cases of MDS and six cases of AML transformed from MDS (MDS/AML) were included. HSPCs and NK cells were isolated by magnetic absorption cell sorting. We used flow cytometry to detect the levels of ROS and intracellular JNK and P38 in NK cells and HSPCs. Total RNA and protein were extracted from NK cells and CD34+ cells to examine the expression of JNK and p38MAPK using RT-PCR and Western blotting. Intracellular iron concentration was detected. Data were analyzed by SPSS 21 statistical software. Intracellular iron concentration and ROS were increased in both NK cells and HSPCs in MDS patients with iron overload (P < 0.05). MDS patients with iron overload had higher JNK expression and lower p38 expression in NK cells, and higher p38 expression in HSPCs compared with non-iron overload group. IOL may cause alterations in NK cells and HSPCs through the JNK and p38 pathways, and play a role in the transformation to AML from MDS.
Access options
Buy single article
Instant access to the full article PDF.
USD 39.95
Price excludes VAT (USA)
Tax calculation will be finalised during checkout.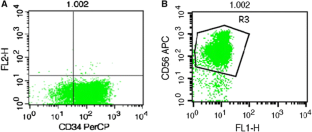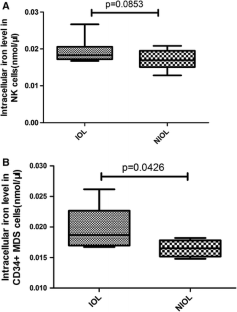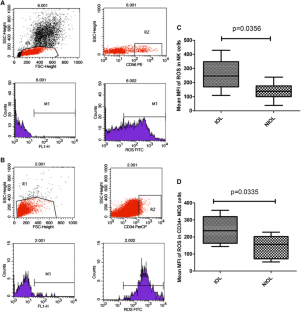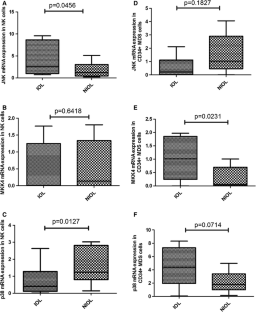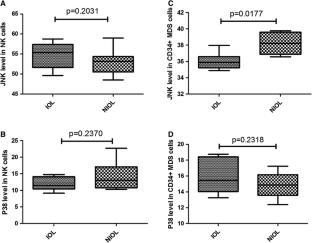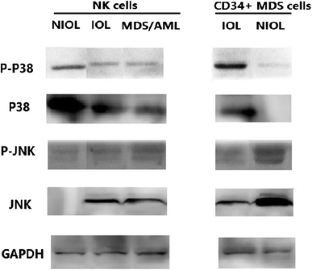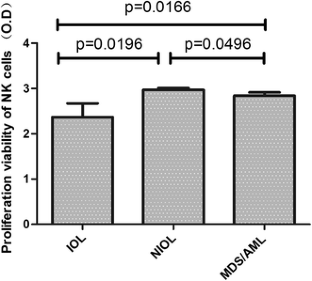 References
Malcovati L, Porta MG, Pascutto C, Invernizzi R, Boni M, Travaglino E, et al. Prognostic factors and life expectancy in myelodysplastic syndromes classified according to WHO criteria: a basis for clinical decision making. J Clin Oncol. 2005;23:7594–603.

Cazzola M, Malcovati L. Myelodysplastic syndromes—coping with ineffective hematopoiesis. N Engl J Med. 2005;352:536–8.

Takatoku M, Uchiyama T, Okamoto S, Kanakura Y, Sawada K, Tomonaga M, et al. Retrospective nationwide survey of Japanese patients with transfusion-dependent MDS and aplastic anemia highlights the negative impact of iron overload on morbidity/mortality. Eur J Haematol. 2007;78:487–94.

Goldberg SL, Chen E, Corral M, Guo A, Mody-Patel N, Pecora AL, et al. Incidence and clinical complications of myelodysplastic syndromes among United States Medicare beneficiaries. J Clin Oncol. 2010;28:2847–52.

Lyons RM, Marek BJ, Paley C, Esposito J, Garbo L, DiBella N, et al. Comparison of 24-month outcomes in chelated and non-chelated lower-risk patients with myelodysplastic syndromes in a prospective registry. Leuk Res. 2014;38:149–54.

Delforge M, Selleslag D, Beguin Y, Triffet A, Mineur P, Theunissen K, et al. Adequate iron chelation therapy for at least six months improves survival in transfusion-dependent patients with lower risk myelodysplastic syndromes. Leuk Res. 2014;38:557–63.

Lee JH, Khor TO, Shu L, Su ZY, Fuentes F, Kong AN, et al. Dietary phytochemicals and cancer prevention: Nrf2 signaling, epigenetics, and cell death mechanisms in blocking cancer initiation and progression. Pharmacol Ther. 2013;137:153–71.

Pearson G, Robinson F, Gibson TB, Xu BE, Karandikar M, Berman K, et al. Mitogen-activated protein (MAP) kinase pathways: regulation and physiological functions. Endocr Rev. 2001;22:153–83.

Gattermann N, Rachmilewitz EA. Iron overload in MDS-pathophysiology, diagnosis, and complications. Ann Hematol. 2011;90:1–10.

Rose C, Brechignac S, Vassilief D, Pascal L, Stamatoullas A, Guerci A, et al. Does iron chelation therapy improve survival in regularly transfused lower risk MDS patients? A multicenter study by the GFM (Groupe Francophone des Myélodysplasies). Leuk Res. 2010;34:864–70.

Epling-Burnette PK, Bai F, Painter JS, Rollison DE, Salih HR, Krusch M, et al. Reduced natural killer (NK) function associated with high–risk myelodysplastic syndrome (MDS) and reduced expression of activating NK receptors. Blood. 2007;109:4816–24.

Mi H, Fu R, Wang H, Qu W, Ruan E, Wang X, et al. Changes of natural kill cell in peripheral blood of patients with myelodysplastic syndrome. Zhonghua Yi Xue Za Zhi. 2014;94:737–41.

Chinese Society of Hematology/Chinese Medical Doctor Association, Hematology Branch. A Chinese expert panel consensus statement on diagnosis and treatment of iron overload. Chin J Hematol. 2011;32:572–4.

Antosiewicz J, Ziolkowski W, Kaczor JJ, Herman-Antosiewicz A. Tumor necrosis factor-alpha-induced reactive oxygen species formation is mediated by JNK1-dependent ferritin degradation and elevation of labile iron pool. Free Radic Biol Med. 2007;43:265–70.

Deb S, Johnson EE, Robalinho-Teixeira RL, Wessling-Resnick M. Modulation of intracellular iron levels by oxidative stress implicates a novel role for iron in signal transduction. Biometals. 2009;22:855–62.

Jian J, Yang Q, Dai J, Eckard J, Axelrod D, Smith J, et al. Effects of iron deficiency and overload on angiogenesis and oxidative stress -a potential dual role for iron in breast cancer. Free Radic Biol Med. 2011;50:841–7.

Yu Y, Richardson DR. Cellular iron depletion stimulates the JNK and p38 MAPK signaling transduction pathways, dissociation of ASK1-thioredoxin, and activation of ASK1. J Biol Med. 2011;286:15413–27.

Cherayil BJ. Iron and immunity: immunological consequences of iron deficiency and overload. Arch Immunol Ther Exp (Warsz). 2010;58:407–15.

Teng DH, Perry WL 3rd, Hogan JK, Baumgard M, Bell R, Berry S, et al. Human mitogen-activated protein kinase kinase 4 as a candidate tumor suppressor. Cancer Res. 1997;57:4177–82.

Finegan KG, Tournier C. The mitogen-activated protein kinase kinase 4 has a pro-oncogenic role in skin cancer. Cancer Res. 2010;70:5797–806.

Huang C, Huang K, Wang C, Jiang ZD, Li XX, Wang HP, et al. Overexpression of mitogen-activated protein kinase kinase 4 and nuclear factor-kappaB in laryngeal squamous cell carcinoma: a potential indicator for poor prognosis. Oncol Rep. 2009;22:89–95.

Wilkinson MG, Millar JB. Control of the eukaryotic cell cycle by MAP kinase signaling pathways. FASEB J. 2000;14:2147–57.
Acknowledgements
Yanni Hua, Chaomeng Wang, Huijuan Jiang, Yihao Wang, Chunyan Liu, Lijuan Li, Hui Liu, Zonghong Shao, and Rong Fu, all from the Department of Hematology, Tianjin Medical University General Hospital, made contributions to the manuscript. All authors agreed to the content of the manuscript and its submission to IJH.
Ethics declarations
Conflict of interest
All authors have no financial relationship with any organization that sponsored the research. The authors declare no conflicts of interest.
About this article
Cite this article
Hua, Y., Wang, C., Jiang, H. et al. Iron overload may promote alteration of NK cells and hematopoietic stem/progenitor cells by JNK and P38 pathway in myelodysplastic syndromes. Int J Hematol 106, 248–257 (2017). https://doi.org/10.1007/s12185-017-2237-x
Received:

Revised:

Accepted:

Published:

Issue Date:

DOI: https://doi.org/10.1007/s12185-017-2237-x
Keywords
Myelodysplastic syndromes

Iron overload

JNK

P38MAPK