Abstract
Composite mature B-cell lymphoproliferative neoplasms are rare entities characterized by the simultaneous presence of two or more distinctive B-cell derived monoclonal malignancies. This retrospective study used multiparametric flow cytometric analysis aimed at immunophenotypic profiling of composite mature B-cell lymphoproliferative neoplasms in a cohort of 413 subsequent patients with de novo leukemic B-cell chronic lymphoproliferative disorders diagnosed in our institution during a 30-month period. Biclonality was found in 16 (3.9 %) patients. The vast majority (88 %) of the cases had one of the clones phenotypically corresponding to chronic lymphocytic leukemia/small lymphocytic lymphoma (CLL/SLL). Only when composite cases were categorized by phenotype of the non-CLL/SLL malignant population did we find a statistically significant (P = 0.001) higher frequency of biclonality among cases with hairy cell leukemia (22 %). Biclonal cases had the overall B-cell membrane κ to λ ratio within the normal range (median, 1.9; reference interval 0.5–4.0), making recognition of malignancy somewhat challenging. Our analysis strategy was therefore based on the detection of aberrant B-cell phenotypes, with subsequent confirmation of the monoclonal nature of neoplastic clones with regards to light chain restriction analysis. Discrimination of the coexisting clones in biclonal cases was possible on the basis of the expression of other antigen(s) (63 %), light scatter properties (44 %), different surface light chain restriction (69 %) and/or pattern of expression (44 %). The most informative cell surface antigens proved to be CD22, CD20, surface IgM, and CD23. In conclusion, historic κ/λ ratio is not a reliable approach and is a poor measurement for the detection of composite lymphomas. More creative analysis techniques should be utilized for this purpose.
Access options
Buy single article
Instant access to the full article PDF.
USD 39.95
Price excludes VAT (USA)
Tax calculation will be finalised during checkout.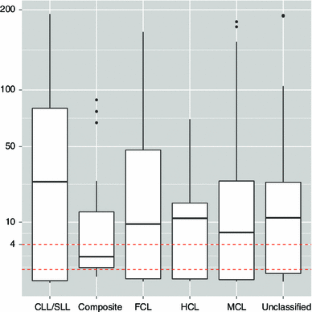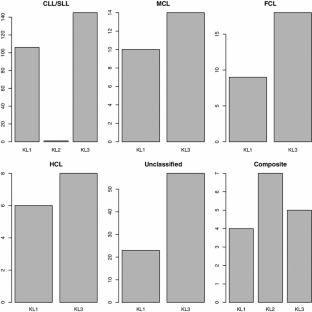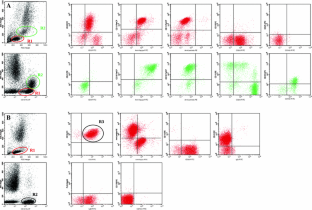 References
Matutes E, Owusu-Ankomah K, Morilla R, Garcia Marco J, Houlihan A, Que TH, Catovsky D. The immunological profile of B-cell disorders: a proposal of a scoring system for the diagnosis of CLL. Leukemia. 1994;8(10):1640–5.

Montserrat E. Chronic lymphoproliferative disorders. Curr Opin Oncol. 1997;9(1):34–41.

Swerdlow SH, Campo E, Harris NL, Jaffe ES, Pileri SA, Stein H, et al., editors. WHO classification of tumours of haematopoietic and lymphoid tissues. 4th ed. Lyon: International agency for research on cancer (IARC); 2008.

Sklar J, Cleary ML, Thielemans K, Garlow J, Warnke R, Levy R. Biclonal B-cell lymphoma. New Engl J Med. 1984;311(1):20–7.

Fend F, Quintanilla-Martinez L, Kumar S, Beaty MW, Blom L, Sorbara L, et al. Composite low grade B-cell lymphomas with two immunophenotypically distinct cell populations are true biclonal lymphomas. A molecular analysis using laser capture microdissection. Am J Pathol. 1999;154(6):1857–66.

Gonzalez-Campos J, Rios-Herranz E, De Blas-Orlando JM, Martin-Noya A, Parody-Ruiz-Berdejo R, Rodriguez-Fernandez JM. Chronic lymphocytic leukemia with two cellular populations: a biphenotypic or biclonal disease. Ann Haematol. 1997;74:243–6.

Sanchez ML, Almeida J, Gonzalez D, Gonzalez M, Garcia-Marcos MA, Balanzategui A, et al. Incidence and clinicobiologic characteristics of leukemic B-cell chronic lymphoproliferative disorders with more than one B-cell clone. Blood. 2003;102(8):2994–3002.

Gine E, Bosch F, Villamor N, Rozman N, Colomer D, Lopez-Guillermo A, et al. Simultaneous diagnosis of hairy cell leukemia and chronic lymphocytic leukemia/small lymphocytic lymphoma: a frequent association? Leukemia. 2002;16(8):1454–9.

Demurtas A, Aliberti S, Bonello L, Di Celle PF, Cavaliere C, Barreca A, et al. Usefulness of multiparametric flow cytometry in detecting composite lymphoma: a study of 17 cases in a 12-year period. Am J Clin Pathol. 2011;135(4):541–55.

Hsi ED, Hoeltge G, Tubbs RR. Biclonal chronic lymphocytic leukemia. Am J Clin Pathol. 2000;113(6):798–804.

Dennis KL, Wallentine SL, Vanveldhuizen PJ, Persons DL, Mathur SC. Biclonal post-transplant B-cell lymphoma: report of the case with two distinct cell populations, XX, t(14;18) and XY, t(11;14). Cancer Genet Cytogenet. 2007;173(2):150–3.

Zamo A, Zanotti R, Lestani M, Ott G, Katzenberger T, Scarpa A, et al. Molecular characterization of composite mantle cell and follicular lymphoma. Virchows Arch. 2006;448(5):639–43.

Deville JP, Heimann P, El Housni H, Boutriaux M, Jeronnez A, Remmelink M, et al. Biclonal low grade B-cell lymphoma confirmed by both flow cytometry and karyotypic analysis, in spite of a normal kappa/lambda Ig light chain ratio. Am J Hematol. 2007;82(6):473–80.

Roulett MR, Martinez D, Ma L, Flowler MH, McPhail ED, Judkins A, et al. Coexisting follicular and mantle cell lymphoma with each having an in situ component: a novel, curious and complex consultation case of coincidental, composite, colonizing lymphoma. Am J Clin Pathol. 2010;133(4):584–91.

Ilgenfritz RB, Le Tourneau A, Arborio M, Molina TJ, Diebold J, Damotte D, et al. Composite mantle cell and follicular lymphoma. A case report. Hum Pathol. 2009;40(2):259–63.

Lefebrve C, Fabre B, Vettier C, Rabin L, Florin A, Wang J, et al. Composite splenic marginal zone lymphoma and mantle cell lymphoma arising from 2 independent B-cell clones. Hum Pathol. 2007;38(4):660–7.

Sanchez ML, Almeida J, Lopez A, Sayagues JM, Rasillo A, Sarasquete EA, et al. Heterogeneity of neoplastic cells in B-cell chronic lymphoproliferative disorders: biclonality versus intraclonal evolution of a single tumor cell clone. Haematologica. 2006;91(3):331–9.
Acknowledgments
This study was supported in part by grant from Croatian Ministry of Science, Education and Sports, Number 214-1081347-0355 (PI Drago Batinić).
Conflict of interest
The authors declare that they have no conflict of interest.
About this article
Cite this article
Perković, S., Bašić-Kinda, S., Aurer, I. et al. Multiparameter flow cytometry is necessary for detection, characterization and diagnostics of composite mature B-cell lymphoproliferative neoplasms. Int J Hematol 98, 589–596 (2013). https://doi.org/10.1007/s12185-013-1432-7
Received:

Revised:

Accepted:

Published:

Issue Date:

DOI: https://doi.org/10.1007/s12185-013-1432-7
Keywords
Flow cytometry

Composite lymphoma

Lymphoma, non-Hodgkin

Immunoglobulin light chains

Hematology