Abstract
Allogeneic peripheral blood stem cell transplantation (PBSCT) is an indispensable treatment option for hematological malignancy. The optimal collection day after granulocyte colony-stimulating factor (G-CSF) administration should be determined by peripheral blood pre-apheresis CD34 positive (CD34+) cell percentage. However, pre-apheresis CD34+ cell analysis is not available for most institutions in Japan. Prediction of the optimal collection day based on objective parameters, other than direct CD34+ cell count, is thus an important matter for investigation. To identify potential predictive factors, clinical parameters in 79 related donors who received allogeneic peripheral blood stem cell (PBSC) collection were analyzed. Eight factors were significantly correlated with the number of CD34+ cells per donor body weight on the fourth day (day 4) after G-CSF administration in univariate analysis. Using multi-regression analysis, we made a simple scoring system comprising age, sex, LDH on day 4 and RBC count at the baseline, which significantly predicted CD34+ cell yield (P = 0.048). This system allows us to determine the optimal PBSC collection day. When the score is 0 or 1 on day 4, starting apheresis on day 5 potentially helps avoiding the need for multiple harvests. Score 3 or 4 on day 4 is indicative of better performance if apheresis is started on day 4.
Access options
Buy single article
Instant access to the full article PDF.
US$ 39.95
Tax calculation will be finalised during checkout.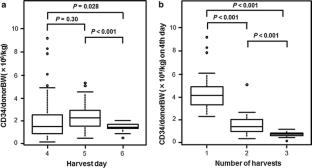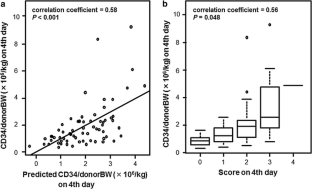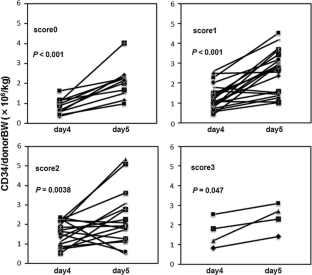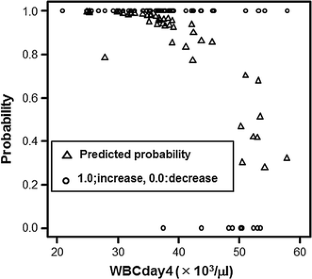 References
1.

Koreth J, Schlenk R, Kopecky KJ, Honda S, Sierra J, Djulbegovic BJ, et al. Allogeneic stem cell transplantation for acute myeloid leukemia in first complete remission: systematic review and meta-analysis of prospective clinical trials. JAMA. 2009;301:2349–61.

2.

Yagasaki H, Kojima S, Yabe H, Kato K, Kigasawa H, Sakamaki H, et al. Acceptable HLA-mismatching in unrelated donor bone marrow transplantation for patients with acquired severe aplastic anemia. Blood. 2011;118:3186–90.

3.

Izutsu K, Kanda Y, Ohno H, Sao H, Ogawa H, Miyazaki Y, et al. Unrelated bone marrow transplantation for non-Hodgkin lymphoma: a study from the Japan Marrow Donor Program. Blood. 2004;103:1955–60.

4.

Gratwohl A, Baldomero H, Schwendener A, Rocha V, Apperley J, Frauendorfer K, et al. The EBMT activity survey 2007 with focus on allogeneic HSCT for AML and novel cellular therapies. Bone Marrow Transplant. 2009;43:275–91.

5.

Moog R. Apheresis techniques for collection of peripheral blood progenitor cells. Transfus Apher Sci. 2004;31:207–20.

6.

Tigue CC, McKoy JM, Evens AM, Trifilio SM, Tallman MS, Bennett CL. Granulocyte-colony stimulating factor administration to healthy individuals and persons with chronic neutropenia or cancer: an overview of safety considerations from the Research on Adverse Drug Events and Reports project. Bone Marrow Transplant. 2007;40:185–92.

7.

Stroncek DF, Clay ME, Petzoldt ML, Smith J, Jaszcz W, Oldham FB, et al. Treatment of normal individuals with granulocyte-colony-stimulating factor: donor experiences and the effects on peripheral blood CD34+ cell counts and on the collection of peripheral blood stem cells. Transfusion. 1996;36:601–10.

8.

Anderlini P, Körbling M, Dale D, Gratwohl A, Schmitz N, Stroncek D, et al. Allogeneic blood stem cell transplantation: considerations for donors. Blood. 1997;90:903–8.

9.

Falzetti F, Aversa F, Minelli O, Tabilio A. Spontaneous rupture of spleen during peripheral blood stem-cell mobilisation in a healthy donor. Lancet. 1999;353:555.

10.

Tjønnfjord GE, Steen R, Evensen SA, Thorsby E, Egeland T. Characterization of CD34+ peripheral blood cells from healthy adults mobilized by recombinant human granulocyte colony-stimulating factor. Blood. 1994;84:2795–801.

11.

Sekhsaria S, Fleisher TA, Vowells S, Brown M, Miller J, Gordon I, et al. Granulocyte colony-stimulating factor recruitment of CD34+ progenitors to peripheral blood: impaired mobilization in chronic granulomatous disease and adenosine deaminase—deficient severe combined immunodeficiency disease patients. Blood. 1996;88:1104–12.

12.

Dreger P, Haferlach T, Eckstein V, Jacobs S, Suttorp M, Löffler H, et al. G-CSF-mobilized peripheral blood progenitor cells for allogeneic transplantation: safety, kinetics of mobilization, and composition of the graft. Br J Haematol. 1994;87:609–13.

13.

Guideline for allogeneic peripheral blood stem cell collection from unrelated donors. 2010 [cited 2013 Feb]. http://www.jmdp.or.jp/documents/file/04_medical/f-up03a.pdf.

14.

Bender JG, To LB, Williams S, Schwartzberg LS. Defining a therapeutic dose of peripheral blood stem cells. J Hematother. 1992;1:329–41.

15.

Tricot G, Jagannath S, Vesole D, Nelson J, Tindle S, Miller L, et al. Peripheral blood stem cell transplants for multiple myeloma: identification of favorable variables for rapid engraftment in 225 patients. Blood. 1995;85:588–96.

16.

Negrin RS, Kusnierz-Glaz CR, Still BJ, Schriber JR, Chao NJ, Long GD, et al. Transplantation of enriched and purged peripheral blood progenitor cells from a single apheresis product in patients with non-Hodgkin's lymphoma. Blood. 1995;85:3334–41.

17.

Anguita-Compagnon AT, Dibarrart MT, Palma J, Paredes L, Mosso C, Montalva R, et al. Mobilization and collection of peripheral blood stem cells: guidelines for blood volume to process, based on CD34-positive blood cell count in adults and children. Transplant Proc. 2010;42:339–44.

18.

Endo-Matsubara M, Ogawa S, Sasaki K, Takahashi T, Chiba S, Hirai H. Immature granulocyte fraction in the peripheral blood is a practical indicator for mobilization of CD34(+) cells. Am J Hematol. 2004;77:223–8.

19.

Cytometry, S.o.F. Report of the Hematology Standardization Committee Guidelines for CD34+ Cell Determination by Flow Cytometry (JCCLS H3-P V1.0). 2007 [cited 2013 20th, February]; http://www.jccls.org/techreport/fct_h3pv1.pdf.

20.

Sutherland DR, Anderson L, Keeney M, Nayar R, Chin-Yee I. The ISHAGE guidelines for CD34+ cell determination by flow cytometry. International Society of Hematotherapy and Graft Engineering. J Hematother. 1996;5:213–26.

21.

Passos-Coelho JL, Braine HG, Davis JM, Huelskamp AM, Schepers KG, Ohly K, et al. Predictive factors for peripheral-blood progenitor-cell collections using a single large-volume leukapheresis after cyclophosphamide and granulocyte-macrophage colony-stimulating factor mobilization. J Clin Oncol. 1995;13:705–14.

22.

Elliott C, Samson DM, Armitage S, Lyttelton MP, McGuigan D, Hargreaves R, et al. When to harvest peripheral-blood stem cells after mobilization therapy: prediction of CD34-positive cell yield by preceding day CD34-positive concentration in peripheral blood. J Clin Oncol. 1996;14:970–3.

23.

de la Rubia J, Lorenzo JI, Torrabadella M, Marín P, Insunza A, Sanz MA. Basal CD34(+) cell count predicts peripheral blood progenitor cell mobilization and collection in healthy donors after administration of granulocyte colony-stimulating factor. Haematologica. 2004;89:1530–2.

24.

Okano A, Ashihara E, Shimazaki C, Uchiyama H, Inaba T, Taniguchi K, et al. Predictive parameters for granulocyte colony-stimulating factor-induced peripheral blood stem cell mobilization. J Clin Apher. 2008;23:171–7.

25.

Suzuya H, Watanabe T, Nakagawa R, Watanabe H, Okamoto Y, Onishi T, et al. Factors associated with granulocyte colony-stimulating factor-induced peripheral blood stem cell yield in healthy donors. Vox Sang. 2005;89:229–35.

26.

Kozuka T, Ikeda K, Teshima T, Yoshida C, Shinagawa K, Kojima K, et al. Peripheral blood circulating immature cell counts predict CD34+ cell yields in G-CSF-induced PBPC mobilization in healthy donors. Transfusion. 2004;44:526–32.

27.

Namba N, Matsuo K, Kubonishi S, Kikuchi T, Maeda Y, Niiya M, et al. Prediction of number of apheresis procedures necessary in healthy donors to attain minimally required peripheral blood CD34+ cells. Transfusion. 2009;49:2384–9.

28.

Grigg AP, Roberts AW, Raunow H, Houghton S, Layton JE, Boyd AW, et al. Optimizing dose and scheduling of filgrastim (granulocyte colony-stimulating factor) for mobilization and collection of peripheral blood progenitor cells in normal volunteers. Blood. 1995;86:4437–45.

29.

Moncada V, Bolan C, Yau YY, Leitman SF. Analysis of PBPC cell yields during large-volume leukapheresis of subjects with a poor mobilization response to filgrastim. Transfusion. 2003;43:495–501.

30.

Stiff PJ. Management strategies for the hard-to-mobilize patient. Bone Marrow Transplant. 1999;23(Suppl 2):S29–33.
Acknowledgments
We are grateful for the technical assistance of all the staff of the Department of Transfusion Medicine and the Department of Clinical Laboratory, in especial to Ms. Mika Matsuhashi, Ms. Yuuko Mishima, Mr. Masahiro Johna, and Mr. Naoyuki Yoshikawa.
Conflict of interest
The authors declare that they have no conflicts of interest relevant to the manuscript.
Electronic supplementary material
Below is the link to the electronic supplementary material.
About this article
Cite this article
Yoshizato, T., Watanabe-Okochi, N., Nannya, Y. et al. Prediction model for CD34 positive cell yield in peripheral blood stem cell collection on the fourth day after G-CSF administration in healthy donors. Int J Hematol 98, 56–65 (2013). https://doi.org/10.1007/s12185-013-1366-0
Received:

Revised:

Accepted:

Published:

Issue Date:
Keywords
Peripheral blood stem cell transplantation

Donor

CD34+ cells

Apheresis