Abstract
Although abnormal peripheral blood counts are a key diagnostic finding for acute leukemia in children, between 2003 and 2010 we observed seven pediatric cases without peripheral blood abnormalities and showing abnormal signals in the bone marrow by magnetic resonance imaging (MRI). The common chief complaint in these patients was bone pain and fever. Bone marrow tests revealed six out of the seven cases to be acute leukemia, whereas one patient was diagnosed with juvenile idiopathic arthritis (JIA). There was no evident difference in MRI findings between leukemia patients and JIA patient. In three cases of leukemia, initial bone marrow aspiration failed to show the presence of leukemic cells, and diagnosis was only made by repeated bone marrow examination. Our findings indicate that in some cases MRI detects leukemia at an earlier phase than does bone marrow aspiration, suggesting that MRI is useful for the diagnosis of acute leukemia.
This is a preview of subscription content, log in to check access.
Access options
Buy single article
Instant access to the full article PDF.
US$ 39.95
Price includes VAT for USA
Subscribe to journal
Immediate online access to all issues from 2019. Subscription will auto renew annually.
US$ 99
This is the net price. Taxes to be calculated in checkout.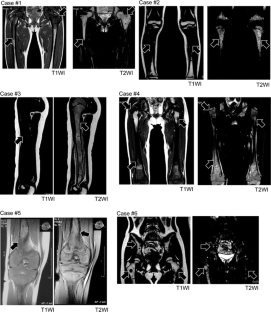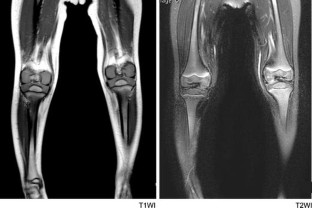 References
1.

Daldrup-Link HE, Henning T, Link TM. MR imaging of therapy-induced changes of bone marrow. Eur Radiol. 2007;17:743–61.

2.

Kwee TC, Fijnheer R, Ludwig I, Quarles van Ufford HM, Uiterwaal CS, Bierings MB, et al. Whole-body magnetic resonance imaging, including diffusion-weighted imaging, for diagnosing bone marrow involvement in malignant lymphoma. Br J Haematol. 2010;149:628–30.

3.

Moulopoulos LA, Dimopoulos MA. Magnetic resonance imaging of the bone marrow in hematologic malignancies. Blood. 1997;90:2127–47.

4.

Shih TT, Hou HA, Liu CY, Chen BB, Tang JL, Chen HY, et al. Bone marrow angiogenesis magnetic resonance imaging in patients with acute myeloid leukemia: peak enhancement ratio is an independent predictor for overall survival. Blood. 2009;113:3161–7.

5.

Takemoto C, Nishiuchi R, Endo C, Oda M, Seino Y. Comparison of two methods for evaluating bone marrow metastasis of neuroblastoma: reverse transcription-polymerase chain reaction for tyrosine hydroxylase and magnetic resonance imaging. Pediatr Int. 2004;46:387–93.
Conflict of interest
None of the authors has a conflict of interest to disclose.
About this article
Cite this article
Kato, M., Koh, K., Kikuchi, A. et al. Case series of pediatric acute leukemia without a peripheral blood abnormality, detected by magnetic resonance imaging. Int J Hematol 93, 787–790 (2011). https://doi.org/10.1007/s12185-011-0842-7
Received:

Revised:

Accepted:

Published:

Issue Date:
Keywords
Acute leukemia

Magnetic resonance imaging

Bone pain