Abstract
Precursor lymphoblastic leukemia/lymphoblastic lymphoma (ALL/LBL) is a malignant neoplasm of precursor lymphocytes of T- or B-cell phenotype. We describe the unusual features of an ALL/LBL in an adolescent man in whom the disease presented with involvement of lymph nodes, but without bone marrow and peripheral blood involvement. Immunohistochemical studies revealed that the tumor cells were positive for CD3, CD34 class II, CD10, CD79a and CD99 but negative for TdT. Even though TdT was negative, he received ALL-therapy and is now in remission.
Access options
Buy single article
Instant access to the full article PDF.
USD 39.95
Price includes VAT (USA)
Tax calculation will be finalised during checkout.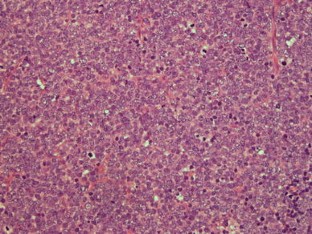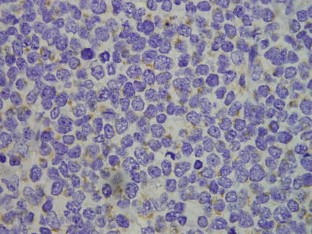 References
1.

Brunning RD, Borowitz M, Matutes E, et al. Precursor T lymphoblastic leukaemia/lymphoblastic lymphoma. In: Jaffe ES, Harris NL, Stein H, Vardima JW, editors. World Health Organization classification of tumors: tumors of haematopoietic and lymphoid tissues. Lyon: IARC Press; 2001. p. 115–7.

2.

Hoelzer D, Gokbuget N, Digel W, et al. Outcome of adult patients with T-lymphoblastic lymphoma treated according to protocols for acute lymphoblastic leukemia. Blood. 2002;99:4379–85.

3.

Knowles DM. Lymphoblastic lymphoma. In: Knowles DM, editor. Neoplastic hematopathology. Philadelphia: Lippincott Williams & Wilkins; 2001. p. 915–51.

4.

Soslow RA, Bhargava V, Warnke RA. MIC2, TdT, bcl–2, and CD34 expression in paraffin-embedded high-grade lymphoma/acute lymphoblastic leukemia distinguishes between distinct clinicopathologic entities. Hum Pathol. 1997;28:1158–65.

5.

Marie JP, Haiat S, Legrand O. More intensive chemotherapy for young adults with ALL? Leuk Res. 2007;31(S2):S45–S46.

6.

Lewis RE, Cruse JM, Sanders CM, Webb RN, et al. The immunophenotype of pre-TALL/LBL revised. Exp Mol Pathol. 2006;81:162–5.

7.

Suzumiya J, Ohshima K, Kikuchi M, Takeshita M, Akamatsu M, Tashiro K. Terminal deoxynucleotidyl transferase staining of malignant lymphomas in paraffin sections: a useful method for the diagnosis of lymphoblastic lymphoma. J Pathol. 1997;182:86–91.

8.

Faber J, Kantarjian H, Roberts MW, Keating M, Freireich E, Albitar M. Terminal deoxynucleotidyl transferase–negative acute lymphoblastic leukemia. Arch Pathol Lab Med. 2000;124:92–7.

9.

Kaleem Z, Crawford E, Pathan MH, et al. Flow cytometric analysis of acute leukemias. Diagnostic utility and critical analysis of data. Arch Pathol Lab Med. 2003;127:42–8.

10.

Reiter A, Schrappe M, Ludwig WD, et al. Intensive ALL-type therapy without local radiotherapy provides a 90% event-free survival for children with T-cell lymphoblastic lymphoma: a BFM group report. Blood. 2000;95:416–21.
About this article
Cite this article
Brčić, I., Labar, B., Perić-Balja, M. et al. Terminal deoxynucleotidyl transferase negative T-cell lymphoblastic lymphoma in aleukemic patient. Int J Hematol 88, 189–191 (2008). https://doi.org/10.1007/s12185-008-0101-8
Received:

Revised:

Accepted:

Published:

Issue Date:
Keywords
T-cell lymphoblastic lymphoma

TdT negative