Zusammenfassung
Hintergrund
Die kontrastmittel (KM)- induzierte Enzephalopathie ist eine seltene Komplikation einer KM-Applikation. Ursächlich ist ein neurotoxischer Effekt, der auf einer osmotischen Störung der Blut-Hirn-Schranke beruht. Die Inzidenz beträgt 0,05–0,11 % bei diagnostischen bzw. 0,3–0,4 % bei interventionellen Herzkathetereingriffen. Bei zerebralen KM-Anwendungen ist die Inzidenz mit 0,3–1 % (diagnostisch) bzw. 2,9 % (interventionell) deutlich höher. Mögliche Symptome sind Sehstörungen, Somnolenz, Krampfanfälle, neurologische Defizite, Kopfschmerzen und Koma. Sie entwickelten sich innerhalb von Minuten/Stunden und gehen meist innerhalb von Stunden/Tagen komplett zurück. Vereinzelt gibt es jedoch persistierende Verläufe bis zum Tod. Leider ist die Selektion von potenziell gefährdeten Patienten nicht suffizient möglich. Unser Fallbericht zeigt dieses Dilemma.
Zusammenfassung
Ein 69-jähriger Patient mit schwerer koronarer Herzerkrankung und bisher 6 Herzkathetereingriffen wurde elektiv zu einem Folgeeingriff mittels perkutaner Hauptstammintervention aufgenommen. Trotz Verabreichung einer KM-Unverträglichkeitsprophylaxe entwickelte sich periinterventionell eine Aphasie und eine komplette Hemiparese rechts. Eine Notfall CT-Diagnostik zeigte eine KM-induzierte Neuropathie. Nach initialer intensivmedizinischer Überwachung und Kortisontherapie kam es im Verlauf zu einer vollständigen Remission der neurologischen Symptomatik.
Diskussion
Die KM-induzierte Enzephalopathie ist eine seltene Komplikation ohne sichere Prädiktoren. Sie scheint unabhängig vom verwendeten KM und der applizierten Dosis zu sein. Bereits nach einmaligem Auftreten eines schweren Verlaufs sollte keine erneute KM-Anwendung erfolgen. Auch eine KM-Prophylaxe verhinderte das Auftreten der Enzephalopathie nicht.
Abstract
Background
Contrast agent-induced encephalopathy is a rare complication after contrast agent application. A neurotoxic effect that leads to an osmotic disturbance of the blood-brain barrier is seen as the pathogenesis. The incidence is reported as 0.05–0.11% in diagnostic and 0.3–0.4% in therapeutic coronary angiography. There are significantly higher incidences after cerebral contrast agent application (0.3–1% diagnostic use, 2.9% therapeutic use). Various neurological deficits like impaired vision, somnolence, seizures, focal neurological deficits, headache and coma were described in the known cases. Symptoms occur within minutes to hours after the application of the contrast agent and within a short span of time the majority of the patients are symptom free again; however, there were also severe cases with persistent deficits and even death. Unfortunately, a safe selection of patients who are potentially in danger is not possible. This case report shows this dilemma more clearly.
Case summary
A 69-year-old patient with a history of severe coronary disease and 6 cardiac catheter interventions was admitted to our hospital in May 2019 to undergo an elective main trunk bifurcation intervention. A prophylaxis was administered before contrast agent application. The patient developed a right-sided hemiparesis as well as aphasia peri-interventionally. The emergency computed tomography (CT) scan showed signs of a contrast agent-induced neuropathy. In the further course after monitoring on the intensive care unit and cortisone treatment there was complete remission of all neurologic symptoms.
Discussion
Contrast agent-induced encephalopathy is a rare complication after contrast agent application. Unfortunately, there are no known certain predictors for the occurrence of this contrast agent-associated complication. The event seems to be independent of the type as well as the dose of administered contrast agent. Even if rarely, severe cases with persistent neurological deficits happen and reapplication should be avoided. Administering a prophylaxis before contrast agent application like in our case did not prevent the occurrence of the encephalopathy.
Access options
Buy single article
Instant access to the full article PDF.
US$ 39.95
Tax calculation will be finalised during checkout.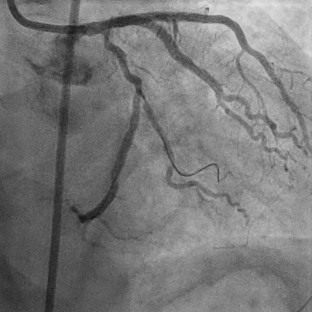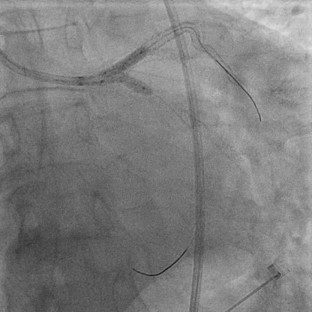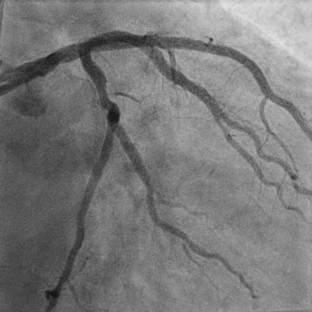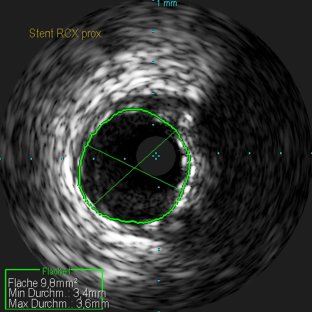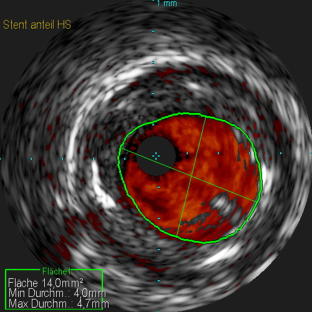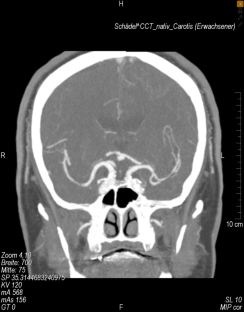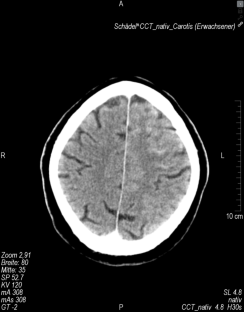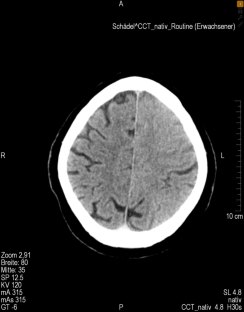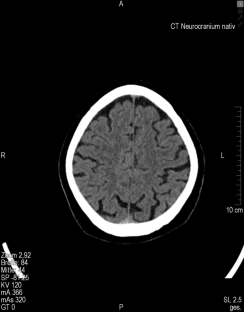 Ethics declarations
Interessenkonflikt
H.J. Gerhardy, M. Meyer-Gessner, F. Picard, P. Lux, S. Jander und R.M. Klein geben an, dass kein Interessenkonflikt besteht.
Für diesen Beitrag wurden von den Autoren keine Studien an Menschen oder Tieren durchgeführt. Für die aufgeführten Studien gelten die jeweils dort angegebenen ethischen Richtlinien. Für Bildmaterial oder anderweitige Angaben innerhalb des Manuskripts, über die Patienten zu identifizieren sind, liegt von ihnen und/oder ihren gesetzlichen Vertretern eine schriftliche Einwilligung vor.
Additional information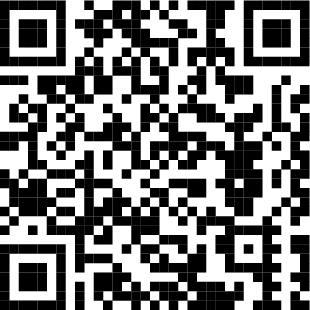 QR-Code scannen & Beitrag online lesen
About this article
Cite this article
Gerhardy, H.J., Meyer-Gessner, M., Picard, F. et al. Kontrastmittelassoziierte Enzephalopathie infolge einer Koronarintervention der Hauptstammbifurkation trotz antiallergischer Prämedikation. Kardiologe (2021). https://doi.org/10.1007/s12181-021-00501-9
Schlüsselwörter
Neurotoxischer Effekt

Kontrastmittelgabe

KM-Prophylaxe

Koronarangiographie

Differentialdiagnose Apoplex
Keywords
Neurotoxic effect

Injection of contrast agent

Contrast agent prophylaxis

Coronary angiography

Differential diagnosis stroke