Zusammenfassung
In den letzten Jahren finden strukturelle kardiale Interventionen zunehmend Anwendung in der klinischen Routine. Trotz der raschen Einführung und Weiterentwicklung dieser Techniken, ist die Evidenz für die optimale antithrombotische Therapie nach solchen Interventionen limitiert, da randomisierte Studien zum Vergleich verschiedener antithrombotischer Therapien für die meisten Einsatzgebiete fehlen. Diese Empfehlung fasst den gegenwärtigen Erkenntnisstand zusammen. Basierend auf den zur Verfügung stehenden Daten, werden Behandlungsempfehlungen formuliert, die Ärzten und ihren Patienten die Entscheidungsfindung erleichtern sollen.
Abstract
In recent years, structural cardiac interventions became an important part of cardiovascular medicine. Despite the rapid development and evolution of these interventional techniques, there is a significant lack of evidence regarding the optimal antithrombotic treatment strategy as randomized trials on this issue are missing for most of these interventions. Thus, this manuscript summarizes the current level of evidence. The listed recommendations are based on available data as well as expert opinion and aim to guide physicians in making decisions for the treatment of patients in this setting.
This is a preview of subscription content, log in to check access.
Access options
Buy single article
Instant access to the full article PDF.
US$ 39.95
Tax calculation will be finalised during checkout.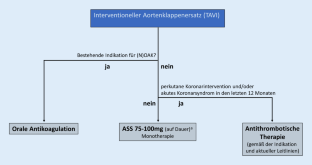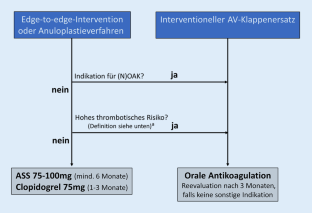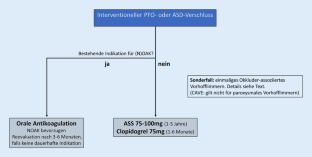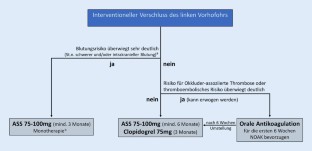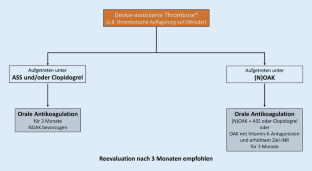 Abbreviations
ACT:

Activated clotting time

ASD:

Atrialer Septumdefekt

ASS:

Acetylsalicylsäure

DAPT:

Duale antithrombozytäre Therapie

DGK:

Deutsche Gesellschaft für Kardiologie – Herz- und Kreislaufforschung e. V.

DRT:

Device-related thrombosis/Device-assoziierte Thrombose

LAAC:

Left atrial appendage closure/linker Vorhofohrverschluss

NOAK:

Nicht-Vitamin-K-antagonistisches orales Antikoagulans

OAK:

Orale Antikoagulation

PFO:

Persistierendes Foramen ovale

TAVI:

Transcatheter aortic valve implantation/Transkatheter-Aortenklappenimplantation
Literatur
1.

Baldus S, v. Bardeleben RS, Eggebrecht H, Elsässer A, Hausleiter J, Ince H, Kelm M, Kuck KH, Lubos E, Nef H, Raake P, Rillig A, Rudolph V, Schulze PC, Schlitt A, Stellbrink C, Möllmann H (2020) Interventionelle Therapie von AV-Klappenerkrankungen – Kriterien für die Zertifizierung von Mitralklappenzentren. Kardiologe 14:339–363. https://doi.org/10.1007/s12181-020-00409-w

2.

Baumgartner H, Falk V, Bax JJ, De Bonis M, Hamm C, Holm PJ, Iung B, Lancellotti P, Lansac E, Rodriguez Munoz D, Rosenhek R, Sjogren J, Tornos Mas P, Vahanian A, Walther T, Wendler O, Windecker S, Zamorano JL (2017) 2017 ESC/EACTS Guidelines for the management of valvular heart disease. Eur Heart J 38(36):2739–2791

3.

Diener HC, Grau AJ, Baldus S, Ghanem A, Groschel K, Liebetrau C, Massberg S, Möllmann H, Nef H, Sander D, Weimar C, Wöhrle J, Mattle H (2018) Cryptogenic stroke and patent foramen ovale : S2e guidelines. Nervenarzt 89(10):1143–1153

4.

Baumgartner H, De Backer J, Babu-Narayan SV, Budts W, Chessa M, Diller G‑P, Lung B, Kluin J, Lang IM, Meijboom F, Moons P, Mulder BJM, Oechslin E, Roos-Hesselink JW, Schwerzmann M, Sondergaard L, Zeppenfeld K, Group ESD (2020) 2020 ESC Guidelines for the management of adult congenital heart disease: The Task Force for the management of adult congenital heart disease of the European Society of Cardiology (ESC). Eur Heart J. https://doi.org/10.1093/eurheartj/ehaa554

5.

Kuck K‑H, Bleiziffer S, Eggebrecht H, Ensminger S, Frerker C, Möllmann H, Nef H, Thiele H, Treede H, Wimmer-Greinecker G, Walther T (2020) Konsensuspapier der Deutschen Gesellschaft für Kardiologie (DGK) und der Deutschen Gesellschaft für Thorax‑, Herz- und Gefäßchirurgie (DGTHG) zur kathetergestützten Aortenklappenimplantation (TAVI) 2020. Kardiologe 14(3):182–204

6.

Urban P, Mehran R, Colleran R, Angiolillo DJ, Byrne RA, Capodanno D, Cuisset T, Cutlip D, Eerdmans P, Eikelboom J, Farb A, Gibson CM, Gregson J, Haude M, James SK, Kim HS, Kimura T, Konishi A, Laschinger J, Leon MB, Magee PFA, Mitsutake Y, Mylotte D, Pocock S, Price MJ, Rao SV, Spitzer E, Stockbridge N, Valgimigli M, Varenne O, Windhoevel U, Yeh RW, Krucoff MW, Morice MC (2019) Defining high bleeding risk in patients undergoing percutaneous coronary intervention. Circulation 140(3):240–261

7.

Jakobsen L, Terkelsen CJ, Sondergaard L, De Backer O, Aaroe J, Nissen H, Johnsen SP, Christiansen EH (2018) Short- and long-term mortality and stroke risk after transcatheter aortic valve implantation. Am J Cardiol 121(1):78–85

8.

Rodes-Cabau J, Masson JB, Welsh RC, Garcia Del Blanco B, Pelletier M, Webb JG, Al-Qoofi F, Genereux P, Maluenda G, Thoenes M, Paradis JM, Chamandi C, Serra V, Dumont E, Cote M (2017) Aspirin versus aspirin plus clopidogrel as antithrombotic treatment following transcatheter aortic valve replacement with a balloon-expandable valve: the ARTE (aspirin versus aspirin + Clopidogrel following Transcatheter aortic valve implantation) randomized clinical trial. JACC Cardiovasc Interv 10(13):1357–1365

9.

Brouwer J, Nijenhuis VJ, Delewi R, Hermanides RS, Holvoet W, Dubois CLF, Frambach P, De Bruyne B, van Houwelingen GK, Van Der Heyden JAS, Toušek P, van der Kley F, Buysschaert I, Schotborgh CE, Ferdinande B, van der Harst P, Roosen J, Peper J, Thielen FWF, Veenstra L, Pin Yin CDRPP, Swaans MJ, Rensing BJWM, van 't Hof AWJ, Timmers L, Kelder JC, Stella PR, Baan J, ten Berg JM (2020) Aspirin with or without clopidogrel after transcatheter aortic-valve implantation. N Engl J Med 383:1447–1457. https://doi.org/10.1056/NEJMoa2017815

10.

Dangas GD, Tijssen JGP, Wohrle J, Sondergaard L, Gilard M, Mollmann H, Makkar RR, Herrmann HC, Giustino G, Baldus S, De Backer O, Guimaraes AHC, Gullestad L, Kini A, von Lewinski D, Mack M, Moreno R, Schafer U, Seeger J, Tchetche D, Thomitzek K, Valgimigli M, Vranckx P, Welsh RC, Wildgoose P, Volkl AA, Zazula A, van Amsterdam RGM, Mehran R, Windecker S, Investigators G (2020) A Controlled Trial of Rivaroxaban after Transcatheter Aortic-Valve Replacement. N Engl J Med 382(2):120–129

11.

Ruile P, Minners J, Breitbart P, Schoechlin S, Gick M, Pache G, Neumann FJ, Hein M (2018) Medium-term follow-up of early leaflet thrombosis after transcatheter aortic valve replacement. JACC Cardiovasc Interv 11(12):1164–1171

12.

Makki N, Shreenivas S, Kereiakes D, Lilly S (2018) A meta-analysis of reduced leaflet motion for surgical and transcatheter aortic valves: Relationship to cerebrovascular events and valve degeneration. Cardiovasc Revasc Med 19(7 Pt B):868–873

13.

Nührenberg TG, Hromek J, Kille A, Hochholzer W, Hein M, Trenk D, Neumann FJ, Stratz C, Ruile P (2019) Impact of on-clopidogrel platelet reactivity on incidence of hypoattenuated leaflet thickening after transcatheter aortic valve replacement. JACC Cardiovasc Interv 12(1):12–18

14.

Chakravarty T, Sondergaard L, Friedman J, De Backer O, Berman D, Kofoed KF, Jilaihawi H, Shiota T, Abramowitz Y, Jorgensen TH, Rami T, Israr S, Fontana G, de Knegt M, Fuchs A, Lyden P, Trento A, Bhatt DL, Leon MB, Makkar RR, Resolve Investigators S (2017) Subclinical leaflet thrombosis in surgical and transcatheter bioprosthetic aortic valves: an observational study. Lancet 389(10087):2383–2392

15.

Ruile P, Jander N, Blanke P, Schoechlin S, Reinohl J, Gick M, Rothe J, Langer M, Leipsic J, Buettner HJ, Neumann FJ, Pache G (2017) Course of early subclinical leaflet thrombosis after transcatheter aortic valve implantation with or without oral anticoagulation. Clin Res Cardiol 106(2):85–95

16.

Genereux P, Cohen DJ, Mack M, Rodes-Cabau J, Yadav M, Xu K, Parvataneni R, Hahn R, Kodali SK, Webb JG, Leon MB (2014) Incidence, predictors, and prognostic impact of late bleeding complications after transcatheter aortic valve replacement. J Am Coll Cardiol 64(24):2605–2615

17.

Nijenhuis VJ, Brouwer J, Delewi R, Hermanides RS, Holvoet W, Dubois CLF, Frambach P, De Bruyne B, van Houwelingen GK, Van Der Heyden JAS, Tousek P, van der Kley F, Buysschaert I, Schotborgh CE, Ferdinande B, van der Harst P, Roosen J, Peper J, Thielen FWF, Veenstra L, Pin Yin CD, Swaans MJ, Rensing B, van 't Hof AWJ, Timmers L, Kelder JC, Stella PR, Baan J, Ten Berg JM (2020) Anticoagulation with or without Clopidogrel after Transcatheter Aortic-Valve Implantation. N Engl J Med 382(18):1696–1707

18.

Overtchouk P, Piazza N, Granada J, Soliman O, Prendergast B, Modine T (2020) Advances in transcatheter mitral and tricuspid therapies. BMC Cardiovasc Disord 20(1):1

19.

Stone GW, Lindenfeld J, Abraham WT, Kar S, Lim DS, Mishell JM, Whisenant B, Grayburn PA, Rinaldi M, Kapadia SR, Rajagopal V, Sarembock IJ, Brieke A, Marx SO, Cohen DJ, Weissman NJ, Mack MJ (2018) Transcatheter mitral-valve repair in patients with heart failure. N Engl J Med 379(24):2307–2318

20.

Praz F, Spargias K, Chrissoheris M, Bullesfeld L, Nickenig G, Deuschl F, Schueler R, Fam NP, Moss R, Makar M, Boone R, Edwards J, Moschovitis A, Kar S, Webb J, Schafer U, Feldman T, Windecker S (2017) Compassionate use of the PASCAL transcatheter mitral valve repair system for patients with severe mitral regurgitation: a multicentre, prospective, observational, first-in-man study. Lancet 390(10096):773–780

21.

Eggebrecht H, Schelle S, Puls M, Plicht B, von Bardeleben RS, Butter C, May AE, Lubos E, Boekstegers P, Ouarrak T, Senges J, Schmermund A (2015) Risk and outcomes of complications during and after MitraClip implantation: experience in 828 patients from the German TRAnscatheter mitral valve interventions (TRAMI) registry. Catheter Cardiovasc Interv 86(4):728–735

22.

Geisler T, Jorbenadze R, Popov AF, Mueller KL, Rath D, Droppa M, Schreieck J, Seizer P, Storey RF, Kristensen SD, Rubboli A, Gorog D, Aradi D, Sibbing D, Huber K, Gawaz M, Ten Berg J (2019) Thrombogenicity and antithrombotic strategies in structural heart interventions and nonaortic cardiac device therapy-current evidence and practice. Thromb Haemost 19(10):1590–1605

23.

Adelborg K, Szepligeti S, Sundboll J, Horvath-Puho E, Henderson VW, Ording A, Pedersen L, Sorensen HT (2017) Risk of stroke in patients with heart failure: a population-based 30-year cohort study. Stroke 48(5):1161–1168

24.

Nickenig G, Hammerstingl C, Schueler R, Topilsky Y, Grayburn PA, Vahanian A, Messika-Zeitoun D, Urena Alcazar M, Baldus S, Volker R, Huntgeburth M, Alfieri O, Latib A, La Canna G, Agricola E, Colombo A, Kuck KH, Kreidel F, Frerker C, Tanner FC, Ben-Yehuda O, Maisano F (2016) Transcatheter mitral annuloplasty in chronic functional mitral regurgitation: 6‑month results with the cardioband percutaneous mitral repair system. JACC Cardiovasc Interv 9(19):2039–2047

25.

Witte KK, Lipiecki J, Siminiak T, Meredith IT, Malkin CJ, Goldberg SL, Stark MA, von Bardeleben RS, Cremer PC, Jaber WA, Celermajer DS, Kaye DM, Sievert H. The REDUCE FMR Trial (2019) A randomized sham-controlled study of percutaneous mitral annuloplasty in functional mitral regurgitation. JACC Heart Fail 7(11):945–955

26.

Kiefer P, Seeburger J (2017) The potential of transapical beating-heart mitral valve repair with neo-chordae. Ann Transl Med 5(1):9

27.

Del Val D, Ferreira-Neto AN, Wintzer-Wehekind J, Dagenais F, Paradis JM, Bernier M, O'Connor K, Beaudoin J, Freitas-Ferraz AB, Rodes-Cabau J (2019) Early experience with transcatheter mitral valve replacement: a systematic review. J Am Heart Assoc 8(17):e13332

28.

Seeger J, Markovic S, Kessler M, Rottbauer W, Wohrle J (2019) Apixaban after percutaneous edge-to-edge mitral valve repair in patients with maintained sinus rhythm. JACC Cardiovasc Interv 12(2):214–216

29.

Hart RG, Catanese L, Perera KS, Ntaios G, Connolly SJ (2017) Embolic stroke of undetermined source: a systematic review and clinical update. Stroke 48(4):867–872

30.

Hart RG, Diener HC, Coutts SB, Easton JD, Granger CB, O'Donnell MJ, Sacco RL, Connolly SJ, Cryptogenic Stroke EIWG (2014) Embolic strokes of undetermined source: the case for a new clinical construct. Lancet Neurol 13(4):429–438

31.

Ntaios G, Papavasileiou V, Sagris D, Makaritsis K, Vemmos K, Steiner T, Michel P (2018) Closure of patent foramen ovale versus medical therapy in patients with cryptogenic stroke or transient Ischemic attack: updated systematic review and meta-analysis. Stroke 49(2):412–418

32.

Lee PH, Song JK, Kim JS, Heo R, Lee S, Kim DH, Song JM, Kang DH, Kwon SU, Kang DW, Lee D, Kwon HS, Yun SC, Sun BJ, Park JH, Lee JH, Jeong HS, Song HJ, Kim J, Park SJ (2018) Cryptogenic stroke and high-risk patent foramen ovale: the DEFENSE-PFO trial. J Am Coll Cardiol 71(20):2335–2342

33.

Pristipino C, Sievert H, D'Ascenzo F, Louis Mas J, Meier B, Scacciatella P, Hildick-Smith D, Gaita F, Toni D, Kyrle P, Thomson J, Derumeaux G, Onorato E, Sibbing D, Germonpre P, Berti S, Chessa M, Bedogni F, Dudek D, Hornung M, Zamorano J, Evidence Synthesis T, Eapci Scientific D, Initiatives C, International E (2019) European position paper on the management of patients with patent foramen ovale. General approach and left circulation thromboembolism. Eur Heart J 40(38):3182–3195

34.

Kuijpers T, Spencer FA, Siemieniuk RAC, Vandvik PO, Otto CM, Lytvyn L, Mir H, Jin AY, Manja V, Karthikeyan G, Hoendermis E, Martin J, Carballo S, O'Donnell M, Vartdal T, Baxter C, Patrick-Lake B, Scott J, Agoritsas T, Guyatt G (2018) Patent foramen ovale closure, antiplatelet therapy or anticoagulation therapy alone for management of cryptogenic stroke? A clinical practice guideline. BMJ 362:k2515

35.

Elgendy AY, Elgendy IY, Mojadidi MK, Mahmoud AN, Barry JS, Jneid H, Wayangankar SA, Tobis JM, Meier B (2019) New-onset atrial fibrillation following percutaneous patent foramen ovale closure: a systematic review and meta-analysis of randomised trials. EuroIntervention 14(17):1788–1790

36.

Kent DM, Ruthazer R, Weimar C, Mas JL, Serena J, Homma S, Di Angelantonio E, Di Tullio MR, Lutz JS, Elkind MS, Griffith J, Jaigobin C, Mattle HP, Michel P, Mono ML, Nedeltchev K, Papetti F, Thaler DE (2013) An index to identify stroke-related vs incidental patent foramen ovale in cryptogenic stroke. Neurology 81(7):619–625

37.

Saver JL, Mattle HP, Thaler D (2018) Patent foramen ovale closure versus medical therapy for cryptogenic ischemic stroke: a topical review. Stroke 49(6):1541–1548

38.

Kirchhof P, Benussi S, Kotecha D, Ahlsson A, Atar D, Casadei B, Castella M, Diener HC, Heidbuchel H, Hendriks J, Hindricks G, Manolis AS, Oldgren J, Popescu BA, Schotten U, Van Putte B, Vardas P (2016) 2016 ESC Guidelines for the management of atrial fibrillation developed in collaboration with EACTS. Eur Heart J 37(38):2893–2962

39.

Dukkipati SR, Kar S, Holmes DR, Doshi SK, Swarup V, Gibson DN, Maini B, Gordon NT, Main ML, Reddy VY (2018) Device-related thrombus after left atrial appendage closure: incidence, predictors, and outcomes. Circulation 138(9):874–885

40.

Pracon R, Bangalore S, Dzielinska Z, Konka M, Kepka C, Kruk M, Kaczmarska-Dyrda E, Petryka-Mazurkiewicz J, Bujak S, Solecki M, Pskit A, Dabrowska A, Sieradzki B, Plonski A, Ruzyllo W, Witkowski A, Demkow M (2018) Device thrombosis after percutaneous left atrial appendage occlusion is related to patient and procedural characteristics but not to duration of Postimplantation dual Antiplatelet therapy. Circ Cardiovasc Interv 11(3):e5997

41.

Sedaghat A, Schrickel JW, Andrie R, Schueler R, Nickenig G, Hammerstingl C (2017) Thrombus formation after left atrial appendage occlusion with the amplatzer amulet device. JACC Clin Electrophysiol 3(1):71–75

42.

Fauchier L, Cinaud A, Brigadeau F, Lepillier A, Pierre B, Abbey S, Fatemi M, Franceschi F, Guedeney P, Jacon P, Paziaud O, Venier S, Deharo JC, Gras D, Klug D, Mansourati J, Montalescot G, Piot O, Defaye P (2018) Device-related thrombosis after percutaneous left atrial appendage occlusion for atrial fibrillation. J Am Coll Cardiol 71(14):1528–1536

43.

Reddy VY, Doshi SK, Sievert H, Buchbinder M, Neuzil P, Huber K, Halperin JL, Holmes D (2013) Percutaneous left atrial appendage closure for stroke prophylaxis in patients with atrial fibrillation: 2.3-Year Follow-up of the PROTECT AF (Watchman Left Atrial Appendage System for Embolic Protection in Patients with Atrial Fibrillation) Trial. Circulation 127(6):720–729

44.

Pison L, Potpara TS, Chen J, Larsen TB, Bongiorni MG, Blomstrom-Lundqvist C (2015) Left atrial appendage closure-indications, techniques, and outcomes: results of the European Heart Rhythm Association Survey. Europace 17(4):642–646

45.

Sondergaard L, Wong YH, Reddy VY, Boersma LVA, Bergmann MW, Doshi S, Kar S, Sievert H, Wehrenberg S, Stein K, Holmes DR Jr. (2019) Propensity-matched comparison of oral Anticoagulation versus antiplatelet therapy after left atrial appendage closure with WATCHMAN. JACC Cardiovasc Interv 12(11):1055–1063

46.

Tzikas A, Shakir S, Gafoor S, Omran H, Berti S, Santoro G, Kefer J, Landmesser U, Nielsen-Kudsk JE, Cruz-Gonzalez I, Sievert H, Tichelbacker T, Kanagaratnam P, Nietlispach F, Aminian A, Kasch F, Freixa X, Danna P, Rezzaghi M, Vermeersch P, Stock F, Stolcova M, Costa M, Ibrahim R, Schillinger W, Meier B, Park JW (2016) Left atrial appendage occlusion for stroke prevention in atrial fibrillation: multicentre experience with the AMPLATZER Cardiac Plug. EuroIntervention 11(10):1170–1179

47.

Glikson M, Wolff R, Hindricks G, Mandrola J, Camm AJ, Lip GYH, Fauchier L, Betts TR, Lewalter T, Saw J, Tzikas A, Sternik L, Nietlispach F, Berti S, Sievert H, Bertog S, Meier B (2020) EHRA/EAPCI expert consensus statement on catheter-based left atrial appendage occlusion—an update. EuroIntervention 15(13):1133–1180
Ethics declarations
Interessenkonflikt
Den Interessenkonflikt der Autoren finden Sie online auf der DGK-Homepage unter http://leitlinien.dgk.org/ bei der entsprechenden Publikation.
Additional information
Aus Gründen der besseren Lesbarkeit und Verständlichkeit der Texte wird in Springer-Publikationen in der Regel das generische Maskulinum als geschlechtsneutrale Form verwendet. Diese Form impliziert immer alle Geschlechter.
About this article
Cite this article
Hochholzer, W., Nührenberg, T., Flierl, U. et al. Antithrombotische Therapie nach strukturellen kardialen Interventionen. Kardiologe (2020). https://doi.org/10.1007/s12181-020-00441-w
Schlüsselwörter
Duale antithromboztäre Therapie

Orale Antikoagulation

TAVI

MitraClip

Okkluder
Keywords
Dual antiplatelet therapy

Oral anticoagulation

TAVI

MitraClip

Occluder