Zusammenfassung
Die Antikoagulation hat eine zentrale Rolle im prähospitalen Management des akuten Koronarsyndroms. Viele Patienten werden heute dauerhaft mit neuen oralen Antikoagulanzien (NOAK) behandelt und weisen ein erhöhtes Blutungsrisiko durch die zusätzliche Gabe eines Gerinnungshemmers auf. Derzeit gibt es keine expliziten Empfehlungen der Fachgesellschaften zur prähospitalen antikoagulatorischen Therapie bei diesen Patienten. Daher fasst das folgende Konsensuspapier den aktuellen Wissensstand zusammen und formuliert Empfehlungen für die prähospitale Antikoagulation bei dieser speziellen Patientengruppe. Zusammenfassend sollen Patienten, die ein akutes Koronarsyndrom mit ST-Hebungen aufweisen, unabhängig von der letzten Einnahme eines neuen oralen Antikoagulans Acetylsalicylsäure (ASS) und unfraktioniertes Heparin erhalten. Patienten mit pektanginösen Beschwerden und fehlendem Nachweis von ST-Hebungen sollen ASS appliziert bekommen, während Heparin nur nach individueller Nutzen-Risiko-Abwägung indiziert ist.
Abstract
The anticoagulation strategy in patients suffering from an acute coronary syndrome prior to hospital admission plays a pivotal role in the treatment. Patients treated with non-vitamin K antagonist oral anticoagulants (NOACs) are at a higher risk for bleeding complications but currently no specific recommendations for the prehospital anticoagulation management of these patients exists. This joint consensus paper summarizes the current knowledge and makes recommendations for the treatment of this particular patient group. In summary, patients suffering from an acute coronary syndrome with ST-elevation should receive acetylsalicylic acid and heparin independently of the last intake of non-vitamin K antagonist oral anticoagulants. Furthermore, acetylsalicylic acid is indicated in patients presenting with angina pectoris and lack of ST-elevation while heparin should only be administered after careful individual consideration of the risks and benefits.
Access options
Buy single article
Instant access to the full article PDF.
US$ 39.95
Tax calculation will be finalised during checkout.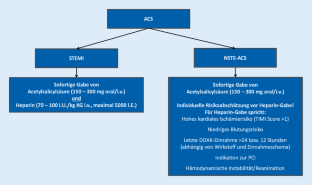 Literatur
1.

Ibanez B, James S, Agewall S, Antunes MJ, Bucciarelli-Ducci C, Bueno H, Caforio ALP, Crea F, Goudevenos JA, Halvorsen S et al (2017) ESC Guidelines for the management of acute myocardial infarction in patients presenting with ST-segment elevation. Eur Heart J 2018(39):119–177

2.

Collet J‑P, Thiele H, Barbato E, Barthélémy O, Bauersachs J, Bhatt DL, Dendale P, Dorobantu M, Edvardsen T, Folliguet T et al (2020) 2020 ESC Guidelines for the management of acute coronary syndromes in patients presenting without persistent ST-segment elevation. Eur Heart J. https://doi.org/10.1093/eurheartj/ehaa575

3.

Schneck E, Schneck FK, Wolter JS, Hamm CW, Mann V, Hauch H, Kemkes-Matthes B, Gräsner JT, Groesdonk HV, Dirkmann D et al (2020) Prehospital management of acute coronary syndrome in patients on long-term direct oral anticoagulant treatment. Anaesthesist 69:108–116

4.

Montalescot G, Zeymer U, Silvain J, Boulanger B, Cohen M, Goldstein P, Ecollan P, Combes X, Huber K, Pollack C et al (2011) Intravenous enoxaparin or unfractionated heparin in primary percutaneous coronary intervention for ST-elevation myocardial infarction: the international randomised open-label ATOLL trial. Lancet 378:693–703

5.

Chen J‑Y, He P‑C, Liu Y‑H, Wei X‑B, Jiang L, Guo W, Duan C‑Y, Guo Y‑S, Yu X‑P, Li J et al (2019) Association of parenteral anticoagulation therapy with outcomes in Chinese patients undergoing percutaneous coronary intervention for non-ST-segment elevation acute coronary syndrome. JAMA Intern Med 179:186–194

6.

Go AS, Hylek EM, Phillips KA, Chang Y, Henault LE, Selby JV, Singer DE (2001) Prevalence of diagnosed atrial fibrillation in adults: national implications for rhythm management and stroke prevention: the AnTicoagulation and Risk Factors in Atrial Fibrillation (ATRIA) Study. JAMA 285:2370–2375

7.

Roule V, Ardouin P, Briet C, Lemaitre A, Bignon M, Sabatier R, Champ-Rigot L, Milliez P, Blanchart K, Beygui F (2019) Vitamin K antagonist vs direct oral anticoagulants with antiplatelet therapy in dual or triple therapy after percutaneous coronary intervention or acute coronary syndrome in atrial fibrillation: meta-analysis of randomized controlled trials. Clin Cardiol 42(9):839–846. https://doi.org/10.1002/clc.23224

8.

Nieuwlaat R, Capucci A, Camm AJ, Olsson SB, Andresen D, Davies DW, Cobbe S, Breithardt G, Le Heuzey J‑Y, Prins MH et al (2005) Atrial fibrillation management: a prospective survey in ESC member countries: the Euro Heart Survey on Atrial Fibrillation. Eur Heart J 26:2422–2434

9.

Kralev S, Schneider K, Lang S, Süselbeck T, Borggrefe M (2011) Incidence and severity of coronary artery disease in patients with atrial fibrillation undergoing first-time coronary angiography. Plos One 6:e24964

10.

Patel MR, Mahaffey KW, Garg J, Pan G, Singer DE, Hacke W, Breithardt G, Halperin JL, Hankey GJ, Piccini JP et al (2011) Rivaroxaban versus warfarin in nonvalvular atrial fibrillation. N Engl J Med 365:883–891

11.

Ruff CT, Giugliano RP, Antman EM, Crugnale SE, Bocanegra T, Mercuri M, Hanyok J, Patel I, Shi M, Salazar D et al (2010) Evaluation of the novel factor Xa inhibitor edoxaban compared with warfarin in patients with atrial fibrillation: design and rationale for the Effective aNticoaGulation with factor xA next GEneration in Atrial Fibrillation-Thrombolysis In Myocardial Infar. Am Heart J 160:635–641

12.

Avezum A, Lopes RD, Schulte PJ, Lanas F, Gersh BJ, Hanna M, Pais P, Erol C, Diaz R, Bahit MC et al (2015) Apixaban in comparison with warfarin in patients with atrial fibrillation and valvular heart disease: findings from the Apixaban for reduction in stroke and other thromboembolic events in atrial fibrillation (ARISTOTLE) trial. Circulation 132:624–632

13.

Reilly PA, Lehr T, Haertter S, Connolly SJ, Yusuf S, Eikelboom JW, Ezekowitz MD, Nehmiz G, Wang S, Wallentin L et al (2014) The effect of dabigatran plasma concentrations and patient characteristics on the frequency of ischemic stroke and major bleeding in atrial fibrillation patients: the RE-LY Trial (Randomized Evaluation of Long-Term Anticoagulation Therapy). J Am Coll Cardiol 63:321–328

14.

Kirchhof P, Benussi S, Kotecha D, Ahlsson A, Atar D, Casadei B, Castella M, Diener H‑C, Heidbuchel H, Hendriks J et al (2016) 2016 ESC Guidelines for the management of atrial fibrillation developed in collaboration with EACTS. Eur Heart J 37:2893–2962

15.

Konstantinides SV, Meyer G (2019) The 2019 ESC guidelines on the diagnosis and management of acute pulmonary embolism. Eur Heart J 40:3453–3455

16.

Lip GYH, Windecker S, Huber K, Kirchhof P, Marin F, Ten Berg JM, Haeusler KG, Boriani G, Capodanno D, Gilard M et al (2014) Management of antithrombotic therapy in atrial fibrillation patients presenting with acute coronary syndrome and/or undergoing percutaneous coronary or valve interventions: a joint consensus document of the European Society of Cardiology Working Group on. Eur Heart J 35:3155–3179

17.

Fischer M, Kehrberger E, Marung H, Moecke H, Prückner S, Trentzsch H, Urban B (2016) Eckpunktepapier 2016 zur notfallmedizinischen Versorgung der Bevölkerung in der Prähospitalphase und in der Klinik. Notfall Rettungsmed 19:387–395

18.

Roffi M, Patrono C, Collet J‑P, Mueller C, Valgimigli M, Andreotti F, Bax JJ, Borger MA, Brotons C, Chew DP et al (2016) 2015 ESC Guidelines for the management of acute coronary syndromes in patients presenting without persistent ST-segment elevation. Eur Heart J 37:267–315

19.

Huang W, FitzGerald G, Goldberg RJ, Gore J, McManus RH, Awad H, Waring ME, Allison J, Saczynski JS, Kiefe CI et al (2016) Performance of the GRACE risk score 2.0 simplified algorithm for predicting 1‑year death after hospitalization for an acute coronary syndrome in a contemporary multiracial cohort. Am J Cardiol 118:1105–1110

20.

D'Ascenzo F, Biondi-Zoccai G, Moretti C, Bollati M, Omedè P, Sciuto F, Presutti DG, Modena MG, Gasparini M, Reed MJ et al (2012) TIMI, GRACE and alternative risk scores in Acute Coronary Syndromes: a meta-analysis of 40 derivation studies on 216,552 patients and of 42 validation studies on 31,625 patients. Contemp Clin Trials 33:507–514

21.

Abu-Assi E, Raposeiras-Roubin S, Lear P, Cabanas-Grandío P, Girondo M, Rodríguez-Cordero M, Pereira-López E, Romaní SG, González-Cambeiro C, Alvarez-Alvarez B et al (2012) Comparing the predictive validity of three contemporary bleeding risk scores in acute coronary syndrome. Eur Hear Journal Acute Cardiovasc Care 1:222–231

22.

Subherwal S, Bach RG, Chen AY, Gage BF, Rao SV, Newby LK, Wang TY, Gibler WB, Ohman EM, Roe MT et al (2009) Baseline risk of major bleeding in non-ST-segment-elevation myocardial infarction: the CRUSADE (Can Rapid risk stratification of Unstable angina patients Suppress ADverse outcomes with Early implementation of the ACC/AHA Guidelines) Bleeding Score. Circulation 119:1873–1882

23.

Mehran R, Pocock SJ, Nikolsky E, Clayton T, Dangas GD, Kirtane AJ, Parise H, Fahy M, Manoukian SV, Feit F et al (2010) A risk score to predict bleeding in patients with acute coronary syndromes. J Am Coll Cardiol 55:2556–2566

24.

Kemkes-Matthes B (2017) Antikoagulation – direkte orale Antikoagulanzien. Internist 58:585–597

25.

Antman EM, Cohen M, Bernink PJ, McCabe CH, Horacek T, Papuchis G, Mautner B, Corbalan R, Radley D, Braunwald E (2000) The TIMI risk score for unstable angina/non-ST elevation MI: A method for prognostication and therapeutic decision making. JAMA 284:835–842
Danksagung
Dieses Konsensuspapier wurde durch die Kommission für Klinische Kardiovaskuläre Medizin der DGK sowie die Sektionen "Hämodynamik", "Notfall- und Katastrophenmedizin" sowie "Klinische Hämotherapie und Hämostasemanagement" der DIVI befürwortet und durch die Präsidien beider Fachgesellschaften bewilligt.
Ethics declarations
Interessenkonflikt
Den Interessenkonflikt der Autoren finden Sie online auf der DGK-Homepage unter http://leitlinien.dgk.org/ bei der entsprechenden Publikation.
Für diesen Beitrag wurden von den Autoren keine Studien an Menschen oder Tieren durchgeführt. Für die aufgeführten Studien gelten die jeweils dort angegebenen ethischen Richtlinien.
Additional information
Die Autoren Christian W. Hamm und Emmanuel Schneck haben zu gleichen Teilen zum Manuskript beigetragen.
Dieses Konsensuspapier wurde parallel in den Zeitschriften Der Kardiologe und DIVI veröffentlicht.
Aus Gründen der besseren Lesbarkeit und Verständlichkeit der Texte wird in Springer-Publikationen in der Regel das generische Maskulinum als geschlechtsneutrale Form verwendet. Diese Form impliziert immer alle Geschlechter.
About this article
Cite this article
Hamm, C.W., Schneck, E., Buerke, M. et al. Empfehlungen zur prähospitalen Behandlung des akuten Koronarsyndroms bei Patienten unter Dauertherapie mit neuen oralen Antikoagulanzien (NOAKs). Kardiologe 15, 32–37 (2021). https://doi.org/10.1007/s12181-020-00439-4
Accepted:

Published:

Issue Date:
Schlüsselwörter
ACS

STEMI

NSTEMI

Antikoagulation

Blutung
Keywords
ACS

STEMI

NSTEMI

Anticoagulation

Bleeding