Zusammenfassung
Die Evaluation von Patienten mit persistierender Angina pectoris trotz erfolgreicher perkutaner Koronarintervention (PCI) stellt für den klinisch tätigen Kardiologen oft eine Herausforderung dar. Von diesem Phänomen sind ca. 20–50 % der Patienten nach erfolgter Katheterintervention betroffen. Neben der optimalen medikamentösen Therapie kommt der Diagnostik der zugrunde liegenden Mechanismen eine wesentliche Bedeutung zu. Hierzu zählen strukturelle Mechanismen, wie z. B. die residuale Ischämie durch inkomplette Revaskularisation oder diffuse Atherosklerose. Zusätzlich können in der Mikrovaskulatur vorhandene Verengungen auch nach erfolgreicher PCI weiter Angina pectoris verursachen. Mögliche funktionelle Ursachen sind Koronarspasmen auf Ebene der epikardialen und/oder koronaren Mikrogefäße sowie eine eingeschränkte koronare Flussreserve. Die diagnostische Evaluation umfasst nichtinvasive (meist bildgebende Ischämiediagnostik) und invasive Methoden ("optical coherence tomography" [OCT]/"intravascular ultrasound" [IVUS]), Acetylcholin-Test, Messungen von fraktioneller Flussreserve (FFR) und koronarer Flussreserve (CFR). Oft liegen bei einem Patienten mehrere Mechanismen gleichzeitig vor, was die Interpretation der Untersuchungsergebnisse und die Entscheidung bezüglich des weiteren Vorgehens erschweren kann. Nichtsdestotrotz sollte bei Patienten mit persistierender Angina eine möglichst genaue Charakterisierung der zugrunde liegenden Mechanismen erfolgen, um eine zielgerichtete Therapie einleiten zu können. Die Häufigkeit einer ursächlichen koronaren Vasomotionsstörung im Sinne einer vasospastischen Angina wird hierbei häufig noch unterschätzt. Prospektive Studien werden zeigen, von welchen diagnostischen und therapeutischen Algorithmen die Patienten am meisten profitieren.
Abstract
The evaluation of patients with persistent angina pectoris despite successful percutaneous coronary intervention (PCI) often represents a challenge for the clinical cardiologist. Approximately 20–50% of patients are affected by this condition after a successful catheter intervention. Apart from optimal pharmacological treatment, the diagnostics of the underlying mechanisms are of paramount importance. This includes assessment of structural causes, such as residual ischemia due to incomplete revascularization or diffuse atherosclerosis. Moreover, persistent angina post-PCI can be due to structural alterations in the coronary microcirculation, which remain after successful PCI of an epicardial stenosis. Possible functional causes are coronary spasms of the epicardial arteries and/or coronary microvessels as well as impaired coronary flow reserve (CFR). The diagnostic evaluation of such patients comprises noninvasive techniques, usually imaging stress tests for myocardial ischemia and also invasive techniques, such as optical coherence tomography (OCT)/intravascular ultrasound (IVUS), acetylcholine testing and measurement of the fractional flow reserve (FFR) and coronary flow reserve (CFR). In many patients multiple conditions are often simultaneously present and may overlap which makes interpretation of test results and decisions for further management challenging. Nevertheless, precise characterization of the underlying mechanisms of persistent post-PCI angina should be carried out to be able to initiate targeted treatment. The prevalence of a coronary vasomotor disorder in the sense of vasospastic angina in this setting is still underestimated. Prospective studies will reveal which diagnostic and therapeutic algorithms will be most beneficial for such patients.
This is a preview of subscription content, log in to check access.
Access options
Buy single article
Instant access to the full article PDF.
US$ 39.95
Tax calculation will be finalised during checkout.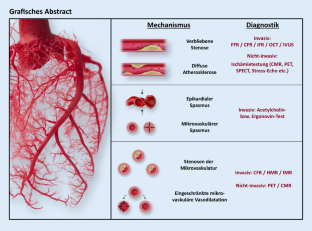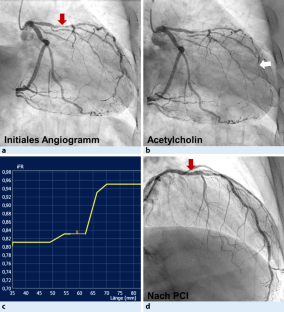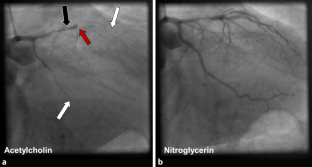 Literatur
1.

Agarwal SK, Kasula S, Hacioglu Y et al (2016) Utilizing post-intervention fractional flow reserve to optimize acute results and the relationship to long-term outcomes. JACC Cardiovasc Interv 9:1022–1031

2.

Arai R, Kano H, Suzuki S et al (2020) Myocardial bridging is an independent predictor of positive spasm provocation testing by intracoronary ergonovine injections: a retrospective observational study. Heart Vessels 35(4):474–486

3.

Beltrame JF, Crea F, Kaski JC et al (2017) International standardization of diagnostic criteria for vasospastic angina. Eur Heart J 38:2565–2568

4.

Ben-Yehuda O, Kazi DS, Bonafede M et al (2016) Angina and associated healthcare costs following percutaneous coronary intervention: a real-world analysis from a multi-payer database. Catheter Cardiovasc Interv 88:1017–1024

5.

Camici PG, Crea F (2007) Coronary microvascular dysfunction. N Engl J Med 356:830–840

6.

Cannon RO 3rd, Bonow RO, Bacharach SL et al (1985) Left ventricular dysfunction in patients with angina pectoris, normal epicardial coronary arteries, and abnormal vasodilator reserve. Circulation 71:218–226

7.

Cohen DJ, Van Hout B, Serruys PW et al (2011) Quality of life after PCI with drug-eluting stents or coronary-artery bypass surgery. N Engl J Med 364:1016–1026

8.

Cook CM, Jeremias A, Petraco R et al (2017) Fractional flow reserve/instantaneous wave-free ratio discordance in angiographically intermediate coronary stenoses: an analysis using doppler-derived coronary flow measurements. JACC Cardiovasc Interv 10:2514–2524

9.

Dorbala S, Vangala D, Bruyere J Jr. et al (2014) Coronary microvascular dysfunction is related to abnormalities in myocardial structure and function in cardiac amyloidosis. JACC Heart Fail 2:358–367

10.

Everaars H, De Waard GA, Driessen RS et al (2018) Doppler flow velocity and thermodilution to assess coronary flow reserve: a head-to-head comparison with [(15)O]H2O PET. JACC Cardiovasc Interv 11:2044–2054

11.

Fearon WF, Balsam LB, Farouque HM et al (2003) Novel index for invasively assessing the coronary microcirculation. Circulation 107:3129–3132

12.

Ford TJ, Stanley B, Sidik N et al (2020) 1‑year outcomes of angina management guided by invasive coronary function testing (CorMicA). JACC Cardiovasc Interv 13:33–45

13.

Gössl M, Faxon DP, Bell MR et al (2012) Complete versus incomplete revascularization with coronary artery bypass graft or percutaneous intervention in stable coronary artery disease. Circ Cardiovasc Interv 5:597–604

14.

Henry TD, Satran D, Jolicoeur EM (2014) Treatment of refractory angina in patients not suitable for revascularization. Nat Rev Cardiol 11:78–95

15.

Ito S, Nakasuka K, Morimoto K et al (2011) Angiographic and clinical characteristics of patients with acetylcholine-induced coronary vasospasm on follow-up coronary angiography following drug-eluting stent implantation. J Invasive Cardiol 23:57–64

16.

Jeremias A, Davies JE, Maehara A et al (2019) Blinded physiological assessment of residual Ischemia after successful angiographic percutaneous coronary intervention: the DEFINE PCI study. JACC Cardiovasc Interv 12:1991–2001

17.

Knuuti J, Wijns W, Saraste A et al (2020) 2019 ESC Guidelines for the diagnosis and management of chronic coronary syndromes. Eur Heart J 41:407–477

18.

Lee JM, Hwang D, Choi KH et al (2018) Prognostic implications of relative increase and final fractional flow reserve in patients with stent implantation. JACC Cardiovasc Interv 11:2099–2109

19.

Li Y, Yang D, Lu L et al (2015) Thermodilutional confirmation of coronary microvascular dysfunction in patients with recurrent angina after successful percutaneous coronary intervention. Can J Cardiol 31:989–997

20.

Meuwissen M, Chamuleau SA, Siebes M et al (2001) Role of variability in microvascular resistance on fractional flow reserve and coronary blood flow velocity reserve in intermediate coronary lesions. Circulation 103:184–187

21.

Milo M, Nerla R, Tarzia P et al (2013) Coronary microvascular dysfunction after elective percutaneous coronary intervention: correlation with exercise stress test results. Int J Cardiol 168:121–125

22.

Mozaffarian D, Bryson CL, Spertus JA et al (2003) Anginal symptoms consistently predict total mortality among outpatients with coronary artery disease. Am Heart J 146:1015–1022

23.

Nihoyannopoulos P, Kaski JC, Crake T et al (1991) Absence of myocardial dysfunction during stress in patients with syndrome X. J Am Coll Cardiol 18:1463–1470

24.

Ong P, Athanasiadis A, Perne A et al (2014) Coronary vasomotor abnormalities in patients with stable angina after successful stent implantation but without in-stent restenosis. Clin Res Cardiol 103:11–19

25.

Ong P, Camici PG, Beltrame JF et al (2018) International standardization of diagnostic criteria for microvascular angina. Int J Cardiol 250:16–20

26.

Pijls NH, Klauss V, Siebert U et al (2002) Coronary pressure measurement after stenting predicts adverse events at follow-up: a multicenter registry. Circulation 105:2950–2954

27.

Sechtem U, Brown DL, Godo S et al (2020) Coronary microvascular dysfunction in stable ischaemic heart disease (NOCAD and OCAD). Cardiovasc Res 116(4):771–786

28.

Sorop O, Van Den Heuvel M, Van Ditzhuijzen NS et al (2016) Coronary microvascular dysfunction after long-term diabetes and hypercholesterolemia. Am J Physiol Heart Circ Physiol 311:H1339–H1351

29.

Sousa-Uva M, Neumann FJ, Ahlsson A et al (2019) 2018 ESC/EACTS Guidelines on myocardial revascularization. Eur J Cardiothorac Surg 55:4–90

30.

Spertus J, Mark D (2019) ISCHEMIA trial update. Am Heart J 218:8

31.

Taqueti VR, Di Carli MF (2018) Coronary microvascular disease pathogenic mechanisms and therapeutic options: JACC state-of-the-art review. J Am Coll Cardiol 72:2625–2641

32.

Wijeysundera HC, Nallamothu BK, Krumholz HM et al (2010) Meta-analysis: effects of percutaneous coronary intervention versus medical therapy on angina relief. Ann Intern Med 152:370–379
Danksagung
Die Autoren danken Frau S. Nägele und Frau V. Martínez Pereyra für die Hilfe beim Erstellen des Manuskriptes.
Ethics declarations
Interessenkonflikt
P. Ong, A. Seitz, R. Bekeredjian und U. Sechtem geben an, dass kein Interessenkonflikt besteht.
Für diesen Beitrag wurden von den Autoren keine Studien an Menschen oder Tieren durchgeführt. Für die aufgeführten Studien gelten die jeweils dort angegebenen ethischen Richtlinien.
Additional information
Peter Ong und Andreas Seitz teilen sich die Erstautorenschaft.
About this article
Cite this article
Ong, P., Seitz, A., Bekeredjian, R. et al. Persistierende Angina pectoris nach erfolgreicher perkutaner Koronarintervention (postinterventionell persistierende Angina). Kardiologe 14, 537–544 (2020). https://doi.org/10.1007/s12181-020-00431-y
Schlüsselwörter
Koronarspasmen

Koronare Flussreserve

Residuale Ischämie

Katheterintervention

Vasospastische Angina
Keywords
Coronary spasm

Coronary flow reserve

Residual ischemia

Catheter intervention

Vasospastic angina