This is a preview of subscription content, log in to check access.
Access options
Buy single article
Instant access to the full article PDF.
US$ 39.95
Price includes VAT for USA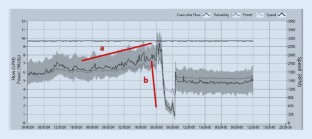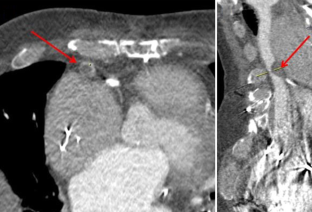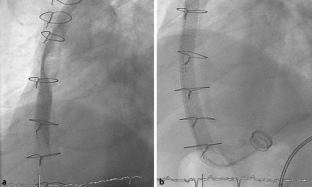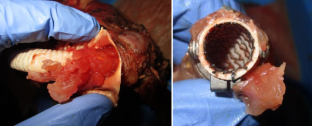 Literatur
1.

de By TMMH, Mohacsi P, Gahl B, Zittermann A, Krabatsch T, Gustafsson F et al (2018) The European Registry for Patients with Mechanical Circulatory Support (EUROMACS) of the European Association for Cardio-Thoracic Surgery (EACTS): second report. Eur J Cardiothorac Surg 53:309–316

2.

Duero Posada JG, Moayedi Y, Alhussein M, Rodger M, Alvarez J, Wintersperger BJ et al (2017) Outflow graft occlusion of the heartmate 3 left ventricular assist device. Circ Heart Fail 10:1–3

3.

Potapov EV, Netuka I, Kaufmann F, Falk V, Mehra MR (2018) Strategy for surgical correction and mitigation of outflow graft twist with a centrifugalflow left ventricular assist system. J Heart Lung Transplant 37:670–673

4.

Scandroglio AM, Kaufmann F, Pieri M, Kretzschmar A, Muller M, Pergantis P et al (2016) Diagnosis and treatment algorithm for blood flow obstructions in patients with left ventricular assist device. J Am Coll Cardiol 67:2758–2768

5.

Potapov EV, Antonides C, Crespo-Leiro MG, Combes A, Faerber G, Hannan MM et al (2019) EACTS expert consensus on long-term mechanical circulatory support. Eur J Cardiothorac Surg 56:230–270

6.

Wamala I, Kneissler S, Kaufmann F, Eulert-Grehn JJ, Potapov EV, Dreysse S, Starck C, Falk V, Solowjowa N (2020) Computed tomography and fluoroscopic angiography in management of left ventricular assist device outflow graft obstruction. JACC Cardiovasc Imaging. https://doi.org/10.1016/j.jcmg.2019.11.018
Ethics declarations
Interessenkonflikt
C. Hoermandinger: Stipendien und Honorare von Medtronic GmbH. P. Stawowy: Reisestipendien, Vortragshonorare und Beraterhonorare von Amgen, AstraZeneca, Bayer, Bristol-Myers Squibb/Pfizer, Berlin-Chemie, Boehringer Ingelheim, Daiichi-Sankyo, Novartis, Sanofi-Aventis, Springer Nature und finanzielle Forschungsunterstützung von Novartis. V. Falk: Stipendien, Honorare für Vorträge, Beratung, Forschungsarbeiten und Studienfinanzierungen von Abbott GmbH und Co. KG, Medtronic GmbH, Boston Scientific, Edwards Lifescience, Jotec, Biotronik SE & Co., Berlin Heart, Novartis Pharma GmbH. E. Potapov: institutionelle Reisestipendien und Beratungshonorare von Medtronic GmbH und Abbott GmbH und Co. KG. F. Schoenrath: nichtfinanzielle Honorierung von Medtronic GmbH, Stipendien von Novartis AG und Abbott GmbH und Co. KG, Personalhonorare von Cardiorentis. I.A. Just, J. Knierim, C. Klein und M. Hummel geben an, dass kein Interessenkonflikt besteht.
Für diesen Beitrag wurden von den Autoren keine Studien an Menschen oder Tieren durchgeführt. Für die aufgeführten Studien gelten die jeweils dort angegebenen ethischen Richtlinien. Für Bildmaterial oder anderweitige Angaben innerhalb des Manuskripts, über die Patienten zu identifizieren sind, liegt von ihnen und/oder ihren gesetzlichen Vertretern eine schriftliche Einwilligung vor.
About this article
Cite this article
Just, I.A., Hoermandinger, C., Knierim, J. et al. Abrupter LVAD-Flussabfall nach Lysetherapie. Kardiologe (2020). https://doi.org/10.1007/s12181-020-00420-1