Zusammenfassung
In dieser Empfehlung der Deutschen Gesellschaft für Kardiologie (DGK) werden die besonderen Aspekte von kardialen Magnetresonanztomographie(MRT)-Untersuchungen bei Patienten mit Herzschrittmachern (HSM) und implantierbaren Kardioverter-Defibrillatoren (ICD) dargestellt. Es ist eine Ergänzung/Aktualisierung zu dem Konsensuspapier der DGK und der Deutschen Röntgengesellschaft aus dem Jahr 2017 über MRT-Untersuchungen bei Patienten mit HSM und ICD. Fokussiert auf kardiale MRT-Untersuchungen, werden physikalische und elektrophysiologische Erklärungen, hilfreich für Verständnis und Handhabung versierter Anwender, sowie Handlungsempfehlungen bezüglich Fragestellung und Patientenauswahl, Geräteprogrammierung, Monitoring und Modifikation der MRT-Sequenzen gegeben. Ziel ist es, Patienten mit aktiven kardialen Implantaten den Zugang zu einer kardialen MRT-Untersuchung unter strenger Indikationsprüfung zu ermöglichen, ohne relevante Einschränkungen in Patientensicherheit und Bildqualität einzugehen. Kernaussagen dieser Empfehlungen sind: 1. In Analogie zu sonstigen MRT-Untersuchungen sind konventionelle (d. h. nicht bedingt MRT-sichere) HSM- und ICD-Systeme auch für kardiale MRT-Untersuchungen nicht mehr als eine absolute, sondern als eine relative Kontraindikation anzusehen. 2. Kardiale MRT-Untersuchungen bei Patienten mit HSM oder ICD sind jedoch mit einem besonderen Risiko verbunden, da sich einerseits das Gerät in der Bildgebungsregion befindet und dadurch Wechselwirkungen zwischen Gerät, MRT und Gewebe verstärkt sein können, und andererseits das Myokard der untersuchten Patienten potenziell vulnerabel und daher möglicherweise anfällig für Störeinflüsse ist. 3. Neben Sicherheitsaspekten kann die Bildqualität durch einen HSM oder ICD beeinträchtigt werden, sodass angepasste MRT-Pulssequenzen erforderlich sein können. 4. Entscheidend bei Indikationsstellung und Untersuchungsdurchführung sind die Abschätzung des individuellen Nutzen-Risiko-Verhältnisses, eine umfassende Aufklärung über spezifische Risiken, dezidierte HSM-/ICD-bezogene und MRT-bezogene Sicherheitsmaßnahmen zur Reduzierung dieser Risiken sowie adäquate Monitoringtechniken während der MRT-Untersuchung. Diese Komplexität erfordert die Anwesenheit von in kardialer MRT und ICD/HSM-Therapie erfahrenem ärztlichen Personal. 5. Wenn auch einige HSM und ICD als bedingt MRT-sicher ("MR conditional") einschließlich kardialer MRT-Untersuchungen zugelassen sind, gelten dennoch weitgehend ähnliche Vorsichts- und Monitoringmaßnahmen wie bei Trägern konventioneller HSM- und ICD-Systeme. Für die Patientensicherheit sind die genaue Kenntnis und Beachtung der spezifischen Nutzungsbedingungen des jeweiligen HSM oder ICD entscheidend.
Abstract
These recommendations by the German Society for Cardiology (DGK) summarize specific characteristics of cardiac magnetic resonance imaging (MRI) in subjects with a cardiac pacemaker (PM) or implantable cardioverter defibrillator (ICD). They represent a supplement/update of the comprehensive consensus paper of the DGK and the German Roentgen Society on MRI examinations in general in patients with PM and ICD published in 2017. With a focus on cardiac MRI, physical and electrophysiological explanations are given, which are helpful for the understanding and handling by experienced users. Detailed recommendations regarding indications, patient selection, device programming, patient monitoring and MRI sequence modification are provided. The aim of this article is to grant subjects with active cardiac implants access to cardiac MRI examinations after careful consideration of the clinical need and potential limitations regarding patient safety and image quality. The essentials of this recommendation paper are: 1) as is common sense for MRI examinations in general, conventional (i. e. not MRI conditional) PM and ICD are no longer regarded as absolute contraindications for performing cardiac MRI but as relative contraindications. 2) Cardiac MRI in patients with PM or ICD is, however, associated with a particular risk, as the device is within the imaging field and interactions between the device, MRI and tissue may be aggravated. In addition, the myocardium of the patient under investigation may be vulnerable and therefore possibly prone to any confounding effects. 3) Apart from safety concerns, image quality can be unfavorably influenced by PM or ICD systems, so that adjusted MRI pulse sequences can be necessary. 4) The individual risk-benefit analysis, a comprehensive informed consent about specific risks, targeted device and MRI-related safety measures, as well as adequate monitoring techniques during the MRI examination are highly important to reduce such risks when planning a cardiac MRI in a patient with a PM or ICD. This complexity makes the presence of experienced physicians trained in cardiac MRI and PM/ICD treatment mandatory. 5) Even if some PM and ICD are approved as being safe for cardiac MRI (MRI conditional), precautionary and monitoring measures are widely the same as for conventional PM and ICD systems. For patient safety, exact knowledge and consideration of the specific terms and conditions of use of the respective device are obligatory.
Access options
Buy single article
Instant access to the full article PDF.
USD 39.95
Price excludes VAT (USA)
Tax calculation will be finalised during checkout.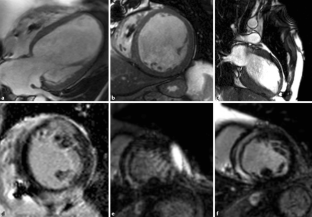 Literatur
Sommer T, Bauer W, Fischbach K, Kolb C, Luechinger R, Wiegand U, Lotz J, Eitel I, Gutberlet M, Thiele H, Schild HH, Kelm M, Quick H, Schulz-Menger J, Barkhausen J, Bänsch D (2017) MR-Untersuchungen bei Patienten mit Herzschrittmachern und implantierbaren Kardioverter-Defibrillatoren. Kardiologe 11:17

von Knobelsdorff-Brenkenhoff F, Schulz-Menger J (2016) Role of cardiovascular magnetic resonance in the guidelines of the European Society of Cardiology. J Cardiovasc Magn Reson 18:6

Sommer T, Luechinger R, Barkhausen J, Gutberlet M, Quick HH, Fischbach K, Working Group on Cardiovascular Imaging GRS (2015) German roentgen society statement on MR imaging of patients with cardiac pacemakers. Rofo 187:777–787

Hilbert S, Weber A, Nehrke K, Bornert P, Schnackenburg B, Oebel S, Spampinato R, Rogge C, Richter S, Hindricks G, Paetsch I, Jahnke C (2018) Artefact-free late gadolinium enhancement imaging in patients with implanted cardiac devices using a modified broadband sequence: current strategies and results from a real-world patient cohort. Europace 20:801–807

Naehle CP, Kreuz J, Strach K, Schwab JO, Pingel S, Luechinger R, Fimmers R, Schild H, Thomas D (2011) Safety, feasibility, and diagnostic value of cardiac magnetic resonance imaging in patients with cardiac pacemakers and implantable cardioverters/defibrillators at 1.5 T. Am Heart J 161:1096–1105

Kaasalainen T, Kivisto S, Holmstrom M, Peltonen J, Pakarinen S, Hanninen H, Sipila O (2016) Cardiac MRI in patients with cardiac pacemakers: practical methods for reducing susceptibility artifacts and optimizing image quality. Acta radiol 57:178–187

Schwitter J, Gold MR, Al Fagih A, Lee S, Peterson M, Ciuffo A, Zhang Y, Kristiansen N, Kanal E, Sommer T, Evera-MRI Study Investigators (2016) Image quality of cardiac magnetic resonance imaging in patients with an Implantable Cardioverter Defibrillator system designed for the magnetic resonance imaging environment. Circ Cardiovasc Imaging. https://doi.org/10.1161/CIRCIMAGING.115.004025

Hilbert S, Jahnke C, Loebe S, Oebel S, Weber A, Spampinato R, Richter S, Doering M, Bollmann A, Sommer P, Hindricks G, Paetsch I (2018) Cardiovascular magnetic resonance imaging in patients with cardiac implantable electronic devices: a device-dependent imaging strategy for improved image quality. Eur Heart J Cardiovasc Imaging 19:1051–1061

Sasaki T, Hansford R, Zviman MM, Kolandaivelu A, Bluemke DA, Berger RD, Calkins H, Halperin HR, Nazarian S (2011) Quantitative assessment of artifacts on cardiac magnetic resonance imaging of patients with pacemakers and implantable cardioverter-defibrillators. Circ Cardiovasc Imaging 4:662–670

Rashid S, Rapacchi S, Vaseghi M, Tung R, Shivkumar K, Finn JP, Hu P (2014) Improved late gadolinium enhancement MR imaging for patients with implanted cardiac devices. Radiology 270:269–274

Kellman P, Arai AE (2007) Imaging sequences for first pass perfusion—a review. J Cardiovasc Magn Reson 9:525–537

Klein-Wiele O, Garmer M, Urbien R, Busch M, Kara K, Mateiescu S, Gronemeyer D, Schulte-Hermes M, Garbrecht M, Hailer B (2015) Feasibility and safety of adenosine cardiovascular magnetic resonance in patients with MR conditional pacemaker systems at 1.5 Tesla. J Cardiovasc Magn Reson 17:112

Klein-Wiele O, Garmer M, Busch M, Mateiescu S, Urbien R, Barbone G, Kara K, Schulte-Hermes M, Metz F, Hailer B, Gronemeyer D (2017) Cardiovascular magnetic resonance in patients with magnetic resonance conditional pacemaker systems at 1.5 T: influence of pacemaker related artifacts on image quality including first pass perfusion, aortic and mitral valve assessment, flow measurement, short tau inversion recovery and T1-weighted imaging. Int J Cardiovasc Imaging 33:383–394

Richau J, Dieringer MA, Traber J, von Knobelsdorff-Brenkenhoff F, Greiser A, Schwenke C, Schulz-Menger J (2017) Effects of heart valve prostheses on phase contrast flow measurements in Cardiovascular Magnetic Resonance—a phantom study. J Cardiovasc Magn Reson 19:5

Hong K, Jeong EK, Wall TS, Drakos SG, Kim D (2015) Wideband arrhythmia-Insensitive-rapid (AIR) pulse sequence for cardiac T1 mapping without image artifacts induced by an implantable-cardioverter-defibrillator. Magn Reson Med 74:336–345

Shao J, Rashid S, Renella P, Nguyen KL, Hu P (2017) Myocardial T1 mapping for patients with implanted cardiac devices using wideband inversion recovery spoiled gradient echo readout. Magn Reson Med 77:1495–1504
Ethics declarations
Interessenkonflikt
J. Schulz-Menger ist Advisor von Bayer Healthcare. P. Sommer hat Vortragshonorare von Siemens erhalten. F. von Knobelsdorff-Brenkenhoff, W.R. Bauer, T. Deneke, E. Fleck, A. Rolf, C. Tillmanns und I. Eitel geben an, dass kein Interessenkonflikt besteht.
Additional information
E. Fleck für die Kommission Klinische Kardiovaskuläre Medizin der DGK.
Die Autoren T. Deneke und P. Sommer sind Mitglieder der Arbeitsgruppe 1 (Rhythmologie), die Autoren F. von Knobelsdorff-Brenkenhoff, W.R. Bauer, A. Rolf, J. Schulz-Menger, P. Sommer, C. Tillmanns, I. Eitel der Arbeitsgruppe 21 (Magnetresonanzverfahren in der Kardiologie) der Deutschen Gesellschaft für Kardiologie.
About this article
Cite this article
von Knobelsdorff-Brenkenhoff, F., Bauer, W.R., Deneke, T. et al. Empfehlungen zu kardialen MRT-Untersuchungen bei Patienten mit Herzschrittmachern und implantierbaren Kardioverter-Defibrillatoren. Kardiologe 13, 75–86 (2019). https://doi.org/10.1007/s12181-019-0301-x
Published:

Issue Date:

DOI: https://doi.org/10.1007/s12181-019-0301-x
Schlüsselwörter
Magnetresonanztomographie

Herzschrittmacher

Implantierbarer Kardioverter-Defibrillator (ICD)

Artefakte

Sicherheit
Keywords
Magnetic resonance imaging

Pacemaker

Implantable cardioverter defibrillator (ICD)

Artifacts

Safety