Zusammenfassung
Psoriasis ist eine Interleukin-17A (IL-17A) mediierte Hauterkrankung, die mit einem erhöhten kardiovaskulären Risiko einhergeht. Sie stellt eine der häufigsten chronischen Hauterkrankungen in den europäischen Industrienationen dar. Lange Zeit wurde die kardiovaskuläre Komorbidität der Psoriasis auf ein vermehrt vorliegendes klassisches kardiovaskuläres Risikoprofil von Psoriasispatienten zurückgeführt wie Rauchen oder Adipositas. Mittlerweile weiß man jedoch, dass die schwere Psoriasis an sich ein neuer eigenständiger kardiovaskulärer Risikofaktor ist. Da das Zytokin IL-17A sowohl zu Hautinflammation als auch zu vaskulärer Inflammation führen kann, stellt es ein naheliegendes Bindeglied zwischen der Psoriasis und der kardiovaskulären Erkrankung dar. Eine kardiologische Mitbetreuung von Patienten mit schwerer Psoriasis scheint neben der dermatologischen Versorgung essenziell.
Abstract
Psoriasis is a skin disease mediated by interleukin 17A (IL-17A), which is associated with an increased cardiovascular risk. It is one of the most common chronic skin diseases in European industrial nations. For a long time the cardiovascular comorbidity of psoriasis was attributed to the increased presence of a classical cardiovascular risk profile in psoriasis patients, such as obesity and smoking; however, it is now known that severe psoriasis alone is a new independent cardiovascular risk factor. As the cytokine IL-17A can lead to skin inflammation and also evoke vascular inflammation, it thus forms an obvious connecting factor between psoriasis and the cardiovascular disease. In addition to dermatological treatment, cardiological treatment seems to be necessary in patients suffering from severe psoriasis.
This is a preview of subscription content, log in to check access.
Access options
Buy single article
Instant access to the full article PDF.
US$ 39.95
Price includes VAT for USA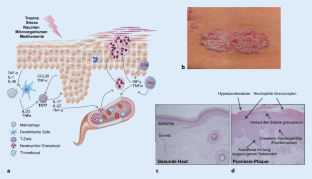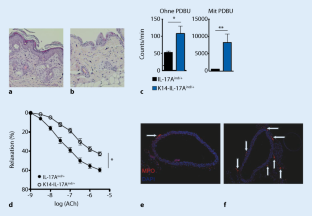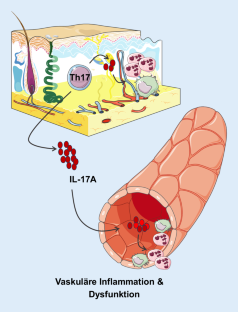 Literatur
1.

Brenner S, Miller JH (2001) Encyclopedia of genetics. Elsevier Science Inc, 1581–1582

2.

McDonald CJ, Calabresi P (1973) Thromboembolic disorders associated with psoriasis. Arch Dermatol 107:918

3.

Spah F (2008) Inflammation in atherosclerosis and psoriasis: common pathogenic mechanisms and the potential for an integrated treatment approach. Br J Dermatol 159(Suppl 2):10–17

4.

Gelfand JM, Neimann AL, Shin DB, Wang X, Margolis DJ, Troxel AB (2006) Risk of myocardial infarction in patients with psoriasis. JAMA 296:1735–1741

5.

Ludwig RJ, Herzog C, Rostock A, Ochsendorf FR, Zollner TM, Thaci D, Kaufmann R, Vogl TJ, Boehncke WH (2007) Psoriasis: a possible risk factor for development of coronary artery calcification. Br J Dermatol 156:271–276

6.

Mehta NN, Azfar RS, Shin DB, Neimann AL, Troxel AB, Gelfand JM (2010) Patients with severe psoriasis are at increased risk of cardiovascular mortality: cohort study using the general practice research database. Eur Heart J 31:1000–1006

7.

Parisi R, Symmons DP, Griffiths CE, Ashcroft DM, on behalf of the Identification and Management of Psoriasis and Associated ComorbidiTy (IMPACT) project team (2013) Global epidemiology of psoriasis: a systematic review of incidence and prevalence. J Invest Dermatol 133:377–385

8.

Boehncke WH, Schon MP (2015) Psoriasis. Lancet 386:983–994

9.

Chandran V, Raychaudhuri SP (2010) Geoepidemiology and environmental factors of psoriasis and psoriatic arthritis. J Autoimmun 34:J314–321

10.

Di Cesare A, Di Meglio P, Nestle FO (2009) The il-23/th17 axis in the immunopathogenesis of psoriasis. J Invest Dermatol 129:1339–1350

11.

Nestle FO, Kaplan DH, Barker J (2009) Psoriasis. N Engl J Med 361:496–509

12.

Wagner EF, Schonthaler HB, Guinea-Viniegra J, Tschachler E (2010) Psoriasis: what we have learned from mouse models. Nat Rev Rheumatol 6:704–714

13.

Schon MP, Erpenbeck L (2018) The interleukin-23/interleukin-17 axis links adaptive and innate immunity in psoriasis. Front Immunol 9:1323

14.

Onishi RM, Gaffen SL (2010) Interleukin-17 and its target genes: Mechanisms of interleukin-17 function in disease. Immunology 129:311–321

15.

Griffiths CE, Barker JN (2007) Pathogenesis and clinical features of psoriasis. Lancet 370:263–271

16.

van der Fits L, Mourits S, Voerman JS, Kant M, Boon L, Laman JD, Cornelissen F, Mus AM, Florencia E, Prens EP, Lubberts E (2009) Imiquimod-induced psoriasis-like skin inflammation in mice is mediated via the il–23/il–17 axis. J Immunol 182:5836–5845

17.

Nast A, Amelunxen L, Augustin M, Boehncke WH, Dressler C, Gaskins M, Harle P, Hoffstadt B, Klaus J, Koza J, Mrowietz U, Ockenfels HM, Philipp S, Reich K, Rosenbach T, Rzany B, Schlaeger M, Schmid-Ott G, Sebastian M, von Kiedrowski R, Weberschock T (2018) S3 guideline for the treatment of psoriasis vulgaris, update - short version part 1—systemic treatment. J Dtsch Dermatol Ges 16:645–669

18.

Nast A, Amelunxen L, Augustin M, Boehncke WH, Dressler C, Gaskins M, Harle P, Hoffstadt B, Klaus J, Koza J, Mrowietz U, Ockenfels HM, Philipp S, Reich K, Rosenbach T, Rzany B, Schlaeger M, Schmid-Ott G, Sebastian M, von Kiedrowski R, Weberschock T (2018) S3 guideline for the treatment of psoriasis vulgaris, update—short version part 2—special patient populations and treatment situations. J Dtsch Dermatol Ges 16:806–813

19.

Hansson GK, Hermansson A (2011) The immune system in atherosclerosis. Nat Immunol 12:204–212

20.

Harrison DG, Guzik TJ, Lob HE, Madhur MS, Marvar PJ, Thabet SR, Vinh A, Weyand CM (2011) Inflammation, immunity, and hypertension. Hypertension 57:132–140

21.

Wenzel P, Knorr M, Kossmann S, Stratmann J, Hausding M, Schuhmacher S, Karbach SH, Schwenk M, Yogev N, Schulz E, Oelze M, Grabbe S, Jonuleit H, Becker C, Daiber A, Waisman A, Munzel T (2011) Lysozyme m‑positive monocytes mediate angiotensin ii-induced arterial hypertension and vascular dysfunction. Circulation 124:1370–1381

22.

Cave AC, Brewer AC, Narayanapanicker A, Ray R, Grieve DJ, Walker S, Shah AM (2006) Nadph oxidases in cardiovascular health and disease. Antioxidants & Redox Signaling 8:691–728

23.

Guzik TJ, Hoch NE, Brown KA, McCann LA, Rahman A, Dikalov S, Goronzy J, Weyand C, Harrison DG (2007) Role of the t cell in the genesis of angiotensin ii induced hypertension and vascular dysfunction. J Exp Med 204:2449–2460

24.

AbdAlla S, Lother H, Langer A, el Faramawy Y, Quitterer U (2004) Factor xiiia transglutaminase crosslinks at1 receptor dimers of monocytes at the onset of atherosclerosis. Cell 119:343–354

25.

Swirski FK, Nahrendorf M, Etzrodt M, Wildgruber M, Cortez-Retamozo V, Panizzi P, Figueiredo JL, Kohler RH, Chudnovskiy A, Waterman P, Aikawa E, Mempel TR, Libby P, Weissleder R, Pittet MJ (2009) Identification of splenic reservoir monocytes and their deployment to inflammatory sites. Science 325:612–616

26.

Ridker PM, Cushman M, Stampfer MJ, Tracy RP, Hennekens CH (1997) Inflammation, aspirin, and the risk of cardiovascular disease in apparently healthy men. N Engl J Med 336:973–979

27.

Murphy K, Travers P, Walport M (2008) Janeway's immunobiology. Garland Science, Taylor and Francis Group, LLC, New York

28.

Ridker PM, Everett BM, Thuren T, MacFadyen JG, Chang WH, Ballantyne C, Fonseca F, Nicolau J, Koenig W, Anker SD, Kastelein JJP, Cornel JH, Pais P, Pella D, Genest J, Cifkova R, Lorenzatti A, Forster T, Kobalava Z, Vida-Simiti L, Flather M, Shimokawa H, Ogawa H, Dellborg M, Rossi PRF, Troquay RPT, Libby P, Glynn RJ, Group CT. (2017) Antiinflammatory therapy with canakinumab for atherosclerotic disease. N Engl J Med 377:1119–1131

29.

von Vietinghoff S, Ley K (2010) Interleukin 17 in vascular inflammation. Cytokine Growth Factor Rev 21:463–469

30.

Ji Q, Cheng G, Ma N, Huang Y, Lin Y, Zhou Q, Que B, Dong J, Zhou Y, Nie S (2017) Circulating th1, th2, and th17 levels in hypertensive patients. Dis Markers 2017:7146290

31.

Madhur MS, Lob HE, McCann LA, Iwakura Y, Blinder Y, Guzik TJ, Harrison DG (2010) Interleukin 17 promotes angiotensin ii-induced hypertension and vascular dysfunction. Hypertension 55:500–507

32.

Taleb S, Romain M, Ramkhelawon B, Uyttenhove C, Pasterkamp G, Herbin O, Esposito B, Perez N, Yasukawa H, Van Snick J, Yoshimura A, Tedgui A, Mallat Z (2009) Loss of socs3 expression in t cells reveals a regulatory role for interleukin-17 in atherosclerosis. J Exp Med 206:2067–2077

33.

Madhur MS, Funt SA, Li L, Vinh A, Chen W, Lob HE, Iwakura Y, Blinder Y, Rahman A, Quyyumi AA, Harrison DG (2011) Role of interleukin 17 in inflammation, atherosclerosis, and vascular function in apolipoprotein e‑deficient mice. Arterioscler Thromb Vasc Biol 31:1565–1572

34.

Simon T, Taleb S, Danchin N, Laurans L, Rousseau B, Cattan S, Montely JM, Dubourg O, Tedgui A, Kotti S, Mallat Z (2013) Circulating levels of interleukin-17 and cardiovascular outcomes in patients with acute myocardial infarction. Eur Heart J 34:570–577

35.

Mehta NN, Yu Y, Saboury B, Foroughi N, Krishnamoorthy P, Raper A, Baer A, Antigua J, Van Voorhees AS, Torigian DA, Alavi A, Gelfand JM (2011) Systemic and vascular inflammation in patients with moderate to severe psoriasis as measured by [18 f]-fluorodeoxyglucose positron emission tomography-computed tomography (fdg-pet/ct): a pilot study. Arch Dermatol 147:1031–1039

36.

Arican O, Aral M, Sasmaz S, Ciragil P (2005) Serum levels of tnf-alpha, ifn-gamma, il‑6, il‑8, il-12, il-17, and il-18 in patients with active psoriasis and correlation with disease severity. Mediators Inflamm 2005:273–279

37.

Croxford AL, Karbach S, Kurschus FC, Wortge S, Nikolaev A, Yogev N, Klebow S, Schuler R, Reissig S, Piotrowski C, Brylla E, Bechmann I, Scheller J, Rose-John S, Wunderlich FT, Munzel T, von Stebut E, Waisman A (2014) Il‑6 regulates neutrophil microabscess formation in il-17a-driven psoriasiform lesions. J Invest Dermatol 134:728–735

38.

Karbach S, Croxford AL, Oelze M, Schuler R, Minwegen D, Wegner J, Koukes L, Yogev N, Nikolaev A, Reissig S, Ullmann A, Knorr M, Waldner M, Neurath MF, Li H, Wu Z, Brochhausen C, Scheller J, Rose-John S, Piotrowski C, Bechmann I, Radsak M, Wild P, Daiber A, von Stebut E, Wenzel P, Waisman A, Munzel T (2014) Interleukin 17 drives vascular inflammation, endothelial dysfunction, and arterial hypertension in psoriasis-like skin disease. Arterioscler Thromb Vasc Biol 34:2658–2668

39.

Boehncke WH, Boehncke S, Tobin AM, Kirby B (2011) The "psoriatic march": a concept of how severe psoriasis may drive cardiovascular comorbidity. Exp Dermatol 20:303–307

40.

Joshi AA, Lerman JB, Dey AK, Sajja AP, Belur AD, Elnabawi YA, Rodante JA, Aberra TM, Chung J, Salahuddin T, Natarajan B, Dave J, Goyal A, Groenendyk JW, Rivers JP, Baumer Y, Teague HL, Playford MP, Bluemke DA, Ahlman MA, Chen MY, Gelfand JM, Mehta NN (2018) Association between aortic vascular inflammation and coronary artery plaque characteristics in psoriasis. jama Cardiol 3:949–956

41.

Elnabawi YA, Dey AK, Goyal A, Groenendyk JW, Chung JH, Belur AD, Rodante J, Harrington CL, Teague HL, Baumer Y, Keel A, Playford MP, Sandfort V, Chen MY, Lockshin B, Gelfand JM, Bluemke DA, Mehta NN (2019) Coronary artery plaque characteristics and treatment with biologic therapy in severe psoriasis: Results from a prospective observational study. Cardiovasc Res 115:721–728

42.

Boehncke S, Salgo R, Garbaraviciene J, Beschmann H, Hardt K, Diehl S, Fichtlscherer S, Thaci D, Boehncke WH (2011) Effective continuous systemic therapy of severe plaque-type psoriasis is accompanied by amelioration of biomarkers of cardiovascular risk: Results of a prospective longitudinal observational study. J Eur Acad Dermatol Venereol 25:1187–1193

43.

Schuler R, Brand A, Klebow S, Wild J, Veras FP, Ullmann E, Roohani S, Kolbinger F, Kossmann S, Wohn C, Daiber A, Munzel T, Wenzel P, Waisman A, Clausen BE, Karbach S (2019) Antagonization of il-17a attenuates skin inflammation and vascular dysfunction in mouse models of psoriasis. J Invest Dermatol 139:638–647

44.

Wu JJ, Poon KY, Channual JC, Shen AY (2012) Association between tumor necrosis factor inhibitor therapy and myocardial infarction risk in patients with psoriasis. Arch Dermatol 148:1244–1250

45.

von Stebut E, Reich K, Thaci D, Koenig W, Pinter A, Korber A, Rassaf T, Waisman A, Mani V, Yates D, Frueh J, Sieder C, Melzer N, Mehta NN, Gori T (2019) Impact of secukinumab on endothelial dysfunction and other cardiovascular disease parameters in psoriasis patients over 52 weeks. J Invest Dermatol 139:1054–1062

46.

Micha R, Imamura F, Wyler von Ballmoos M, Solomon DH, Hernan MA, Ridker PM, Mozaffarian D (2011) Systematic review and meta-analysis of methotrexate use and risk of cardiovascular disease. Am J Cardiol 108:1362–1370

47.

Rungapiromnan W, Yiu ZZN, Warren RB, Griffiths CEM, Ashcroft DM (2017) Impact of biologic therapies on risk of major adverse cardiovascular events in patients with psoriasis: systematic review and meta-analysis of randomized controlled trials. Br J Dermatol 176:890–901

48.

Roubille C, Richer V, Starnino T, McCourt C, McFarlane A, Fleming P, Siu S, Kraft J, Lynde C, Pope J, Gulliver W, Keeling S, Dutz J, Bessette L, Bissonnette R, Haraoui B (2015) Evidence-based recommendations for the management of comorbidities in rheumatoid arthritis, psoriasis, and psoriatic arthritis: Expert opinion of the canadian dermatology-rheumatology comorbidity initiative. J Rheumatol 42:1767–1780

49.

Kimball AB, Gladman D, Gelfand JM, Gordon K, Horn EJ, Korman NJ, Korver G, Krueger GG, Strober BE, Lebwohl MG, National Psoriasis Foundation (2008) National Psoriasis Foundation clinical consensus on psoriasis comorbidities and recommendations for screening. J Am Acad Dermatol 58:1031–1042

50.

Schuler R, Efentakis P, Wild J, Lagrange J, Garlapati V, Molitor M, Kossmann S, Oelze M, Stamm P, Li H, Schafer K, Munzel T, Daiber A, Waisman A, Wenzel P, Karbach SH (2019) T cell-derived il-17a induces vascular dysfunction via perivascular fibrosis formation and dysregulation of ⋅NO/cGMP signaling. Oxid Med Cell Longev 2019:6721531
Danksagung
Wir danken Prof. Ari Waisman, Prof. Esther von Stebut, Prof. Jens Titze und besonders der Arbeitsgruppe um Prof. Philip Wenzel für anregende Diskussionen. Vielen Dank auch an Prof. Münzel für die wissenschaftliche Unterstützung. Vielen Dank ebenfalls an Prof. Grabbe und die Klinik für Dermatologie Mainz für die andauernde und gute Zusammenarbeit.
Funding
Die wissenschaftliche Arbeit der Autoren wird unterstützt durch die Deutsche Forschungsgemeinschaft (DFG KA 4035/1-1) für SK. JW erhält Unterstützung durch das Bundesministerium für Bildung und Forschung (Virchow-Fellowship). SK erhält Unterstützung durch das Bundesministerium für Bildung und Forschung (BMBF 01EO1503) und durch den SFB TR156. SK und JW werden unterstützt durch die Boehringer Ingelheim Foundation "Novel and neglected cardiovascular risk factors: molecular mechanisms and therapeutic implications". JW und SK sind Mitglieder im Deutschen Zentrum für Herz-Kreislauf-Forschung, DZHK.
Ethics declarations
Interessenkonflikt
J. Wild, J. Wegner und S. Karbach geben an, dass kein Interessenkonflikt besteht.
Für diesen Beitrag wurden von den Autoren keine Studien an Menschen oder Tieren durchgeführt. Für die aufgeführten Studien gelten die jeweils dort angegebenen ethischen Richtlinien.
About this article
Cite this article
Wild, J., Wegner, J. & Karbach, S. Von der Haut zum Gefäßsystem – Psoriasis und das kardiovaskuläre Risiko. Kardiologe (2020). https://doi.org/10.1007/s12181-019-00373-0
Schlüsselwörter
Interleukin-17A

Vaskuläre Inflammation

Autoimmunerkrankungen

Neue kardiovaskuläre Risikofaktoren

Kardiovaskuläre Komorbidität
Keywords
Interleukin 17A

Vascular inflammation

Autoimmune diseases

New cardiovascular risk factors

Cardiovascular comorbidity