Zusammenfassung
Kardiologen können im Vergleich zu anderen Disziplinen auf eine große Zahl an Nobelpreisverleihungen an Kollegen zurückblicken. Weitestgehend unbemerkt bleiben dabei aber die erfolglosen Nobelpreisnominierungen für kardiologische Kandidaten. Dieser Beitrag ist Teil eines Projekts über die Geschichte des Nobelpreises, welches sich bisher u. a. mit Herz- und Kreislaufforschern wie dem Nobelpreisträger Werner Forssmann (1904–1979) sowie den Nobelpreisnominierungen für Alfred Blalock (1899–1964) und Helen B. Taussig (1898–1986), beschäftigt hat. Ziel ist die Untersuchung von Nobelpreiskandidaten der Kardiologie aus den Jahren 1901 bis 1970 mit einem besonderen Fokus auf dem Kölner Internisten Hugo Wilhelm Knipping (1895–1984). Als Grundlage dienen dabei v. a. die Nobelpreisnominierungen und -gutachten aus dem Nobelarchiv in Schweden sowie Fachliteratur von und über die Kandidaten. Eine Analyse dieser Quellen bietet nicht nur eine neue Perspektive auf die Geschichte der Kardiologie im 20. Jahrhundert, sondern wirft auch Fragen über wandelnde Definitionen der Exzellenz bis in die Gegenwart auf.
Abstract
In comparison to other medical disciplines, cardiologists can look back on a high number of Nobel Prize awards; however, the unsuccessful Nobel Prize nominations for cardiologists remain mostly unnoticed. This article is part of a project dealing with the history of the Nobel Prize that has already covered several heart and cardiovascular physicians, such as the Nobel Prize laureate Werner Forssmann (1904–1979) as well as the nominations for Alfred Blalock (1899–1964) and Helen B. Taussig (1898–1986). Here, several Nobel Prize candidates from cardiology during the time period from 1901–1970 are examined with a special focus on the internal specialist from Cologne, Hugo Wilhelm Knipping (1895–1984). The analysis is based on Nobel Prize nominations and the assessments drawn from the Swedish Nobel Archive as well as literature from and about the candidates. An analysis of these sources not only adds new aspects to the history of cardiology but also questions the changing definitions of excellence up to the present day.
This is a preview of subscription content, log in to check access.
Access options
Buy single article
Instant unlimited access to the full article PDF.
US$ 39.95
Price includes VAT for USA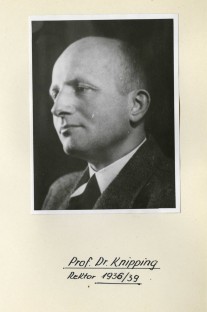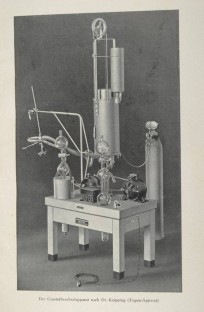 Notes
1.

Nobelarchiv (NA), Nominierung Külbs 1952.

2.

NA, Nominierung Forssmann 28.01.1958.

3.

NA, Gutachten Liljestrand 1958.
Literatur
1.

Bolt W, Forssmann W, Rink H (1957) Selektive Lungenangiographie. Thieme, Stuttgart

2.

Bolt W, Knipping HW (1956) Glückwunsch für Werner Forssmann zur Verleihung des Nobelpreises für Medizin 1956. Med Klin 51(49):2073–2076

3.

Feld M, De Roo M (2007) In: Schicha K, Bergdolt K (Hrsg) Geschichte der Nuklearmedizin in Europa. Schattauer, Stuttgart

4.

Frank M, Moll F (2006) Kölner Krankenhausgeschichten: Am Anfang war Napoleon. Verlag des Kölnischen Stadtmuseums, Köln

5.

Hansson N, Enke U (2015) On the awarding of the first nobel prize for physiology or medicine to Emil von Behring. Dtsch Med Wochenschr 140(25):1898–1902

6.

Hansson N, Halling T, Fangerau H (Hrsg) (2019) Attributing excellence in medicine: the history of the Nobel prize. Clio Medica, Bd. 98. Brill/Rodopi Academ. Publ., Leiden

7.

Hansson N, Packy LM, Halling T, Groß D, Fangerau H (2015) Vom Nobody zum Nobelpreisträger? Der Fall Werner Forßmann. Urologe 54:412–419. https://doi.org/10.1007/s00120-015-3780-9

8.

Hansson N, Schagen U (2014) "In Stockholm hatte man offenbar irgendwelche Gegenbewegung" – Ferdinand Sauerbruch (1875–1951) und der Nobelpreis. NTM 22(3):133–161

9.

Hansson N, Schlich T (2015) Why did Alfred Blalock and Helen Taussig not receive the Nobel prize? J Card Surg 30(6):506–509

10.

Hoffmann V, Knipping HW, Bolt W, Posth HE, Valentin H, Tietz N (1957) Justification of major surgery in old age, as seen from the viewpoint of clinical cardiology. Med Klin 52(35):1501–1510

11.

Hollmann W (2006) Werner Forßmann, Eberswalde, the 1956 Nobel prize for medicine. Eur J Med Res 11:409–412

12.

Hollmann W, Valentin H (1980) 50 Jahre Spiroergometrie 1929 bis 1979. Munch Med Wochenschr 122:169–174

13.

Klee E (2005) Das Personenlexikon zum Dritten Reich. Wer war was vor und nach 1945, 2. Aufl. S. Fischer, Frankfurt, S 318

14.

Knipping HW (1927) Der Gasstoffwechsel-Apparat: Seine Anwendung und Behandlung. Dargatz, Hamburg

15.

Knipping HW (1936) Über die Funktionsprüfung von Arbeit und Kreislauf. Beitr Klin Tuberk 88:503–518

16.

Knipping HW, Bolt W (1956) Professor Franz Külbs zum 80. Geburtstag. Med Klin 51(5):176–177

17.

Knipping HW, Bolt W, Valentin H, Venrath H (1955) Untersuchung und Beurteilung des Herzkranken. Enke, Stuttgart

18.

Knipping HW, Majumdar A, Majumdar D (1974) Why our team introduces radioactive xenon in the diagnosis of chest diseases. Indian J Chest Dis 16(Suppl):325–326

19.

Knipping HW, Priebe L, Schlüssel H (1965) Nuklearmedizinische Probleme der Bilddarstellung ebener radioaktiver Verteilung in Blutgefäßen und Geweben. Theorie und Ausführung einer physikalischen Bildverstärkungsanlage. Forschungsberichte des Landes Nordrhein-Westfalen 1513. Westdeutscher Verlag, Opladen

20.

Knipping HW, Schoen R (1960) The discrepancy between the increase in the average life expectancy and the preservation of the rigid "old age limit". Damage done by invalidization. Munch Med Wochenschr 102:865–870

21.

Knipping HW, Valentin H (1960) "Vita Maxima" problems in the management of cardiac patients. Postgrad Med 35:68–82

22.

Kroidl RF (2007) Kursbuch Spiroergometrie: Technik und Befundung verständlich gemacht. Thieme, Stuttgart, S 221

23.

Kroidl RF, Schwarz S, Lehnigk B (2007) Historische Aspekte zu Belastungsuntersuchungen, speziell zur Spiroergometrie. Pneumologie 61:291–294

24.

Lüderitz B, Arnold G (2002) 75 Jahre Deutsche Gesellschaft für Kardiologie – Herz- und Kreislaufforschung. Springer, Berlin Heidelberg

25.

Merton RK (1968) The Matthew Effect in Science: The reward and communication systems of science are considered Bd. 159, S 56–63

26.

Nobel A (1895) The will of Alfred Nobel. https://www.nobelprize.org/alfred-nobel/full-text-of-alfred-nobels-will-2/. Zugegriffen: 08.09.2019

27.

Rink H (1965) Professor Hugo Wilhelm Knipping, M.D., Cologne, on his 70th birthday. Z Tuberk Erkr Thoraxorg 124(1):1–2

28.

Schück HR, Soleman AO, Österling H, Liljestrand G (1962) Nobel. The man and his prizes. Norman University of Oklahoma Press/Elsevier, New York (1951, 1962)

29.

Tinoco Mesquita E et al (2015) Nobel Prizes: contributions to cardiology. Arq Bras Cardiol 105(2):188–196. https://doi.org/10.5935/abc.20150041

30.

Valentine H (1953) Die Spiro-Ergometrie nach Brauer und Knipping. Ein objektiver und quantitativer Test für die Beurteilung der Leistungsfähigkeit des Herzens und der Lungen zur Methodik. Acta Med Scand Suppl 277:90–94

31.

Wrede A (1956–1958) Neuer kölnischer Sprachschatz Bd. 2. Greven, Köln (K-R)
Danksagung
Für die Möglichkeit der Einsichtnahme in das Archivmaterial danken wir dem Nobel Committee for Physiology or Medicine. Übersetzungen aus dem Schwedischen von N. Hansson.
Ethics declarations
Interessenkonflikt
M. Drobietz, F. Moll und N. Hansson geben an, dass kein Interessenkonflikt besteht.
Für diesen Beitrag wurden von den Autoren keine Studien an Menschen oder Tieren durchgeführt. Für die aufgeführten Studien gelten die jeweils dort angegebenen ethischen Richtlinien.
About this article
Cite this article
Drobietz, M., Moll, F. & Hansson, N. "Ein vornehmer und nobler Charakter": Die Nobelpreisnominierungen für Hugo W. Knipping. Kardiologe (2019) doi:10.1007/s12181-019-00371-2
Schlüsselwörter
Nobelpreis für Physiologie oder Medizin

Geschichte der Kardiologie

Preise in der Kardiologie

Exzellenz in der Medizin

Carl-Ludwig-Ehrenmedaille
Keywords
Nobel Prize in physiology or medicine

History of cardiology

Prizes in cardiology

Excellence in medicine

Carl Ludwig Honorary Medal