This is a preview of subscription content, log in to check access.
Access options
Buy single article
Instant access to the full article PDF.
US$ 39.95
Price includes VAT for USA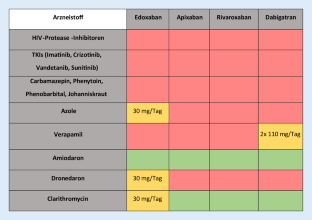 Literatur
1.

Ruff CT, Giugliano RP, Braunwald E, Hoffman EB, Deenadayalu N, Ezekowitz MD, Camm AJ, Weitz JI, Lewis BS, Parkhomenko A, Yamashita T, Antman EM (2014) Comparison of the efficacy and safety of new oral anticoagulants with warfarin in patients with atrial fibrillation: a meta-analysis of randomised trials. Lancet 383(9921):955–962

2.

Kirchhof P (2017) The future of atrial fibrillation management: integrated care and stratified therapy. Lancet 390(10105):1873–1887

3.

Kirchhof P, Benussi S, Kotecha D, Ahlsson A, Atar D, Casadei B, Castella M, Diener HC, Heidbuchel H, Hendriks J, Hindricks G, Manolis AS, Oldgren J, Popescu BA, Schotten U, Van Putte B, Vardas P, Agewall S, Camm J, Baron Esquivias G, Budts W, Carerj S, Casselman F, Coca A, De Caterina R, Deftereos S, Dobrev D, Ferro JM, Filippatos G, Fitzsimons D, Gorenek B, Guenoun M, Hohnloser SH, Kolh P, Lip GY, Manolis A, McMurray J, Ponikowski P, Rosenhek R, Ruschitzka F, Savelieva I, Sharma S, Suwalski P, Tamargo JL, Taylor CJ, Van Gelder IC, Voors AA, Windecker S, Zamorano JL, Zeppenfeld K (2016) 2016 ESC Guidelines for the management of atrial fibrillation developed in collaboration with EACTS. Eur Heart J 37(38):2893–2962

4.

Andrade JG, Macle L, Nattel S, Verma A, Cairns J (2017) Contemporary atrial fibrillation management: a comparison of the current AHA/ACC/HRS, CCS, and ESC guidelines. Can J Cardiol 33(8):965–976

5.

Yasuda S, Kaikita K, Akao M, Ako J, Matoba T, Nakamura M, Miyauchi K, Hagiwara N, Kimura K, Hirayama A, Matsui K, Ogawa H, Investigators A (2019) Antithrombotic therapy for atrial fibrillation with stable coronary disease. N Engl J Med. https://doi.org/10.1056/nejmoa1904143

6.

Dewilde WJ, Oirbans T, Verheugt FW, Kelder JC, De Smet BJ, Herrman JP, Adriaenssens T, Vrolix M, Heestermans AA, Vis MM, Tijsen JG, van 't Hof AW, ten Berg JM, Investigators Ws (2013) Use of clopidogrel with or without aspirin in patients taking oral anticoagulant therapy and undergoing percutaneous coronary intervention: an open-label, randomised, controlled trial. Lancet 381(9872):1107–1115

7.

Cannon CP, Bhatt DL, Oldgren J, Lip GYH, Ellis SG, Kimura T, Maeng M, Merkely B, Zeymer U, Gropper S, Nordaby M, Kleine E, Harper R, Manassie J, Januzzi JL, Ten Berg JM, Steg PG, Hohnloser SH, Committee R‑DPS, Investigators (2017) Dual antithrombotic therapy with Dabigatran after PCI in atrial fibrillation. N Engl J Med 377(16):1513–1524

8.

Gibson CM, Mehran R, Bode C, Halperin J, Verheugt FW, Wildgoose P, Birmingham M, Ianus J, Burton P, van Eickels M, Korjian S, Daaboul Y, Lip GY, Cohen M, Husted S, Peterson ED, Fox KA (2016) Prevention of bleeding in patients with atrial fibrillation undergoing PCI. N Engl J Med 375(25):2423–2434

9.

Lopes RD, Heizer G, Aronson R, Vora AN, Massaro T, Mehran R, Goodman SG, Windecker S, Darius H, Li J, Averkov O, Bahit MC, Berwanger O, Budaj A, Hijazi Z, Parkhomenko A, Sinnaeve P, Storey RF, Thiele H, Vinereanu D, Granger CB, Alexander JH, Investigators A (2019) Antithrombotic therapy after acute coronary syndrome or PCI in atrial fibrillation. N Engl J Med. https://doi.org/10.1056/nejmoa1817083

10.

Vranckx P, Valgimigli M, Eckardt L, Tijssen J, Lewalter T, Gargiulo G, Batushkin V, Campo G, Lysak Z, Vakaliuk I, Milewski K, Laeis P, Reimitz PE, Smolnik R, Zierhut W, Goette A (2019) Edoxaban-based versus vitamin K antagonist-based antithrombotic regimen after successful coronary stenting in patients with atrial fibrillation (ENTRUST-AF PCI): a randomised, open-label, phase 3b trial. Lancet. https://doi.org/10.1016/s0140-6736(19)31872-0

11.

Fachinformation Eliquis 5 mg Tabletten, Stand Juni 2019. Bristol-Myers-Squibb, Pfizer; 2019.

12.

Fachinformation Lixiana 60 mg Filmtabletten. Stand August 2018. Daiichi Sankyo; 2019.

13.

Fachinformation Pradaxa 150 mg Hartkapseln. Stand Juni 2018. Boehringer Ingelheim; 2019.

14.

Fachinformation Xarelto 20 mg Filmtabletten. Stand August 2018. Bayer Healthcare; 2019.

15.

Steffel J, Verhamme P, Potpara TS, Albaladejo P, Antz M, Desteghe L, Haeusler KG, Oldgren J, Reinecke H, Roldan-Schilling V, Rowell N, Sinnaeve P, Collins R, Camm AJ, Heidbuchel H, Group ESCSD (2018) The 2018 European Heart Rhythm Association Practical Guide on the use of non-vitamin K antagonist oral anticoagulants in patients with atrial fibrillation. Eur Heart J 39(16):1330–1393

16.

Eikelboom JW, Connolly SJ, Brueckmann M, Granger CB, Kappetein AP, Mack MJ, Blatchford J, Devenny K, Friedman J, Guiver K, Harper R, Khder Y, Lobmeyer MT, Maas H, Voigt JU, Simoons ML, Van de Werf F, Investigators R‑A (2013) Dabigatran versus warfarin in patients with mechanical heart valves. N Engl J Med 369(13):1206–1214

17.

Pengo V, Denas G, Zoppellaro G, Jose SP, Hoxha A, Ruffatti A, Andreoli L, Tincani A, Cenci C, Prisco D, Fierro T, Gresele P, Cafolla A, De Micheli V, Ghirarduzzi A, Tosetto A, Falanga A, Martinelli I, Testa S, Barcellona D, Gerosa M, Banzato A (2018) Rivaroxaban vs warfarin in high-risk patients with antiphospholipid syndrome. Blood 132(13):1365–1371
Ethics declarations
Interessenkonflikt
A. El-Armouche weist auf folgende Beziehungen hin: Forschungs- und Vortragstätigkeit für Boehringer Ingelheim, Novartis, Bayer, Novo Nordisk, Sanofi Aventis und Berlin Chemie. P. Kirchhof erhält Unterstützung für Forschungsprojekte von der Europäischen Union, der British Heart Foundation, der Leducq Foundation, dem Medical Research Council UK, dem Deutschen Zentrum für Herz- und Kreislaufforschung sowie von verschiedenen pharmazeutischen und Medizinproduktfirmen, die im Bereich Vorhofflimmern aktiv sind. PK hat in der Vergangenheit Honorare von solchen Firmen erhalten. Er ist als Erfinder auf zwei Patenten der Universität Birmingham gelistet (Atrial Fibrillation Therapy WO 2015140571, Markers for Atrial Fibrillation WO 2016012783).
About this article
Cite this article
El-Armouche, A., Kirchhof, P. Begleitmedikation bei Therapie mit direkten oralen Antikoagulanzien. Kardiologe 14, 29–31 (2020). https://doi.org/10.1007/s12181-019-00365-0