Koronaranomalie mit interarteriellem Verlauf – doch nicht so maligne?
Originalpublikation
Gräni C, Benz DC, Steffen DA et al (2017) Outcome in middle-aged individuals with anomalous origin of the coronary artery from the opposite sinus: a matched cohort study. Eur Heart J. 38(25):2009–2016
Koronaranomalien mit Abgang der Koronararterie vom gegenüberliegenden Sinus sind, insbesondere bei interarteriellem Verlauf (Abb.
1
und
2
), mit einem erhöhten Risiko eines plötzlichen Herztods vergesellschaftet. Insbesondere bei jungen Patienten stellen diese Koronaranomalien eine der häufigeren Ursachen des plötzlichen Herztods z. B. während sportlicher Aktivität dar. Die Bedeutung von Koronaranomalien, die erst im späteren Lebensalter als Zufallsbefund in der Cardio-CT entdeckt werden, ist weithin unklar.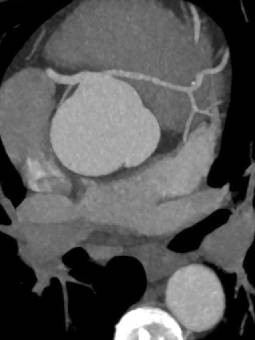 Coronary anomalies with interarterial course – not quite so malignant?
Notes
Interessenkonflikt
H. Eggebrecht gibt an, dass kein Interessenkonflikt besteht.
Literatur
1.

Ripley DP, Saha A, Teis A et al (2014) The distribution and prognosis of anomalous coronary arteries identified by cardiovascular magnetic resonance: 15 year experience from two tertiary centres. J Cardiovasc Magn Reson 16:34

CrossRef

PubMed

PubMedCentral

Google Scholar
Copyright information
© Springer Medizin Verlag GmbH 2017
korrigierte Publikation November 2017