Abstract
Purpose of Review
Patella baja is characterized by a loss of patellar height and can develop as either an acute or chronic complication following a knee injury or surgical procedure. The purpose of this review is to describe the diagnosis and management of patella baja and highlight the senior author's surgical technique.
Recent Findings
The pathogenesis of patella baja involves a complex interaction between quadriceps dysfunction, immobilization, and inflammation leading to infrapatellar scarring and adhesions. It is associated with fractures about the knee and can result as a complication of surgical procedures such as anterior cruciate ligament (ACL) reconstruction, particularly bone-patellar tedon-bone autografts, high tibial osteotomies (HTOs), tibial tubercle osteotomies (TTOs), and total knee arthroplasties (TKAs). Patients with patella baja can have limited knee range of motion, anterior knee pain, significant weakness with active knee extension, and an extensor lag. Surgical intervention is indicated in cases of symptomatic patella baja. Treatment strategies include tibial tubercle proximalization, patellar tendon lengthening, and patellar tendon reconstruction. Allografts and autografts can be utilized to augment tendon lengthening or reconstructive procedures. Various small case series have reported favorable outcomes for these procedures.
Summary
The treatment of patella baja is challenging and little consensus exists on optimal management, as much of the literature is limited to small case series. The preferred surgical technique of the senior author involves an end-to-end patellar tendon lengthening with hamstring autograft augmentation.
Access options
Buy single article
Instant access to the full article PDF.
USD 39.95
Price excludes VAT (USA)
Tax calculation will be finalised during checkout.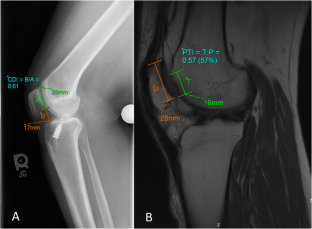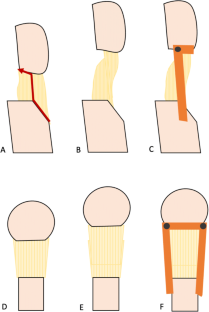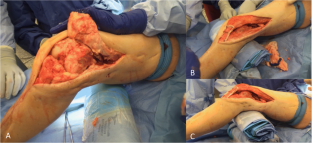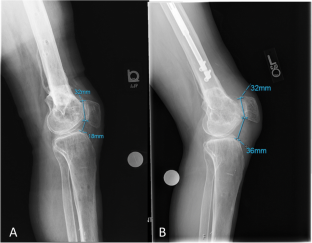 References
Papers of particular interest, published recently, have been highlighted as: • Of importance
Flören M, Davis J, Peterson MGE, Laskin RS. A mini-midvastus capsular approach with patellar displacement decreases the prevalence of patella Baja. J Arthroplast. 2007;22:51–7.

Patella Baja in Total Knee Arthroplasty - PubMed [Internet]. [cited 2022 Jan 25]. Available from: https://pubmed.ncbi.nlm.nih.gov/31934927/

Fox AJS, Wanivenhaus F, Rodeo SA. The basic science of the patella: structure, composition, and function. J Knee Surg. 2012;25:127–41.

Insall J, Salvati E. Patella position in the normal knee joint. Radiology. 1971;101:101–4.

Wolfe S, Varacallo M, Thomas JD, Carroll JJ, Kahwaji CI. Patellar Instability. StatPearls [Internet]. Treasure Island (FL): StatPearls Publishing; 2022 [cited 2022 Jan 25]. Available from: http://www.ncbi.nlm.nih.gov/books/NBK482427/

Phillips CL, Silver DAT, Schranz PJ, Mandalia V. The measurement of patellar height: a review of the methods of imaging. J Bone Joint Surg Br. 2010;92:1045–53.

Caton J, Deschamps G, Chambat P, Lerat JL, Dejour H. Patella infera. Apropos of 128 cases. Rev Chir Orthop Reparatrice Appar Mot. 1982;68:317–25.

Noyes FR, Wojtys EM, Marshall MT. The early diagnosis and treatment of developmental patella infera syndrome. Clin Orthop Relat Res. 1991:241–52.

Paul RW, Brutico JM, Wright ML, Erickson BJ, Tjoumakaris FP, Freedman KBet al. Strong agreement between magnetic resonance imaging and radiographs for Caton-Deschamps index in patients with patellofemoral instability. Arthrosc Sports Med Rehabil 2021;3:e1621–e1628.

Thévenin-Lemoine C, Ferrand M, Courvoisier A, Damsin J-P. Ducou le pointe H, Vialle R. is the Caton-Deschamps index a valuable ratio to investigate patellar height in children? J Bone Joint Surg Am. 2011;93:e35.

Berg EE, Mason SL, Lucas MJ. Patellar height ratios. A comparison of four measurement methods. Am J Sports Med. 1996;24:218–21.

Paulos LE, Wnorowski DC, Greenwald AE. Infrapatellar contracture syndrome. Diagnosis, treatment, and long-term followup. Am J Sports Med. 1994;22:440–9.

Biedert RM, Albrecht S. The patellotrochlear index: a new index for assessing patellar height. Knee Surg Sports Traumatol Arthrosc. 2006;14:707–12.

Middleton S, Bajada S, Powell R, Nelson A, Mandalia V. Patellotrochlea index in Normal healthy knees. J Knee Surg. 2020.

Grelsamer RP, Meadows S. The modified Insall-Salvati ratio for assessment of patellar height. Clin Orthop Relat Res. 1992:170–6.

Caton JH, Prudhon JL, Aslanian T, Verdier R. Patellar height assessment in total knee arthroplasty: a new method. Int Orthop. 2016;40:2527–31.

Konrads C, Grosse LC, Ahmad SS, Springer F, Schreiner AJ, Schmidutz F, Erne F. Reliability of a Caton-Deschamps-derived patella height index for knee arthroplasty. Int Orthop. 2021;45:2001–5.

Early development of patella infera after knee fractures - PubMed [Internet]. [cited 2022 Jan 25]. Available from: https://pubmed.ncbi.nlm.nih.gov/7584199/

Chonko DJ, Lombardi AV, Berend KR. Patella Baja and total knee arthroplasty (TKA): etiology, diagnosis, and management. Surg Technol Int. 2004;12:231–8.

Paulos LE, Rosenberg TD, Drawbert J, Manning J, Abbott P. Infrapatellar contracture syndrome. An unrecognized cause of knee stiffness with patella entrapment and patella infera. Am J Sports Med. 1987;15:331–41.

Ahmad CS, Kwak SD, Ateshian GA, Warden WH, Steadman JR, Mow VC. Effects of patellar tendon adhesion to the anterior tibia on knee mechanics. Am J Sports Med. 1998;26:715–24.

Krieg JC, Mirza A. Case report: Patella Baja after retrograde femoral nail insertion. Clin Orthop Relat Res. 2009;467:566–71.

Sebastian P, Michael Z, Frederik G, Michael M, Marcus W, Moritz C, et al. Influence of patella height after patella fracture on clinical outcome: a 13-year period. Arch Orthop Trauma Surg. 2021.

Tria AJ, Alicea JA, Cody RP. Patella Baja in anterior cruciate ligament reconstruction of the knee. Clin Orthop Relat Res. 1994:229–34.

Chase JM, Hennrikus WL, Cullison TR. Patella infera following arthroscopic anterior cruciate ligament reconstruction. Contemp Orthop. 1994;28:487–93.

Adam F, Pape D, Kohn D, Seil R. Length of the patellar tendon after anterior cruciate ligament reconstruction with patellar tendon autograft: a prospective clinical study using roentgen stereometric analysis. Arthroscopy. 2002;18:859–64.

Hantes ME, Zachos VC, Bargiotas KA, Basdekis GK, Karantanas AH, Malizos KN. Patellar tendon length after anterior cruciate ligament reconstruction: a comparative magnetic resonance imaging study between patellar and hamstring tendon autografts. Knee Surg Sports Traumatol Arthrosc. 2007;15:712–9.

Otsuki S, Murakami T, Okamoto Y, Nakagawa K, Okuno N, Wakama H, et al. Risk of patella baja after opening-wedge high tibial osteotomy. J Orthop Surg (Hong Kong). 2018;26:2309499018802484.

Ozkaya U, Kabukçuoğlu Y, Parmaksizoğlu AS, Yeniocak S, Ozkazanli G. Changes in patellar height and tibia inclination angle following open-wedge high tibial osteotomy. Acta Orthop Traumatol Turc. 2008;42:265–71.

Scuderi GR, Windsor RE, Insall JN. Observations on patellar height after proximal tibial osteotomy. J Bone Joint Surg Am. 1989;71:245–8.

Gooi SG, Chan CXY, Tan MKL, Lim AKS, Satkunanantham K, Hui JHP. Patella height changes post high Tibial osteotomy. Indian J Orthop. 2017;51:545–51.

Sakai N, Koshino T, Okamoto R. Patella Baja after displacement of tibial tuberosity for patellofemoral disorders. Bull Hosp Jt Dis. 1993;53:25–8.

Weale AE, Murray DW, Newman JH, Ackroyd CE. The length of the patellar tendon after unicompartmental and total knee replacement. J Bone Joint Surg Br. 1999;81:790–5.

Davies GS, van Duren B, Shorthose M, Roberts PG, Morley JR, Monk AP, Murray DW, Pandit HG. Changes in patella tendon length over 5 years after different types of knee arthroplasty. Knee Surg Sports Traumatol Arthrosc. 2016;24:3029–35.

Bugelli G, Ascione F, Cazzella N, Franceschetti E, Franceschi F, Dell'Osso G, Svantesson E, Samuelsson K, Giannotti S. Pseudo-patella Baja: a minor yet frequent complication of total knee arthroplasty. Knee Surg Sports Traumatol Arthrosc. 2018;26:1831–7.

Perelli S, Ibañez M, Morales-Marin C, Acuña-Avila G, Espinoza-von Bischhoffshausen R, Masferrer-Pino A, Monllau JC. Patellar tendon lengthening: rescue procedure for patella Baja. Arthrosc Tech. 2020;9:e1–8.

Drexler M, Dwyer T, Marmor M, Sternheim A, Cameron HU, Cameron JC. The treatment of acquired patella Baja with proximalize the tibial tuberosity. Knee Surg Sports Traumatol Arthrosc. 2013;21:2578–83.

• Vandeputte F-J, Vandenneucker H. Proximalisation of the tibial tubercle gives a good outcome in patients undergoing revision total knee arthroplasty who have pseudo patella baja. Bone Joint J. 2017;99-B:912–6 Discusses outcomes of proximalization procedure in TKA.

• Schmidt S, Mengis N, Rippke JN, Zimmermann F, Milinkovic DD, Balcarek P. Treatment of acquired patella baja by proximalization tibial tubercle osteotomy significantly improved knee joint function but overall patient-reported outcome measures remain diminished after 2 to 4 years of follow-up. Arch Orthop Trauma Surg. 2021; Longer term outcomes of proximalization on native knee joints.

Hockings M, Cameron JC. Patella Baja following chronic quadriceps tendon rupture. Knee. 2004;11:95–7.

Cameron HU, Jung YB. Patella Baja complicating total knee arthroplasty. A report of two cases. J Arthroplast. 1988;3:177–80.

Dejour D, Levigne C, Dejour H. Postoperative low patella. Treatment by lengthening of the patellar tendon. Rev Chir Orthop Reparatrice Appar Mot. 1995;81:286–95.

• Guido W, Christian H, Elmar H, Elisabeth A, Christian F. Treatment of patella baja by a modified Z-plasty. Knee Surg Sports Traumatol Arthrosc. 2016;24:2943–7 Provides a description Z-plasty technique and reports outcomes.

In Y, Kim S-J, Kwon Y-J. Patellar tendon lengthening for patella infera using the Ilizarov technique. J Bone Joint Surg Br. 2007;89:398–400.

Jeong JS, Wang JH. Treatment of patella infera by patellar tendon lengthening and augmentation with tibialis anterior tendon allograft. Knee. 2014;21:605–8.

Yoo J-H, Chang J-D, Seo Y-J, Baek S-W. Reconstruction of a patellar tendon with Achilles tendon allograft for severe patellar infera--a case report. Knee. 2011;18:350–3.

Takai S, Shimazaki N, Yoshino N, Watanabe N, Nakachi N, Kobayashi M, Matsusita T. New technique for knee flexion contracture with patella infera using patellar tendon reconstruction combined with anterior capsular shift: a case report. Arch Orthop Trauma Surg. 2009;129:1383–6.
Ethics declarations
Conflict of Interest
Kathryn Barth and Sabrina Strickland declare that they have no relevant conflicts of interest.
Human and Animal Rights and Informed Consent
This article does not contain any studies with human or animal subjects performed by the authors.
Additional information
Publisher's note
Springer Nature remains neutral with regard to jurisdictional claims in published maps and institutional affiliations.
This article is part of the Topical Collection on Advances in Patellofemoral Surgery
Rights and permissions
Springer Nature or its licensor (e.g. a society or other partner) holds exclusive rights to this article under a publishing agreement with the author(s) or other rightsholder(s); author self-archiving of the accepted manuscript version of this article is solely governed by the terms of such publishing agreement and applicable law.
About this article
Cite this article
Barth, K.A., Strickland, S.M. Surgical Treatment of Iatrogenic Patella Baja. Curr Rev Musculoskelet Med 15, 673–679 (2022). https://doi.org/10.1007/s12178-022-09806-y
Accepted:

Published:

Issue Date:

DOI: https://doi.org/10.1007/s12178-022-09806-y
Keywords
Patella baja

Patella infera

Patellar tendon lengthening

Hamstring autograft