Abstract
Purpose of the Review
The goal of this review is to provide a guide on surgical decision-making options for complex anterior shoulder instability using a case-based approach.
Recent Findings
Arthroscopic Bankart repair is well documented for having successful outcomes in patients with isolated labral tear involvement with minimal bone loss. Latarjet is a generally accepted procedure in patients with 20–30% glenoid bone loss. When bone loss exceeds that which cannot be managed through Latarjet, a range of options exist and are highly dependent upon the extent of osseous deficiency on both the glenoid and humeral sides, surgeon experience, and patient-specific factors. The use of reverse total shoulder arthroplasty for the management of chronic locked shoulder dislocations has been described as a successful management option.
Summary
Treatment options for complex anterior shoulder instability range widely based on patients' presenting exam, surgical history, amount of glenoid bone loss, size of Hill-Sachs lesion, and surgeon preference. When selecting the appropriate surgical intervention, the treating surgeon must consider the patient history, physical exam, and preoperative imaging along with patient expectations.
Access options
Buy single article
Instant access to the full article PDF.
USD 39.95
Price includes VAT (USA)
Tax calculation will be finalised during checkout.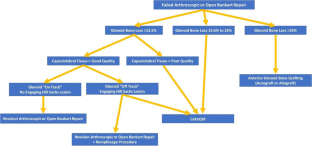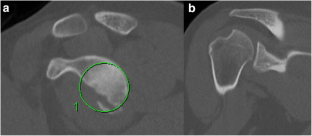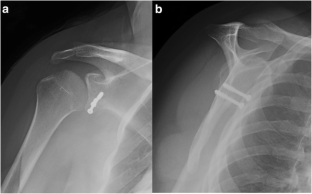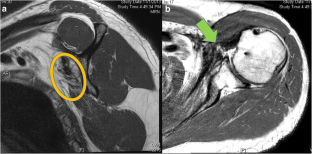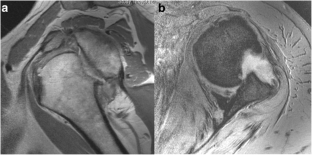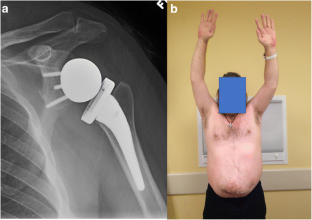 References
Papers of particular interest, published recently, have been highlighted as: • Of importance
1.

Jawa A, Riccheti E. In: Court-Brown C, Heckman J, McQueen M, Ricci W, Tornetta III P. Rockwood and Green's Fractures in Adults. 8th ed. Philadelphia: Wolters Kluwer Health; 2015:1503–66.

2.

Stefko JM, Tibone JE, Cawley PW, ElAttrache NE, McMahon PJ. Strain of the anterior band of the inferior glenohumeral ligament during capsule failure. J Shoulder Elb Surg. 1997;6:473–9.

3.

Yamamoto N, Muraki T, Sperling JW, et al. Stabilizing mechanism in bone-grafting of a large glenoid defect. J Bone Joint Surg Am. 2010;92:2059–66.

4.

• Zacchilli MA, Owens BD. Epidemiology of shoulder dislocations presenting to emergency departments in the United States. J Bone Joint Surg Am. 2010;92:542–9. This study is the most recent study evaluating the epidemiology of shoulder dislocations and illustrated the propensity of males to more commonly present with shoulder dislocations. The study also showed that the incidence rate was more than two times higher than previously resported with 23.9 per 100,000 person years.

5.

• Bankart AS. Recurrent or habitual dislocation of the shoulder-joint. Br Med J. 1923;2:1132–3. Landmark study first describing shoulder dislocations with the most common being anterior shoulder dislocations.

6.

Kroner K, Lind T, Jensen J. The epidemiology of shoulder dislocations. Arch Orthop Trauma Surg. 1989;108:288–90.

7.

Romeo AA, Cohen BS, Carreira DS. Traumatic anterior shoulder instability. Orthop Clin North Am. 2001;32:399–409.

8.

• Hovelius L, Olofsson A, Sandstrom B, et al. Nonoperative treatment of primary anterior shoulder dislocation in patients forty years of age and younger: a prospective twenty-five-year follow-up. J Bone Joint Surg Am. 2008;90:945–52. This study found that younger patients with primary dislocations have a 50% recurrence of shoulder dislocation events.

9.

• Boileau P, Villalba M, Hery JY, Balg F, Ahrens P, Neyton L. Risk factors for recurrence of shoulder instability after arthroscopic Bankart repair. J Bone Joint Surg Am. 2006;88:1755–63. This prospective observational study highlighted the risk factors associated with recurrent anterior shoulder instability after arthroscopic Bankart repair, which included glenoid bone loss and shoulder hyperlaxity.

10.

Calvo E, Granizo JJ, Fernandez-Yruegas D. Criteria for arthroscopic treatment of anterior instability of the shoulder: a prospective study. J Bone Joint Surg Br. 2005;87:677–83.

11.

Rhee YG, Cho NS, Cho SH. Traumatic anterior dislocation of the shoulder: factors affecting the progress of the traumatic anterior dislocation. Clin Orthop Surg. 2009;1:188–93.

12.

Edwards TB, Boulahia A, Walch G. Radiographic analysis of bone defects in chronic anterior shoulder instability. Arthroscopy. 2003;19:732–9.

13.

Gleyze P, Habermeyer P. Arthroscopic aspects and chronologic outcome of lesions of the labro-ligament complex in post-traumatic antero-inferior instability of the shoulder. A prospective study of 91 cases. Rev Chir Orthop Reparatrice Appar Mot. 1996;82:288–98.

14.

• Burkhart SS, De Beer JF. Traumatic glenohumeral bone defects and their relationship to failure of arthroscopic Bankart repairs: significance of the inverted-pear glenoid and the humeral engaging Hill-Sachs lesion. Arthroscopy. 2000;16:677–94. This study described the importance of glenoid morphology and bone loss with an engaging Hill-Sachs lesion in relationship with Bankart repairs. In the group of patients with significant bone loss, the failure rate was 67%. In general, patients with significant glenoid bone loss should be considered candidates for the Latarjet procedure.

15.

• Harris JD, Gupta AK, Mall NA, et al. Long-term outcomes after Bankart shoulder stabilization. Arthroscopy. 2013;29:920–33. Systematic review of the literature demonstrating similar long-term outcome of surgical treatment of anterior shoulder instability comparing arthroscopic versus open techniques with similar rate of recurrent instabilty, clinical outcome scores, and return to sports.

16.

• Nelson GN, Namdari S, Galatz L, Keener JD. Pectoralis major tendon transfer for irreparable subscapularis tears. J Shoulder Elb Surg. 2014;23:909–18. Patients with anterosuperior instability and large rotator cuff tears or failed shoulder arthroplasty with chronic subscapularis tendon tear have the least predictable pain relief and worse outcome after pectoralis major tendon transfer.

17.

Moroder P, Schulz E, Mitterer M, Plachel F, Resch H, Lederer S. Long-term outcome after pectoralis major transfer for irreparable anterosuperior rotator cuff tears. J Bone Joint Surg Am. 2017;99:239–45.

18.

Chalmers PN, Rahman Z, Romeo AA, Nicholson GP. Early dislocation after reverse total shoulder arthroplasty. J Shoulder Elb Surg. 2014;23:737–44.

19.

• Shin SJ, Kim RG, Jeon YS, Kwon TH. Critical value of anterior glenoid bone loss that leads to recurrent glenohumeral instability after arthroscopic Bankart repair. Am J Sports Med. 2017;45(9):1975–1981. This study describes the concept of 17.3% as being the critical threshold for anterior glenoid bone loss. The failure rate in the group of patients with more than 17.3% was 45% after arthroscopic Bankart repair.

20.

• Bessiere C, Trojani C, Pelegri C, Carles M, Boileau P. Coracoid bone block versus arthroscopic Bankart repair: a comparative paired study with 5-year follow-up. Orthop Traumatol Surg Res. 2013;99:123–30. This retrospective study compared recurrence of instability between Latarjet versus Bankart patients and found that overall, there were more cases of recurrent instability among the Bankart group with the following risk factors independently increasing the risk of roccurence: young age (< 25 years), returning to competitive sports and glenoid bone loss.

21.

• Bessiere C, Trojani C, Carles M, Mehta SS, Boileau P. The open Latarjet procedure is more reliable in terms of shoulder stability than arthroscopic Bankart repair. Clin Orthop Relat Res. 2014;472:2345–51. In a follow-up retrospective comparative study of arthroscopic Bankart versus open Latarjet, Bessiere et al. found that open Latarjet was more predictable and had less recurent instability. Reoperation rate was similar between the two groups, but Bankart repairs had more recurrent instability events.

22.

Waterman BR, Chandler PJ, Teague E, Provencher MT, Tokish JM, Pallis MP. Short-term outcomes of glenoid bone block augmentation for complex anterior shoulder instability in a high-risk population. Arthroscopy. 2016;32:1784–90.

23.

Lunn JV, Castellano-Rosa J, Walch G. Recurrent anterior dislocation after the Latarjet procedure: outcome after revision using a modified Eden-Hybinette operation. J Shoulder Elb Surg. 2008;17:744–50.

24.

Di Giacomo G, Itoi E, Burkhart SS. Evolving concept of bipolar bone loss and the Hill-Sachs lesion: from "engaging/non-engaging" lesion to "on-track/off-track" lesion. Arthroscopy. 2014;30:90–8.

25.

Statz JM, Schoch BS, Sanchez-Sotelo J, Sperling JW, Cofield RH. Shoulder arthroplasty for locked anterior shoulder dislocation: a role for the reversed design. Int Orthop. 2017;41:1227–34.

26.

Gavriilidis I, Kircher J, Magosch P, Lichtenberg S, Habermeyer P. Pectoralis major transfer for the treatment of irreparable anterosuperior rotator cuff tears. Int Orthop. 2010;34:689–94.

27.

Wiesel BB, Gartsman GM, Press CM, et al. What went wrong and what was done about it: pitfalls in the treatment of common shoulder surgery. J Bone Joint Surg Am. 2013;95:2061–70.

28.

Ladermann A, Lubbeke A, Stern R, Cunningham G, Bellotti V, Gazielly DF. Risk factors for dislocation arthropathy after Latarjet procedure: a long-term study. Int Orthop. 2013;37:1093–8.

29.

• Blonna D, Bellato E, Caranzano F, Assom M, Rossi R, Castoldi F. Arthroscopic Bankart repair versus open Bristow-Latarjet for shoulder instability: a matched-pair multicenter study focused on return to sport. Am J Sports Med. 2016;44:3198–205. This case control matched cohort study directly compared arthroscopic Bankart repair to open Latarjet surgery. The study found that arthroscopic Bankart patients were better able to return to sports and also had higher SSV. Although underpowered, it does appear that there may be a higher recurrence rate of instability among the arthroscopic Bankart group.

30.

Kim SH, Ha KI, Kim YM. Arthroscopic revision Bankart repair: a prospective outcome study. Arthroscopy. 2002;18:469–82.

31.

Neri BR, Tuckman DV, Bravman JT, Yim D, Sahajpal DT, Rokito AS. Arthroscopic revision of Bankart repair. J Shoulder Elb Surg. 2007;16:419–24.

32.

Boileau P, Thelu CE, Mercier N, et al. Arthroscopic Bristow-Latarjet combined with Bankart repair restores shoulder stability in patients with glenoid bone loss. Clin Orthop Relat Res. 2014;472:2413–24.

33.

• Shaha JS, Cook JB, Song DJ, et al. Redefining "critical" bone loss in shoulder instability: functional outcomes worsen with "Subcritical" bone loss. Am J Sports Med. 2015;43:1719–25. This study redefined "critical bone loss" at 13.5% of glenoid bone loss instead of the previously proposed 20–25% glenoid bone loss. Patients with greater than 13.5% bone loss had significantly higher WOSI scores or poorer function outcome compared to the group that had less than 13.5% bone loss even if they did not have any recurrent subluxations or dislocations.

34.

Marquardt B, Garmann S, Schulte T, Witt KA, Steinbeck J, Potzl W. Outcome after failed traumatic anterior shoulder instability repair with and without surgical revision. J Shoulder Elb Surg. 2007;16:742–7.

35.

• Hovelius L, Vikerfors O, Olofsson A, Svensson O, Rahme H. Bristow-Latarjet and Bankart: a comparative study of shoulder stabilization in 185 shoulders during a seventeen-year follow-up. J Shoulder Elb Surg. 2011;20:1095–101. This study found that patients have greater stability and self-reported symptom resolution with the Latarjet compared to Bankart repair.

36.

Burkhart SS, De Beer JF, Barth JR, Cresswell T, Roberts C, Richards DP. Results of modified Latarjet reconstruction in patients with anteroinferior instability and significant bone loss. Arthroscopy. 2007;23:1033–41.

37.

Sugaya H, Moriishi J, Dohi M, Kon Y, Tsuchiya A. Glenoid rim morphology in recurrent anterior glenohumeral instability. J Bone Joint Surg Am. 2003;85-A:878–84.

38.

• Hovelius L, Sandstrom B, Olofsson A, Svensson O, Rahme H. The effect of capsular repair, bone block healing, and position on the results of the Bristow-Latarjet procedure (study III): long-term follow-up in 319 shoulders. J Shoulder Elb Surg. 2012;21:647–60. This study again states that Latarjet procedure results in good outcomes, but the positioning of the coracoid is important and influences the rate of recurrence as does performing a capsular shift in conjunction with the Latarjet procedure.

39.

Denard PJ, Dai X, Burkhart SS. Increasing preoperative dislocations and total time of dislocation affect surgical management of anterior shoulder instability. Int J Shoulder Surg. 2015;9:1–5.

40.

Kralinger FS, Golser K, Wischatta R, Wambacher M, Sperner G. Predicting recurrence after primary anterior shoulder dislocation. Am J Sports Med. 2002;30:116–20.

41.

Provencher MT, Frank RM, Leclere LE, et al. The Hill-Sachs lesion: diagnosis, classification, and management. J Am Acad Orthop Surg. 2012;20:242–52.

42.

• Li X, Cusano A, Eichinger J. Eden-Hybinette and pectoralis major transfer for recurrent shoulder instability due to failed Latarjet and chronic subscapularis rupture. Orthopedics. 2017;40:e182–e7. This case report introduce the concept of adding an anterior glenoid bone grafting with the pectoralis major transfer in the subset of patients that have chronic subscapularis tear and anterior superior escape. The center of rotation moves anteriorly with chronic subscapularis rupture, and adding the anterior glenoid bone grafting will provide further excursion to balance the humeral head.

43.

Merolla G, Tartarone A, Sperling JW, Paladini P, Fabbri E, Porcellini G. Early clinical and radiological outcomes of reverse shoulder arthroplasty with an eccentric all-polyethylene glenosphere to treat failed hemiarthroplasty and the sequelae of proximal humeral fractures. Int Orthop. 2017;41:141–8.

44.

• Kurowicki J, Triplet JJ, Momoh E, Moor MA, Levy JC. Reverse shoulder prosthesis in the treatment of locked anterior shoulders: a comparison with classic reverse shoulder indications. J Shoulder Elb Surg. 2016;25:1954–60. This study highlights the RTSA in the treatment of locked anterior shoulder dislocations.

45.

Raiss P, Edwards TB, Bruckner T, Loew M, Zeifang F, Walch G. Reverse arthroplasty for patients with chronic locked dislocation of the shoulder (type 2 fracture sequela). J Shoulder Elb Surg. 2017;26:279–87.

46.

Ko SH, Cha JR, Lee CC, Hwang IY, Choe CG, Kim MS. The influence of arthroscopic remplissage for engaging Hill-Sachs lesions combined with Bankart repair on redislocation and shoulder function compared with Bankart repair alone. Clin Orthop Surg. 2016;8:428–36.

47.

Purchase RJ, Wolf EM, Hobgood ER, Pollock ME, Smalley CC. Hill-Sachs "remplissage": an arthroscopic solution for the engaging Hill-Sachs lesion. Arthroscopy. 2008;24:723–6.

48.

Conolly J. Humeral head defects associated with shoulder dislocations: their diagnostic and surgical significance. Instr Course Lect. 1972;21:42–54.

49.

Merolla G, Paladini P, Di Napoli G, Campi F, Porcellini G. Outcomes of arthroscopic Hill-Sachs remplissage and anterior Bankart repair: a retrospective controlled study including ultrasound evaluation of posterior capsulotenodesis and infraspinatus strength assessment. Am J Sports Med. 2015;43:407–14.

50.

Garcia GH, Wu HH, Liu JN, Huffman GR, Kelly JD. Outcomes of the remplissage procedure and its effects on return to sports: average 5-year follow-up. Am J Sports Med. 2016;44:1124–30.

51.

Bonnevialle N, Azoulay V, Faraud A, Elia F, Swider P, Mansat P. Results of arthroscopic Bankart repair with Hill-Sachs remplissage for anterior shoulder instability. Int Orthop 2017.

52.

Wolf EM, Arianjam A. Hill-Sachs remplissage, an arthroscopic solution for the engaging Hill-Sachs lesion: 2- to 10-year follow-up and incidence of recurrence. J Shoulder Elb Surg. 2014;23:814–20.

53.

Miniaci A, Gish MW. Management of anterior glenohumeral instability associated with large Hill-Sachs defects. Tech Shoulder Elb Surg. 2004;5:170–5.

54.

Saltzman BM, Riboh JC, Cole BJ, Yanke AB. Humeral head reconstruction with osteochondral allograft transplantation. Arthroscopy. 2015;31:1827–34.

55.

Grumet RC, Bach BR Jr, Provencher MT. Arthroscopic stabilization for first-time versus recurrent shoulder instability. Arthroscopy. 2010;26:239–48.
Ethics declarations
Conflict of Interest
Nathan Olszewski, Michael Gustin, and Emily J. Curry declare that they have no conflict of interest.
Xinning Li reports equity in, and is an editorial board member of, Journal of Medical Insight.
Human and Animal Rights and Informed Consent
This article does not contain any studies with human or animal subjects performed by any of the authors.
Additional information
This article is part of the Topical Collection on Management of Anterior Shoulder Instability
About this article
Cite this article
Olszewski, N., Gustin, M., Curry, E.J. et al. Management of Complex Anterior Shoulder Instability: a Case-Based Approach. Curr Rev Musculoskelet Med 10, 480–490 (2017). https://doi.org/10.1007/s12178-017-9438-z
Keywords
Anterior shoulder instability

Latarjet procedure

Eden-Hybinette procedure

Bankart repair

Remplissage

Pectoralis major transfer

Reverse total shoulder arthroplasty

Critical Glenoid Bone Loss