Abstract
Purpose of review
The purposes of this review are to discuss the diagnosis and management of mallet and jersey finger injuries in athletes and to highlight how treatment impacts return to play.
Recent findings
Mallet finger: although numerous non-operative and operative techniques have been described, there continues to be little consensus regarding the optimal procedure. Jersey finger: ultrasound appears to be a cost-effective imaging modality that may be useful for preoperative planning. Wide-awake surgery offers optimal intraoperative assessment of the tendon repair. Tendon repair with volar plate augmentation has been shown to improve the strength of the repair in the laboratory, and early clinical results are encouraging.
Summary
Most mallet finger injuries will heal with non-operative treatment over a period of 8–12 weeks, even when treatment is delayed up to 3–4 months. An acute diagnosis of jersey finger requires surgical treatment and generally means 8–12 weeks of inability to compete in most contact sports.
Access options
Buy single article
Instant access to the full article PDF.
USD 39.95
Price excludes VAT (USA)
Tax calculation will be finalised during checkout.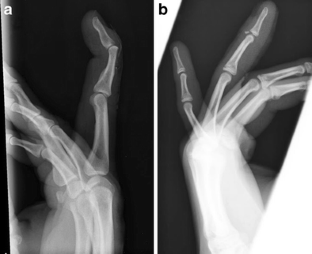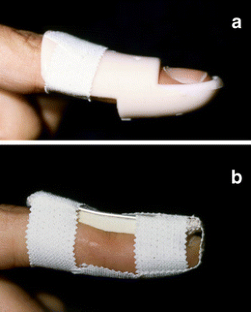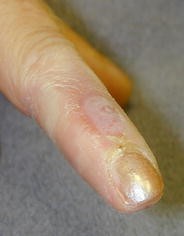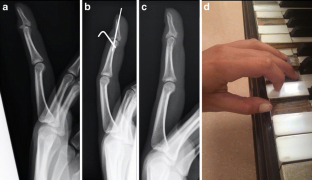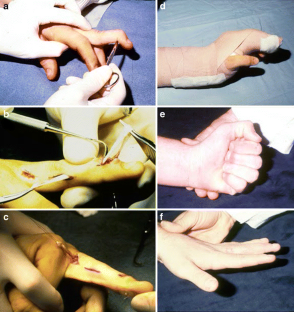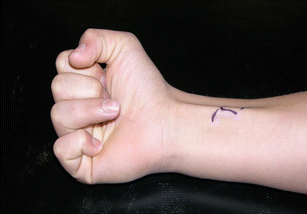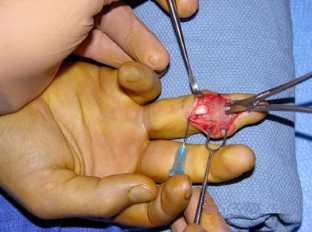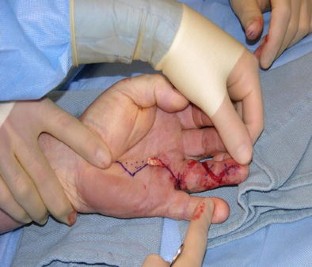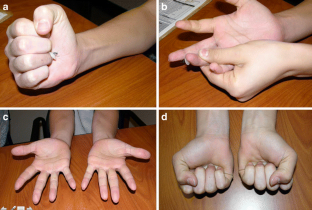 References
Papers of particular interest, published recently, have been highlighted as: • Of importance •• Of major importance
Ootes D, Lambers KT, Ring DC. The epidemiology of upper extremity injuries presenting to the emergency department in the United States. Hand (N Y). 2012;7:18–22. doi:10.1007/s11552-011-9383-z.

Hume MC, Gellman H, McKellop H, Brumfield Jr RH. Functional range of motion of the joints of the hand. J Hand Surg [Am]. 1990;15:240–3.

Shrewsbury MM, Johnson RK. Ligaments of the distal interphalangeal joint and the mallet position. J Hand Surg [Am]. 1980;5:214–6.

Schneider LH. Fractures of the distal interphalangeal joint. Hand Clin. 1994;10:277–85.

Lubahn JD, Hood JM. Fractures of the distal interphalangeal joint. Clin Orthop Relat Res. 1996;327:12–20.

Shum C, Bruno RJ, Ristic S, Rosenwasser MP, Strauch RJ. Examination of the anatomic relationship of the proximal germinal nail matrix to the extensor tendon insertion. J Hand Surg [Am]. 2000;25:1114–7.

Katzman BM, Klein DM, Mesa J, Geller J, Caligiuri DA. Immobilization of the mallet finger. Effects on the extensor tendon. J Hand Surg (Br). 1999;24:80–4.

Leddy JP, Packer JW. Avulsion of the profundus tendon insertion in athletes. J Hand Surg [Am]. 1977;2:66–9.

Lange RH, Engber WD. Hyperextension mallet finger. Orthopedics. 1983;6:1426–31. doi:10.3928/0147-7447-19831101-10.

Seymour N. Juxta-epiphysial fracture of the terminal phalanx of the finger. J Bone Joint Surg (Br). 1966;48:347–9.

Doyle J. Extensor tendons-acute injuries. In: Green D, editor. Green's operative hand surgery. 2nd ed. New York: Churchill Livingstone; 1993.

Wehbé MA, Schneider LH. Mallet fractures. J Bone Joint Surg Am. 1984;66:658–69.

Burton RI. Extensor tendons—late reconstruction. In: Green DP, editor. Operative hand surgery. New York: Churchill Livingstone; 1988.

Bendre AA, Hartigan BJ, Kalainov DM. Mallet finger. J Am Acad Orthop Surg. 2005;13:336–44.

• Altan E, Alp NB, Baser R, Yalçın L. Soft-tissue mallet injuries: a comparison of early and delayed treatment. J Hand Surg [Am]. 2014;39:1982–5. doi:10.1016/j.jhsa.2014.06.140. The authors note that conservative management of tendinous mallet finger injuries that have been neglected for 2 to 4 weeks are treated as effectively as those presenting within 2 weeks of injury, with low long-term complication rates.

Kalainov DM, Hoepfner PE, Hartigan BJ, Carroll 4th C, Genuario J. Nonsurgical treatment of closed mallet finger fractures. J Hand Surg [Am]. 2005;30:580–6. doi:10.1016/j.jhsa.2005.02.010.

Garberman SF, Diao E, Peimer CA. Mallet finger: results of early versus delayed closed treatment. J Hand Surg [Am]. 1994;19:850–2. doi:10.1016/0363-5023(94)90200-3.

Lubahn JD. Mallet finger fractures: a comparison of open and closed technique. J Hand Surg [Am]. 1989;14(2 Pt 2):394–6.

Ishiguro T, Itoh Y, Yabe Y, Hashizume N. Extension block with Kirschner wire for fracture dislocation of the distal interphalangeal joint. Tech Hand Up Extrem Surg. 1997;1:95–102.

Tuttle HG, Olvey SP, Stern PJ. Tendon avulsion injuries of the distal phalanx. Clin Orthop Relat Res. 2006;445:157–68. doi:10.1097/01.blo.0000205903.51727.62.

Hofmeister EP, Mazurek MT, Shin AY, Bishop AT. Extension block pinning for large mallet fractures. J Hand Surg [Am]. 2003;28:453–9. doi:10.1053/jhsu.2003.50089.

• Toker S, Türkmen F, Pekince O, Korucu İ, Karalezli N. Extension block pinning versus hook plate fixation for treatment of mallet fractures. J Hand Surg [Am]. 2015;40:1591–6. doi:10.1016/j.jhsa.2015.04.027. In this level III retrospective study, the authors compare clinical outcomes between extension block pinning and open reduction and internal fixation with a hook plate. The study had a small sample size of 22 patients in total and noted no statistical differences in outcomes. The authors concluded that extension pinning was less expensive than hook plate fixation.

Suh N, Wolfe SW. Soft tissue mallet finger injuries with delayed treatment. J Hand Surg [Am]. 2013;38:1803–5. doi:10.1016/j.jhsa.2013.03.050.

Kleinert HE, Verdan C. Report of the committee on tendon injuries (International Federation of Societies for Surgery of the Hand). J Hand Surg [Am]. 1983;8(5 Pt 2):794–8.

Lunn PG, Lamb DW. "Rugby finger"—avulsion of profundus of ring finger. J Hand Surg (Br). 1984;9:69–71.

Goodson A, Morgan M, Rajeswaran G, Lee J, Katsarma E. Current management of Jersey finger in rugby players: case series and literature review. Hand Surg. 2010;15(2):103–7. doi:10.1142/S0218810410004710.

Cockenpot E, Lefebvre G, Demondion X, Chantelot C, Cotten A. Imaging of sports-related hand and wrist injuries: sports imaging series. Radiology. 2016;279:674–92. doi:10.1148/radiol.2016150995.

Bois AJ, Johnston G, Classen D. Spontaneous flexor tendon ruptures of the hand: case series and review of the literature. J Hand Surg [Am]. 2007;32:1061–71. doi:10.1016/j.jhsa.2007.06.012.

•• Lalonde DH, Martin AL. Wide-awake flexor tendon repair and early tendon mobilization in zones 1 and 2. Hand Clin. 2013;29:207–13. doi:10.1016/j.hcl.2013.02.009. A thorough discussion of wide-awake flexor tendon repair is presented, including technical considerations related to the use of local anesthesia and intraoperative assessment of the tendon repair.

Bunnell S. Surgery of the hand. 3rd ed. Philadelphia: JB Lippincott; 1948.

Al-Qattan MM, Al-Turaiki TM, Al-Zahrani AY, Al-Harbi MS, Al-Kahtani FS. A new technique of flexor profundus repair in the distal part of zone I: inclusion of the palmar plate. J Hand Surg Eur Vol. 2010;35:459–63. doi:10.1177/1753193410365631.

• Al-Qattan MM. Use of the volar plate of the distal interphalangeal joint as a distally based flap in flexor tendon surgery. J Hand Surg [Am]. 2016;41:287–90. doi:10.1016/j.jhsa.2015.11.004. This manuscript discusses the distal interphalangeal joint volar plate as a distally based flap for zone I tendon repair. Its advantages and potential complications are also discussed.

Chu JY, Chen T, Awad HA, Elfar J, Hammert WC. Comparison of an all-inside suture technique with traditional pull-out suture and suture anchor repair techniques for flexor digitorum profundus attachment to bone. J Hand Surg [Am]. 2013;38:1084–90. doi:10.1016/j.jhsa.2013.02.015.

Halát G, Negrin L, Koch T, Erhart J, Platzer P, Hajdu S, et al. Biomechanical characteristics of suture anchor implants for flexor digitorum profundus repair. J Hand Surg [Am]. 2014;39:256–61. doi:10.1016/j.jhsa.2013.11.023.

• Brar R, Owen JR, Melikian R, Gaston RG, Wayne JS, Isaacs JE. Reattachment of flexor digitorum profundus avulsion: biomechanical performance of 3 techniques. J Hand Surg [Am]. 2014;39:2214–9. doi:10.1016/j.jhsa.2014.07.054. In this cadaveric study of FDP suture anchor repair, volar plate incorporation conferred a significant advantage in strength relative to suture anchor fixation alone.
Ethics declarations
Conflict of interest
The authors declare that they have no conflict of interest.
Human and animal rights and informed consent
This article does not contain any studies with human or animal subjects performed by any of the authors.
Additional information
This article is part of the Topical Collection on Hand and Wrist Sports Medicine
About this article
Cite this article
Bachoura, A., Ferikes, A.J. & Lubahn, J.D. A review of mallet finger and jersey finger injuries in the athlete. Curr Rev Musculoskelet Med 10, 1–9 (2017). https://doi.org/10.1007/s12178-017-9395-6
Published:

Issue Date:

DOI: https://doi.org/10.1007/s12178-017-9395-6
Keywords
Athlete

Distal phalanx

Jersey finger

Mallet finger

Tendon avulsion