Abstract
Efficiency in surgical procedures saves time and money and can decrease medical complications. Several sources of inefficiency exist in the operating room, including preoperative and intraoperative. The instruments used during TKA are frequently redundant. Customized instruments and implants can improve efficiency by reducing steps. Additional benefits may include improved alignment and kinematics. This chapter addresses the various sources of inefficiency, provides suggestions to overcome them, and introduces the concept of customized guides and implants as a method to improve efficiency.
This is a preview of subscription content, log in to check access.
Access options
Buy single article
Instant access to the full article PDF.
US$ 39.95
Price includes VAT for USA
Subscribe to journal
Immediate online access to all issues from 2019. Subscription will auto renew annually.
US$ 99
This is the net price. Taxes to be calculated in checkout.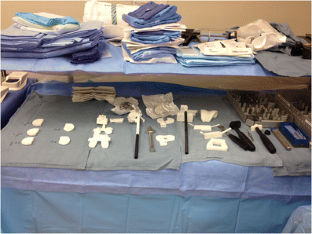 References
Papers of particular interest, published recently, have been highlighted as: • Of importance •• Of major importance
1.

Jaffer AK, Barsoum WK, Krebs V, Hurbanek JG, Morra N, Brotman DJ. Duration of anesthesia and venous thromboembolism after hip and knee arthroplasty. Mayo Clin Proc. 2005;80:732–8.

2.

Willis-Owen CA, Konyves A, Martin DK. Factors affecting the incidence of infection in hip and knee replacement: an analysis of 5277 cases. J Bone Joint Surg Br. 2010;92:1128–33.

3.

Prasad N, Padmanabhan V, Mullaji A. Blood loss in total knee arthroplasty: an analysis of risk factors. Int Orthop. 2007;31:39–44.

4.

Ong KL, Lau E, Manley M, Kurtz SM. Effect of procedure duration on total hip arthroplasty and total knee arthroplasty survivorship in the United States Medicare population. J Arthroplasty. 2008;23(6 Suppl 1):127–32.

5.

•• Watters TS, Mather III RC, Browne JA, Berend KR, Lombardi Jr AV, Bolognesi MP. Analysis of procedure-related costs and proposed benefits of using patient-specific approach in total knee arthroplasty. J Surg Orthop Adv. 2011;20(6):112–6. This study compares custom guide based, navigation based, and standard TKA. Costs were similar between standard and custom guide TKA, but surgical time of the latter was, on average, 28 minutes shorter.

6.

JFK Memorial Hospital Working Group internal data.

7.

Spencer BA, Mont MA, McGrath MS, Boyd B, Mitrick MF. Initial experience with custom-fit total knee replacement: intra-operative events and long-leg coronal alignment. Int Orthop. 2009;33:1571–5.

8.

• Nunley RM, Ellison BS, Zhu J, Ruh EL, Howell SM, Barrack RL. Do patient-specific guides improve coronal alignment in total knee arthroplasty? Clin Orthop Relat Res. 2012;470:895–902. This study compared conventional instruments, patient specific guides targeting the mechanical axis, and patient specific guides targeting the kinematic axis. Overall percentages of outliers vis-à-vis the mechanical axis were similar between the first 2, although conventional guides tended to produce more overall varus. Kinematic axis guides produced more valgus outliers.
Disclosure
RK Sinha: board membership with ConforMIS, Inc, consultant to Zimmer and Robodoc, has grants from ConforMIS, Inc, Zimmer, and Superstat, receives royalties from ConforMIS and Zimmer, develops educational presentations for Angiotech, and has stock options with ConforMIS, Inc.
About this article
Cite this article
Sinha, R.K. The use of customized TKA implants for increased efficiency in the OR. Curr Rev Musculoskelet Med 5, 296–302 (2012). https://doi.org/10.1007/s12178-012-9140-0
Keywords
Knee replacement

Efficiency

Customized instruments

Patient specific implants