This is a preview of subscription content, log in to check access.
Access options
Buy single article
Instant access to the full article PDF.
US$ 39.95
Tax calculation will be finalised during checkout.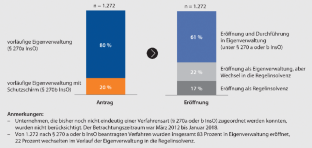 Literatur
Bizenberger, R./ Eschmann, J. (2016): ESUG-Studie 2016. Heidelberger gemeinnützige Gesellschaft für Unternehmensrestrukturierung (HgGUR) und Roland Berger, Heidelberg/Berlin.

Buchalik, R./ Haarmeyer, H. (2015): Sanieren statt Liquidieren: Neue Wege zur nachhaltigen Sanierung, 2. Auflage, Herne.

Graf-Schlicker, M. (Hrsg.) (2018): InsO — Kommentar zur Insolvenzordnung, 5. Auflage, Köln.

Henningsen, H. (2016): Die Rolle des Controllers im Restrukturierungsprozess: Neue Schwerpunkte und Aufgaben?, in: Krings, U. (Hrsg.): Erfolgsfaktor Controlling — Der Controller als Inhouse-Consultant, 2. Auflage, Wiesbaden, S. 65–95. https://doi.org/www.springerprofessional.de/link/4330080

Moldenhauer, R./ Wolf, R. (2018): Sechs Jahre ESUG, The Boston Consulting Group, Frankfurt am Main.
About this article
Cite this article
Geulen, M., Mahlendorf, M. Auf dem Weg zu einer neuen Kultur der zweiten Chance. Control Manag Rev 62, 62–67 (2018). https://doi.org/10.1007/s12176-018-0053-7