Abstract
Animals interact with humans in multiple ways, including as therapy and service animals, commercially as livestock, as wildlife, and in zoos. But the most common interaction is as companion animals in our homes, with an estimated 180 million cats and dogs living in US households. While pet ownership has been reported to have many health benefits, the findings are inconsistent. Cardiovascular risk factors such as lipids, glucose, obesity, and heart rate variability have improved, worsened, or remained the same in the limited number of studies considering companion animals. Physical activity increases have more consistently been linked with dog ownership, although whether this reflects antecedent motivation or direct benefit from the dog is unclear. Allergies and asthma also are variably linked to pet ownership and are confounded by family history of atopy and timing of exposure to pet dander. The benefits of companion animals are most likely to be through reduction in depression, anxiety, and social isolation, but these studies have been largely cross-sectional and may depend on degree of bonding of the owner with the animal. Positive relationships show measurably higher oxytocin with lower cortisol and alpha-amylase levels. Finally, pet ownership is also a marker of better socioeconomic status and family stability, and if companion animals are to provide cardiovascular risk benefit, the route should perhaps be through improved education and opportunity for ownership.
Access options
Buy single article
Instant access to the full article PDF.
US$ 39.95
Tax calculation will be finalised during checkout.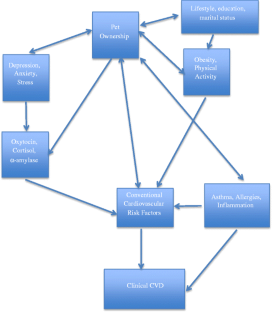 References
Papers of particular interest, published recently, have been highlighted as: • Of importance •• Of major importance
1.

2012 U.S. Pet Ownership & Demographics Sourcebook, https://www.avma.org/kb/resources/statistics/pages/market-research-statistics-us-pet-ownership-demographics-sourcebook.aspx

2.

American Pet Products Association 2012. http://www.humanesociety.org/issues/pet_overpopulation/facts/pet_ownership_statistics.html

3.••

Levine GN, Allen K, Braun LT, Christian JE, Friedmann E, Taubert KA, et al. Pet ownership and cardiovascular risk. A scientific statement from the American Heart Association. Circulation. 2013;127:2353–63. This scientific statement provides an evidence-based overview of pet ownership and hypertension, hyperlipidemia, physical activity, obesity, autonomic function, and cardiovascular reactivity, and survival in people with and without established cardiovascular disease. The studies are displayed based on level of evidence and the authors conclude that pet ownership is probably associated with decreased CVD risk and that this role may be causal.

4.

Friedmann E, Katcher AH, Lynch JL, Thomas SA. Animal companions and one-year survival of patients after discharge from a coronary care unit. Public Health Rep. 1980;95(4):307–12.

5.

Friedmann E, Thomas S. Pet ownership, social support, and one-year survival after acute myocardial infarction in the Cardiac Arrhythmia Suppression Trial (CAST). Am J Cardiol. 1995;76:1213–7.

6.

Friedmann E, Thomas SA, H S, for the HAT Investigators. Pets, depression and long-term survival in community living patients following myocardial infarction. Anthrozoös. 2011;24(3):273–85.

7.

Allen K, Blascovich J, Mendes WB. Cardiovascular reactivity and the presence of pets, friends, and spouses: the truth about cats and dogs. Psychosom Med. 2002;64:727–39.

8.

Friedmann E, Thomas SA, Stein PK, Kleiger RE. Relation between pet ownership and heart rate variability in patients with healed myocardial infarctions. Am J Cardiol. 2003;91:718–21.

9.

Aiba N, Hotta K, Yokoyam M, Wang G, Tabata M, Shimizu R, et al. Usefulness of pet ownership as a modulator of cardiac autonomic imbalance in patients with diabetes mellitus, hypertension, and/or hyperlipidemia. Am J Cardiol. 2012;109:1164–70.

10.

Gee NR, Friedmann E, Stendahl M, Fisk A, Coglitore V. Heart rate variability during a working memory task: does touching a dog or person affect the response? Anthrozoös. 2014;27(4):513–28.

11.

Qureshi AI, Memon MA, Vazquez G, Suri MFK. Cat ownership and risk of fatal cardiovascular diseases. Results from the second national health and nutrition examination study mortality follow-up study. J Vasc Interv Neurol. 2009;2(1):132–5.

12.

Allen K, Shykoff BE, Izzo Jr JL. Pet ownership, but not ACE inhibitor therapy, blunts home blood pressure responses to mental stress. Hypertension. 2001;38:815–20.

13.

Friedmann E, Thomas SA, Son H, Chapa D, McCune S. Pet's presence and owner's blood pressures during the daily lives of pet owners with pre- to mild hypertension. Anthrozoös. 2013;26(4):535–50.

14.

Handlin L, Hydbring-Sandberg E, Nilsson A, Ejdeback M, Jansson A, Uvnas-Moberg K. Short-term interaction between dogs and their owners: effects of oxytocin, cortisol, insulin and heart rate—an exploratory study. Anthrozoös. 2011;24(3):301–15.

15.

Schreiner P. Pet ownership and factors associated with cardiovascular health: the Coronary Artery Risk Development in Young Adults (CARDIA) study. Am J Epidemiol. 2012;175 suppl 11:s108.

16.

Schreiner P. HAI and health outcomes: associations of pet ownership with adiposity in middle age: the CARDIA study. Chicago: International Society for Anthrozoology Annual Meeting; 2013.

17.

Rhodes RE, Murray H, Temple VA, Tuokko H, Wharf Higgins J. Pilot study of a dog walking randomized intervention: effects of a focus on canine exercise. Prev Med. 2012;54:309–12.

18.

Thorpe RJ, Simonsick EM, Brach JS, Ayonayon H, Satterfield S, Harris TB, et al. Dog ownership, walking behavior, and maintained mobility in late life. J Am Geriatr Soc. 2006;54:1419–24.

19.

Cutt H, Giles-Corti B, Knuiman M, Timperio A, Bull F. Understanding dog owners' increased levels of physical activity: results from RESIDE. Am J Public Health. 2008;98(1):66–9.

20.

Lentino C, Visek AJ, McDonnell K, DiPietro L. Dog walking is associated with a favorable risk profile independent of a moderate to high volume of physical activity. J Phys Act Health. 2012;9:414–20.

21.

Das S, O'Keefe JH. Behavioral cardiology: recognizing and addressing the profound impact of psychosocial stress on cardiovascular health. Curr Atheroscler Rep. 2006;8:111–8.

22.•

Cherniack EP, Cherniack AR. The benefits of pets and animal-assisted therapy to the health of older individuals. Curr Gerontol Geriatr Res. 2014;2014:623203. This is a balanced review of the benefits of pets on mental and physical health in the elderly that also addresses negative effects of pets.

23.

Dembicki D, Anderson J. Pet ownership may be a factor in improved health of the elderly. J Nutr Elder. 1996;15(3):15–31.

24.

Friedmann E, Son J. The human-companion animal bond: how humans benefit. Vet Clin Small Anim. 2009;39:293–326.

25.

Adams CL, Bonnett BN, Meek AH. Predictors of owner response to companion animal death in 177 clients from 14 practices in Ontario. JAVMA. 2000;217(9):1303–9.

26.

Koivusilta LK, Ojanlatva A. To have or not to have a pet for better health? PLoS ONE. 2006;1:e109.

27.

Johansson M, Ahlstrom G, Jonsson A-C. Living with companion animals after stroke: experiences of older people in community and primary care nursing. Br J Community Nurs. 2014;19(12):578–84.

28.

Maruyama Y, Kawano A, Okamoto S, Ando T, Ishitobi Y, Tanaka Y, et al. Differences in salivary alpha-amylase and cortisol responsiveness following exposure to electrical stimulation versus the Trier Social Stress Tests. PLoS ONE. 2012;7(7):e39375.

29.

Siddiqui A, Madhu SV, Sharma SB, Desai NG. Endocrine stress responses and risk of type 2 diabetes mellitus. Stress. 2015;13:1–9.

30.

Di Dalmazi G, Pasquali R, Beuschlein F, Reincke M. Subclinical hypercortisolism: a state, a syndrome, or a disease? Eur J Endocrinol. 2015;173:M61–71.

31.

Van Stegeren A, Rohleder N, Everaerd W, Wolf OT. Salivary alpha amylase as marker for adrenergic activity during stress: effect of betablockade. Psychoneuroendocrinology. 2006;31:137–41.

32.

Noto Y, Sato T, Kudo M, Kurata K, Hirota K. The relationship between salivary biomarkers and state-trait inventory score under mental arithmetic stress: a pilot study. Anesth Analg. 2005;101:1873–6.

33.

Engert V, Vogel S, Efanov SI, Duchesne A, Corbo V, Ali N, et al. Investigation into the cross-correlation of salivary alpha-amylase responses to psychological stress. Psychoneuroendocrinology. 2011;36:1294–302.

34.

Nater UM, Rohleder N. Salivary alpha-amylase as a non-invasive biomarker for the sympathetic nervous system: current state of research. Psychoneuroendocrinology. 2009;34:486–96.

35.

Romero T, M Nagasawa, K Mogi, T Hasegawa and T Kikusui. Oxytocin promotes social bonding in dogs. PNAS Early Edition, 2014;1–6.

36.

Morelius E, Ortenstrand A, Theodorsson E, Frostell A. A randomized trial of continuous skin-to-skin contact after preterm birth and the effects on salivary cortisol, parental stress, depression, and breastfeeding. Early Hum Dev. 2015;91:63–70.

37.

Miller SC, Kennedy C, DeVoe D, Hickey M, Nelson T, Kogan L. An examination of changes in oxytocin levels in men and women before and after interaction with a bonded dog. Anthrozoös. 2009;22(10):31–42.

38.

Pickering TG. Men and from Mars, women are from Venus: stress, pets, and oxytocin. J Clin Hypertens. 2003;5(1):86–8.

39.•

Beetz A, Uvnas-Moberg K, Julius H, Kotrschal K. Psychosocial and psychophysiological effects of human-animal interactions: the possible role of oxytocin. Front Psychol. 2012;3:1–15. This article discusses how improvements in stress-related parameters, immune system function, heart rate and blood pressure attributed to companion animals are mainly through psychological benefits that lead to activation of the oxytocin system.

40.

Strachan DP. Hay fever, hygiene, and household size. BMJ. 1989;299(6710):1259–60.

41.•

Wegienka G, Johnson CC, Havstad S, Ownby DR, Nicholas C, Zoratti EM. Lifetime dog and cat exposure and dog- and cat-specific sensitization at age 18 years. Clin Exp Allergy. 2011;41:979–86. This article investigates the time window during which exposure to dog and cat dander influences sensitization, and finds that the first year of life is critical, but that cumulative exposure or exposure at other ages is not associated with reduced allergies or asthma.

42.

Herre J, Gronlund H, Brooks H, Hopkins L, Waggoner L, Murton B, et al. Allergens as immunomodulatory proteins: the cat dander protein Fel d 1 enhances TLR activation by lipid ligands. J Immunol. 2013;191:1529–35.

43.

Arif AA, Delclos GL, Lee ES, Tortolero SR, Whitehead LW. Prevalence and risk factors of asthma and wheezing among US adults: an analysis of the NHANES III data. Eur Respir J. 2003;21:827–33.

44.

US dog or cat ownership rates by race/ethnicity. Pet Food Institute. http://www.statista.com/statistics/250858/dog-or-cat-ownership-rates-of-us-households-by-race-ethnicity/

45.

Schreiner P. Characteristics of pet ownership in a population-based cohort: the Coronary Artery Risk Development in Young Adults (CARDIA) Study. Am J Epidemiol. 2012;175 suppl 11:s55.

46.

Herzog H. The impact of pets on human health and psychological well-being: fact, fiction, or hypothesis? Curr Dir Psychol Sci. 2011;20:236–9.

47.

Ganna A, Ingelsson E. 5 year mortality predictors in 498,103 UK Biobank participants: a prospective population-based study. Lancet. 2015;386(9993):533–40.
Ethics declarations
Conflict of Interest
Dr. Schreiner has no conflicts of interest to disclose.
Human and Animal Rights and Informed Consent
This article does not contain any studies with human or animal subjects performed by the author.
Additional information
This article is part of the Topical Collection on Cardiovascular Risk Health Policy
About this article
Cite this article
Schreiner, P.J. Emerging Cardiovascular Risk Research: Impact of Pets on Cardiovascular Risk Prevention. Curr Cardiovasc Risk Rep 10, 8 (2016). https://doi.org/10.1007/s12170-016-0489-2
Keywords
Pets

Human-animal interaction

Asthma

Physical activity

Oxytocin

Depression